BLOGS
Kitchen Countertop Colors To Choose
One hobby that a lot of people took up during the quarantine is cooking. This arose from the need for people to prepare their own food, since dining out may not be the safest thing to do with all the dangers of going out these days. Having food delivered to your door may also have its risks, so cooking became a must for a lot of people during the pandemic.
The fact that everyone loves to eat can be traced back to it being a basic human instinct. Another thing that people take pride in is their home. Given this, if you have a kitchen and want to make it look attractive, you need to decide which color you want. There are many different color options that you can use. The color must match the rest of the room's theme because it will make it more appealing and functional.
A lot of people picked up cooking during the pandemic, so the need for prettier kitchens became more apparent.
Cooking is both a fun and a functional activity, but just like any other hobby, it can become a chore sometimes if it is done every day. Cooking for a whole family can become very stressful at times, but somebody in the house must do it. Making cooking a more bearable experience, then, is important. The cook of the house should reward himself with the kitchen equipment that he likes and interior design changes that he sees fit for his kitchen. One important thing that he should not ignore? The kitchen countertop.
When designing your kitchen, people often think of the walls, the storage areas, the pots and pans, and all the kitchen utensils that will be in it. This is not an unreasonable way of conceptualizing a kitchen, but the solid surface, is just as important as any other part of the kitchen.
Suggested Read: State-Of-The-Art Kitchens For The Sophisticated Homemaker
What Is The Purpose Of The Kitchen Countertop?
The countertop serves a lot of purposes in the kitchen. It can be used to store a lot of things. The things that are used every day for cooking can be placed on top of it, for them to be more accessible. More spacious countertops can also be used as tables. Many things can be placed on top of the kitchen counter.
This can be anything from fruits, candles, and makeup palettes to an excellent phone that comes with a camera and buttons. This is also where people eat most often when they are in their house. So, it is only natural that a lot of attention should be given to the appearance of this place. A blank kitchen countertop can look empty and boring, but it does not have to be like that. There are many ways to create your unique finish for your countertop using no special skills.
It should be a staple in interior design, especially for luxury homes Philippines, as it is a versatile fixture in kitchens. If you are interested in luxury real estate, luxury condominium, and house and lot properties for sale, be sure to check out Brittany Corporation. See the best kitchen interior design in luxury houses in the Philippines.
Here are some countertop designs to consider for your kitchen:
Plain And Muted
Bold And Bright
The Solid Surface Is Color Red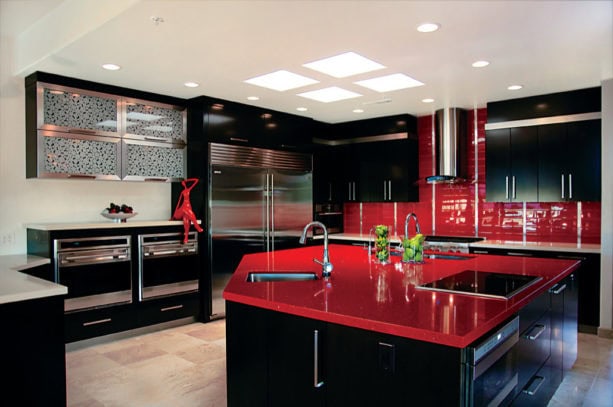 Countertop Made From Glass
Black
Excited to know more about these styles? Below are the explanation for these items:
Kitchen Countertops May be Plain and Muted
You will never go wrong with a classic design.
As much as people want to have fun when it comes to interior design, there are just some conventions that should be maintained. Things become tagged as "traditional" and "classic," because they have stood the test of time, and they really do make sense in a home. Do not be afraid to go basic, when it comes to the color for a homely and cozy appearance.
After all, people who enter your kitchen will not just look at your counter, but they will see the overall appearance of your kitchen, and plain countertops can go very well even with adventurous kitchen wallpapers. Have fun deciding on the design of your walls, but balance it with a plain and simple countertop, like quartz countertops.
Kitchen Countertops May Be Bold and Bright
You can also go for a stunning color for your countertop to liven up a really plain kitchen. A bright countertop will definitely go well with plain light walls and will give a sense of balance in terms of the color scheme in the room.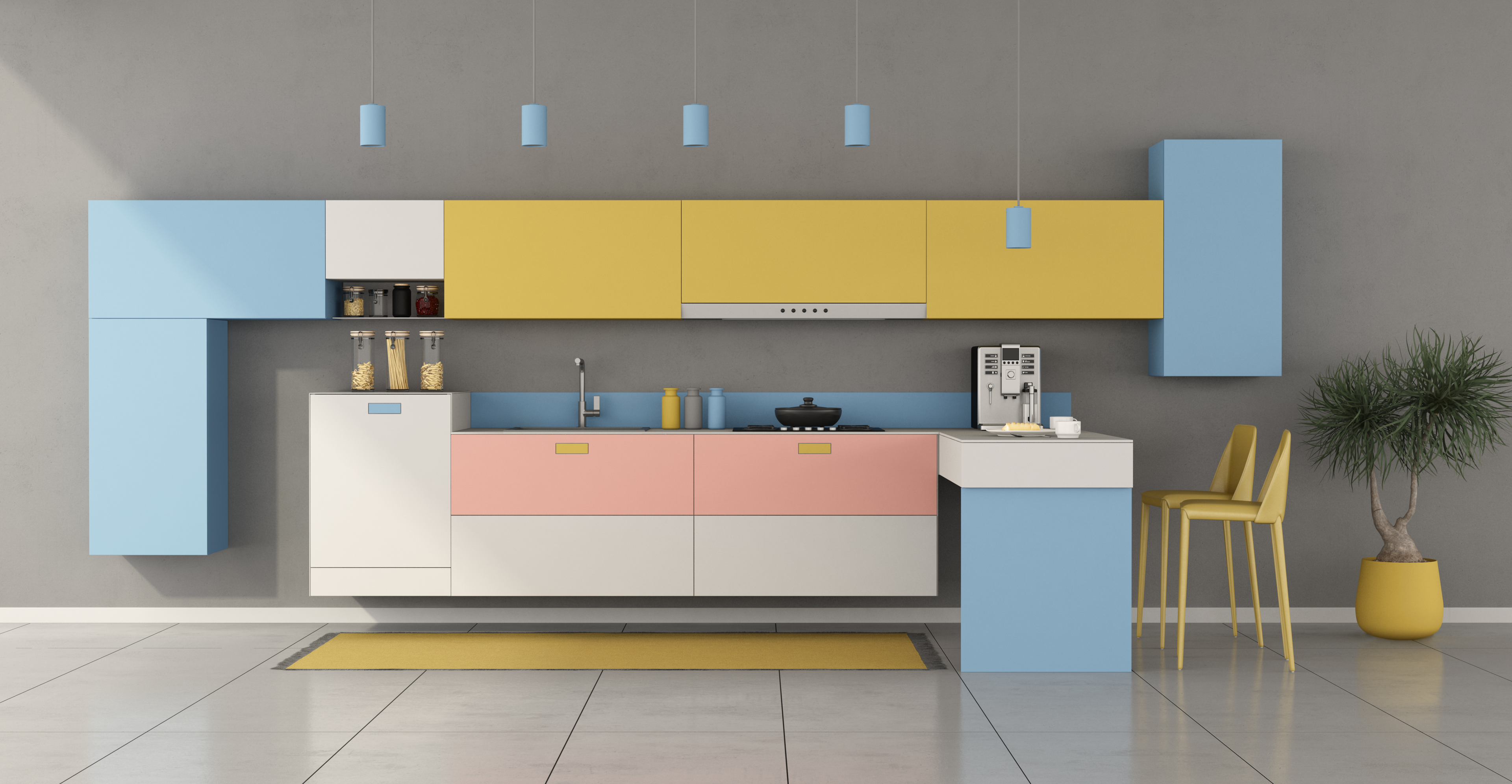 The bright countertop will be the focal point upon entering the kitchen and will be a favorite spot to put things on. Maybe washing the dishes is not really something to look forward to, but with a bright countertop, it can be just a little more bearable, as the bright color sets a better mood for everyone.
Kitchen Countertops Are In A Variety Of Red
A strong shade of red easily matches a lot of other colors.
Red will remain a favorite color among a lot of people, and for good reasons. Red, along with other bright colors like yellow and orange, is proven to increase a diner's appetite, which is why one will see a lot of these countertops color in fast food restaurants. If there is one room in the house that should be red, then it is the kitchen, for this reason. Red can go well with plain white dishes, wooden cupboards, stainless steel pots and pans, and even indoor plants in the kitchen. A bright red will also contrast well with a lot of basic ingredients and staples like leafy greens, potatoes, white rice, and others.
Glass countertop is a great idea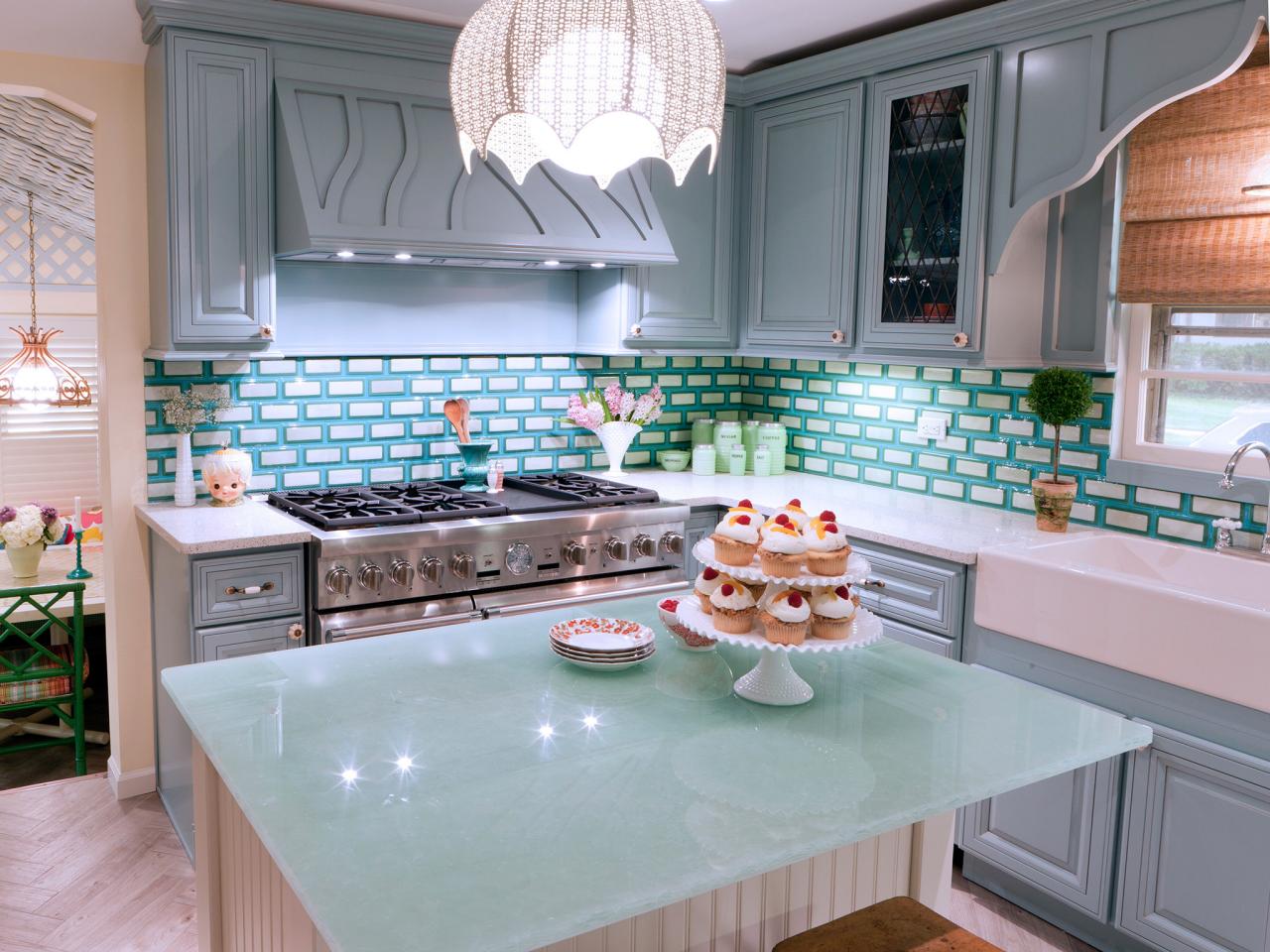 Add some flair to your kitchen by choosing glass.
This may not be the best option if there are kids in the house, but choosing a glass countertop will definitely add a wow factor to your kitchen. This is for the people who want to be extravagant with their kitchens, and anyone who enters the kitchen would know this. It is one of those flashier choices for the people who can afford high-quality glass countertops. Why go with the common colors, when you can go with a material that can do some interesting things with light? Consider a glass countertop for that crystalline appearance.
Suggested Read: Top 10 Luxury Kitchen Appliances Of The Rich People
Display your luxurious interior design ideas in luxury homes Philippines, as luxury real estate should be paired with impressive stuff. Check out Brittany Corporation for some luxury condominium, house and lot properties for sale, and luxury houses in the Philippines.
Kitchen Countertops Are In A Variety Of Black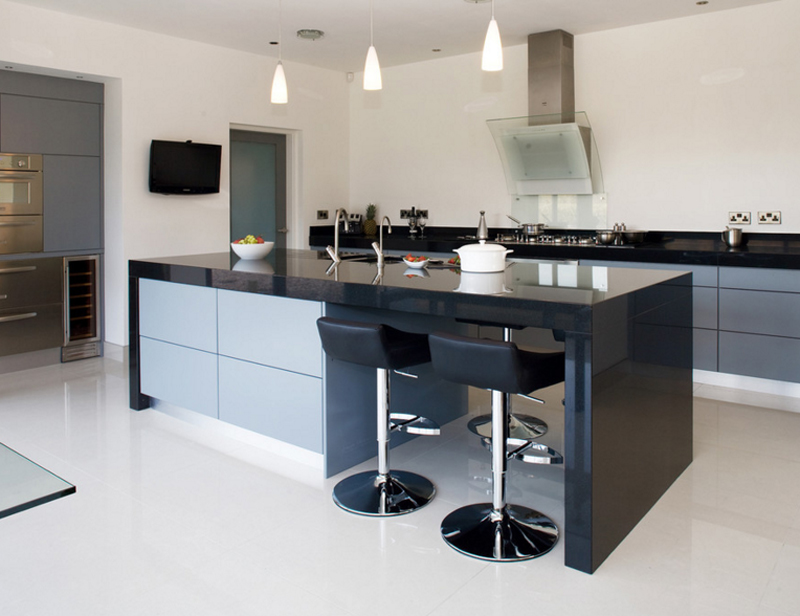 Black gives a sleek and modern feel.
You will not see a lot of black in different kitchens, because people normally go with bright and homely colors in this room, so black can give a new and modern feel to kitchens. It can give a sleek and all-business appeal, so it can make the space look like a bachelor pad.
Even if you are not going for this look, you may want to consider black, just to try out something new and different from what you normally see in housing catalogs. It certainly will look great with white porcelain dishes and stainless steel pots and pans. On top of that, one will not have to obsessively clean a black countertop every now and then, as stains would be practically invisible.
Kitchen Countertops Made of Recycled Glass
Recycled glass gives a classic appeal while being eco-friendly.
Crushed glass comes in different colors, so there is no need to go with just one color with these countertops material. This environmentally friendly choice is a classic homely design that is popular in kitchens. Such countertops give a mosaic look and you can be confident that no one will have a similar countertop as yours, since it would be very hard to make two identical countertops from crushed glass. This makes your kitchen unique, so crushed glass countertops in any color scheme gets an A+ for kitchen interior design.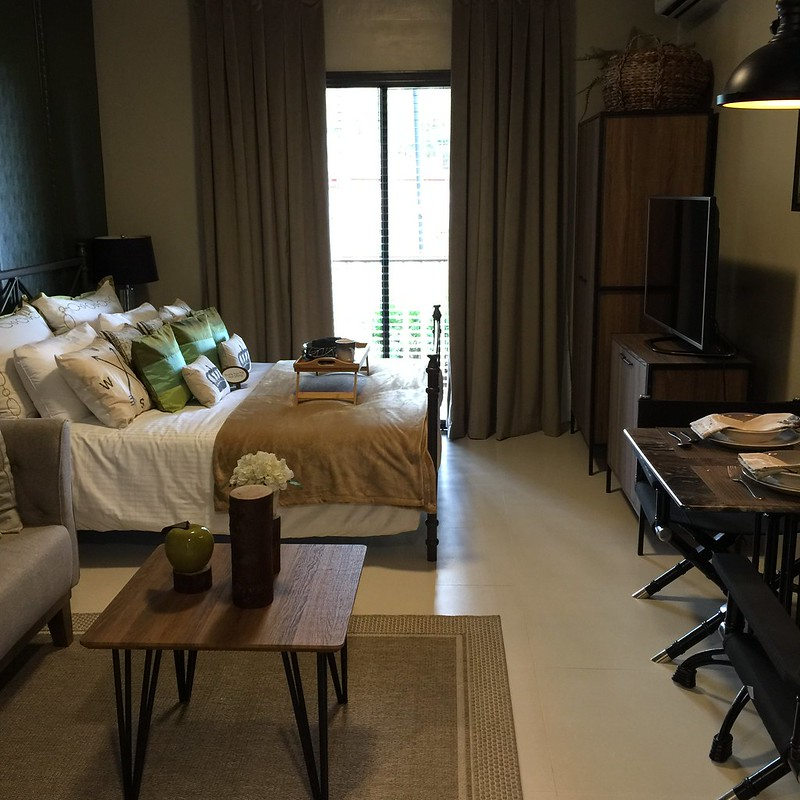 Go find a unique luxury condominium of your dreams from Brittany Corporation. They also offer luxury real estate, house and lot properties for sale, luxury houses in the Philippines, and luxury homes Philippines.
Conclusion
People spend a lot of time in their kitchens, especially now that it is wiser to prepare their own food instead of dining out. Investing in the right kitchen equipment and fixtures, then, will definitely be worth it, as it can improve the overall cooking and dining experience for the whole family.
The kitchen countertop is never insignificant as it serves a lot of purposes, and depending on the appeal or the function, there is a right color for it. Changing the color of this simple fixture can determine if the whole kitchen is going to be homely, modern, or even luxurious.
NEXT READ: A Bright Christmas At Portofino Alabang
NEXT READ: Festive Pieces To Wear This Holiday Season
NEXT READ: House Furnitures Home Buyers Are Looking Into
NEXT READ: 10 Best Colors For Your Bathroom Wall