Frequently Asked Questions (FAQs)
What questions do you have in mind?
Read through our frequently asked questions (FAQs) and let us know how we can further indulge in your queries!
1. Why should I purchase a Brittany property?
Brittany Corporation prides itself as Vista Land's luxury residential arm. The brand pioneered thematic communities where projects showcased designs from some of the world's most distinct Italian architecture, Swiss designs, and American Country Style layouts. These luxury properties are strategically located near essential establishments like commercial establishments, schools, hospitals, groceries and can be accessed via major road networks and thoroughfares.
2. Where can I find the properties?
Brittany's luxury properties for sale are in the most coveted addresses in the country— American-themed luxury homes like Promenade, Georgia Club, and Augusta Sta. Rosa, Laguna, Swiss-inspired homes in Crosswinds Tagaytay, San Franciscan-themed properties in Sucat in Muntinlupa, and luxury homes for sale in the Italian-themed Vista Alabang.

Suggested Read: Where to find the best luxury homes in the Philippines
3. What are the product offerings?
Brittany offers residential properties like luxury house and lot developments, luxury pre-selling and ready lots, and luxury condominium units. We also have ready-for-occupancy homes for those who wish to move in right away.
4. How can I buy a property?
You can start your journey of owning a Brittany luxury home by checking our property offerings to choose a community you want to be a part of and proceed with the Online reservation form tab on the website. Check out our properties page here.
Suggested Read: How to buy a luxury house and lot in the Philippines?
5. How can I schedule a property viewing?
Our website features a scheduled appointment option to properly endorse your property viewing schedule. Fill up the necessary details and wait for a response from one of our sales officers. Schedule an appointment with us by clicking here.
6. I'm a broker, how can I be accredited to sell Brittany's projects?
Prepare the necessary documents such as your Broker's license and other Identification papers and head on to our Seller's Accreditation page on our website and fill up the necessary details. Deliver themed communities by undergoing our process for accreditation.
7. Does Brittany have a seller's portal?
Yes! The e-Suite is Brittany Corporation's exclusive professional sales portal that equips its business partners with all they need to conquer the luxury residential real estate landscape.
8. How can I get updated with the latest inventories and offerings from Brittany?
Brittany's seller's portal, or the e-Suite, has the complete list of documents every real estate professional needs. You will not only find the latest inventories and offerings, but also relevant blogs, references, and other documents. It would also be best to follow our social media accounts on Facebook YouTube, and Instagram for the latest updates and for more information on your frequently asked questions.
9. What are the payment options for Brittany?
For faster and more convenient payment options, Brittany continues to offer solutions for easier and smoother transactions. With the flock of investors and families who are eager to search for luxury house and lot properties for sale, Brittany attracts them further with seamless ways to transact. Payments for your amortization dues and downpayment are now made easier with AllBank and InstaPay.
Suggested Read: Payments now made easier with AllBank and Instapay
10. Do homeowners have a homeowners portal?
Yes! Reaching out and learning more about your Brittany luxury home has never been easier with Vista HOMe, Vista Land's Homeowner's Portal.
Suggested Read: Vista Home: Vista Land's Web Portal for Property Owners
11. Can we send proposals and partner with Brittany?
Of course! If you want us to feature your article or product, inquire about digital partnerships, or propose back link opportunities, send us an email at [email protected].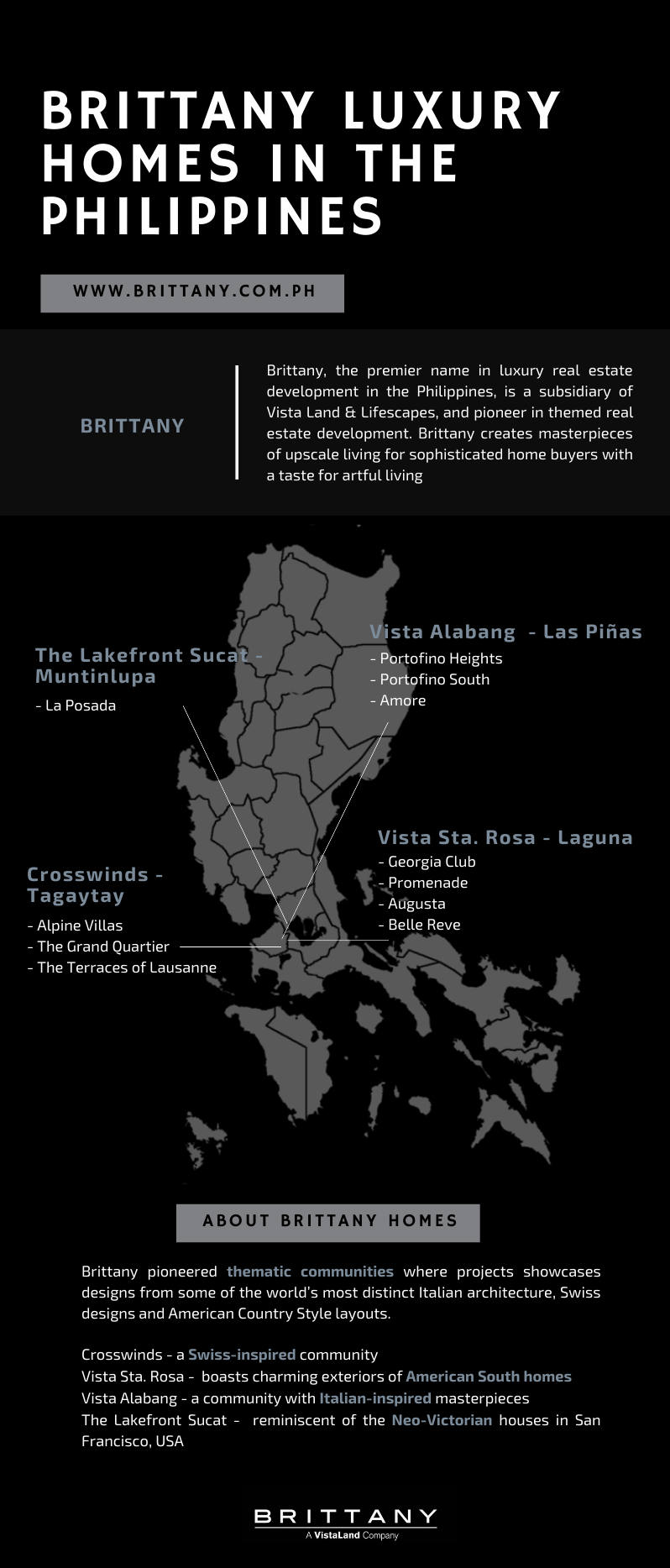 Invest in Brittany's luxury properties for sale today. Read our Privacy Policy here.