BLOGS
Where To Find Luxury House and Lot Properties in Alabang
Alabang has always been branded as the upscale district in the south of Metro Manila where the most affluent and privileged few reside. Alabang's location makes it ideal for the people who are looking for a laidback lifestyle but still want to maintain close proximity to Metro Manila's business districts in Makati and Taguig, and an easy access to the neighboring provinces of Cavita, Laguna, and Batangas. It is the preferred address of the opulent and influential people, being the perfect location for a curated luxury living in the south. The upscale district, alongside the luxury house and lot properties of Alabang also promotes live, work, and play environments as it is known for being home to exclusive subdivisions, business centers, and premier recreational spots.
Properties in Alabang: The Upscale District in the south of Metro Manila
Have you ever visited Alabang just to enjoy a cup of coffee and catch up with your friends or have you ever posted a photo of your fancy meal while eating in an Instagram-worthy restaurant? Sure, all of you will have a story to tell when you visit this thriving district because in Alabang, choosing where to shop, dine, or stay for the weekend has never been so easy with the plethora of premium lifestyle centers, essential services, hotels, and food hubs available.
The Crown Jewel of Alabang
The most premier lifestyle center you can find in Alabang is Evia Lifestyle Center, a lifestyle center dubbed as the "Crown Jewel of the South" for its pulsating beauty and vibrance. It is located at the heart of Vista Land's master-planned community in Vista Alabang, Daang Hari, which is one of the properties in Alabang that propounds the pleasure of life within its locality, granting people the luxurious living they deserve.
 Evia Lifestyle Center brings sophisticated architecture and world-class services within your reach for you to experience the joy of shopping and dining abroad. It is also known for its state-of-the-art architecture and remarkable facilities like The Piazza, that brings al-fresco dining to new heights — with a sky ceiling that shifts from blue vibrant skies to the hues of the golden hour. Evia Lifestyle Center's Atrium highlights a majestic glass dome that gives an outdoor experience whilst enjoying the sight of the outdoors, green artificial landscapes, and spectacular fountain — making it a perfect place for relaxation after a day of splurging in Evia's selection of global fashion brands.
The lifestyle center also houses world-class restaurants and cafes like Teppanya which offers Japanese delicacies, Peri-Peri Charcoal Chicken that features the best chicken spices from Africa, Barcino which takes you to Spain's most sumptuous dishes, and of course, The Coffee Project, one of the most Instagrammable café in the south. Aside from these, there are new spots in Evia —  San Marco, Dear Joe, and Bread Basket that will take you to a whole new level of dining experience which are definitely a must-try for the food enthusiasts.
Live in Your Luxury in the Most Exclusive Subdivisions in Daang Hari
What is luxury for you? For most people, luxury is all price tags and everything grand. But for the privileged few, luxury is having a time to unwind amidst the pandemic, a place where one could have a vacation experience without sacrificing their safety, and a space of tranquility and serenity.
Having properties in Alabang, which is a thriving location, will lead to people that are noticeably more relaxed and laid back despite being in a fast-paced environment. Its relaxed ambiance and masterfully-crafted subdivisions just provide a dazzling and stunning setting that makes it an address beyond expectations.
Three of the most high-end subdivisions in Alabang are Portofino Heights, Portofino South, and Amore at Portofino — where you get to enjoy the convenience and ease of access to almost everything, giving a well-rounded lifestyle amidst the hustle and bustle of everyday life. In every detail of its architecture, Portofino exudes the timeless old world beauty that is heavily inspired by Italian paragons. From the cobblestone pathways and gabled roofs, to its intricate pocket gardens, the community's architectural details are nothing short of sophistication.
Capturing the warm and intimate feel of Italy, Portofino takes after the Italian lifestyle, making every moment spent in Portofino a memorable one. Portofino also supports green living with its expansive green spaces and lush landscape, backdropped by the beautiful vibrant sky. The community is brimming with well-grown trees, sun-drenched fountains, and breathtaking landscape that complements each masterfully-crafted home.
Living in Portofino is indeed a luxury that only the privileged ones could experience. The advantages of living in a safe, low-densed gated community that boasts authenticity, sustainability, tradition, and longevity are only some of the reasons why Brittany's Portofino has been highly recognized as a testament to the brand's quality. With that, Portofino has been an award-winning development recognized by the Philippine Property Awards and Southeast Asian Awards.
Portofino's organized garbage disposal coupled with a materials recovery facility and wastewater management, 100% backup power and water system, 24/7 security and in-house maintenance, roving security personnel, a safety and security command center, electric fencing, and CCTV cameras at all entry and exit points give an utmost ease and comfort.
With everything almost within your reach, living in one of these properties in Alabang's most exclusive subdivision is the high quality of life you and your family deserve. The serene surrounding and impeccable setting of Portofino lets you enjoy all things in life without having to sacrifice living a laid back and harmonious lifestyle.
Imagine waking up to a sight of pine trees and Italian-inspired homes backdropped by the warm hues of the sunrise. Taking pleasure in the timeless beauty of your humble abode as you spend intimate moments with your dearest family is the lifetime getaway beyond luxury. Picture yourself enjoying the comfort of an upscale home that exudes thematic living and curated luxury — indeed, a life well-lived.
Your Italian Escapade in Portofino Heights
Anyone who has personally witnessed Italy's warm vignettes of life would dream to bring an Italian flair to their own home. In Portofino Heights, the Italian way of living awaits you.
Portofino Heights is a 75-hectare enclave of Portofino that offers lots with bigger cuts that range from 300 to 1,000 square meters, offering an abundance of open spaces, low-densed community, and a lifestyle one can't have just anywhere. It exudes classic old world charm and architectural details that give you the feeling of world-class living. Portofino Heights' Italian architectural details such as cupolas, cobblestone pathways, gabled roofs, and pocket gardens radiate the sophisticated ambiance of the community.
Offering upscale and spacious homes for your family in some of the most beautiful properties in Alabang, being surrounded by beautifully landscaped pocket gardens and walkways, and a picturesque view of the lush landscape, Portofino Heights is the first and biggest enclave of Portofino inspired by the old world Italian charm and the contemporary chic of modern Europe.
At Portofino Heights, residents can enjoy a wide selection of amenities in Portofino Heights' Monte di Portofino. One can lounge by or take a dip in the Roman-inspire olympic size swimming pool, sweat it out in the fully-equipped fitness gym, celebrate life's precious moments and milestones in the grand function room perfect for 300 heads, or play the quintessential sports of every Filipino — badminton, tennis, and basketball. The exclusive community also boasts jogging trails and play parks that are surrounded by nature, making everything seamlessly connected with its verdant setting. With all these and so much more, maintaining a healthy lifestyle and an exceptional quality of life is certainly attainable for all the residents of the magnificent Portofino Heights.
Portofino South
Adjacent to Portofino Heights, is another exclusive subdivision, that houses some of the best properties in Alabang. Portofino South, an upscale enclave ensconced in a 50-hectare land, offers exclusive house & lots and lot only packages that range from 300 square meters to 700 square meters. Being the second enclave of Portofino in Daang Hari, it also exudes the same Old World Italian charm and contemporary chic of modern Europe that Portofino Heights offers. It is just a 5-minute drive away from Portofino Heights, and a 3-minute drive from Evia Lifestyle Center.
Portofino South endows you with a taste of Italy with its upscale Italian-inspired design, and world-class amenities from its amenity center — Parco Di Portofino. Portofino South grants its homeowners an exclusive access to the following recreational amenities and facilities in Parco Di Portofino: a grand clubhouse with a majestic events hall where you can celebrate your family's grand occasions, a resort-like swimming pools for a vacation experience not far from home, a basketball court, an activity area, an exclusive function area and meeting rooms, and lastly, a perfect space for your workout routine. Parco Di Portofino also has an Al Fresco lounge, one of the outstanding features of Parco di Portofino where you can destress and take a break from the realities of life while overlooking the vast landscape of the Italian-inspired community.
Amore at Portofino
The rustic beauty of Amore at Portofino will unquestionably make you fall in love at the sight of its lush landscape that lends a quaint ambiance, with a touch of romance. Amore at Portofino is the newest development among the three magnificent enclaves of Portofino, which boasts the rustic beauty of Tuscany. It is a 35-hectare Tuscan-inspired exclusive gated community that exudes the charm of central Italy, taking inspiration from the intricate design of Florence. Its sun-dappled streets, tinkling fountains, and manicured gardens are just a few of the many things to look forward to in Amore at Portofino.
Amore at Portofino also provides the best luxury living experience with its world-class amenities and facilities that boasts a beautiful sprawling pool, the perfect patch of turquoise amid the terracotta homes; and the Al Fresco lounge, the best place to de-stress and unwind in Amore at Portofino.
With authentic Italian design that flourishes within the community, the arches and cupolas, gently curving roads, dazzling fountains, and verdant pocket gardens make Amore truly a delight to the senses. Your golden moments are indeed better in Amore at Portofino.
Luxury Houses and Lots in Alabang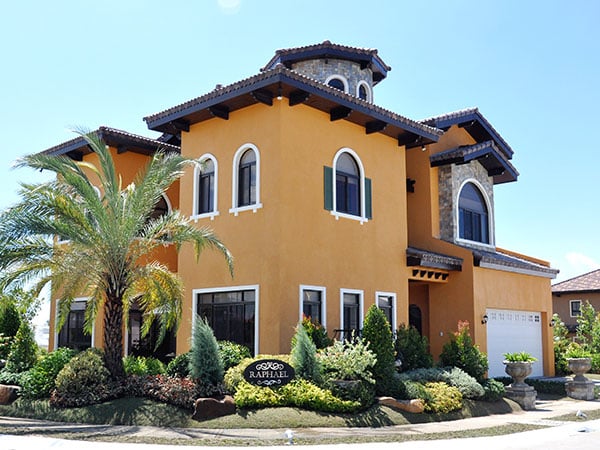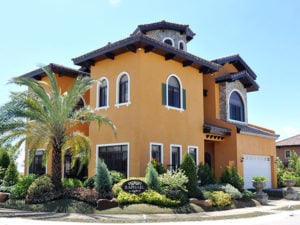 Aside from the remarkable community of Portofino, it also showcases luxury houses & lots that bring to life the old world charm of Italy with the stunning structure and regal design of each house model.
Portofino is imbued with astonishing old world inspired luxury homes like Ghiberti, a 349 square meter luxury house distinct for its castle-type tower and inner courtyard. Ghiberti is the epitome of sophisticated Italian artistry and elegant interior design with its expansive and breathable living spaces perfect for different day-to-day activities and large family gatherings. Its facade boasts of an unparalleled Italian beauty that exhibits eye-catching abstract design and stature, with its stone accents, Italian fixtures, and numerous arched windows.
Raffaello house model is a 4-bedroom house which sits like a page out of Italy. It encompasses a 292 square meter floor area that highlights generous and expansive living space perfect for a serene modern day living. With promising features like an automated 2-car garage, courtyard, spacious master's bedroom, and attic, Raffaello is indeed the perfect space for luxe living fitted with numerous functionalities and spaces that make luxury not only a statement about affluence but also comfort and refinement.
Pietro, a luxury home available in Portofino, is a masterfully-crafted home showcasing opulence from its alluring exterior and distinctive design. It is a charming 2-story Italian home with 4 bedrooms. It encompasses a floor area of 264 square meters, giving you grand spaces for living and quality time with your dearest ones.  Its concrete roof tiles provide excellent undersheeting and insulation and are pre-painted with an astonishing shade cohesive with the rest of the exteriors. In a complementing stucco and paint finish, the robust walls are beautifully accented with stone cladding, mouldings, and shutters.
Antonello, a two-story Italian home which has 286 square meters of floor space and 4 bedrooms, is one of the best-selling models in the exclusive subdivisions of Portofino. It is a cut above the rest with Antonello's exquisite custom that boasts a charismatic appeal and quality in a single masterpiece located in the seamlessly breathtaking community of Portofino, and the beautiful properties in Alabang.
Celebrate Your Golden Moments in Portofino
Portofino exudes a well-thought and carefully maintained community that showcases home options made with meticulous and skillful craftsmanship through its state-of-the-art architecture. Each luxury home is astounding in every detail and proportion, perfectly embodying the elegance and beauty of Italy.
Owning one of the luxury homes for sale in the most exclusive subdivision with the best properties in Alabang would easily grant a life filled with golden moments. Indeed, celebrating your golden moments in Portofino is a luxury that only the privileged few can afford.