BLOGS
Did you ever imagine your life to be this grand?
If you look back to 15 years ago, where did you imagine your life would be at this time? What job or business you would be running? Where you would be living and with whom? What future did you once envision for yourself? Did you ever imagine your life to be this grand?
People often form visions of where they'd like to end up, of what they wanted to be when they grow older. Most children only dream of the basic things in life, like becoming a teacher, a firefighter or maybe a princess. Adolescents base their dreams of off what adults tell them they should do, in order succeed in life. For most people, they find themselves living a life much different from what they envisioned. For the lucky few, the results have ended up much more favorable than what their younger selves could have ever conjured. 
As kids grow older their dreams grow with them and as they mature these dreams not only include their future professions, but also a more defined picture of what they want their lives to look like, what type of husband or wife they would be, how many pets they would have, in what home they would live. There are those who dream of white picket fences of the countryside and those who strive for the city life. But there is one thing most dream of and it is a luxurious and happy life.
Life at Vista Alabang
Vista Alabang offers life's pleasures within its vicinity, accessible through major road networks and thoroughfares. The Evia Lifestyle Center is one of the main highlights of this area and is the center of the beauty that is Vista Alabang. Evia is filled with numerous well-known food establishments that are sure to excite culturally diverse palates; dining has never been this fine with Evia's wide assortment of delicacies.
Moving into the best surrounding communities has never been so easy with AllHome's amazing interior option selections, from furniture, hardware and home appliances. Everything that you may need for new home can be found right there at AllHome.
Evia Lifestyle Center is filled with all that you may need from these home-related needs to even more hobby specific stores and retail options for a variety of people, stores like AllDigital, a store filled with various entertainment and technological equipment; AllBike, a store perfect for every bike enthusiast beginners and pros alike; the newly opened, Pet-Buddy, ideal for every furparent and their adorable pets; Coffee and book lovers' paradise, the Coffee Project x Fully-booked oasis. 
Given the situation the pandemic has brought, the access to world-class healthcare institutions has never been seen as this important. Vitacare Unimed Hospital is one of the major projects to come along Vista Alabang. This hospital is a result of a partnership with the Villar Group's VitaCare Health Group Corp. and Unimed Joint Venture Corp. It is a 12-storey high establishment that would house 250 beds and 45 clinics to give its patients and clients the best care possible. 
This hospital will house modern diagnostic and laboratory facilities and equipment, and would be staffed with only the most competent of healthcare professionals with a wide-range of specialties. VitaCare Unimed Hospital and Medical Center will provide residents of Vista Alabang the highest possible quality of healthcare there is to receive.
Vista Hub, a 10-hectare business district earmarked to become one of the most advanced business IT parks in the country is also set to be developed within the confines of Vista Alabang. University Town, a 100-hectare fully integrated development that will feature globally competitive educational institutions is also a part of the plan for Vista Alabang, along with the already existent educational facilities nearby like, De La Salle Zobel, PAREF Woodrose Scool, San Beda Alabang, and Southville International School, to name a few.
Another gem found within the community of Vista Alabang is the luxurious event center, Palazzo Verde, one of the country's most sought-after events venue. Its exquisite and glamorous Victorian architecture and high-end facilities makes it the perfect place for the grandest of occasions, such as debuts, christenings, weddings, galas, balls, and corporate affairs.
Being the best master planned community, with Vista Alabang, you no longer have to travel far to get what you need because everything you love would always be near. So, what better place is there to live than in the center of all you hold dear?
Luxurious Residential Communities of Vista Alabang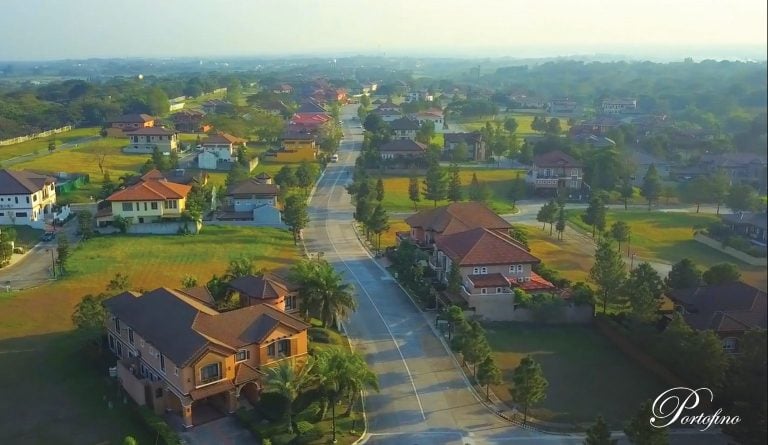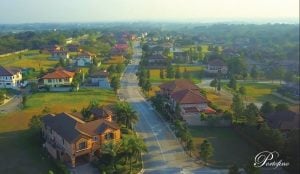 A residential neighborhood is what makes a master planned community. Brittany Corporation is the premier name in luxury real estate in the Philippines. It is a subsidiary of Vita Land & Lifescapes, the largest homebuilder in the country and the pioneer of themed residential communities. Brittany creates masterpieces with each of its themed luxurious developments, from Old World European, American, and Brittany Alabang's Italian themed projects. These masterpiece communities are upscale and exudes sophistication in every square inch of its properties, be it the homes itself or the high-class amenities these communities provide.
Brittany has three luxury developments at Vista Alabang; Portofino South, Portofino Heights and Amore at Portofino. These are upscale Italian-inspired communities situated in the 1,500-hectare master planned development of Vista Alabang, offering residential lots, and house and lot packages. All three developments are within a 5-minute drive away from the Evia Lifestyle Center, 10 minutes away from the Asian Hospital Medical Center, 20 minutes away from BGC and the Ninoy Aquino International Airport, and 30 minutes from the Makati Central Business District.
The most convenient access point to reach Brittany Vista Alabang is the Muntinlupa-Cavite Expressway or the MCX, and daang hari road. Though Brittany Vista Alabang is surrounded by more road networks and major thoroughfares providing ease of access to the Metro and other surrounding cities. 
Imagine waking up to a grand home, opening your balcony doors to a beautiful view of the sun rising and an array of thematic homes in your vicinity. Your daily life filled with the serenity and exclusivity that Portofino provides, without the sacrifice of living away from the city. The convenience of living in the middle of a thriving neighborhood with only the best of the best developments. This is what living in Brittany Vista Alabang has to offer.
The residential communities of Brittany Vista Alabang all offer underground utilities, high-end amenities, round the clock security with electric fencing, 24/7 roving patrol, and CCTV camera at all entry and exit points, and of course, the best luxury homes in the Philippines. 
Portofino Heights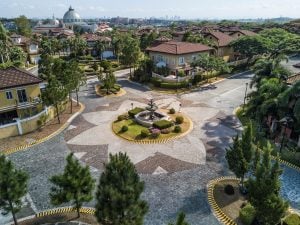 Portofino Heights is the biggest luxury themed residential development of Brittany Corporation at Vista Alabang. With 75 hectares of the charms of old-world Italy and the contemporary chic of modern Europe, Portofino Heights offers luxurious living like you could have never imagined. Being a development of Brittany Corporation, Portofino Heights, provides nothing less than a perfect community. A countryside lifestyle with masterfully designed luxurious Italian homes, with premier location. 
But there is more to Portofino Heights than just being a luxurious community, there is more to it than living a life you have dreamt of living since you were a child. Portofino Heights provides financial independence to those who choose to invest in its vision, and a life well lived to those who continue to invest in its promise. A promise to reside in the world class neighborhood of Vista Alabang.
Vista Alabang continues to develop as one of the most promising neighborhoods in the south. The Evia Lifestyle Center's continuous expansion and wide array of shops, restaurants and recreational hotspots is only a 3-minute drive away from Portofino Heights. 
Portofino Heights feature high-end facilities located in the community amenity area, Monte di Portofino, which includes swimming pools, a fitness gym, an indoor badminton court, the grand function room, a basketball court and a tennis court.
Available lots at Portofino Height start with a size of 287 square meters to 548 square meters. Aside from the available lots, there are also three luxurious home models available to be built and bought as pre-selling house and lot packages: Pietro, a two story, 264 square meter three-bedroom home; Antonello, a two-story Italian home which has 286 square meters of floor space and 4 bedrooms; and the largest available non-ready for occupancy home, Rafaello – a three story, 292 square meter home with 4 bedrooms. For those who are looking for a ready home to move into, in order to sooner experience the luxurious life at Portofino Heights, they offer two ready for occupancy homes, which is the Pietro ready home and the Raphael Model Unit.
Portofino South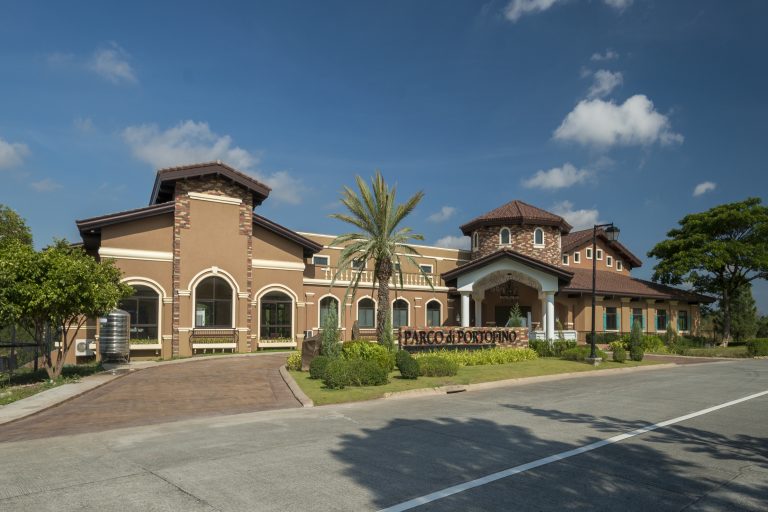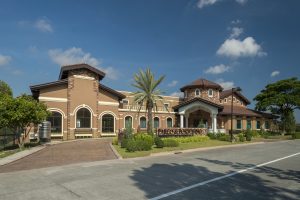 Not too far away from Portofino Heights is Portofino South. Portofino South is every bit as much as luxurious as Portofino Heights, if not more. With 50 hectares of luxury living, Portofino South exudes the same Old World Italian charm and contemporary chic of modern Europe, that Portofino Heights offer. It is around a 5-minute drive away from Portofino Heights and a 3-minute drive from Evia Lifestyle Center.
The recreational facilities of Portofino South, Parco di Portofino, highlights Italian design with the mix of nature and well-maintained landscaping, which is right beside the swimming pools, fitness gym, grand function room and the basketball court. Portofino South is also located right after the well-known luxury events venue, the Palazzo Verde.
Portofino South is already sold out leaving the bulk if Vista Alabang's inventory with Portofino South and the third development of Brittany Alabang, Amore at Portofino.
Amore at Portofino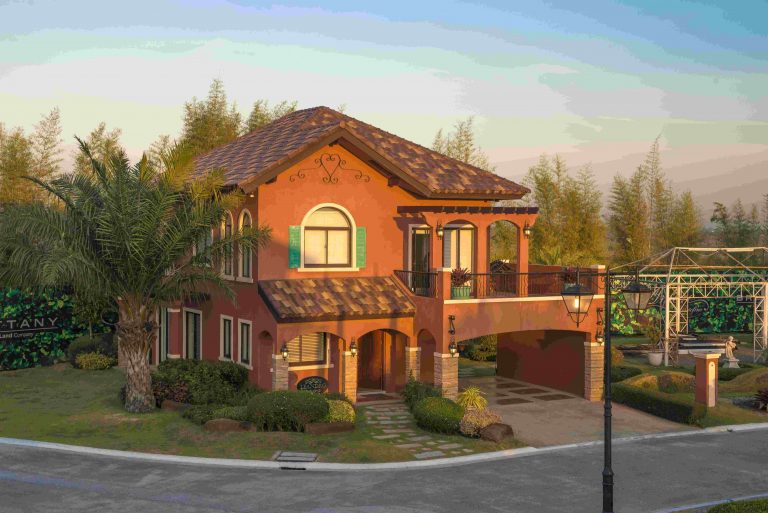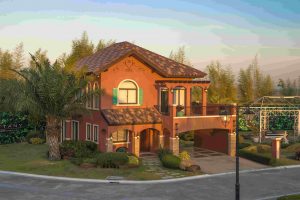 Amore is the newest among all Portofino enclaves and is the first to introduce the cluster and landscaped corridor concept in its development. Like the other enclaves located in Brittany Vista Alabang, Amore is a themed development, with a community that is inspired by the rustic appeal of Tuscany. It was awarded as the Best Housing Development in Manila and the Best Housing Development in the Philippines at the Philippine Property Awards for the years 2014 and 2015, forever certifying the beauty and luxury this Tuscany-inspired community provides.
Amore at Portofino is located just a minute away from Portofino South, making it only around 6 minutes away from the Evia Lifestyle Center. Just right beside Amore is also the future development and road network known as the Vista Avenue, ensuring ease of access to even more places. 
At Amore's amenity center, residents get to enjoy breath-taking features such as, the swimming pool, basketball court, community hall, and a meditation garden.
Being the latest addition to the luxurious enclaves in Brittany Alabang, Amore at Portofino hold the greatest number of remaining inventories. Available lots at Amore starts at 195 square meters up to 642 square meters. King lots or combined lots for Amore are also available for those seeking grand spaces for their luxurious homes. These King Lots start at 625 square meters up to 1,061 square meters. 
Lorenzo, a luxurious ready home is for sale at Amore. Lorenzo is located in the Phase 3 of Amore and has a floor space of 177 square meters and a lot area of 209 square meters. This home boasts of a beautiful master's bedroom with doors leading to a beautiful balcony overlooking the awe-inspiring community of Amore. 
Portofino Enclaves at Brittany Vista Alabang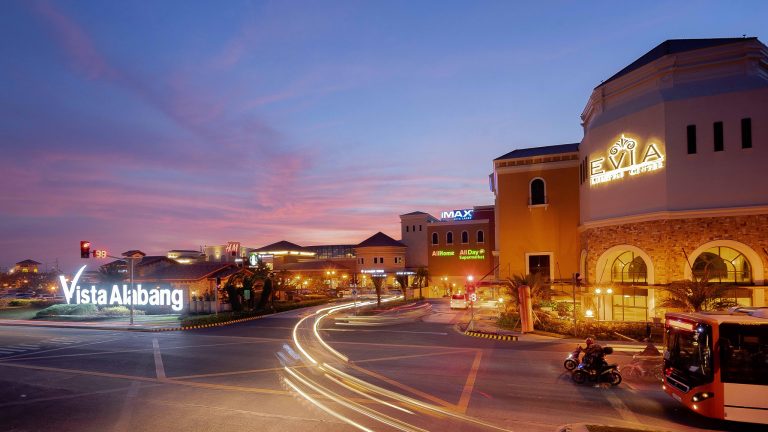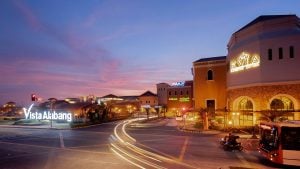 The luxurious enclaves of Portofino all boast of incomparable location, world-class facilities, a secured environment and are an investor's dream with its high investment yield. The property value in the area of Vista Alabang continues to appreciate with each passing quarter and each released development in the area, and given the fast growth of Vista Alabang, values would continue to skyrocket even more in the years to come growing as high a 10% – 15% per annum.
A life at Brittany Alabang is a life that most desire. A life filled with luxury, security and convenience. Have you ever imagined living in such a splendid community? Did you ever imagine your life to be this grand? At Portofino Alabang, imagination becomes reality, dreams are actualized, and life becomes truly extraordinary.