BLOGS
6 Young Filipino Artists For Your Gallery Wall
The goal, for many of us, today is to live a good life, an 'aesthetic' life⁠—a life that feels good and looks good.  Now, more than ever, people are making sure that the house they live in also feels like a home. They want houses that feel personal and that tell stories, either to entertain and make conversations, or to relax and experience a little bit of peace in their own sanctuary. Whether searching for a house and lot for sale, or a luxury condo, one cannot avoid looking for the perfect interior inspiration as well, right?
Admit it or not, while browsing through an array of luxury real estate properties, you are also browsing through other websites or social media platforms, checking out the latest trends in interior design from all the favorite people whom you follow.
You might also be digitally visiting some of the luxury homes in the Philippines every now and then, or even getting some interior design ideas from a few Brittany Homes : The Beauty of Southern American Homes
Why Are People into Gallery Walls?
It is totally acceptable if you are scrolling through an influencer's Instagram profile right now and you're daydreaming about the pieces of furniture that they own. "That is so picture-perfect! Where did they get that?" But, to make your very own luxury real estate stand out among others, you need more than tiles, tables and chairs. When you finally buy that luxury condo to live in your own space, you are going to need some art.
One of the ways that people present art in their homes is through a Gallery Wall. Gallery walls can be a collection of anything ranging from art pieces, photographs, postcards, and other knick-knacks. A lot of homeowners are into gallery walls because they can be easily customized to reflect one's story and personality. Gallery walls bring life to any room.
A Home filled with art | Photo from mfc.ug
Learn how to design your own gallery wall through Design And Make Your Own Gallery Wall | Metro.Style
However, to make your gallery wall more awe-inspiring and meaningful, why not add paintings in the Philippines by local artists who do not only make your proud to be a Filipino, but they also resonate with who you are. Here are some up-and-coming artists whose creations can be the highlight of your gallery wall when you're finally living in one of the luxury homes in the Philippines.
A Rundown of Young Filipino Artists You Need to Get Art From
Ricky Ambagan
Imagine walking into a house and lot for sale, and simply seeing your whole future in there. No matter if you are planning to build a family there or to live independently, it is nice to have an artwork that reminds you to keep the child in you alive. Pieces from Ricky Ambagan, a Filipino Postwar artist contributing to contemporary paintings in the Philippines, will definitely speak to that inner kid in you.
"Reconnect" by Ricky Ambagan | Image from https://salcedoauctions.com/
Other than the playful storytelling depicted in his pieces, showing how messy but colorful childhood can be, his canvasses are also showcased through uniquely shaped frames. On one of his exhibitions, his paintings were shown on luggage-shaped frames.
"Life is Good" by Ricky Ambagan | Image from https://salcedoauctions.com/
Such are perfect for those who love travel and adventure, and such would easily fit in on a wall displaying souvenirs from different places. Can you see that luggage beside that photo of you in Paris or London? Well, be sure to be on the lookout for this artist's next auction.

Ayka Go
Just like our own Brittany homes, some of us like it classy, subtle and elegant. Ayka Go has proven and continues to prove that paintings in the Philippines can be just that. A graduate of University of the Philippines in Diliman, Ayka has had solo exhibits in several known galleries. She has been featured on Bluprint's 5 emerging promising artists by Daniel Lampa In the country (onemega.com).
"In Bloom" by Ayka Go
Even though her paintings usually feature folded and crumpled paper, her color choices and neat handiwork create visions of classics fit for any room of neutrals and metallics. Put your wedding photo or family picture in a gold frame and it would look great beside Ayka's classy pieces. But these pieces do not only look great, they are also a great investment.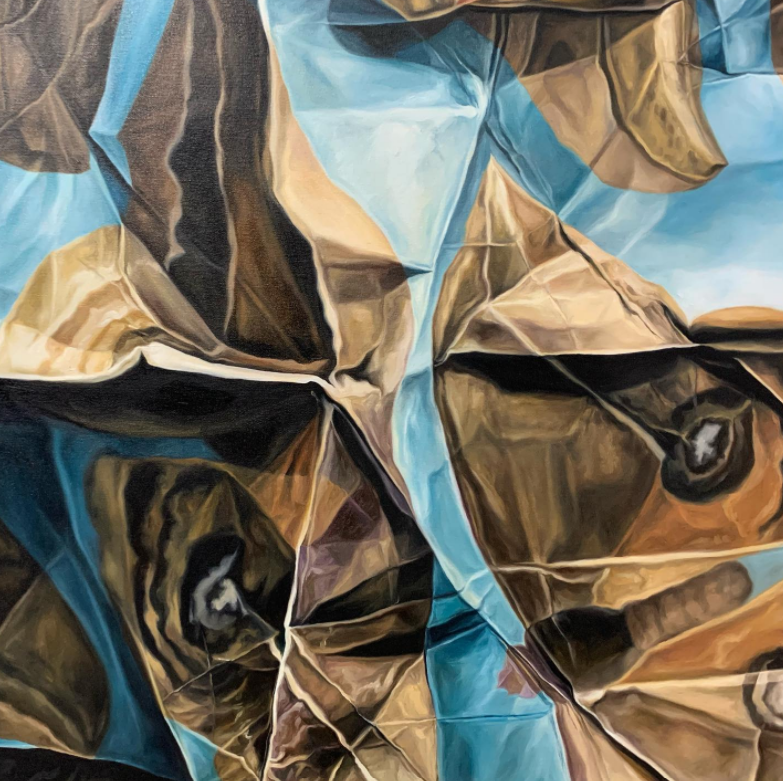 "Pattern from a pile of papers I bought from a looong time ago ~ unfolded paper boat" | Photo from Ayka Go
Collectors of paintings in the Philippines say that it is best to buy from newer and younger artists before the prices go up. Like a house and lot for sale, the value of their artwork appreciates, and buying their pieces are not just for decorating our homes, doing so is an underrated investment.
Chelsea Theodossis
Another notable artist featured in Bluprint's 5 Emerging Artists to Invest In is Chelsea Theodossis. As unique as her name are her neutral pieces on huge canvasses which would sit well in a big room of your own luxury real estate.
Chelsea in her first solo exhibit | Photo from blueprint.onemega.com
Chelsea graduated from Centro Escolar University, and she started oil painting when she was only 12. At 24, she began taking it seriously and has since then developed a specific color palette which stands out from most paintings in the Philippines. Collectors love her pieces, and we can only imagine one of her works fitting well in one of our cozy Brittany homes.
"Solace" | Photo From https://bluprint.onemega.com/top-most-promising-local-artists-in-the-philippines/
She creates visual narratives of the everyday life with artwork featuring books, sheets of paper, plates, glassware, and even lemons and pears. Her pieces are calming yet a little bit intriguing with its dramatic lighting and intricate details masterfully illustrated.
They are best to look at while sipping hot coffee in the morning and just realizing how simple but beautiful life can be. That is one of the reasons to be motivated in life, when we find beauty wherever we are.
Faye Pamintuan
From the neutrals, we now move to the more colorful palette. A young artist who has caught our eyes is Faye Pamintuan. Faye was born in the Philippines but she spent her formative years in Texas, USA, so she now constantly travels between two countries.
Paintings by Faye Pamintuan | Crevice in the Mountain Range
Her works portray imagined moments colliding, exploding, melting, and molding into one another. Her visuals are vibrant yet somehow mysterious with the way the paint creates unpredictable shapes. For those who like seeing a lot of colors but also like the cleanliness of white-painted walls, her art can surely bring that much needed extra oomph in a space.
Paintings by Faye Pamintuan | At The Threshold
Also, her art can possibly be the inspiration for the color palette in your room. In these times when not all of us have the capacity to move around and travel, being in a room full of color can give us a boost and lighten up our mood. Here's how color can affect your daily life – How Colors Affect Your Daily Life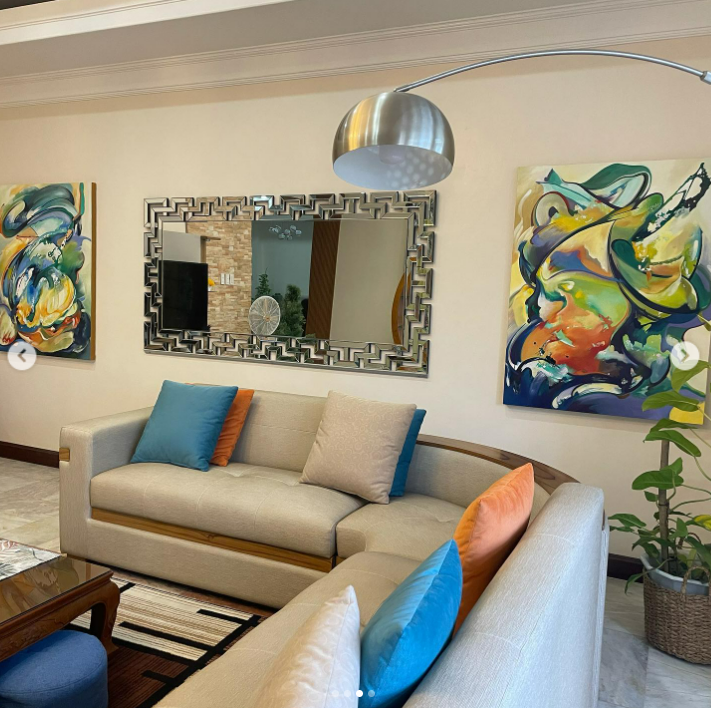 So just picture that luxury condo you've been eyeing, her colorful painting will surely bring it to life and inspire the interior designer in you. Brittany curated a list of interior design trends for 2022 – Interior Design Trends of 2022
Bea Policarpio
When it comes to luxury homes in the Philippines, one must probably go big or go home. But we don't really mean loud, we mean rich in stories, character, and, texture. Adding texture in a home is another subtle way to elevate its design and overall atmosphere.
Paintings by Bea Policarpio | Lungs
Bea Policarpio, a Filipina artist described as one who spills colors where words fail, creates paintings with heavy-handed impasto strokes deftly applied, resulting to artworks that represent dreamlike mindscapes painted with the desire to give shape to the subconscious.
Paintings by Bea Policarpio | Where the Sky Meets the Sea
More than being colorful, her pieces are characterized as imaginative and has the capacity to make the intangible, tangible. Though we can't literally touch art, looking at her paintings can help awaken one's imagination and uncover one's potential to be creative.
Hanging her painting in your own home can add another dimension to your space and can transport you to a special childhood memory, or to a future wherein you're living the dream you've almost forgotten.
Sid Natividad
But, if we are talking about paintings in the Philippines that tell stories so vividly and take us someplace else, we need to talk about Sid Natividad.
With Sid Natividad, it all boils down to intentionality and attention to detail. Both of these are undeniable with the kind of painting he does. He is a graduate of Far Eastern University who also took up an Intensive Drawing and Painting program at the Florence Academy of Art.
"Flashback", 2019, 72 x 48 inches, oil on canvas | Photo From https://artplus.ph/underwater-haven/
Art critics say his works evoke a sense of maturity and restraint that is rarely seen among local artists, making him one of the most promising realist painters of his generation. As we can see, we cannot really deny how realistic his paintings are.
For the ones who own luxury vacations houses, we do recommend that you include artworks from his series exploring the element of water in your gallery wall. They are unique, full of impact, and empathetic.
"Falling", 2018, 36 x 24 inches, oil on canvas | Photo From https://artplus.ph/underwater-haven/
We cannot help but be in awe of how he has masterfully created his paintings and looking at them is comparable to diving deep into Sid's very own imagination. Consequently, it feels like an invitation to dive deep in our own emotions to understand ourselves and discover who we truly are.
"Adrift" by Sid Natividad, 48 x 72 inches, Oil on canvas
In the same way that we're loving the exterior of every house, we also would love to tell our own stories with the interior of our home. But beyond the storytelling, acquiring paintings is also an investment. Hence, the next time you see a piece of art, look at it as not just a piece for your present, it is also a piece for your future.