BLOGS
Here Are The 10 Most Popular Kitchens Of 2022
The kitchen is often the heart of the home. Everyone always finds a reason to go looking for food, and the preparation of countless meals makes for a comforting bonding ritual for many families. And because kitchens are one of the most functional rooms in your house, you should also put in the effort to make a kitchen design look and feel inviting. Spending so much time in a specific place is made all the better when the environment is pleasing to the senses.
If you are looking to spruce up your kitchen design or if you are in the process of building your dream luxury home in upscale communities such as Forresta Villar Land, then you might want to take a look at the most popular kitchen design ideas of 2022.
Although you don't need to copy every trend, looking at a few design ideas is undoubtedly a good move. It will help you identify what you want, and you might find unexpected design gems that would be a perfect addition to your dream kitchen.
What is the most popular kitchen style for 2022?
2022 was a year that signaled a new chapter for most families. And embracing a new chapter meant kitchen renovations and remodeling for many luxury homes. Among the most popular kitchen style for 2022 is the combination of wood, white, and black.
Integrating a bold pop of color was also a popular kitchen design style in the past year. The importance of small design details also grew in popularity as a small-scale way of giving your beloved kitchen a design update. Here, we break down the top 10 most popular kitchens of 2022 to give you some beautiful design ideas for your luxury home.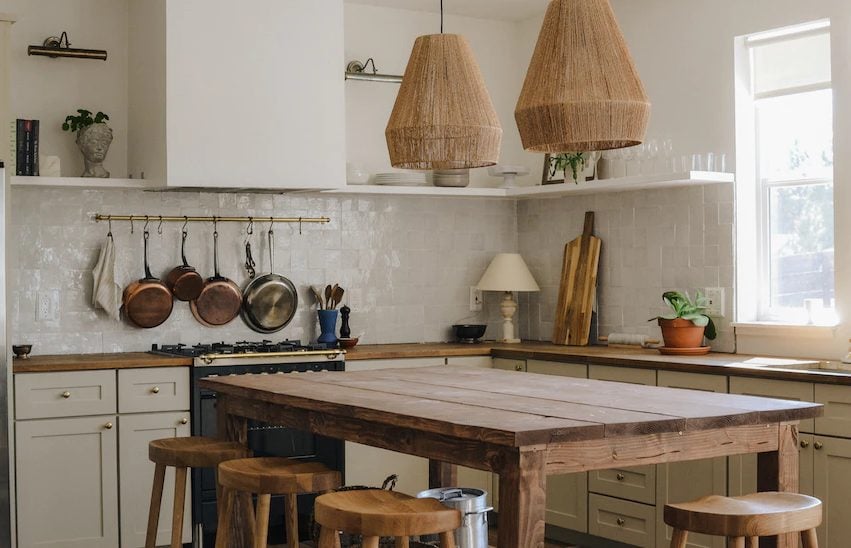 10) Popular Kitchens 2022: Neutrals: Wood, White, and Black
Sleek minimalism has become a popular home design trend in recent years, and it extended to kitchen ideas in 2022. While most people think of designing an all-white kitchen to create that minimalist aesthetic, a more chic way to do it is by combining three neutrals: white, black, and wood.
White brings a sense of calm to a space, which in a kitchen design is a valuable thing as food preparation is an act of love for the family. And white also brightens any space, bouncing the light across the room.
For more balance and contrast, add black design elements such as kitchen tapware and lighting. And finally, using wood adds warmth and makes your kitchen feel more grounded. Wood makes the space feel more inviting and cozy. The balance of these three design elements makes this kitchen look sleek, polished, modern, and luxurious, yet still welcoming and inviting.
9) Popular Kitchens 2022: Unify this Kitchen with Marble
Using marble on the countertops, backsplash, and kitchen island is a great design idea to unify the entire space. While the cabinets add a modern touch to the design, the marble adds luxury and grandeur, perfect for a kitchen in your luxury home in Forresta!
The gray veins in the marble tie in the gray of the cabinetry and even the sleek silver of the fixtures and appliances. The diagonal lines of the wood floor also highlight the diagonal veining in the marble, making the kitchen feel more cohesive.
8) Popular Kitchens 2022: Add a Natural Touch
While most kitchen ideas often have sleek straight lines, they can have a clinical effect. To avoid this, one of the popular kitchens 2022 is to incorporate more natural materials and organic shapes into the design. Honeycomb tiles for the backsplash echo geometry found in nature without being too distracting.
The addition of slightly rounded wooden stools in this kitchen also makes the kitchen feel more natural. The spherical pendant lights also add to the softening of harsh lines. Attention to detail is also important. Instead of traditional hardware in the cabinetry, using leather pull tabs creates a rugged effect. The use of natural woven material for the window blinds also makes the kitchen feel more relaxed.
7) Popular Kitchens 2022: Timeless, Cool and White
Trends come and go, but kitchen designs can stay timeless even while incorporating elements of current trends. Find that balance between trendy and classic by keeping timeless and classical features like wood cabinetry, subtle details in the crown molding, countertop appliances with a vintage design, and a patterned tile.
Even the copper pendant lights echo back to timeless kitchen design ideas. Then to give your kitchen a modern look, use the current trending color, such as gray, to paint the cabinets and kitchen island. Embrace the industrial style, too, by adding steel gray stools.
6) Popular Kitchens 2022: Coastal Chic
Coastal interior design is about making your home feel like a beachfront property. When it comes to creating a coastal chic-inspired kitchen, incorporate a lot of blue and white into your design color palette. The blue echoes the color of the water, which helps you create that coastal vibe.
Use a unique backsplash design, like this scalloped effect with blue and white tiles. The effect resembles waves, shells, or even fish scales. Another way to make your coastal kitchen design ideas come to life is by incorporating natural materials like rattan into the furniture pieces like stools and dining chairs. To add a contemporary look, choose a more structured lighting fixture made of brass or chrome.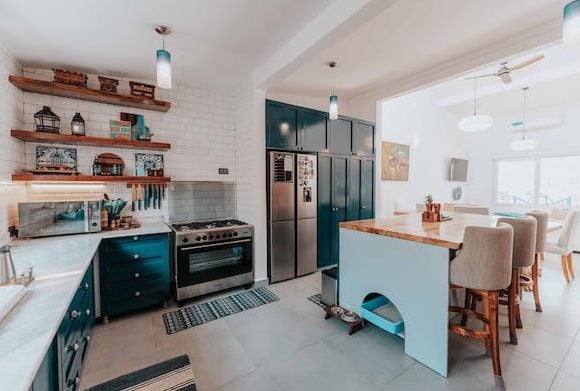 5) Popular Kitchens 2022: Modern Craftsman
Craftsman kitchens have also been all the rage in interior design in 2022. The craftsman style is defined by using natural materials like wood, stone, and tile. There is also an emphasis on solid wood cabinetry with simple, clean lines. Craftsman kitchens combine natural and contemporary elements to create a beautiful and functional kitchen that can withstand years of heavy use.
To update your craftsman kitchen, use wood with a maple or walnut finish for your kitchen bench, as well as your cabinets, tables, and seats. A stone countertop would also work. Make use of the natural features in your homes, such as brick and large windows, to create a more naturalistic vibe in the kitchen. A pop of color can also bring zest to a traditionally neutral craftsman palette.
4) Popular Kitchens 2022: Beautiful Details
Good kitchen designs can also be subtle. Often, simplicity can bring out the natural beauty of a space, which makes it an unobtrusive way to highlight the aesthetic value of the different elements in your kitchen.
Details such as the cabinet hardware matching the sink hardware and the lighting make a kitchen look cohesive without drawing undue attention to these elements. A subtle herringbone tile pattern on the backsplash adds dynamic movement to a space without overwhelming it with a bolder pattern.
3) Popular Kitchens 2022: Showstopper
If you spend a lot of time in your luxury kitchen, then you should have a showstopping element as the star of your kitchen. You can do that by investing in a beautifully crafted stove and oven with a matching upscale range hood that is both functional and aesthetically pleasing.
Place this showstopping stunner in the center of your kitchen wall to be a focal point for the entire room. Then add subtle details that cascade from this focal point to the other fixtures in your kitchen.
The brass hardware on the stove is also present in the trim of the range hood and the cabinetry hardware. Chrome is also a prominent feature in the stove, as seen in the tap, floating shelves, and lighting fixtures. The kitchen is always a well-loved area of the house, and you deserve to have a kitchen that makes you say "Wow" every time to see it.
2) Popular Kitchens 2022: Organic Elegance
An elegant kitchen design idea can also benefit from simplistic natural elements. The effect is a light, airy, and zen ambiance to a usual busy kitchen. What this type of design ethos does is create a calm space for you to easily flow through all the aspects of meal preparation.
You can achieve this beautiful and organic kitchen in your luxury Forresta home by focusing on light wood, warm white walls, and a lot of natural light. Enhance the organic feel by incorporating stone floors and even a stone accent wall in an outdoor dining extension. Wicker lamp details also bring an additional organic texture to the space.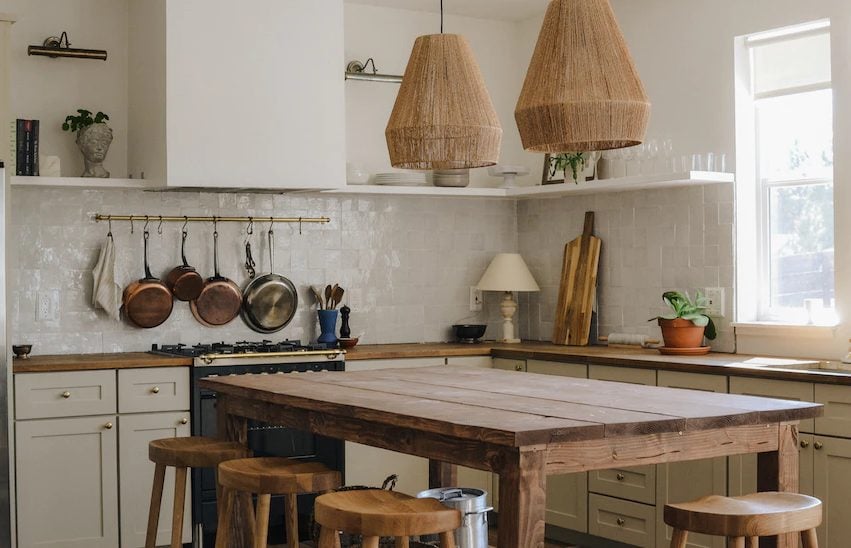 1) Popular Kitchens 2022: Rustic Charm
The most popular kitchen design idea of 2022 is a cozy and rustic kitchen. It comes to no surprise that a rustic kitchen design has become one of the go-to styles this year because it fosters an inviting atmosphere that encourages the family to gather and bond over preparing and cooking meals.
This calm and relaxed rustic kitchen feels like a space you want to spend time in. Connections with the people close to your heart have become more important since the pandemic started, and a rustic kitchen makes connection feel effortless.
Having a solid wood kitchen island and bench top is a simple way to make your kitchen feel more rustic. A different wood finish for the stools adds to that relaxed mix-and-match rustic vibe. Putting your prized pots and pans on display transforms these utilitarian pieces into a design element when not in use. And using tiles with a textured finish for the backsplash creates a rugged, almost imperfect feel to the kitchen wall, making the space more charming.
A beautiful kitchen gives beautiful living
A beautiful kitchen is a gift you give to your family, and it will go perfectly with your new luxury home in Forresta. A kitchen with everything you want and need is a stunning addition to your luxury home. Think of all the recipes you could share with your family while in your space.
Build your dream kitchen in your new Forresta luxury home! Forresta is Brittany Corporation's latest luxury development project that is situated in Daang Hari, a community that is soon to be the next central business hub in the metro.
Get ahead of the trends and build your dream kitchen and home with Brittany Corporation. Browse the website for more information on the luxury homes of Brittany. Invest in your dream future with us today!
Suggested Read: Unique Holiday Activities To Try in Your Portofino Home
Suggested Read: House Features Home Buyers Are Looking Into
Suggested Read: 19 Elegant Christmas Tree Decor Ideas
Suggested Read: american Home Interior Design Trends