BLOGS
The Beauty of Living in Brittany Sta. Rosa
The beauty of living is an inherently human experience, hardwired into our DNA. In fact, the idea of beauty has been with us for thousands of years. From our ancient ancestors who made simplistic carvings on their cave walls to the great artists of the Renaissance period who honed beauty into fine art, the beauty of living was never lost on humans.
Today, more than ever, we are finding out about beauty and how it affects the human brain in a surprisingly holistic way.
For instance, beauty is known to have physical effects on humans, such as improving our ability to recover faster from various ailments. In an experiment conducted on hospital patients in Denmark, it was found that those with beautiful visual arts in their rooms healed significantly faster than those without.
Beauty is also shown to improve social health in a community, as exhibited in a project wherein abandoned lots were turned into beautiful communal spaces. Living in a beautiful environment, in particular, has been linked to daily satisfaction and improved mood and happiness.
You can see, therefore, that being surrounded by beauty is not just some form of vanity. It's also a need. A beautiful living environment can greatly improve your physical, mental, and emotional well-being — all of which are becoming more difficult to manage every day.
And that is why, here at Brittany, we are committed to the art of providing you the luxurious, breath-taking environment that you not only need but also deserve.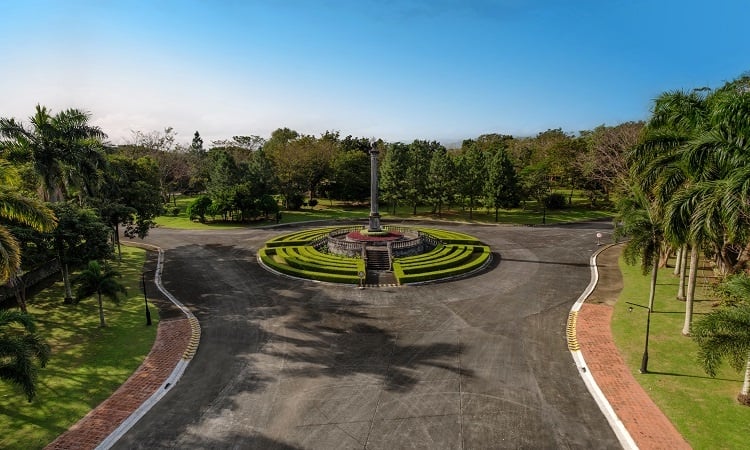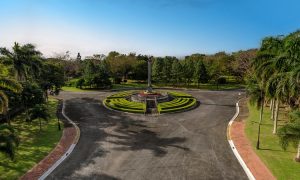 Santa Rosa: The Lion City of the South
Often dubbed as The Lion City of the South, Santa Rosa, is a premier city with one of the fastest-growing economies in Southern Luzon. This growth is facilitated by its ideal geography, a steady influx of investments by multinational companies, and solid local governance.
Location
Located less than two hours away from the country's capital, Metro Manila, Sta. Rosa is very close to all the important landmarks. It's easily accessible through the SLEX (South Luzon Expressway) and the CALAX (Cavite-Laguna Expressway), so traffic through and from the city is surprisingly minimal.
Weather
Santa Rosa is well-loved by residents and tourists alike because of its cool weather, a fresh reprieve from the heat of the megacity several kilometers away.
Economy
The city is currently one of the best economic hubs in South Luzon. Its prime industries include manufacturing, information technology, and about 10 shopping malls that can be located in the city. It also has around 20 universities scattered across its area, making it incredibly easy to find the best education available.
Attractions
It is near to the sights and attractions of Tagaytay and Batangas, which makes it a good springboard for travel. From Santa Rosa, you can reach some of the top tourist destinations in the country without having to pass through the dense Manila metropolis.
In terms of atmosphere and entertainment, Santa Rosa is also an ideal place to live. Being far away from the hustles and bustles of Manila, it has a laid-back atmosphere to it. This is delightfully contrasted by its vibrant and booming economy, which enables all kinds of leisure activities. Santa Rosa is home to the country's largest amusement park — the Enchanted Kingdom, in addition to other fun-filled attractions.
All of these positives weave together to create the best canvas for us to paint our masterpiece: Brittany Sta. Rosa.
Suggested Read: Best Laguna Delicacies | Brittany Corporation
Exploring Brittany Sta. Rosa
Occupying a 260-hectare of prime real-estate property, Brittany Sta. Rosa is crafted with every detail made for its esteemed residents. The area is composed of at least 9 residential areas with architectural and aesthetic themes coveted around the world. Each residence comes specially equipped with the most modern amenities and state-of-the-art luxuries. 
For one, it's home to several noted golf clubs like the Santa Elena Golf Club, Canlubang Golf and Country Club, and more. It's also near to nature parks and the best educational institutions in the city.
In addition to that, Brittany offers some of the best luxury homes for sale. Here, you'll find homes that seamlessly blend modern functionality, eco-friendly designs, and classic, traditional beauty that transcends time. Brittany Sta. Rosa is master-planned not just for aesthetics, but for a healthy community. It seeks to create a welcoming, warm, and inclusive area for like-minded individuals and families to experience beauty in their daily lives. Some residences contain secret gardens, while some are found in a backdrop of lush greenery and breathtaking scenery. All this, for the sake of creating a living experience that is healthy not just for the body but also for the soul.
The residences themselves where the luxury homes are located have multiple green spaces for all kinds of events and activities, as well as functional, well-lit, and well-maintained road networks that are not just for convenience but also as a daily refreshment. They also have verdant environments made possible by environmentally friendly policies.
All residences are designed for longevity and sustainability, with top-class structures, essential systems like water and electricity, and dedicated maintenance personnel. For Brittany, lifestyle design is an art that we seek to perfect year after year. If that sounds good to you, here's a preview of the beauty of living in the various luxury homes at Brittany Sta. Rosa.
Feel the Charm of the English Countryside at Promenade
Lush green fields, beautiful cobbled pathways lined with hedges and trees, and a cool breeze caressing your skin despite being in the middle of the hottest summer days. You don't need to fly to Europe to experience the beauty of living with these things — you can wake up to them and more at the Promenade in Brittany Sta. Rosa.
Carefully designed to exude the spirit of the English countryside, the Promenade is a paradise tucked in the middle of the bustling city of Sta. Rosa, Laguna. Go through its gates and be transported from the hectic comings and goings of the city to a quaint countryside village, with masterfully designed English Manors surrounded by cozy hedges and spacious, manicured green spaces.
The luxury homes are designed for the classiest, laid-back lifestyle you can imagine. You can choose models with quartz countertops and spacious rooms that are both modernly simple and traditionally opulent. Each home is also equipped with a personal courtyard that you can design to suit virtually any purpose.
In terms of accessibility and location, the easy-going, luxurious lifestyle of the Promenade is supported by the Clubhouse, a beautiful English Country Manor equipped with functional halls, various sports courts, a fountain, and even a secret garden. Beginner and pro players alike can enjoy a leisurely afternoon golfing in the best golf clubs in the country, with the Country Club Philippines and the Sta. Elena Golf and Country Club is easily accessible from the residence. If you're a person who wants to live a quiet life of luxury in the countryside with the ease and accessibility of the city within easy reach, then the Promenade is the home for you.
Live the American Dream at the Georgia Club
Do you dream of living in a classic Southern American manor, with its extravagant architecture superbly fused with an active, outdoorsy life? You don't have to travel to the Great Plains on the other side of the world for such a wish, because we have that right here at the Georgia Club in Brittany Sta. Rosa.
SUGGESTED READ: Best Retirement Places in the World
Expertly crafted in the ideals of the old Southern American styles, the luxury homes at Georgia Club blend beauty and opulence with utility and convenience.
It features a luxury house and lot in classic American architecture, complete with wrap-around porches that offer you a panoramic view of the scenery. Each home is built with the best of materials, from handcrafted doors and furniture to elegant French windows and lovely rows of white picket fences.
Unlike the Promenade, the Georgia Club isn't bordered by two country golfing clubs. It's actually nearer to The Country Club and is only a 10-minute drive away from malls and other amenities like the Vista Mall Sta. Rosa, Paseo de Santa Rosa Laguna, and the Medical City South Luzon. It's also a mere 5-minute drive to a distinguished university in the country, the University of San Carlos Santa Rosa Campus.
While it is near modern urban amenities, the Georgia Club enjoys an exclusive atmosphere that makes it feel as if it's an entirely different world from the city. From there, the noise and hustle-bustle of the city might as well be non-existent.
If you prefer the ease of being near modern amenities like malls, schools, and hospitals, while maintaining the exclusivity and luxury that you deserve in a rich, Southern-themed property, then the Georgia Club is the perfect residence for you to experience the beauty of living.
Foster Beautiful Relationships at Augusta
Nestled right beside the Georgia Club, the privileged location of the Augusta brims with Old World charm while exhibiting contemporary designs — perfect for simple living and appreciation of the good life.
Augusta in Brittany Sta. Rosa boasts an exclusive location that is no slouch when it comes to both opulence and security. It features top-of-the-line units with a distinct classic charm. The aesthetic is traditional, blending the Old World atmosphere when life was still uncomplicated with the contemporary functions and state-of-the-art architecture found in modern times. Within the boundaries of Augusta's prime real estate, one can focus on the good life, improving oneself, or fostering a healthy family amidst a serene environment.
Every detail of this Brittany residence was designed with charm and finesse: the carefully-placed units, situated beside large open spaces to create a perception of exclusivity and privacy, the sense of community, allowing residents to foster beautiful relationships with one another, and the lush greenery, creating a fresh, healthy atmosphere.
Simple. Elegant. Indeed, no two words can better describe the spirit of Augusta residences. 
Make Your Dreams Come True at Belle Reve
Vast expanses of fragrant lavender fields, crumbling and mossy stone villages that have survived the test of time, open-air farm markets with the lively buzzing of countryside activity, colorful vineyards as far as the eye can see, and quiet pristine air of rustic relaxation. If you still haven't conjured an image of France's Provence region in your mind, then now is the time to do so.
Belle Reve literally translates to "beautiful dream" in the French language, a wonderfully apt description of this Europe-inspired residence. With Belle Reve in Brittany Sta. Rosa, every waking day is like being in a dreamy Renaissance masterpiece. 
Though the vast 20-hectare open land where Belle Reve is located doesn't have Provence's prolific vineyards, it at least epitomizes the spirit of France's rustic countryside charm. The landscape of Belle Reve is dotted with rich flowers and towering trees, enchanting brooks, and beautifully architectured waterways.
The homes themselves are some of the most beautiful luxury houses and lots in Sta. Rosa. Living in Belle Reve will allow you to experience for yourself the spirit of French architecture, of refined elegance mixed with rustic charm, and of modern tastes blending with Old World sensibilities. Luxury is embodied in the lovely neutral colors that blend with the surrounding environment, in the high-quality, natural materials, the exposed beams, and the overhangs in the roofs. Rounded arches top the tall windows and elegant doors of the luxury homes, which overlook perfectly manicured lawns and green landscapes.
If you feel like waking up every day to the beauty of living the classic European beauty, look no further than the Belle Reve in Brittany Sta. Rosa.
The beauty of living in Brittany Sta. Rosa
Beauty should be an intimate part of our daily lives. We must seek beauty in the way we interact with each other, in the things we surround ourselves with, and most of all, in the places we choose to reside.
Being a seeker of beauty is nothing like vanity. It is ideal, reflecting our drive for the best — not just for us, but for our friends and family. Being surrounded by beauty in every aspect of our lives, especially in every detail of our living space, boosts our happiness and satisfaction. It is undeniable that beautiful things make us happy. And with the beauty of living created by Brittany's latest luxury developments, your happiness and fulfillment are pretty much guaranteed.
Visit Brittany's official website to know more about Brittany's beautiful thematic offerings or follow us on our Spotify, Facebook, Twitter, and Instagram accounts!
UP NEXT: 5 Upcoming Furniture Designers to Follow