BLOGS
How To Choose Between Cabinet Or Walk-In Pantry
The heart of many homes is undeniably the kitchen. It's the place where families come together to enjoy a meal and make memories, so having an organized and efficient space can make all the difference.
A great way to keep your kitchen running smoothly is by creating a pantry space – this allows for more storage for food items, kitchen appliances, and cookbooks. Pantries give kitchens more functionality and help maximize the available space, turning your kitchen into an inviting place to create delicious meals with those you love.
When designing your dream home, you may face the dilemma of choosing between building a walk-in pantry or constructing cabinet pantries instead. The walk-in pantries vs. cabinet pantries debate has been an issue in the interior design space for quite some time. But it boils down to what you need and what suits your lifestyle.
If you are planning on building your dream home, like a luxury home in the beautiful Forresta Villar Land, you might want to think about what kind of pantry you want. A pantry is essential to any home, but a perfect pantry will feel like a luxury that makes your home life so much more enjoyable.
Do you have some questions about walk-in pantries vs. cabinet pantries? The article will guide you in selecting the best option for your new luxury home.
What are the different types of pantries?
There are five common types of pantries that you can choose to incorporate into your home. They all serve a similar purpose, although they differ in build. The types of pantries are a walk-in pantry, a standalone or cabinet pantry, a butler's pantry, a wall pantry, and a pull-out pantry.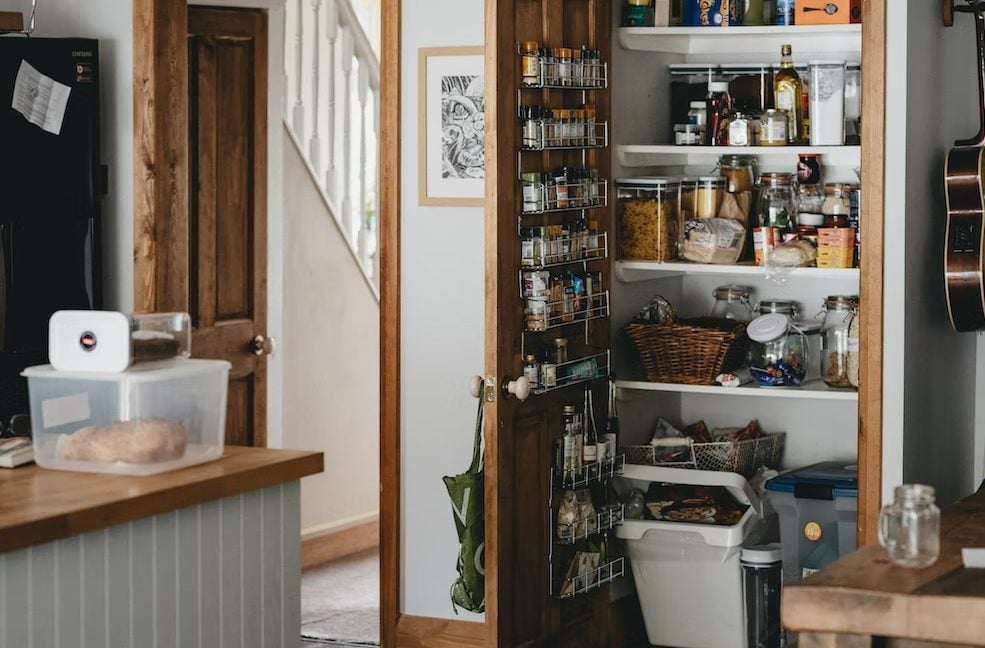 Walk-in Pantry
A walk-in pantry is a great addition to any home if you enjoy cooking or entertaining. This extra storage space is a blessing, allowing you to store all your food items and kitchen supplies in one convenient location. Keeping the main kitchen uncluttered allows for more organization while entertaining, as well as reducing overcrowding that can come with full cupboards.
The joy of having a walk-in pantry also extends beyond the inward benefits of being able to better organize Food; it takes advantage of unused space that can often be found in a home, freeing up room within other spaces. For those looking to go the extra mile and maximize their storage capabilities, utilizing every inch of their house rather than renting out external storage facilities, walk-in pantries are an excellent option.
Standalone or Cabinet Pantry
A standalone or cabinet pantry is a piece of standalone furniture that fulfills the functions of a pantry. This cabinet pantry is a space-efficient way of storing your kitchen supplies when you have limited space in your home.
It's not just a great space-saver – cabinet pantries are also stylish additions to any kitchen, available in various colors and materials. Whether you're looking to create an efficient compact kitchenette or maximize countertop storage space, a cabinet pantry is worth considering.
Butler's Pantry
A butler's pantry is a separate space from the kitchen. Traditionally, this was the room where the butler and cook would prepare meals out of sight of the diners. Modern butler's pantries now store additional kitchenware, appliances, and dinnerware. They can also store shelf-stable food items. Most butler's pantries will also have countertops, a functioning faucet and sink, and space for a secondary refrigerator if needed.
Wall Pantry
A wall pantry is built into your kitchen wall. It can look like the other cabinets you have in your kitchen, or you can design it to stand out. Once a wall pantry has been installed, that wall space in your kitchen can no longer be used for other cabinets or furnishings.
Pull-out Pantry
Pull-out pantries are a popular space-saving option. They are designed to fit into existing wall cabinets or empty spaces within your kitchen. These often incorporate sliding shelving, Lazy Susans, or revolving doors.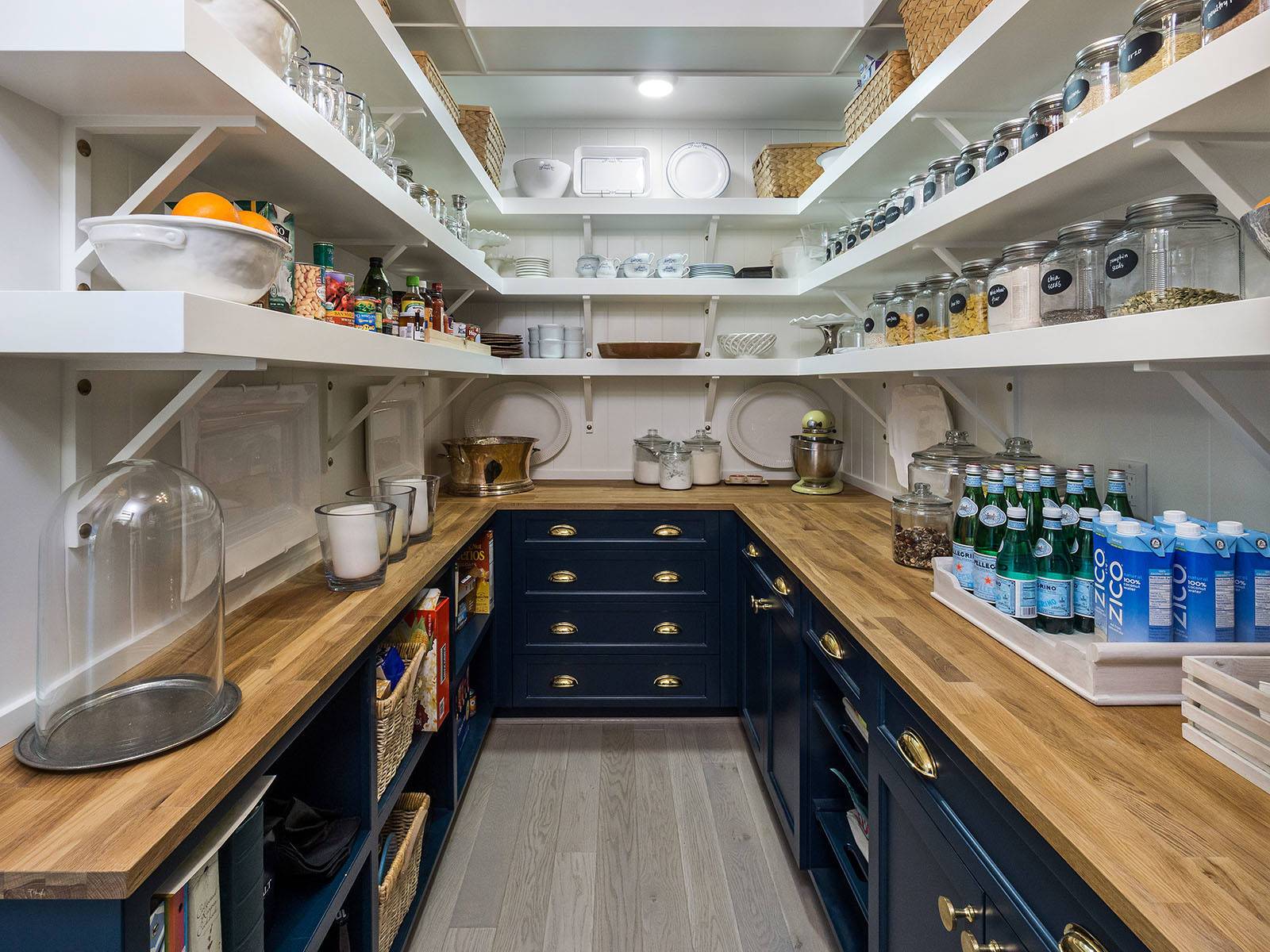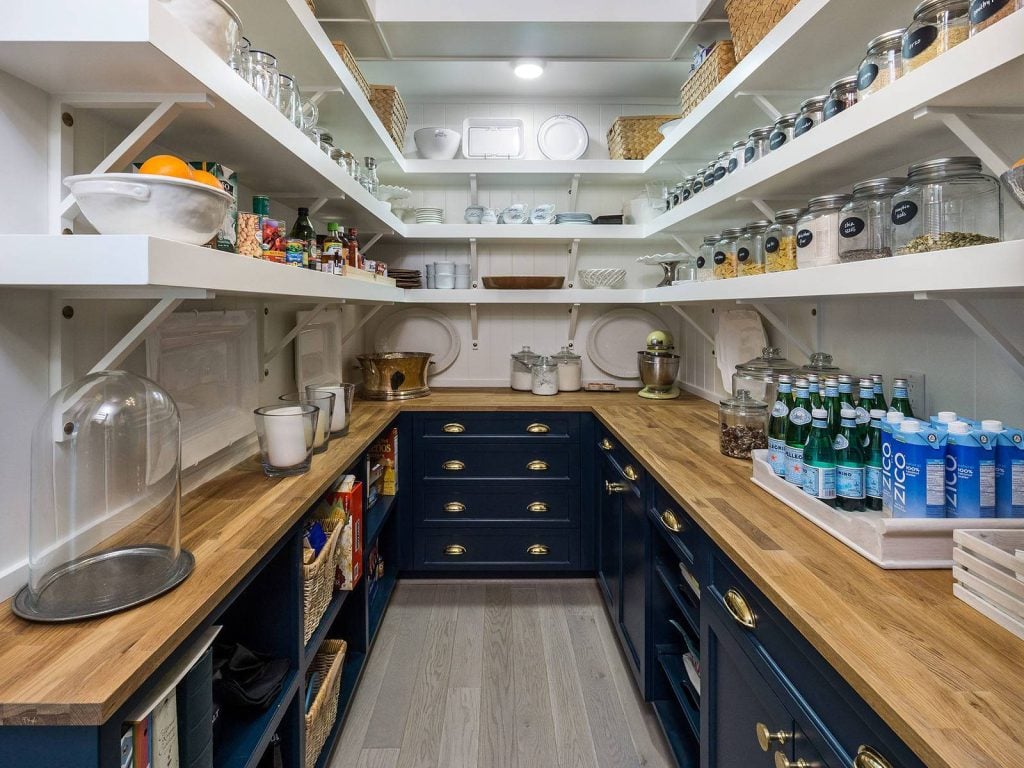 Picking the Perfect Pantry
Now that you know the different pantries you can choose from for your future Forresta luxury home let's talk through the different factors you might consider before building your pantry.
How much storage space do you need?
Of course, pantries are made to be storage spaces for your grocery items, extra sets of plates, or additional kitchen appliances that you don't use daily. Space for all of these things is one of the first things you need to consider when deciding between walk-in pantries or cabinet pantries.
Go for a walk-in pantry if you have a lot of supplies and appliances to store.
If you are a self-professed home chef, or if you have a cooking or baking business that you run from home, having a walk-in pantry for storage will be a lifesaver. A walk-in pantry offers a huge amount of storage space in the form of shelving.
You can design your walk-in pantry with several floor-to-ceiling shelves. You can vary the height of each shelf so they can store big bulky items like a pasta maker, stand mixer, slow cooker, or additional pots and pans. Taller shelves can also offer good storage for cereal and pasta. Shorter shelves can be the perfect home for canned goods and spices.
Go for cabinet pantries if you want a streamlined kitchen pantry.
With a cabinet pantry located right in your kitchen, storage becomes much more streamlined. You become very decisive about what you want and need to store because space is more limited than in a walk-in pantry.
Everything you need is easy to locate because you can see all your pantry items. Because all your pantry items are in a single organized space, it helps you cook faster because you spend less time looking for the ingredients or equipment you need.
How much space do you have in your home?
The pantry takes up space. So before you make it, make sure you know how much space you need, so you make a pantry that is inconvenient to use.
Go for walk-in pantries if you have a big home and a lot of extra space
A walk-in pantry is like a walk-in closet but for your kitchen. You need space for a proper walk-in pantry with shelves and additional counter space.
Go for cabinet pantries if: You have a small space and a small kitchen
Just because you have a small space does not mean you can't have a pantry with ample storage. A cabinet pantry is perfect for making the most out of small kitchen spaces.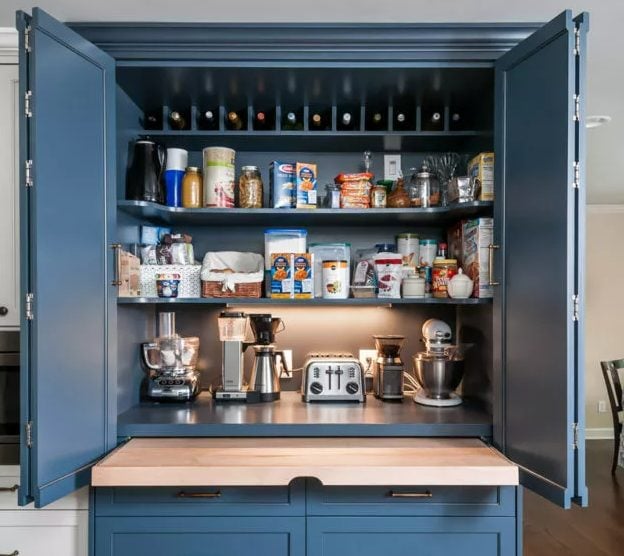 How accessible do you want your pantry?
Cooking is a multi-step process. And sometimes, you need a lot of ingredients or small appliances for a specific recipe which means you have to take multiple trips to your pantry to get everything ready.
Opt for a walk-in pantry if: You don't mind walking to and from the kitchen pantry
Walking is good exercise, so why not squeeze in a bit of exercise while cooking right? A walk-in pantry might require you to walk farther to get all of your ingredients and tools out of storage, but that is not such a drawback.
Go with a cabinet pantry if: You prefer a more efficient kitchen workstation
Having a cabinet pantry in the middle of your beautiful kitchen makes it much easier to make meals and snacks. With a pantry in the kitchen, you can easily reach everything you need.
How much pantry maintenance do you want to do?
Like any area in your luxury home, the pantry will also need cleaning and organization on a regular basis. Having a messy pantry is stressful, and grabbing ingredients to find out they have expired is even worse.
Choose a walk-in pantry if you enjoy cleaning and organization as a chore
A walk-in pantry is a big space, and bigger spaces require more effort to organize, clean, and maintain. There are more shelves to wipe, pantry storage to organize, and food items to declutter. But if this seems like an easy trade-off for you, then a walk-in pantry should pose no issues.
Choose a cabinet pantry if you prefer a fuss-free kitchen storage space
If you have a busy lifestyle, maintaining a cabinet pantry can be a better fit for you and a more efficient way to use your time in the kitchen. Cabinet pantries that are easier to organize require less time and effort to maintain.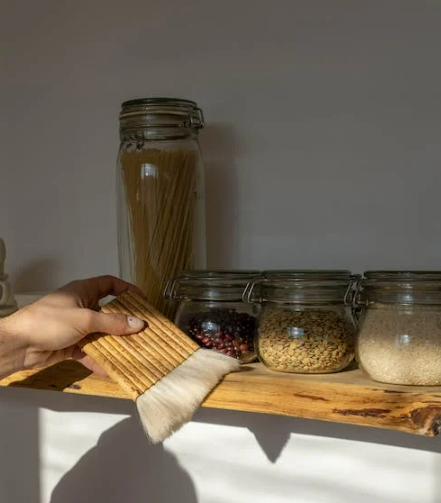 A beautiful and efficient pantry is a welcome addition to any home.
The pantry often becomes the extension of your kitchen, and it holds everything you need. A functional pantry will have enough storage space, good lighting, and adequate shelving for all your supplies and additional kitchen equipment.
Build your dream pantry in your new Forresta Villar Land luxury home. Forresta Villar Land is the newest luxury forest development offering of Brittany Corporation. Even though it will be located close to a thriving central business district in Daang Hari, Forresta Villar Land will still provide a luxury sanctuary for families who want to live closer to the calm and serene atmosphere of nature.
Forresta ultra-luxury lots are spacious, so you are free to build a spacious home with a spacious pantry. Forresta's calming environment makes it more fun to prepare nutritious meals for your family. And, of course, having a good pantry will make it easy for you to have a supply of ingredients ready in your home.
Whether you choose a walk-in pantry or a cabinet pantry for your future Forresta luxury home, you will surely have enough space for what you need. Learn more about Forresta, Brittany Corporation's newest project.
Suggested Read: 7 Home Features The World's Wealthiest Can't Live Without
Suggested Read: Rooms In A Mansion You May Not Be Aware Of
Suggested Read: 6 Wyas To Increase Storage Space At Home