BLOGS
Why Santa Rosa Should Be Your New Home Address
Houses in Santa Rosa, Laguna, have always been fascinating for real estate buyers. The new normal is being embraced for many reasons why it is supercharging demand from foreign investors and the privileged few in the country. There are a lot of factors that you should consider when looking for a new home address, and you might want to include Santa Rosa on your list.
Santa Rosa in Brief
Santa Rosa, now a city in Laguna, was founded as a municipality on January 18, 1792, by the Spanish conquistador and grandson of Miguel Lopez de Legaspi, Juan de Salcedo. Named after the Saint Rose of Lima, the townspeople of Santa Rosa played a significant role in the proclamation of Philippine Independence in 1898.
Throughout the postwar era until the 1970s, families in Santa Rosa relied on basic agriculture and family-owned enterprises for their livelihood. In the 1980s, industrialization brought a rapid change in its economy, making it the richest city in South Luzon, with an annual income of P2.3 billion. It has surpassed the income of the cities of Calamba and Batangas.
Dubbed as the "Lion City of the South," the city of Santa Rosa continues to thrive and triumph as it allures increasing numbers of foreign and local investors to invest in the heart of Laguna.
5 Reasons why Santa Rosa should be your following home address
Laguna has always been underrated, offbeat, and way less touristy than other provinces in Luzon. This guide will answer the question, "Why Santa Rosa should be your next home address?" by providing you with reasons to invest in Santa Rosa.
Here you can uncover why it is the most sought-after destination for homeowners searching for properties and what distinguishes it from other communities near Metro Manila. So why should Santa Rosa be your next home address? Let us look at these five reasons.
Sta Rosa is easily connected to major cities
As you live in Santa Rosa, many roads are now easily connected when you want to travel to the nearby cities. If you want to visit Silang, Cavite from Santa Rosa through the Cavite-Laguna expressway (CALAX), travels are now much faster than ever before. Upon completing this 45-kilometer expressway, you will really be attracted to visiting the different surrounding areas as it will connect the Manila-Cavite Expressway (Cavitex) to the South Luzon Expressway (SLEX).
It is also a no brainer to include Tagaytay in your itinerary if you are from Santa Rosa because it is so accessible to reach. The 23.25-kilometer Sta. Rosa-Tagaytay Road provides easy access to and from Manila via the South Luzon Expressway and the Cavite-Laguna Expressway.
Another notable change for those residing in Santa Rosa is the reduced travel time since the opening of the Skyway extension going to South Luzon. The development in Skyway has reduced the daily struggles and the never-ending traffic that the motorists from and to Laguna, Cavite, Batangas, and Quezon has been experiencing.
Resort Capital of the Philippines
One thing that you will absolutely love about Laguna is its popular tourist destinations. Dubbed as the "Resort Capital of the Philippines," Laguna prides itself of its manmade and natural attractions, such as the famous waterfall in the Philippines – the Pagsanjan Falls; the manmade Lake Caliraya that is a famous outdoor venue for many company outings and other outdoor recreation; the largest waterpark in the country – the Splash Island; and the majestic natural wonders of the first national park Mount Makiling, where many trekkers and campers seek adventure from. Surely you have also visited Laguna once in your elementary or high school field trips as it homes the country's first themed park – the Enchanted Kingdom. It is also in Laguna where you can find the birthplace of the country's National Hero, Dr. Jose Rizal. As stated by the National Historical Institute as "house that the boy Jose Rizal was shaped and molded and who would become the finest expression of his race."
If you are looking for a family friendly resort, chances are you have already inquired in one of Laguna's 500 hot spring resorts. There in Laguna you can find several budget-friendly resorts where you can find a private place for your friend or family gathering.
Active Lifestyle in Santa Rosa
The Nuvali Park that resides along the Tagaytay-Santa Rosa Road is notably one of the most sought-after tourist destinations in Laguna, making it an ideal place to do your exercises and active routines. You can enjoy just walking or biking along the designated bike paths and trails because everything around the area is a feast for the eyes. Bikers can appreciate the sights of Mount Makiling, Laguna de Bay, and the Tagaytay Ridge. Nuvali is also an ideal choice for health-conscious Sta. Rosa homeowners as they can explore the approximately fifty-kilometer off-road tracks and trail system with fresh air and enjoy the green surroundings.\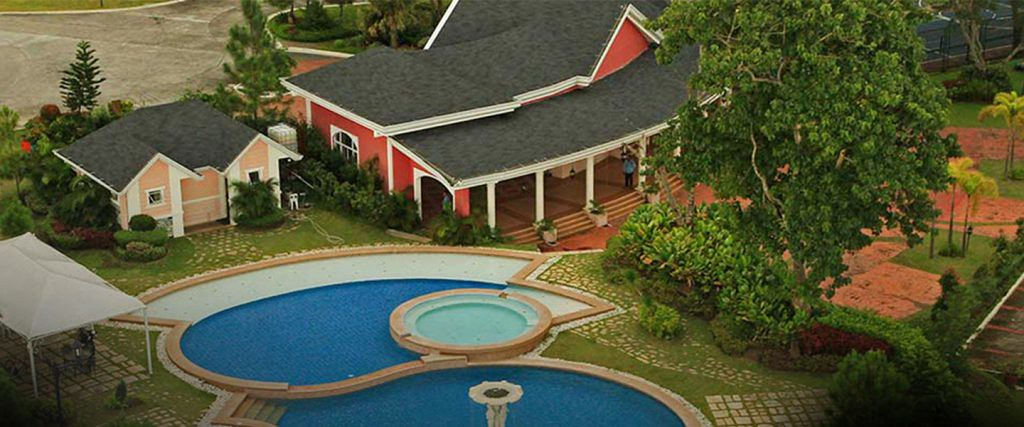 As Laguna is home to popular waterparks, Santa Rosa residents and other tourists can also enjoy the world-class water sports facility inside the Nuvali complex, which is called the Republic Wakepark. Aside from trying extreme sports like water skiing, surfing, and snowboarding, you can also try other sports like running, sand volleyball, baseball, and football.
There are many more outdoor activities that you can try in Nuvali, like feeding the Koi fish and visiting its wildlife and bird sanctuary. If you are one for chill moments, you could try the unique bars and restaurants with a view of the 4-hectare lake or enjoy the outdoor movie night with your loved ones.
Eco-Rich and Organic Farms
There's tons of greenery to look forward to seeing in Santa Rosa. Here you can find your hub of escape from the adulterated environment of the metro after a long week of hustle at work. Santa Rosa boasts of its organic farms – the Holy Carabao Holistic Farms and The Fun Farm at Sta. Elena. These farms offer a safer and healthier environment for your loved ones, especially with this new normal, where you can enjoy a great picnic time with your family and friends.
You can also enjoy the farm tours offered by the Holy Carabao Holistic Farm, where they let you experience planting seedlings, feeding the animals, and participating in cooking homegrown food. They also offer fresh and homegrown products for the consumer.
The Fun Farm at Sta. Elena is also a suitable place to spend time with your family. This organic farm offers a different side to the farm experience. You and your children can enjoy the horse stables, the natural playgrounds, the small lagoon, the gigantic sandbox, the animal feeding stations, and the venues for picnics, parties, and other events.
House and Lot Opportunities in your new home address
Many investors have seen the biggest opportunities in Sta. Rosa that helped speed up the advancement of this city, making it the ideal choice for foreign and local homeowners searching for real estate properties.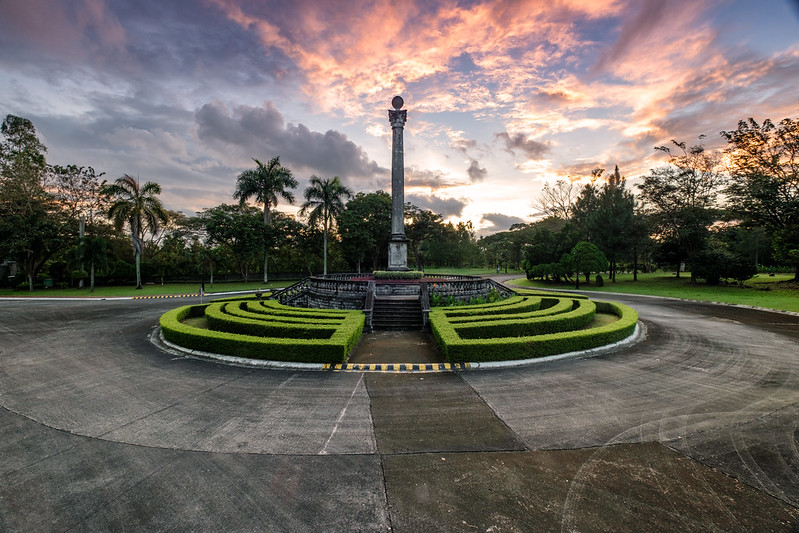 Although just on the outskirts of the congested Metro Manila, Brittany Santa Rosa offers a New Haven for privileged families who would like to live in master-planned communities where they can enjoy a better lifestyle on a regular basis. Brittany Sta. Rosa is a luxury gated community at the heart of Laguna that offers beautifully crafted luxury homes. Living in the private communities of Brittany Sta. Rosa means every day is a private, peaceful day—less traffic and only exclusive for its few wealthy homeowners and their authorized visitors.
Furthermore, while many are health conscious today, especially during this pandemic, Brittany Sta, Rosa ensured that its homeowners would enjoy the outside while also staying inside their gated luxury communities with their wide range of world-class amenities and facilities. The members of this community can enjoy the basketball court, swimming pool, Daisy Park in Augusta, Peach Tree House in Georgia Club, and a maze garden in Promenade. Living in Brittany Sta. Rosa would also give its residents the easy accessibility to shopping malls, entertainments, and restaurants.
Your new home address: Brittany Living
Future homeowners can expect the highest standard of living and excellent craftmanship in each house. It will make you think that you have made the right decision of living in this master-planned community, designed only by the top architects and reputable builders.
Promenade
Promenade, one of Brittany Sta. Rosa's top-tier neighbourhoods, provides a cosmopolitan atmosphere to everyday life. The "Billionaire's Row" is a 29-hectare old English-inspired master-planned neighborhood located along Paseo Hacienda Ocho in Santa Rosa City. It has ready-to-move-in homes and lots, such as the Eliot Luxury House and Lot.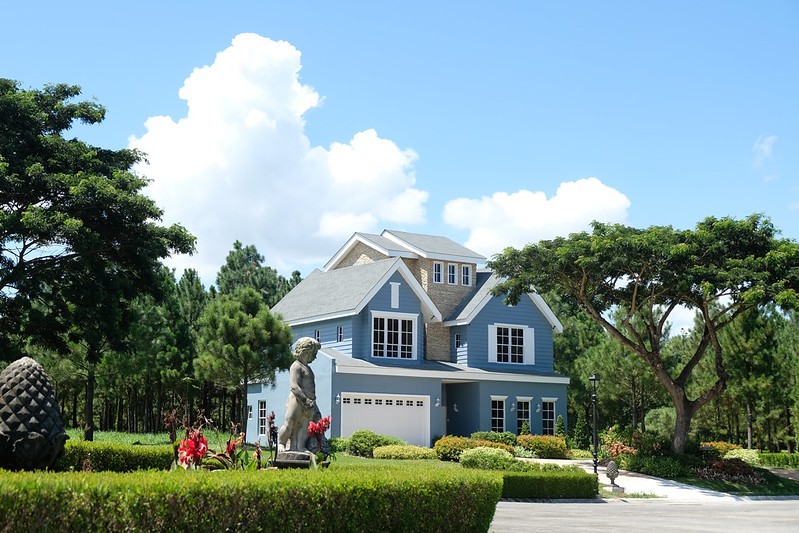 The Eliot Luxury House has a floor area of 302 square meters and is constructed on a lot size ranging from 700 square meters to 1,500 square meters. It's a two-story model with four bedrooms, a family room, utility rooms, an automatic two-car garage with Alexa-enabled smart home technology, six toilets and baths, and a guests' powder room. The courtyard, which features rich foliage and a wonderful balcony, adds to the relaxing atmosphere of this luxurious home and lot.
On the other hand, Promenade also offers the ultimate of luxury – the Lawrence Mansion. All the design of this two-storey house is very appropriate for the aristocrats and the privileged few. It is an adorable English home on 803 square meters of land. It has 2-car garage, an indoor courtyard, a guest room, a large family room, three complete bedrooms, and is just directly across the manmade lake.
Georgia Club and Augusta
Two of Brittany's most recent creations, Georgia Club and Augusta, offer housing opportunities for those who want to live in the eco-rich suburban but are also in sync with the current developments in the city. Georgia Club boasts of its American South-inspired 15-hectare neighborhood. Its Peachtree Clubhouse offers alfresco dining and outdoor barbecue pit for families who treasure quality. There is also a swimming pool and basketball and tennis courts for the active members.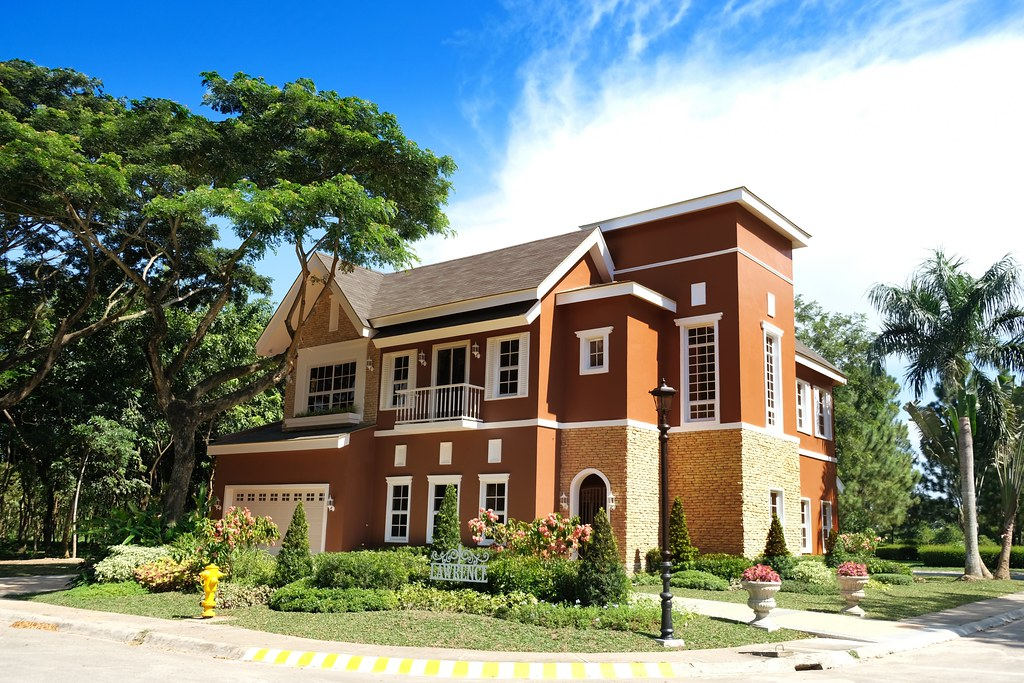 Adjacent to Georgia Club is also the 15-hectare neighborhood of Augusta. It is the real estate development of Brittany Sta. Rosa offers a luxurious community where you can create the colonial house that best fits your requirements and lifestyle. It also boasts Daisy Park, which is an enjoyable area for kids to play.
Both neighborhoods offer luxury homes like the Allison, Marcia, and Carolyn. Allison is a 211-square-meter, two-story luxury house complete with three bedrooms, a family area, a balcony, 2-car garage, a porch, a living and dining room, and utility rooms and areas.
In addition to Allison, Brittany Sta. Rosa also offers the Marcia luxury house. It is a 2-storey house that offers a sense of peace and an escape from the noise and pollution of the city. It is complete with three bedrooms, a spacious balcony, a vehicle garage, a powder room, a living space, dining and kitchen area, and a maid's room.
What is more, Brittany Sta. Rosa also offers the largest luxury house and lot available both in Georgia and Augusta – the Carolyn luxury house. It is a two-story house with a floor space of 265 square meters and a 2-car garage, with complete bedrooms with toilets and baths, a powder room, a storage room, a living area, dining and kitchen areas, and rooms for your utility personnel.
Conclusion: Is Santa Rosa worth your new home address?
So, there you have it! With all the world-class features and amenities that you can find in Santa Rosa City, it is worth your next home address. It promises its homeowners a unique experience in discovering this other side of the country close to their workplace in the metro. Find your best place now in Santa Rosa City, where you and your family can enjoy the best things in life.
Next Read: Santa Rosa Land Appreciation 2022 
Next Read: Santa Rosa Laguna: The Next Wave City
Next Read: Designer Luggage Worth Investing In