BLOGS
Designer Luggage Worth Investing In
Whether you enjoy sipping an expensive glass of wine, investing in a luxury house in the Philippines or just living the good life by traveling the world. Savoring every drop of your hard-earned money is probably the most wonderful feeling in the world.
The majority of the time, wealthy individuals invest time and money in world travel as part of their luxury lifestyle. And when they travel, they typically bring the most luxurious outfits and luxury goods possible.
Listed below are the best designer luggage options that will not only satisfy your "Amor propio" expression and fashionista feeling, but will also allow you to get the most value for your money out of every single cent you spend.
Top Designer Luggage Brands For Women
Louis Vuitton Horizon 55
For many celebrities and non-celebrities alike, Louis Vuitton has consistently ranked high on the list of top fashion brands for a long period of time. In addition to leather goods and ready-to-wear, this French luxury fashion company also produces shoes, jewelry, watches, accessories, sunglasses, books, and luxury bags, among other things. In terms of classics, Horizon 55 is the most popular and best-selling model among Louis Vuitton fans.
Titanium and cowhide leather is used to create this exceptional luggage piece, which features a Monogram canvas, a naturally smooth leather design, an internal zipped pocket (A4 size), and a removable leather name tag. Aluminum and silver brass are also used to create metallic pieces on the bag. It also has a flat-bottomed interior with a large capacity for a small bag that can be carried in the cabin.
Bag Value Estimate : $3,250.00 | Php 170,500.00
Prada Saffiano Leather Trolley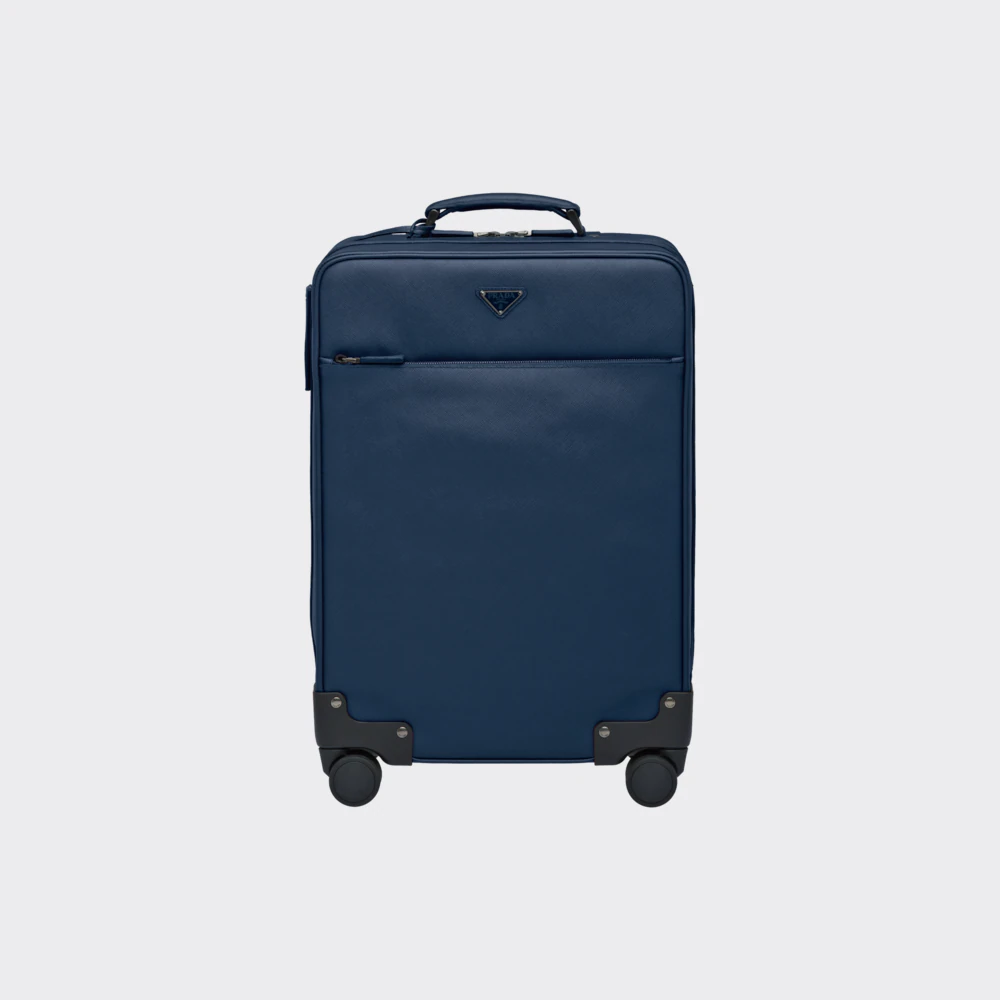 This high-tech travel luggage is equipped with a built-in Bluetooth tracker device that allows you to monitor your bag from a distance of up to 40 meters, making it ideal for travelers who have a tendency to forget their belongings. With a cover, removable leather name tag, and a rear telescopic and leather handle, this four-wheel cabin-size trolley in Saffiano leather is designed to be easy and comfortable to move around.
This designer luggage is embellished with an enameled metal triangle logo on the front and a Prada logo nylon lining. It has an outside zipper pocket and an interior with leather straps and buckles as well as a zipped pocket, all by Prada.
Bag Value Estimate : $5,300.00 | Php 278,100.00
Gucci Disney x Donald Duck Large Suitcase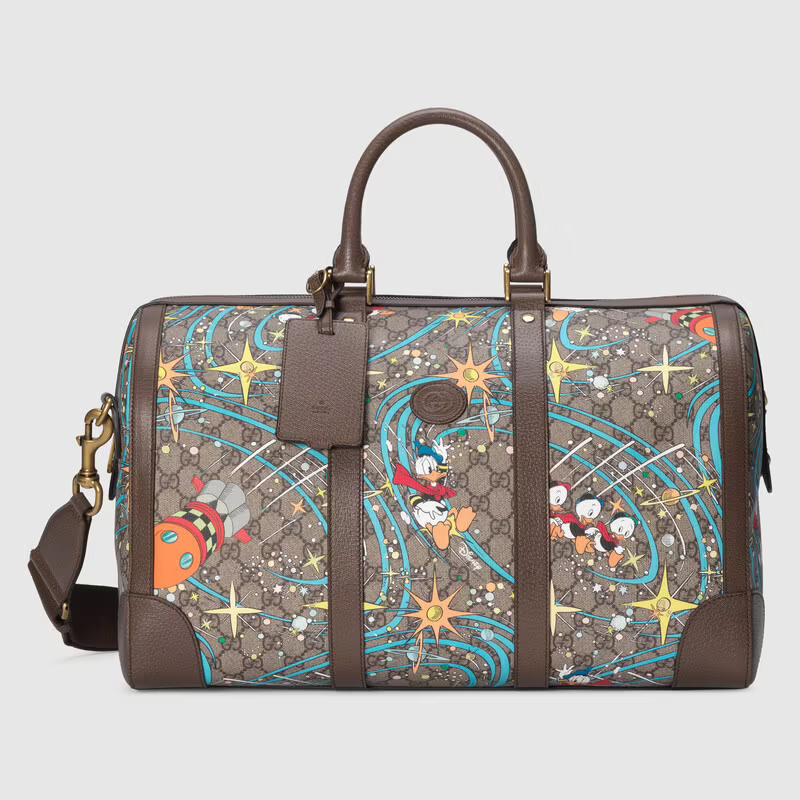 This stylish tote bag by Gucci, is embellished with a Disney character Donald Duck, his three cheeky nephews Huey, Dewey, and Louie, and a whimsical note of teal-colored swirls, is something that many Disney fans would love to have in their collection.
Made of environmentally friendly materials, this designer bag is fastened with a leather interlocking G tag, has a brown leather trim, and interior zipper pockets. This is a long-term investment, to be sure.
Bag Value Estimate : $2,830.00 | Php 148,000.00
Paul Smith Globetrotter Carry-On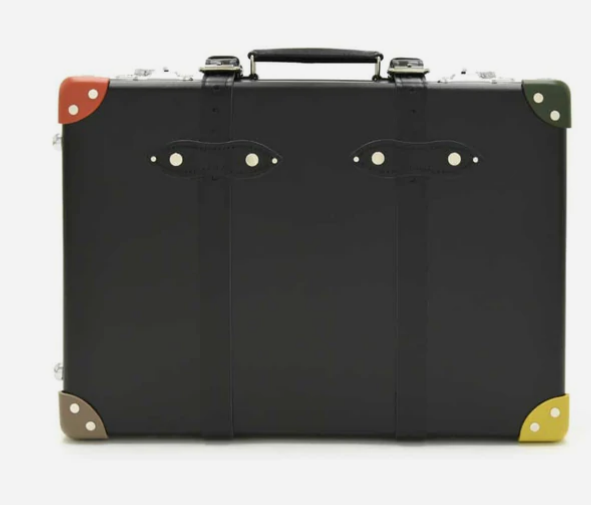 Despite the fact that this suitcase is not designed for heavy items, it is an absolute necessity for weekend road trips and business meetings.
This piece from the Paul Smith Collection has enough space to hold three to four outfits and is the perfect companion for a weekend away or a couple of nights away. And, because it is designed to fit perfectly into airline cabins, you can rest assured that it will never be separated from you. Despite weighing only 4.2 kilograms, this carry-on bag has a volume of 34 Liters and is constructed of vulcanized fiberboard for the body, with leather corners and handles.
Bag Value Estimate : $2,965.00 | Php 155,000.00
Tumi Extended Trip Packing Case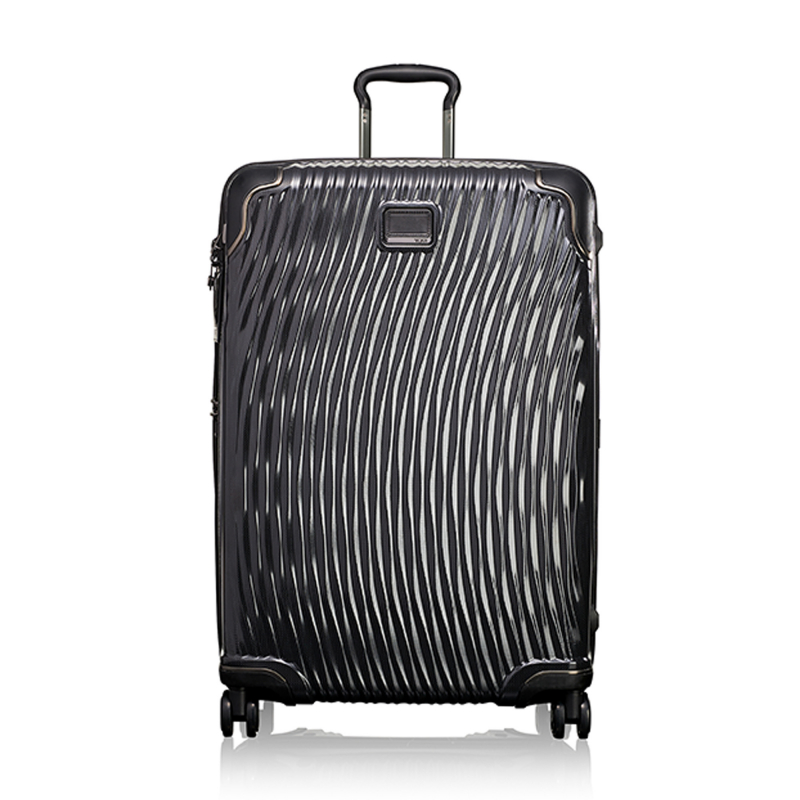 Designed by Tumi, with layers of specially woven self-reinforced polypropylene ballistic material that looks like waves and can bend and flex in response to the environment, this durable lightweight hard-side case is both lightweight and durable.
It is intended for longer trips or even for sharing packing – a perfect justification for paying for two checked bags. It comes with a detachable zipper lock, a brand-new wheel system for easy maneuvering, and a streamlined design that complements your personal style and personality.
Bag Value Estimate : $1,230.00 | Php 65,000.00
MCM Ottamar Weekender Bag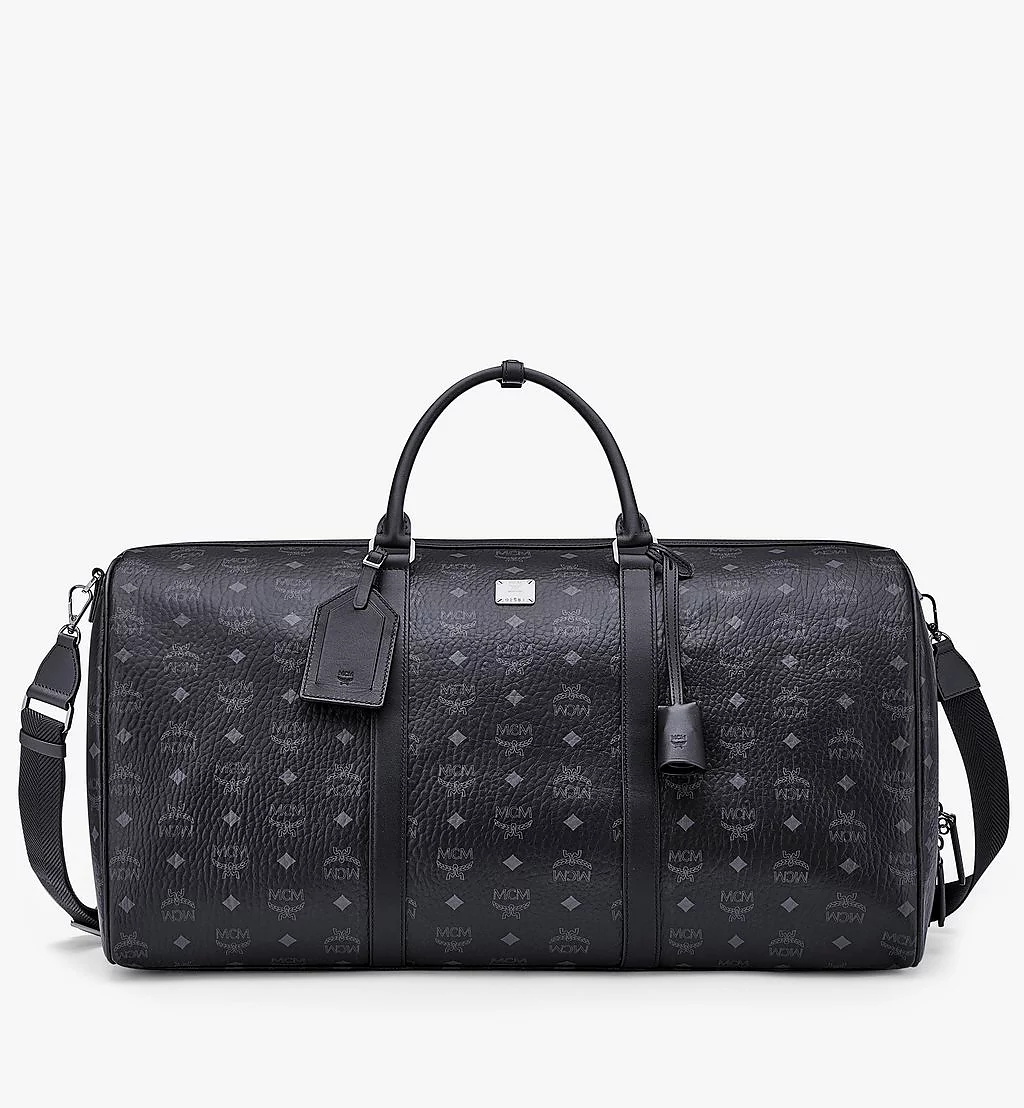 This weekender luggage by MCM is the perfect size for both short trips to the gym and long haul journeys because it is so versatile. It is available in two different color options: black and cognac.
This designer bag for men may be lightweight, but it is made of durable Visetos coated canvas and has a bonded lining to keep the weight to a bare minimum.
Aside from the iconic design, this bag features an extended zipper for easy opening, interior fabric gussets to keep your belongings secure, and a foldable design for easy storage when not in use. It is secured with an adjustable or removable webbing strap, as well as protective metal feet at the bottom, to keep your belongings safe while you are away.
You won't have to worry about your belongings being stolen because of the removable leather-covered hang tag and metal lock with keys that come with the bag.
Bag Value Estimate : $1,530.00 | Php 80,000.00
Top Designer Luggage Brands for Men
GG Black Carry-On Duffle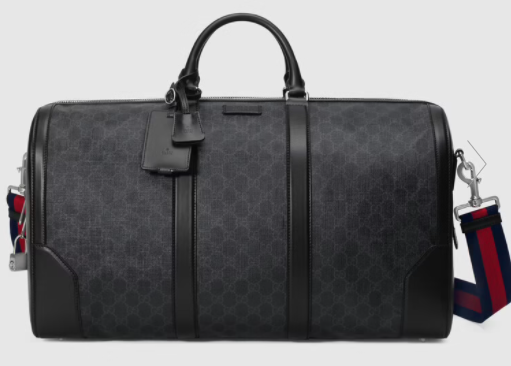 This medium-size duffle bag is made from a coated microfibre that bears the Gucci logo and is incredibly malleable, making it ideal for travel.
It has blue and red web straps that can be adjusted and detachable, as well as a leather key holder for keys that you don't want to lose or leave in a tangle of other things. Interior zippers and smartphone pockets are included, as is a double leather handle for easy transportation. You can't go wrong with a classic black suit.
Bag Value Estimate : $ 2,150.00 | Php 113,000.00
Globe-Trotter
Few luxury luggage brands capture the heritage spirit as well as Globe-Trotter. Indeed, figures such as Queen Elizabeth II have been counted among the brand's numerous prestigious customers, indicating that this is luggage fit for royalty. Not only has Globe-Trotter been in business since 1897, but all of its luggage is still handcrafted (if you can believe it). It's almost redundant to call this one of the best British luxury luggage brands; the label's reputation speaks for itself
Bag Value Estimate : $ 915.00 | Php 48,000.00
Steamline Luggage The Starlet Carry-On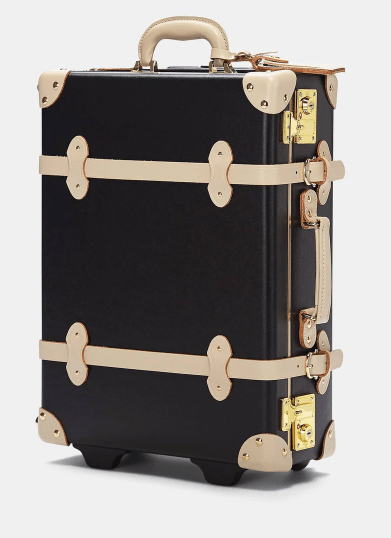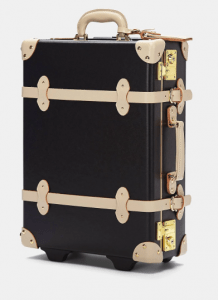 This designer bag is part of Steamline Luggage's most popular line of luggage. The case is constructed of printed Japanese fibreboard and leather straps that have been specifically engineered to be lightweight and flexible – making it the ideal travel companion for contemporary travelers. To create an eye-catching exterior, the sleek black Japanese fibreboard body is accented with golden hardware and ivory straps.
It is equipped with silent-glide wheels that allow it to move flexibly, smoothly, and discretely across a variety of terrains. With a ripstop nylon protective cover, a TSA-approved lock, and a fashionable hanging organizer, you can be certain that this is a fashion that will never go out of style.
Bag Value Estimate : $ 850.00 | Php 45,000.00
Mark Cross' Mick Leather Weekender Bag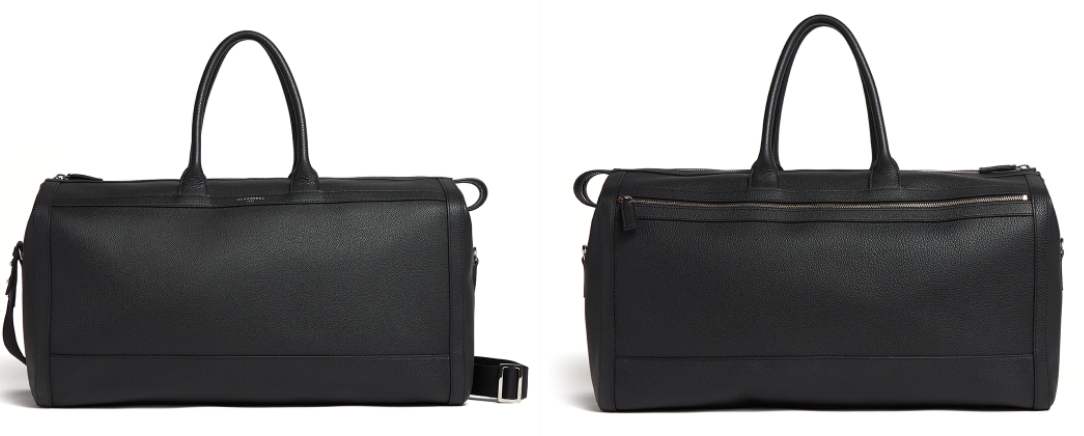 Mark Cross, which bills itself as America's "first luxury leather goods brand" (with roots dating back to 1845), puts premium leather to work on its celebrated quality leather luggage and travel accessories. The brand is able to deliver the highest level of absolute craftsmanship by emphasizing quality over quantity. If you like luggage with a backstory, check out the Grace Trunk, which recreates the overnight case used by Grace Kelly in Alfred Hitchcock's Rear Window.
The Mick Weekender is a stylish and dynamic hold-all. Pack everything you'll need for a fall getaway to the countryside or back to the city. It's worth noting that this bag is large enough for a getaway but small enough to fit in an overhead airplane bin.
Bag Value Estimate : $ 3,030.00 | Php 158,900.00
Valextra's V Line Trolley
Valextra, another premium Milanese men's leather luggage brand, embodies refined elegance. The calfskin suitcases made by the brand are legendary. An extendable handle built into the side of cabin-sized models adds a functional touch. Everything is handcrafted and executed flawlessly by Italy's most skilled artisans.
With the Trolley V-line suitcase, you can take your wanderlust wherever you want. Made from Valextra's signature leather with a carbon-fiber structure at its center and featuring a roomy main compartment with an internal zipped pocket and leather buckles to keep your belongings secure. An external zippered pocket provides a convenient location for keeping documents close at hand while the handle extends smoothly for easy mobility.
Bag Value Estimate : $ 7,950.00 | Php 417,000.00
Why are designer bags a good investment?
Designer handbags may not appear to be the most obvious way to diversify your investments in a landscape of stocks, bonds, real estate, and more, but they are certainly worth the lookout. Besides being a great way to accumulate designer luggage and handbags, these items are now considered excellent investments. According to Forbes, reports in 2019 show over 3,500 designer handbags were auctioned, bringing in a whopping £26.4 million ($32.9 million).
Designer handbags are a popular investment for high-net-worth individuals because of the quick return on their money. If a bag can only be obtained through a limited release or if it is more expensive than its patented counterparts, it becomes more sought after.
Investment in luxury real estate is as good as investing in luxury handbags
Designer bags can provide a rapid return on investment, as can investing in luxury real estate. Luxury real estate provides long-term investments that grow over time.
Brittany is a well-established real estate company in the Philippines. It was the first to envision elegant living in vast sprawling estates. Brittany, inspired by the world's most beautiful tourist destinations, brings scenic views right to your door. Some of Brittany's top luxury communities include:
Crosswinds Tagaytay
Think of yourself as being surrounded by thousands of evergreen pine trees as you travel along roads that follow the natural slope of the hills, passing by views of Swiss-inspired houses along the way. Furthermore, you will be staying in one of those lovely homes that have been decorated in a soothing manner.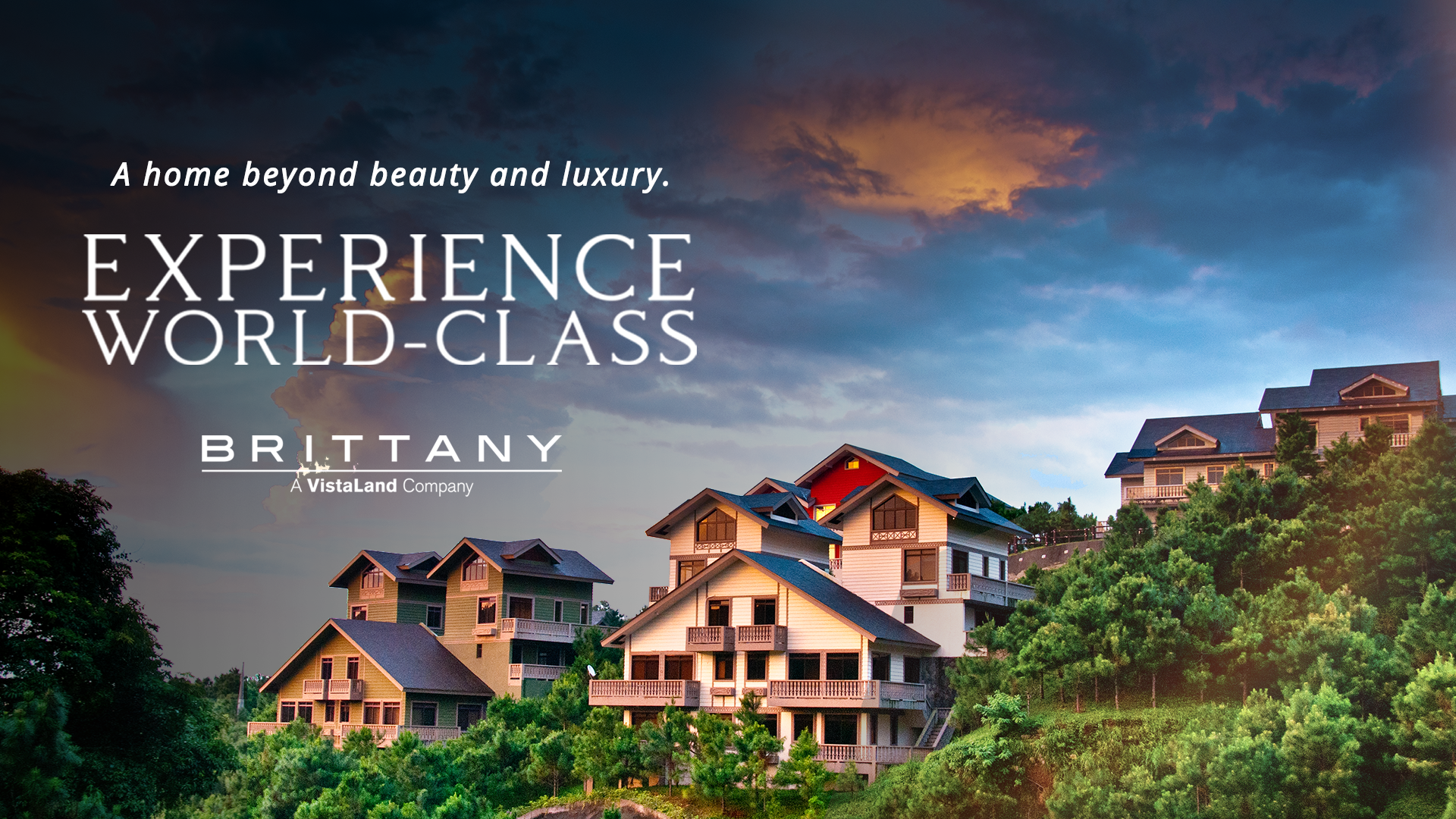 Buying a luxury home in Crosswinds Tagaytay can be used as an investment or as a second home for a family vacation.
Portofino Alabang
Portofino Heights, inspired by cosmopolitan Italy, offers homes designed with the best in contemporary Italian architecture. Large, arched windows, biscuit-colored walls, high-ceiling interiors, and other distinctly Italian design details create a home that exudes luxury and Italian elegance.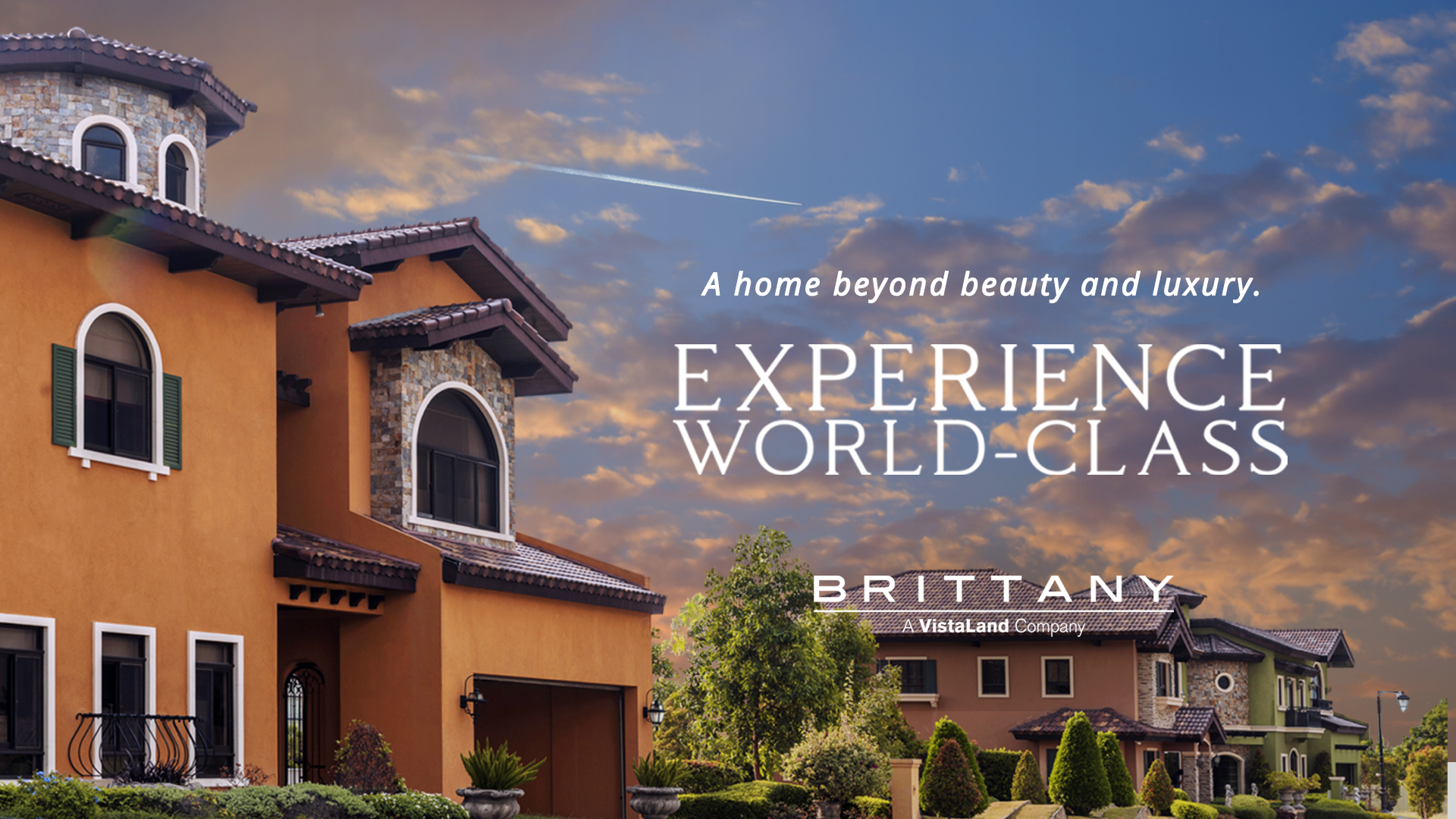 Portofino Heights elevates your way of life—it is the home that allows you to live well and passionately.
Promenade
Promenade in Sta. Rosa Laguna provides a taste of the English countryside. With its thriving commerce and the rise of some of the country's most beautiful residential and leisure developments, Sta. Rosa City Laguna is quickly becoming the Makati of the South. With this in mind, investing in Promenade is a wise decision.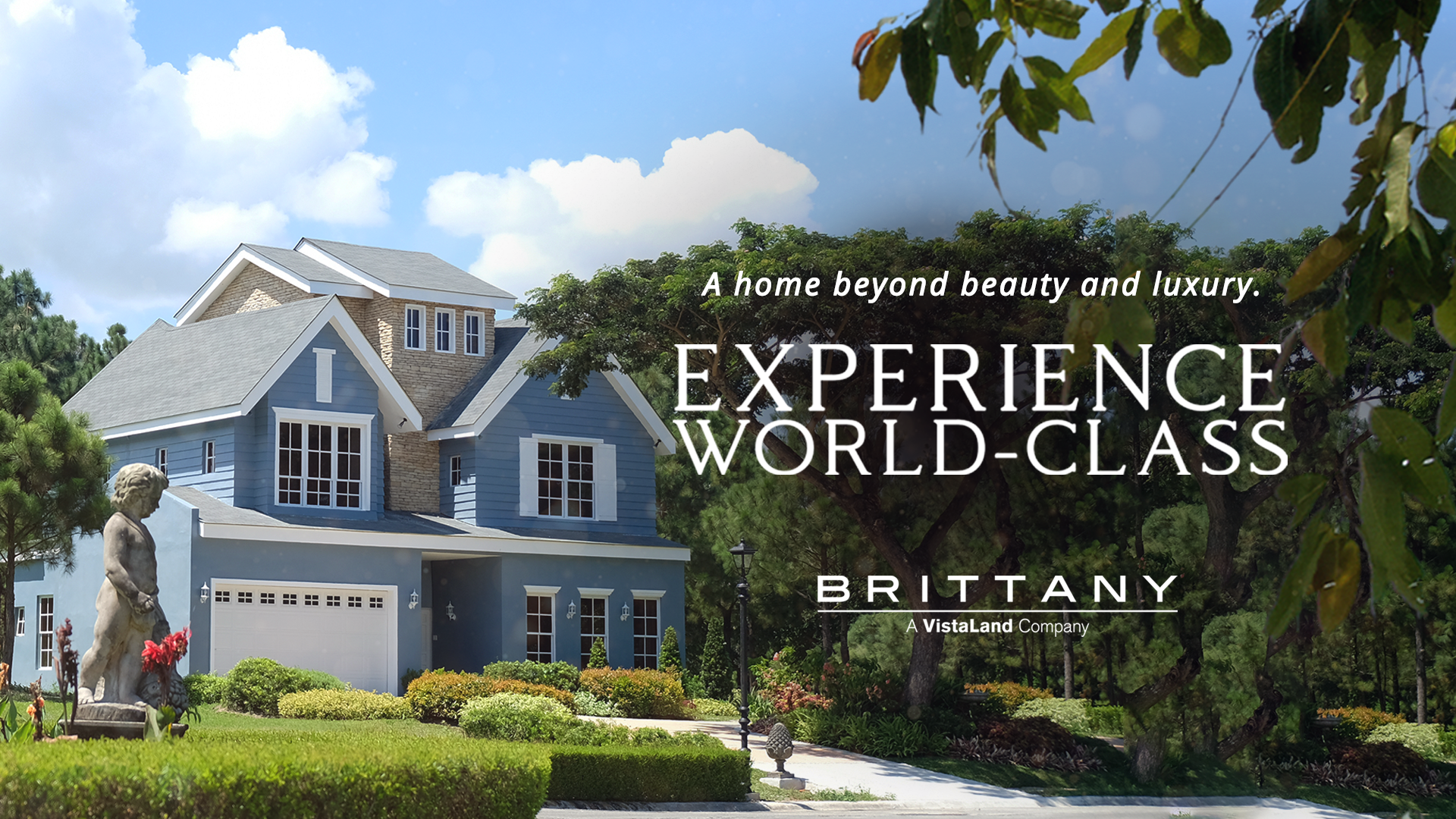 With Colliers International projecting an increase in demand for luxury residential properties, as well as future developments within and near the area, there is no better time to invest than now.
When investing in luxury real estate homes, you need to work with a reputable real estate broker. Brittany Salesforce can help you get the most out of your Brittany investment.
Key Thoughts to Keep in Mind
If you want to purchase a piece of designer luggage for any reason, whether it is for international or local travel, field trips, or simply to own one of the world's most fashionable statements, always consider if it is a worthwhile investment, making certain that every single penny of your hard-earned money will be repaid in some way.
Next Read: What Are The 2022 Designer Brands To Know?