BLOGS
Best Sunset Views in the Philippines 
Sunset views are one of the most beautiful experiences to have in life. Sure, it is a natural phenomenon for the sun to set every single day, but taking a few minutes of your time to marvel at this wonder has plenty of benefits.
Sunset views in the Philippines are especially romantic, inspiring, and too precious to not post and share on social media. And yet, most of us only make time to experience the sunset when we are on a luxurious vacation.
But did you know that there are special places in the Philippines you may want to pay a visit in order to enjoy the calming, beautiful, and life-changing benefits of a sunset? These unique destinations offer stunning sunset views in the Philippines worthy enough of your bucket list.
These are the best locations for you to experience sunset views in the Philippines.
Best locations for you to experience sunset views in the Philippines
Best Sunset View from Land
1. Quezon City Circle
Parks are among the most unlikely places for you to experience the sunset. The Quezon Memorial Circle is a popular place not only because of its expansive space and manicured gardens. The Quezon Memorial Circle is also said to be wonderful during sunrise.
This national park is also popular for the magnificent views of the majestic sunset, thanks to its elliptical shape.
The fact that it is also the final resting place of the second official President of the Philippines, Manuel L. Quezon, and his wife, First Lady Aurora Quezon, makes your visit to the historical place worthwhile.
2. Rizal Park
A stroll in the park at any time of the day helps you get into a calm, composed state of mind. It is also amazing to stroll in a park that is near the sea as well. Rizal Park offers both for folks who truly want to relax and watch a magical Manila sunset.
Also, a national park, Rizal Park's location makes it a perfect place to witness not only the magical sunset but also the sunrise as well. Rizal Park is located in close proximity to the seaside, so the breeze helps cool the park and its nearby barangays.
Moreover, the abundance of natural foliage makes Rizal Park a refreshing place to be in the hustle and bustle of Metro Manila.
3. Harbour Square
Harbour Square is a long and wide stretch of various bars, cafes, restaurants, and other lifestyle establishments overlooking Manila Bay.
It is a popular destination for anyone who wants to watch sunsets while eating or drinking. It doesn't have a sunset bar, but there are only a handful of restaurants in Harbour Square where you can dine while listening to great music. Plus, the seaside breeze can rejuvenate any tired soul.
There is a working harbor nearby, so you can take in picturesque views of the Manila Bay sunset decked by a chasing yacht or boat.
4. Mall of Asia (MOA)
Mall of Asia, or MOA, is the biggest shopping mall in the Philippines. It is also located in Aseana City, where the skies are higher as the air space of the business district is not yet fully occupied with condominiums and commercial buildings.
MOA may be big in terms of square footage, but it is considered a mid-sized building, as it only consists of ten floors. As such, the sunset views here are a sight to behold, as the clouds catch the rays of the sun higher in the atmosphere. Also, MOA is a seaside property, so the sunset views here are accented by the movement of the body of water.
If you have enough fill of the simple sunset, fresh air, and clear blue skies, you can head back to the shopping mall complex and do just about anything to your heart's content. MOA is home to high-end brands, lifestyle spaces like a fitness gym and cinemas, and a slew of restaurants offering a range of local to international cuisine. Some of the restaurants at MOA also offer sunset views, which makes dining always extra special.
Best Sunset View from Water
5. Manila Baywalk
If you have paid attention to the previous items on the list, they all share the same denominator with Manila Baywalk. They all benefit from Manila Bay, a natural harbor located along Roxas Boulevard that also serves the Port of Manila. It is also the primary body of water that accentuates Harbour Square and Mall of Asia as prime places to get amazing views of the bay.
Anyone who has paid a visit to Manila Baywalk has said the sunset views here are quite striking. Manila Bay, which is best viewed along the stretch of Baywalk, is also amazing to visit before sunrise. Manila Baywalk is one of the most popular spots on this list because you can enjoy the breathtaking view of the sunrise as you do your daily walk, jogging, or calisthenics exercise.
6. Lake Pantabangan in Nueva Ecija
The Pantabangan Dam is the largest man-made reservoir in the Philippines, and also one of the largest in all of Asia. The lake is a great spot to go boating, and at the same time enjoy sunset views while taking in the serene yet simple surroundings.
You will also marvel at the skies that accentuate the Sierra Madre Mountains, which actually cradles the entire reservoir. The sunset views at Lake Pantabangan also make the best picturesque souvenir shots as well.
7. Boracay Beach, Philippines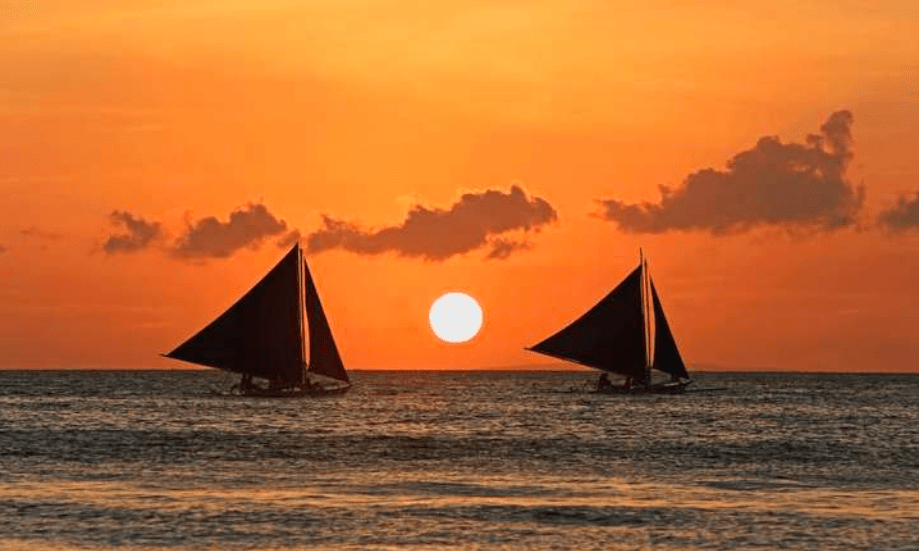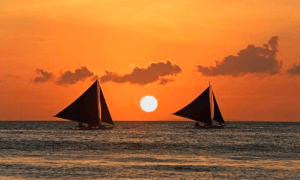 Boracay is also quite famous for its beautiful sunsets. Image from Traveloka.
Nothing beats a Boracay sunset. In fact, it is one of the reasons why it is getting millions of tourists each year.
The majority of the hotels, luxury homes, homestays, and even hostels at Boracay island are built facing the sea because of their huge real estate potential, and it is largely thanks to the sunrise and sunset views.
Even with a full day of outdoor and water activities, chilling out on a beach blanket with an ice-cold bottle of beer while looking at the sunset will always be the best thing to do in Boracay island.
8. Patikul Beach, Jolo, Sulu
If you are planning to head to Jolo and experience the magnificent sunsets and the pristine white beach, it is best to head out here around the 29th day of Ramadan.
The Muslim holiday follows the phases of the moon and followers head out to Patikul Beach for the traditional moon-sighting activity. Patikul Beach will also become your favorite white beach, thanks to the powder-like sand, very long shoreline, and crystal clear waters.
9. Patar Beach, Bolinao, Pangasinan
Patar Beach is a popular beach visited by many locals and tourists because of its ever-changing shoreline.
The thriving corals and scores of rocks from the area are visible in low tide, and therefore make the sunset views breathtaking and different every single time. The sand that lined the shallow end of the shore is powdery, making it a perfect place to plop down a beach blanket for a quick picnic.
Bolinao is also a popular destination for folks who wanted to go on island hopping or snorkeling.
Best Sunset View from the Air
10. Sky Deck View Bar
The Sky Deck View Bar is an alfresco lounge, bar, and restaurant which is located on top of The Bayleaf Hotel, which is within the historic walled city of Intramuros.
True to its name, the Sky Deck View Bar offers amazing city views, which are better viewed during sunset over your favorite alcoholic drink, or at night.
Sky Deck View Bar also offers an impressive menu of international cuisine that you will thoroughly enjoy with a friend or a loved one. Soulful music will also definitely put anyone in a romantic, intimate mood as if you are literally on top of the world!
SUGGESTED READ: Best Coffee Shops with a View in Tagaytay City | Brittany Corporation
11. Tops Lookout, Cebu
Tops Lookout is a popular observation spot not only among locals but also tourists and foreigners. Tops Lookout is located on top of a long winding road uphill, which takes around 20 minutes.
A top attraction in Cebu City, anyone who visits the city may watch the sunset view from its fortress-like viewing deck.
From the deck, you have the option to take in the views of Cebu City, and spot certain landmarks using a telescope the facility rents out for free.
And if you had a filling of the sunset views for the day, you can cap it off with amazing Cebuano cuisine at any of the casual dining options. They vary from cute little cafes to restaurants that feature classic Filipino dishes.
12. Mount Samat, Bataan
If you are fond of hiking and history, you can experience both at Mount Samat in Bataan. Mount Samat is home to the Mount Samat Shrine or the Dambana ng Kagitingan.
This historical shrine located near the summit of Mount Samat is a somber reminder of more stories about the bravery and heroism of Filipino and American soldiers against the Japanese in World War II.
Made up of the colonnade or a series of free-standing pillars plus a large cross, the shrine is also an observatory where you and your friends or family can view the magnificent sunset over the surrounding mountain and the nearby town.
13. Starbucks Tagaytay branch
Tagaytay is already known as a weekend destination for people who wanted to get out from the busy life in Metro Manila. If you want to chill out and just take in the natural beauty of Tagaytay, you can simply pick a spot that offers the best views of the house. Starbucks Tagaytay, with its location overlooking the Taal Lake and Volcano, is definitely a must-visit.
Related Read: Best time to stay in Tagaytay? Anytime.
If you are already buying into the allure of country life, there is a way for you to invest in a future home that promises breathtaking sunset views, and more.
Experience Sunset Views From Your Own Home Everyday
With the pandemic, it is also becoming a hot real estate location for folks who wanted to purchase a luxury home near nature. It is just an hour or two away from the metro, and that there are many luxury house and lot options, residential communities with resort amenities, and hotels for you to choose from as your home away from your home in the city.
At number 14, Crosswinds Tagaytay is a Swiss-inspired resort development stretching over 100 marvelous hectares of mountainous land. Featuring over 35,000 lofty pine trees, which are credited for the property's cooler than usual Tagaytay temperatures, Crosswinds Tagaytay offers breathtaking vistas and vantage points, including amazing sunrise and sunset views that feature the lush, rolling terrains towards the aerial views of the rest of Tagaytay City and Metro Manila.
Moreover, Crosswinds is more than its sunset views. The property has several residential enclaves where anyone can invest in the real estate dream. The commanding Swiss-inspired homes and residential buildings, which are all situated along the natural slopes of the exclusive community, will make you feel that you are indeed no longer in the Philippines anymore. The luxury homes at Crosswinds are supported by an exclusive lifestyle center and resort. Modern conveniences are also a few minutes away, thanks to a slew of retail and commercial shops on the property.
Here's a full guide of Crosswinds Tagaytay, and learn why homeowners here are gaining more than just enjoying beautiful sunsets every day.
———-
If you want us to feature your article or product, inquire about digital partnerships, or propose backlink opportunities, send us an email at [email protected].
Up Next: Luxury Collectibles: Luxurious Scents for Your Home
Up Next: Top 5 Mountains for Hiking Adventures in Laguna