BLOGS
A luxury piece worth your investment
Buyers often identify investment as a purchased asset that grows its value in the future and can be sold at a higher price. It can also be viewed as an asset that generates passive income and creates wealth over time. There are a lot of investment options present in the market these days–stocks, bonds, bank products, real estate and more. Investments in these luxury pieces have proven great returns to its investors.  Let's dig deeper to one of the most common investment options–the real estate investment, also known as property investment. The main intention in this endeavor is to earn a return on the investment either through rental income, the future resale of the property, or both.
Real estate is a valuable luxury piece you can invest in
Real estate has been considered a safe investment for quite a long time. Its growth in the Philippines is not only seen in Metro Metro-Manila, but also in many near-by places like Sta Rosa Laguna, Tagaytay, Davao, Baguio and other areas are also experiencing the demand for real estate. With many potential areas for investment, it is the perfect time to put up your money in the Philippine real estate market.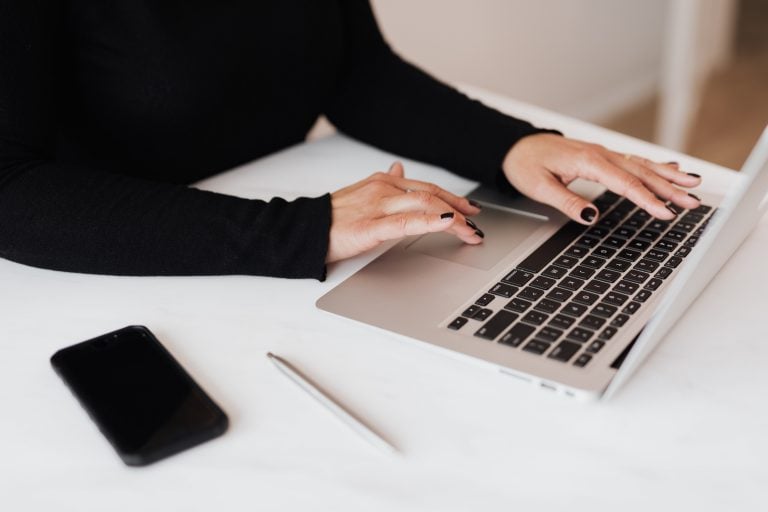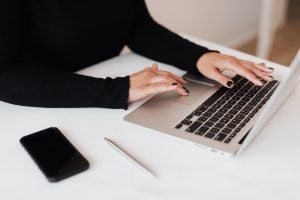 How to invest in real estate
Here are some tips before going ahead with your investment: First, know what type of property would be perfect for you and your investment plans. Second, searching the market. Checking out the current top performing and trustworthy real estate developers would be a great way to know more about property investment. Third, find and work with credible investment agents. They will help you navigate through all the technicalities in the field of real estate investment They will also provide you with valuable insights on the various property options that you might be interested in. Fourth, know the different payment options and choose the best fit for your plan.
Why you need luxury investments
Another type of investment that is promising these days is Luxury Investment. Most people think luxury investment is all about purchasing and scoring designer items like bags, jewelries, artworks, and others from well-known brands and personalities. However, there are other investments that can also be considered luxurious on the luxury investment list. One of those is investing in luxury properties. 
It's quite hard to understand the features and characteristics of a luxury property before you invest. A high price point won't put a property in the luxury category. Yes, real estate isn't considered a luxury just because it's expensive. It must exhibit at least the following characteristics: unique, exclusive, and superior. The community you are considering must stand out from other communities in the area, in the city or even in the country. In short, it must provide exceptional living. It can be viewed through its inspiration, architecture and designs, or even the view it offers. Real estate must also be prime and must promote exclusivity to its homeowners. Look out for a master-planned community. A responsible property management with 24/7 security system, working facilities and proximity to almost everything like schools, shopping malls, roads, hospitals and more must be considered too. And last, it must be top notch. Searching for a community developed by a prestigious, trustworthy and well-known brand will be a great help for you to find your luxury property investment.
Suggested Read: 2021 Luxury Watch Brands for Men | Luxury Homes by Brittany Corp.
Brittany can help you invest in your own luxury piece
Being in the industry for more than 40 years and being the country's largest home builder, Vistaland makes sure to build homes for the discerning few. Brittany Corporation, the high-end real estate brand of Vistaland, is now making the new face of luxury with its communities in the South. Brittany Corporation is known for offering master-planned developments and exclusive residential communities that are inspired by world-class destinations. Aside from the opulent and sophisticated inspirations, these communities are nestled in fine locations too.
Portofino, a 300-hectare Italian-inspired exclusive community located along Daang Hari Road, Las Piñas. Its name was taken from a lovely seaport in Southern Italy named Portofino, meaning 'fine gateway'. If you are looking for a house & lot or prefer to build your own Italian-inspired one, Portofino Alabang is perfect for both residential options.
La Posada in Lakefront Sucat offers luxurious homes inspired by the Neo-Victorian San Francisco. It is part of Vistaland's 60-hectare master-planned development in the area. It astonishingly gives its homeowners the privilege of living in between work and lifestyle. Live your San Franciscan dream with La Posada's Townhomes. 
Georgia Club and Augusta in Santa Rosa make up a 30-hectare of 30-hectare exclusive and master-planned community, featuring a classic South American lifestyle in Laguna. Live and watch your family growin these charming communities communities. Whether you opt for a townhouse, a house and lot, or build your home by purchasing a lot only, each one provides a perfectly luxurious living experience.
Last but not the least, the only pine-estate of the country, Crosswinds Tagaytay is a 100-hectare private sanctuary surrounded with over 35,000 homegrown pine trees, making it a fragrant masterpiece. Crosswinds' enclaves feature homes and residences inspired by the architecture of Switzerland. Adding to that, this community is situated at one of the highest points in the city. These are just some of the reasons why Crosswinds Tagaytay should make it to your list of Luxury Investments. Here are your Crosswinds Investment options:
Alpine Villas
It is a pre-selling condominium and is Crossswind's newest venture. It is a 2.8 hectare mixed-use development with a collection of six to eight storey midrise villas in the style of Swiss-chalets. Alpine Villas unit sizes range from 30 to 32 square meters. Currently, units are available in Building 1– Bernese and Building 2– Blanc. If you are an outgoing type of person who loves to live in both serenity and the city, Alpine Villas Investment is perfect for you.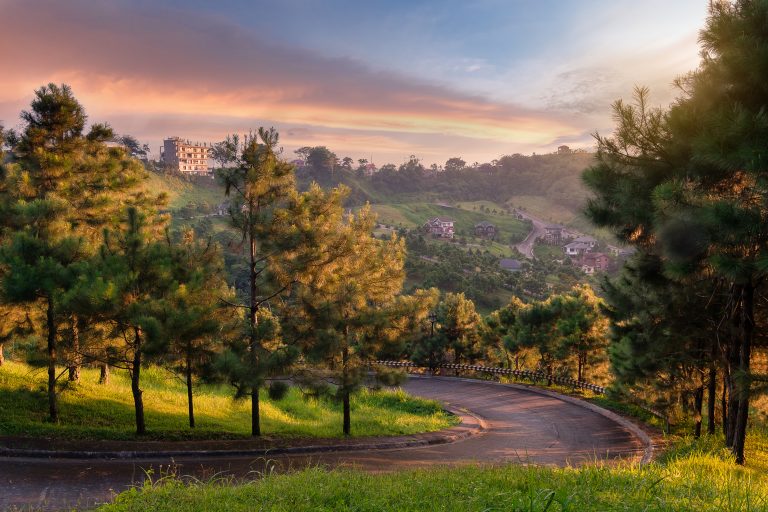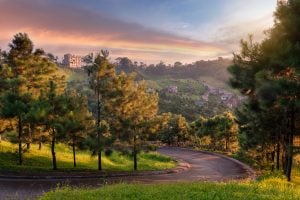 Grand Quartier III
This is the third and last series of the Grand Quartiers. This ready-for-occupancy condominium is located in the middle of the community with the view of lush pine trees and the rolling terrains of Crosswinds. The breath-taking panoramic view will welcome you even on the ground floor. This building is a single-loaded residential structure with 6 levels. Available unit sizes are ranging from 45 to 67 square meters. A piece of the Grand Quartier is definitely a must for people who love to escape the city and enjoy nature once in a while.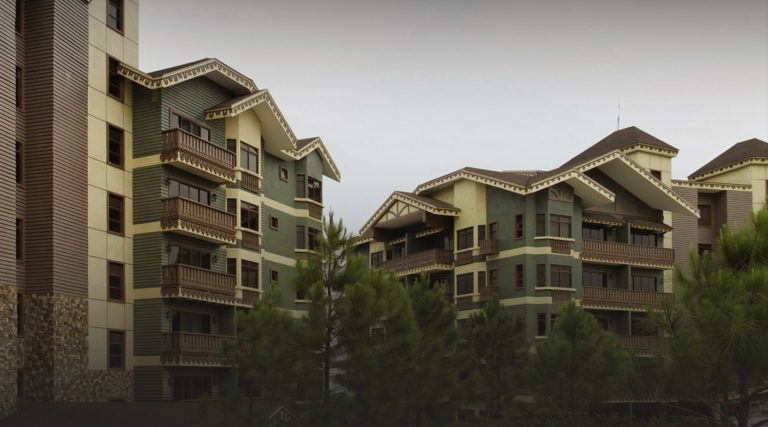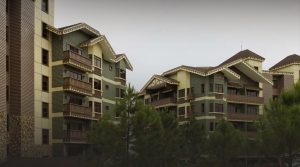 Crosswinds Lot Only Packages
This investment option gives you the one of a kind opportunity to design and build your own Swiss spot in Crosswinds Tagaytay. You can choose from different sizes ranging between 293 to 505 square meter lots and as well as pick an orientation – uphill or downhill. To give you an idea, uphill lots are perfect for those who are very particular in the weather and view from their balconies. On the other hand, downhill lots are perfect for those who would love to build houses with basements. You can also choose from the different locations we have in Crosswinds–  Pine Grove, Peak View and Montreux Gardens- all featuring the beauty and serenity of the community.
Terraces of Lausanne
With Crosswinds lots being almost sold out, a new investment option has been opened for you. Terraces of Lausanne is a 24 hectare mixed-use development rising at the peak of the community. Featuring the views of Laguna de Bay and Manila City Skyline, Terraces of Lausanne is set to be the perfect spot to unwind and wander in the beauty of nature in the city. Pre-selling now is the prime phase of Terraces, Block 4, 5 and 6. Like the ready lots in Crosswinds, it also offers uphill and downhill lots with sizes ranging from 377 square meters to 480 square meters.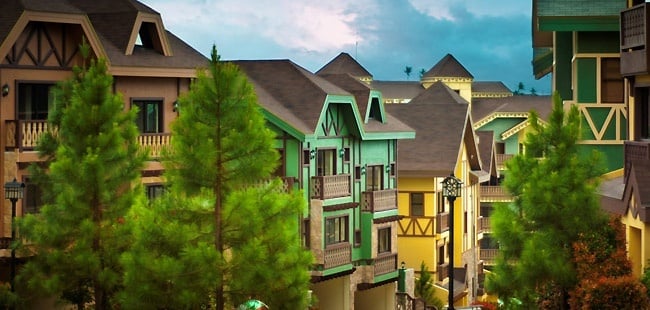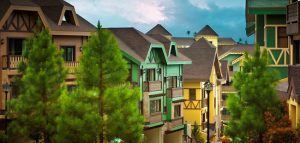 The Crosswinds Ready Homes
If you are excited to get yourself a piece of privacy and luxury with Crosswinds Tagaytay properties, then this property investment is perfect for you. Crosswinds Ready Homes are very much ready to welcome you. Listed below are the beautiful model units offered at Crosswinds:
Chatelard
Come home to Chatelard, a 209-square meter uphill home, standing on a 679 square meter lot. This fully-furnished Swiss chalet has 5 bedrooms (all with balconies to maximize the community's view), carport garage, maid's quarters, powder room and a spacious bonding spot for families and friends. 
Lucerne
Lucerne is a 207-square meter uphill model, and a Swiss-inspired home that captures the true elegance of Switzerland. This move-in ready home in Crosswinds has 2 carports, 3 bedrooms, and a maid's room.  Enjoy creating memories especially in the cozy loft area of Lucerne. 
Offering unique, exclusive and superior communities in the South, Brittany Corporation also makes sure it provides exceptional, grand and fine living to its investors. With multi-awarded developments and residential communities, it has surely made a new face for luxury investment. Choose from the different world-class inspired communities it offers- Portofino, La Posada, Georgia Club and Augusta, and Crosswinds- and live life in your own privileged space. Your everyday lifestyle will definitely be filled with inspiration and grandeur. Invest in the new face of luxury, invest in life, invest in Brittany Corporation.
Which Brittany Corporation community do you think would be your next luxury piece investment?