Crosswinds
Crosswinds Tagaytay | Luxury Swiss Resort in Tagaytay
—Welcome home to Crosswinds.
Discover your own private sanctuary that is at Crosswinds Tagaytay, your luxury Swiss resort in Tagaytay. Imagine yourself surrounded by the sight and scent of over 35,000 pine trees, the picturesque view of the lush terrains of Tagaytay City, and the royal feeling amidst Swiss-inspired luxury homes, situated along the very natural slopes of this breathtaking place.
It offers a wide array of Swiss-themed homes you can choose from: luxury condo units at Alpine Villas and The Grand Quartier, luxury house and lot properties at The Swiss Quadrilles, and Custom Home Sites, luxury townhomes at The Deux Pointe, and luxury lots at The Terraces of Lausanne.
More than just a tourist destination, Crosswinds Tagaytay elevates the mountainous retreat experience you expect in the City of Character that keeps Tagaytay refreshed.
Given its proximity to Metro Manila, Tagaytay is a perfect choice for people who are looking to retreat to a rural location with stunning, natural surroundings without needing to let go of the modern conveniences they are accustomed to.
Moreover, Tagaytay is an easy decision for people who are willing to invest in a slice of luxury, peace, and relaxation they can always come home to.
---
Crosswinds Tagaytay is a world on its own — the commanding Swiss-inspired homes and residential buildings, which are all situated along the natural slopes of the exclusive community, will make you feel that you are indeed no longer in the Philippines anymore. Coupled with the lush flora, Crosswinds Tagaytay calls to mind a popular holiday getaway you'd always come back to as it is a place that keeps Tagaytay refreshed.
Explore beyond the corners of Tagaytay's most beautiful luxury estate. Click here to get the full guide to experience Crosswinds Tagaytay 🡥 .
---
Top Nearby Establishments
---
View Our Masterplans Here
---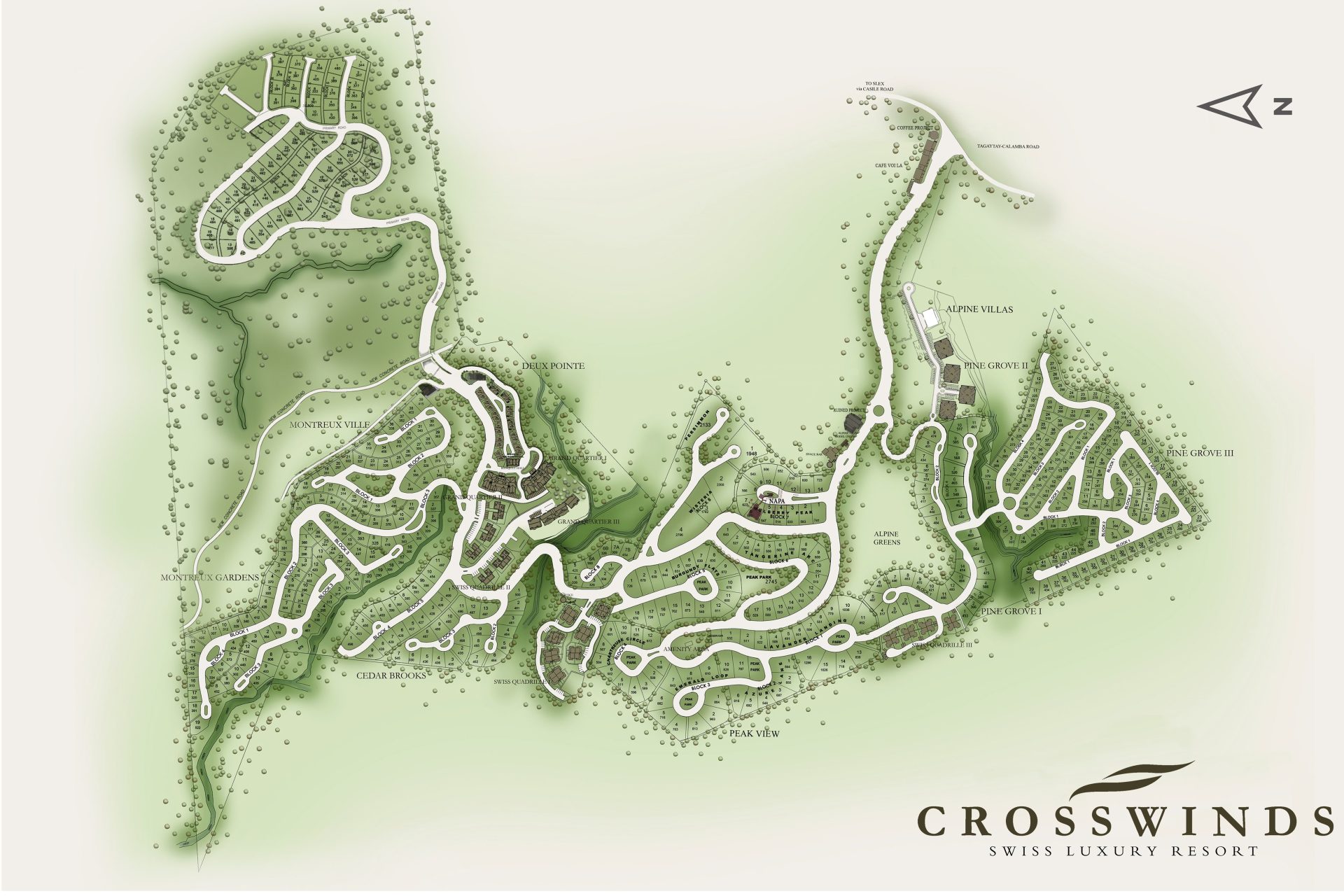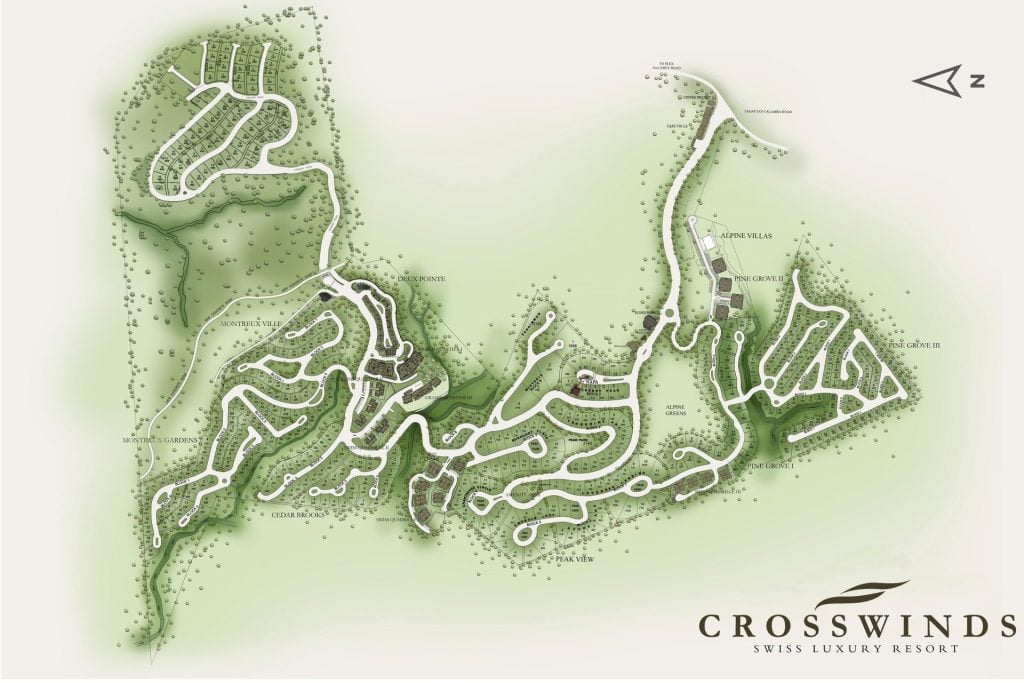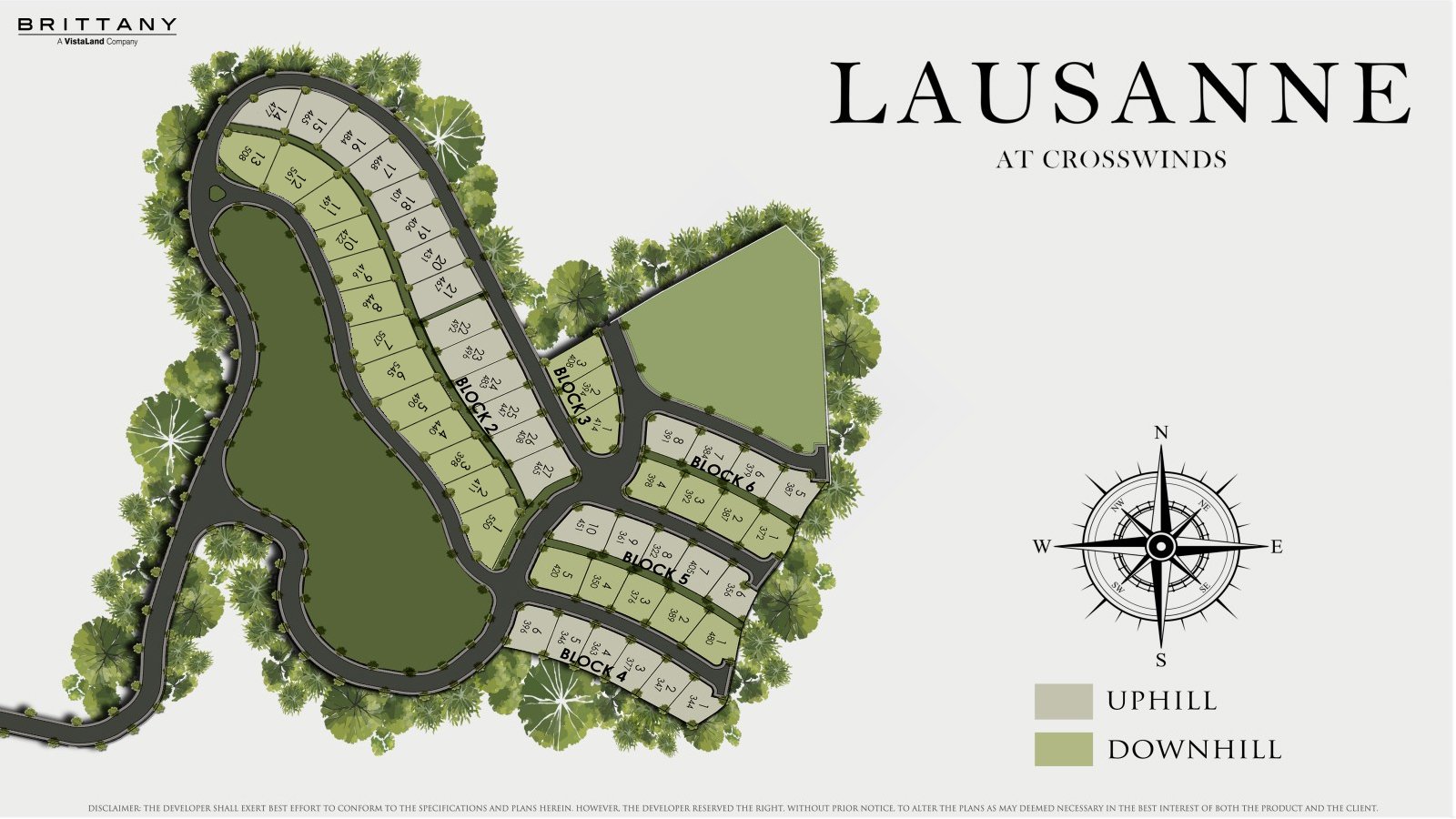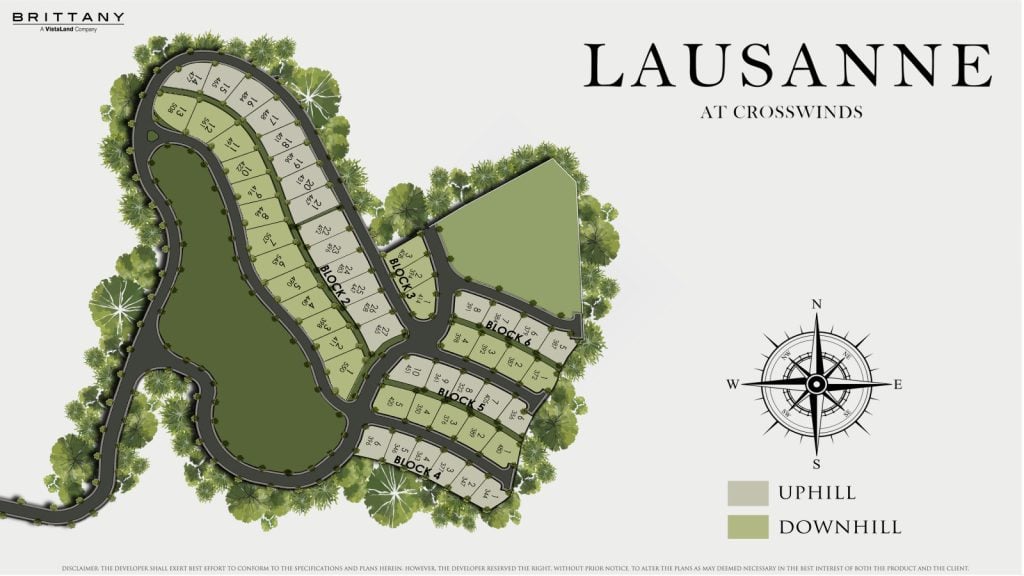 Discover exclusive luxury living with us.
Virtual Tour
Enter a world embraced by 35,000 pine trees. Discover how we make it happen in Crosswinds.
View Virtual Tour
Crosswinds
Vicinity Map
Take one of the most beautiful trips on your way to Tagaytay - enjoy picturesque views that start when you enter Tagaytay and see the famous Taal Volcano. Further on, you will see an assortment of restaurants, coffee shops, activity areas, hotels, events venues, and landmarks Tagaytay is known for - The Picnic Grove, The Flower Farm, and Taal Vista, among many others. Marvel at the beauty of nature as you get closer to your ultimate Swiss-inspired dream home.
Other Properties
↑