Villar City
Villar City | Luxury House and Lot for Sale in Daang Hari
Welcome home to the Italian luxury lifestyle—welcome home to Portofino.
What is Villar City?
As the flagship development in Alabang of Brittany Corporation by Vista Land, Villar City's 1,500-hectare Italian-inspired community was planned with more than just wellness, enjoyment, and luxury in mind: Villar City's first and foremost focus is on bringing your family closer while allowing you to indulge in the Italian lifestyle within the walls of your new luxury home.
A masterpiece inspired by the timeless elegance of the architecture in old-world Italy, Villar City perfectly brings to life the feeling of living in a community of love and beauty. This charming residential community draws inspiration from Southern Europe with its charming streetscape, design, and luxury living.
What makes Villar City the perfect address for your new luxury home?
Exclusivity, thematic living, and grandeur: that's what makes Villar City the perfect address for your new luxury house and lot in Metro Manila.
Surrounded by numerous amenities, locations, neighboring establishments, and landscapes, this Italian-inspired community truly creates a perfect community within a unified and detail-oriented master plan.
What are some well-known amenities, locations, neighboring establishments, and landscapes near Villar City?
The size and scale of the community within Villar City are its prime attractions. Its amenities, locations, neighboring establishments, and landscapes make it stand out from other luxury houses and lots in Daang Hari. But, it isn't enough to generalize these attractions. Discover what makes Villar City different from other communities.
Muntinlupa-Cavite Expressway (MCX)
Living in Villar City provides an easy route whenever you want to access the Muntinlupa-Cavite Expressway. The MCX is an efficient way for our luxury house and lot owners to avoid the traffic on major roads such as Daang-Hari Road and Commerce Avenue in Alabang. The MCX features a 4-lane expanse, allowing you more space to drive freely without worrying about traffic.
Evia Lifestyle Center
Feel like going for a walk with your family? Feel free to stroll around Evia Lifestyle Center, one of the most beautiful malls in the National Capital Region, situated at the heart of Villar City. With its fresh air and breathtaking scenery, it truly is an ideal place where you can take your friends and family on dates.
Luxury living reimagined in Villar City
Following the standards of an active metropolis, Villar City features elegant residential lots for sale and thematic houses and lots for sale to accommodate the affluent market's need for luxury homes in the Philippines.
To bask in the beauty of Italy is a reimagined luxury in the Philippines that opens up possibilities for the interested and affluent. Investing in a property is more than just investing in real estate at Villar City. With its distinct elegance, lovely atmosphere, blend of sophistication, and rustic charm that links and always titillates the senses, our properties in this Italian-themed community will surely elevate the luxurious life for you and your family.
The Italian luxury living in Villar City
Imagine waking up to a beautiful view of the sunlight streaming in from the window of your Italian-themed luxury home. Enjoy breakfast at the sight of your family enjoying life as they stroll through the garden. Spend your afternoons enjoying the amenities found within this community and your loved ones. Finally, take your family to dinner and spend the night at the establishments within Evia Lifestyle Center.
Turn your imagination into reality and live a luxurious life inside this community where the spirit of the Italian renaissance is embodied in every detail of creation.
Where is Villar City located?
Villar City is located at 1750 Daang Hari Road, Almanza Dos, Las Pinas City, Metro Manila, Philippines.
Ready to find your way home to our Italian-themed homes? Click here to view Villar City on Google Maps.
Live in your Villar City luxury home today
Live in an environment that cares for your family and Indulge in the timeless beauty of our Italian-inspired homes. Our community is designed with your family's happiness in mind, from its alluring interior to its convenient location. With a range of amenities and facilities, we provide all it takes for you to enjoy life to the fullest or just relax inside your luxury home.
Aside from our house and lots within our Italian-themed communities in Villar City we also have a wide selection of thematic communities situated in Sta. Rosa, Laguna, and Tagaytay that you can visit.
Contact us and find out how you can get your own home in Villar City today.
Offerings: Ready-for-occupancy luxury houses for sale, preselling luxury house and lot models, king lots for sale, lots only for sale
Top Nearby Establishments
Reimagine luxury with us in Villar City.
Master Plan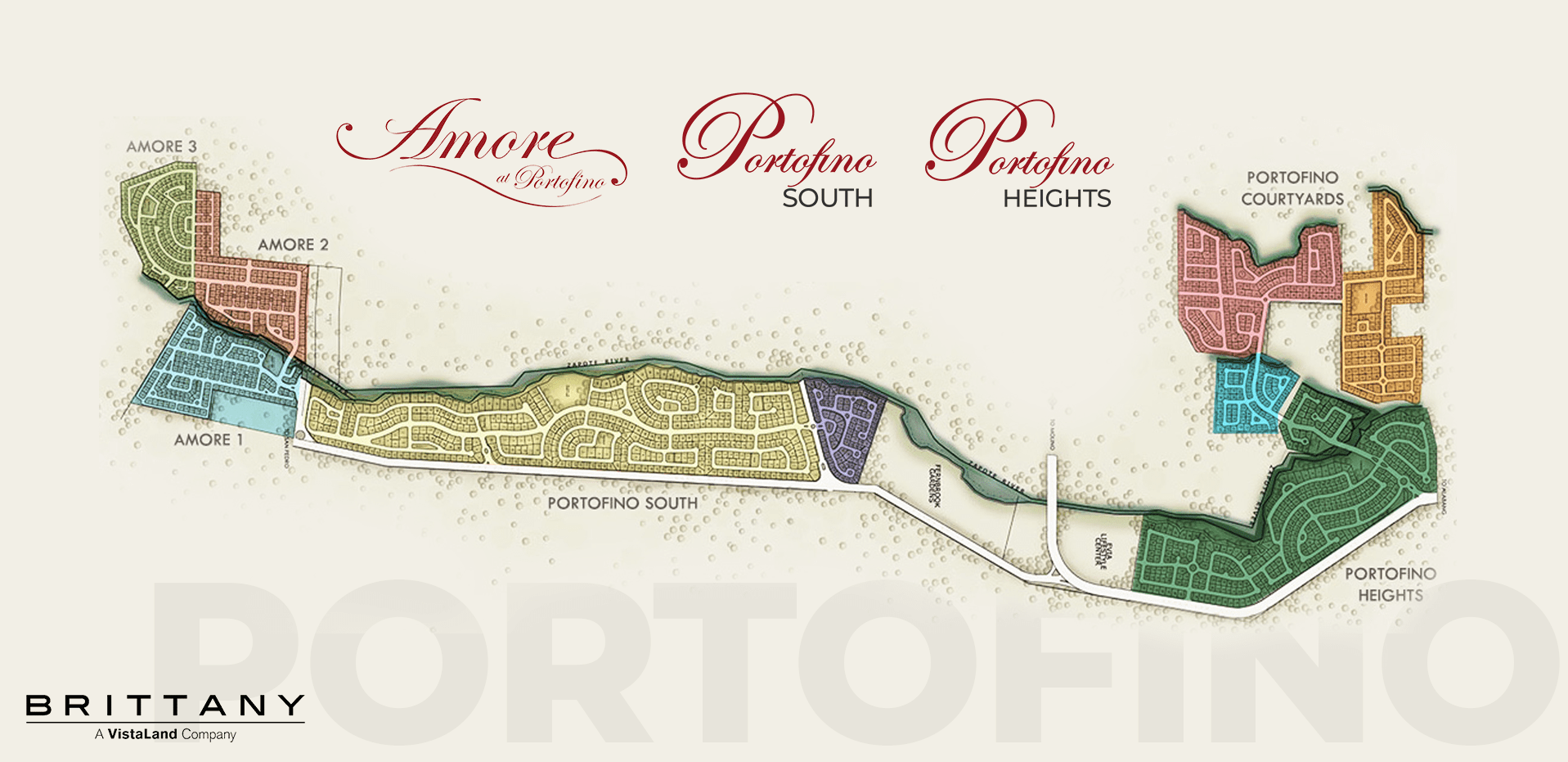 Virtual Tour
Impelled by world-class architecture, Villar City exceeds the expectation of Italian-inspired luxury homes. Find out how we make it possible at Portofino.
View Virtual Tour
Villar City
Vicinity Map
Home to the most beautiful houses in Daang Hari and the Philippines, Villar City is strategically surrounded by world-class establishments that provide a stylish and diverse stomping ground that links residents to accessible neighboring communities and cities. Notable Landmarks: Evia Lifestyle Center, Palazzo Verde, Madrigal Business Center, Manila-Cavite Expressway (MCX), San Beda Alabang, Paranaque Medical Center, Filinvest Corporate City
Other Properties
↑