Blogs
A Guide to the Shopping Experience at Evia Lifestyle Center
Because of the pandemic, everyone had to be quarantined. All of us had to stay home; the places we could go were only limited. If we were to go somewhere, it should not be far. At the same time, the video-sharing application Tiktok became a boom. One of the popular trends in the said application was videos of a sophisticated-looking mall. The Evia Lifestyle Center quickly gained recognition thanks to Tiktok. Users have been praising the Ayala Mall for its aesthetic and luxurious atmosphere. Beauty inside and out, that's Evia. Tiktok videos have already given you a glimpse of its exterior, so shall we take a tour of the stores found inside?
Here is Brittany's guide to the Evia shopping experience
1. Uniqlo
Of course, when shopping, most of us go directly to fashion stores. Today, it is impossible that you do not have a Uniqlo piece in your wardrobe. Established in 2012 in the country, Uniqlo has been continuously bringing stylish clothing to Filipinos. Their newest LifeWear Fall/Winter Collection 2021 highlighted simple and practical clothes with versatile styles. For Uniqlo, clothing reflects the ideas and values of times- and the people who wear it. The collection includes clothing that will keep you warm, such as the Merino Blend Long Cardigan, Lambswool Long Sleeves Sweater, and Light Souffle Yarn High Neck Sweater. Uniqlo is an established brand known around the globe. The clothing apparel company has locations in 19 countries, including the USA, United Kingdom, France, Italy, China, Germany, Korea, and Russia. Some ambassadors of the brand include world-class pro-golfer Adam Scott, youngest national wheelchair tennis champion Gordon Reid, and professional tennis player Roger Federer.
2. H&M
Another clothing apparel company dominating the Philippines is H&M. The famous brand traces back to its humble beginnings in Sweden, where it was called Hennes, which solely sells women's clothing. In 1968, when Erling Persson bought the hunting and fishing store Mauritz Widforss, it became H&M-Hennes & Mauritz. Today, it is the second-largest retailer in the clothing business in the world. The multinational retail-clothing company can be found in 74 countries across six continents. H&M has branches in Denmark, Tunisia, Malaysia, Ireland, and Mexico. H&M is a family of brands that makes our lives easier by offering fashion, design, and services that entitle people to be inspired and express their style. As one of the leading fashion brands, it is significant for H&M to take part in the green movement. Last March 2021, the fast-fashion retailer took a massive step towards the green path by scaling innovative materials in their Conscious collection. With agraloop and bio fiber, not less than 50% of each piece is manufactured from sustainable materials, such as organic cotton or recycled polyester. Gracing from the Conscious collections are the Lyocell-blend flounced dress and Pleated maxi dress. Swimwear, like the Tie-tanga bikini bottoms and High leg Swimsuit, is included as well. 
3. Vans
One more brand walking towards sustainability is shoe manufacturing company Vans. In June 2021, the company launched its first-ever vegan and sustainable collection. The Eco Theory accents sustainable versions of four classic Vans designs — the Authentic, Slip-Ons, SK8-Hi 38 high tops, and Style 36 Decon. Sourcing materials from suppliers that follow ethical and sustainable practices, each shoe is manufactured responsibly. The shoes featured in Eco Theory use environmentally sensitive materials such as organic cotton, jute, natural rubber, and corks. Dane Gudauskas, the face of the collection and professional surfer, said that "Sustainability has to be at the forefront of Vans for the future." Originally called The Van Doren Rubber Company, the shoe manufacturing company started way back in 1966. In the 1970s, Vans took Southern California by storm; wherein almost all the skateboarders were seen rocking the brand. Today, the American manufacturer of skateboarding shoes and related apparel has distributors in approximately 70 countries around the world. 
4. Fully Booked
Immerse yourself in a comprehensive selection of books in Fully Booked! With its diverse genres, the bookstore has caught the loyalty of bibliophiles of all ages. Little Prince for children, The Five People You Meet In Heaven for young adults, and Think and Grow Rich for adults; they have it all. The mission of Fully Booked is to build a haven for discovery and connection that motivates people to create their own stories and become better. In comparison, their vision is all about being the best bookstore in terms of selection, ambiance, and customer experience. Stationery, arts and crafts, and other collectibles are also up for grabs in the bookstore. FullyBooked was established in 2003.
5. Skin Station
Do you feel like your skin is drying? Or simply, you want to have better skin? Then, head over to Skin Station! With their state-of-the-art equipment, surely they will take tender care of your skin. The skincare company offers facials and peels, painless diode laser hair removal, and doctor's services. Skinstation's service also includes different treatments, such as whitening, anti-aging, anti-acne, and scar. Did I mention that they have their own line of skincare care products? And they only use the best ingredients in making them. To reveal the best skin of their customers, SkinStation gives personalized treatments. 
6. Starbucks
After taking care of your skin, take care of your cravings next! Where else better to go than the famous coffee shop? Established in 1971, Starbucks has always been and will always give the best quality to its customers. To come up with the tastiest drinks, the coffee company only sources from ethical suppliers. The baristas are trained to roast the beans with great care. In Starbucks, you cannot get the same service twice for each interaction is unique. Everything that Starbucks makes honors connection– from their commitment to the best quality coffee to engaging with the customers. Enjoy your Caramel Macchiato partnered with the Belgian waffle as you sit down in their cozy chairs at the unique Italian-inspired Starbucks branch in Evia.
7. AllGreen
Trying to have a better lifestyle? Go green with AllGreen! From pharmacy essentials to health and beauty must-haves, they have it all. Are you feeling hungry too? Do not worry; they got your cravings covered with their food on the go! Did I mention that most of their food products are healthy? Be able to enjoy Bicol express without feeling guilty for it is from Kindred. Moreover, AllGreen sells Korean staples such as gochujang, ssamjang, and doenjang. The all-time favorite Melona ice cream is in stock as well! The flavors of melon, strawberry, mango, and banana, they have it all! The store also offers hot deals, so watch out for them. You can shop online through these shops Metromart, Grabmart, and Foodpanda as well. 
8. AllHome
Have you been itching to refine your homes? Then head over to AllHome! The home improvement store will make it easy for you. Launched by the Villar Group of Companies, the shop guarantees a wide range of products and services. Here, you'll surely get your money's worth for the quality is great. The customer service? Excellent! All of the employees are always ready to assist you with a smile on their faces. Looking for a bar stool? The employees will be more than willing to lead you to the dining furniture section. With Allhome, you can transform your houses into luxury homes. For builders, it is indeed considered a haven.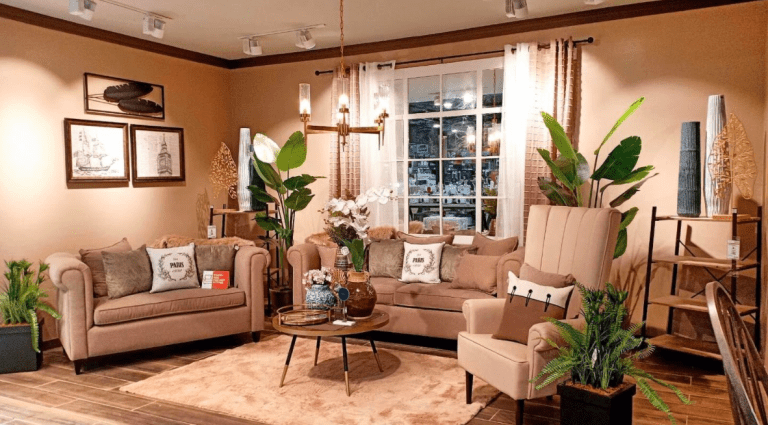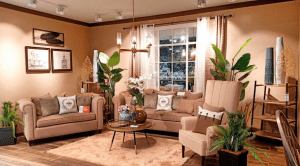 9. AllHome Builder's Center
Furthermore, the Evia Lifestyle Center also houses the AllHome Builder's Center, your builder-centric retail. Chairman of parent company AllValue Holdings Manny B. Villar, Jr said that the centre aspires to make material sourcing more convenient and less time-consuming for builders and contractors. The store is designed to give the no-frills shopping experience preferred by busy builders. You may opt to browse their items beforehand on their website. The website is easy to navigate because the products are categorized.
10. AllDay Convenience
Elevating the Flipino's shopping experience with its selection of vast and curated international brands, AllDay takes pride in it. Inspired by the best-in-class supermarkets around the globe, you will indeed be awed by the store aesthetics. The interior and design of the AllDay in Evia has been carefully planned to give the customers comfort through wide aisles and calibrated lighting. To ensure excellent customer service, their staff undergoes training and service. According to the AllDay Convenience website, each branch has a unique ambiance and design that gives customers an enjoyable experience. Breakfast meals, such as tapa with egg, are also being served by the convenience store. 
11. AllDay Supermarket
Established in 2017, AllDay Supermarkets have been strategically placed in Vista Land vertical developments. With the wide assortment of goods, bigger floor areas, and beautiful store interiors, AllDay Supermarket stands out from the rest of the groceries. Redefine your shopping experience with comfort. Instead of roaming around the cramped, wet markets, be able to buy all the things you need conveniently in the air-conditioned supermarket of AllDay. There is no need to worry about the freshness of the items, for they only get reputable partners & growers who have accreditation from the National Meat Inspection Service (NMIS). "Food On Your Cart, Food for Your Heart," that's what All Market is because they bring to you an extensive array of local, imported, and hard-to-find candies and chocolates—looking for that Alfredo Sugar-Free Milk Chocolate? Head over to AllDay Supermarket now! 
12. AllToys
For the children, it is not only chocolates and candies that bring joy to them, but toys as well! Get ready to be dragged by your kids to Evia's toy store! Make sure to keep your eyes on the children, for they will surely be lost in the wide selection of toys. From wheels and wings to dolls and plushies, AllToys has it all! Did I mention that they also have playthings for babies and toddlers? One that will make your child giggle will be the Clip Clop Musical Activity Gym, a thick padded mat with patterns and bright colors that are made for multisensory development. If you are unsure what to get your kids, nieces, nephews, baby cousins on holidays and celebrations, why not give them a gift card from AllToys? For sure, they will be filled with happiness once they see your gift. I mean, no kid could resist toys, right? 
13. AllDigital
Toys may bring much delight to the young ones, but those who are older may prefer the side of technology. Brought to you by AllHome, AllDigital is your one-stop-shop for all your technology needs, let it be for your home, office, or academic learning setup. Need a laptop? Choose from the MSI GE76 Raider, Acer Nitro 5 AN515-56R2, Dell Vostro Laptop, and many more. The gadget store offers a wide variety of cellphones as well, such as Samsung, Apple, and RealMe. Are you looking for a watch? They have it too in AllDigital; they have the Apple Watch and Kuyou Smart Watch. 
14. AllSports
Take a break from the digital world, and engage in sports to keep your mind and body healthy! AllSports brings to you outdoor and sporting goods for different sports, including basketball, boxing, and running. Shop famous and trusted brands like Nike and Adidas in AllSports. PUMA shoes, such as 352634-64 Suede Classic, are in stock as well. Work out with their Muscle Power Dumbbell Vinyl that comes in 2 lbs, 3 lbs, 4 lbs, and 5 lbs. Not only that, but they have gears and equipment for water sports. 
15. AllBikes
The pandemic has brought tremendous changes to the country, including the rise of bicycles. Today, Filipinos are advocating for sustainable transportation. But how do we cope with the transition to bicycles? Do not worry, for AllBikes got you! The one-stop bike hub has all the biking essentials that will gear you up for your cycling journey. Bike units? Cycling apparel? Accessories? Gears? AllBikes in Evia them all for you! And you know what the best part is? Near Evia, there is a place where you can truly enjoy cycling, the Vista Alabang!
16. Vista Alabang
Evia Lifestyle Center is close to Ayala Lands. If you take a car, the trip will only be around 6 minutes. Feel like walking? Only 30 to 35 minutes! Evia Lifestyle Center is strategically placed around the luxury homes in Daang Hari. If you're looking for a luxury house in Metro Manila, why not go for a luxury home from the Brittany corporation? The luxury properties for sale in Vista Alabang are not only beautiful but convenient as well. As stated in the introduction, the best houses are strategically placed near different establishments such as the supermarket and food establishments. In Vista Alabang, choose from different luxury houses and lots for sale. 
Evia Lifestyle Center Address: Daang Hari Road, Almanza Dos, Las Piñas, Kalakhang Maynila