BLOGS
Are paintings a good investment?
Paintings are among the most well-known, luxurious, highest-valued, and recognized pieces of art. Painting in the Philippines is usually high-regarded. They're usually a big art investment, so you want to make sure it's worth it before you go ahead and get one.
Art, like paintings, is usually considered a tangible asset.
Like any investment, it's worth doing some research first. If you have little to no understanding, buying art as an asset can be really risky.
A lot of people start collecting paintings for their investment value. The subject matter and the technique used in the painting is what most investors look at. Looking through auction house catalogs, you can see why people invest in paintings. Some old paintings can sell for several million dollars. Art is good because its value increases when it becomes rarer and more sought after. Consider the following points before beginning an art investment:
Consider the Philippines' passion for painting
First, think about how much you adore it. Do you have a passion for art? Do you enjoy looking at paintings? Do you actually like the painting you're thinking of buying?
The decision to purchase a painting is both personal and emotional. Most experts advise that you purchase a work of art like this largely because it provides you pleasure. It's the most important requirement. Though several contexts such as historical, critical, and even social enrich the story behind a painting and its creation, the most important aspect is the connection you have with the painting. This connection is something that art critics and historians can never really know.
Artists in the Philippines have painted since early times but the art was not much appreciated until the 18th century. In the 19th and 20th centuries, a lot of schools developed in Manila. Art exhibitions were held in galleries and museums, while hundreds of young and talented artists emerged in Manila's suburbs such as Mandaluyong, Ermita, Malate, Intramuros, Santa Ana, Paco and San Juan. New techniques were introduced by Filipino artists that led to Filipinization of painting which is watercolor paintings with indigenous themes made with natural plant materials.
Suggested Read: https://www.brittany.com.ph/blogs/a-testimonial-of-why-its-the-best-time-to-invest/
Bear in mind that a painting is not a liquid, and thus you may have to wait an extended period of time to dispose of it. Even if you're purchasing the painting primarily as an investment, make certain it's something you'd enjoy having in your lovely home. The most exquisite homes in the Philippines almost always include one.
Also, keep in mind that you'll need to store the paintings for at least another ten years before you can sell them. No, it's not necessary to store Filipino marbles for sixty years, but it is a good idea.
If you have several paintings, such as McArthur/Palma, Prado/Rizal, and one or two other favorites, such as Rembrant, Vermeer, or Van Gogh, that are not quite as old but still valuable on a paint-by-paint basis, consider separating them. If your home is constructed of concrete or adobe brick and you have plenty of storage space, pack these away to make room for less valuable paintings.
Do you love it enough? Because making a profit should be a secondary motivation.
Suggested Read: https://www.brittany.com.ph/blogs/tagaytay/creative-ways-to-set-up-your-own-art-studio-at-home/
Consider the Value
After ensuring that the painting has considerable personal value, you must ensure that it is also useful to the market. These are some of the aspects that can influence a painting's current and future monetary value:
Authenticity
The value of an original painting is always higher than that of a copy. The validity of a painting signed or numbered by the artist is higher than that of an anonymous one. Replications have a lower chance of increasing in value. Keep in mind that the original will always sell for the most money.
Official authentication of the painting is required. Authentication procedures differ depending on the time period in which the painting was created. If the painting was not created recently, the documentation must be checked, and the physical characteristics of the piece must be examined.
To avoid scams, take time to do your research not only about the painting but also about the artist, gallery, and other relevant information.
An original artwork can be an extremely valuable investment, but it is important to know some factors before making a purchase:
"The artist's signature must be in the contract or in the painting itself (not a sticker), otherwise the value of the painting will likely decrease."The artist must have been well known at the time of creation, and they should not have died too long ago."What is being sold with the piece (certificate of authenticity, special packaging) should be taken into account."The painting must be registered, which can contribute to its value if an authentication certificate is present.
It's also nice to check the painting's previous owners. This is extremely important when purchasing older paintings. It will serve as proof of the painting's authenticity and original production.
If you're unsure about a purchase, seek advice from a specialist or a highly reputable source with impeccable credentials. When the time comes and you plan to sell, you'll be glad you bought wisely because you'll get a good return on your painting investment.
Condition
The condition of the painting is also very important. It's one of the most important aspects of determining the value of a painting.
Paintings created using high-quality materials are more likely to last for a longer amount of time.
Ask the following questions to assess the painting's condition:
Is the painting in the same state as it was when it was created? Does it have any marks or scratches on it? Does the painting have an image of the original artist's fingerprints left on it? This will indicate that the painting was handled very carefully and was cared for.Does the canvas seem damaged and distorted from age? This can be a sign that the painting was in a very wet environment, which is not conducive for paintings. Also, does it have any background holes that resemble re-paint marks? A canvas like this could suggest that it has been re-painted several times.
What are the changes in the condition if there are any? Is there any bleeding? Has it been affected by molds or mildew? What are the damages done by pests? Are the colors still bright and vibrant?Organic material is vulnerable to damage and decay, so paintings that have suffered damage over time because of exposure to elements may be less valuable.
Have they had an impact on the painting's appearance? How can you tell if paint is flaking off? Paintings with flaking paint are generally lesser in quality.Take note of the painting's overall appearance. It's best if the painting is covered in an inline frame and glass. These help protect the artwork from dust, moisture, and other external elements that have a negative impact on the condition of the painting.
A painting's value will be reduced if it is damaged. Even if you're purchasing a brand-new painting, think about how it will age.
The Artist
Usually, the more well-known the artist is, the higher the price. Paintings from well-known artists such as Leonardo da Vinci or Fernando Amorsolo are likely to command greater prices.
As an investment, it would be preferable to effectively identify the works of rising painters whose paintings will eventually gain in popularity but are still reasonably priced. It's too dangerous, and you'll have to be willing to miss a lot of them in order to get just one right.
Having a keen eye for emerging talent will necessitate some knowledge and, of course, some study.
Suggested Read: https://www.brittany.com.ph/blogs/influence-of-multimedia-artists-in-real-estate/
Rarity
How rare a painting is will always impact its future value. A unique, original piece of art will always be valued and good for an art investment more than a replica or imitation such as giclées or prints. It is measured by the regularity with which a piece by an artist comes on the market or the number of a given sort of work from a specific period in an artist's career that is now available.
Paintings by a prolific living artist are more likely to be valued at a lower price than works by deceased artists with a limited number of attributed paintings. Because the artist can no longer create new paintings, their work is more likely to appreciate in value. When there are a limited number of paintings available, the price is more likely to rise.
On the other hand, works by a certain artist or from a particular era that occurs frequently and abundantly in public auction sales may fetch lesser prices.
Significance
The value of a piece of work is determined by its significance. A painting that is revolutionary, inventive, and one-of-a-kind is likely to appreciate in value. Paintings that are derivative or unoriginal are more prevalent and, as a result, are more likely to sell for less money.
When a painting deviates from the norm, it is frequently maligned or misunderstood when it first appears on the market. A successful buyer should think about the artist's and painting's overall and long-term impact. To discover a solid art investment, you may need to look beyond public recognition.
Although the value of a painting is determined by a number of factors, knowing the background of the painting and its current market can serve you well in your art investment.
How to identify a good investment?
Understanding a painting's price fluctuations. This varies depending on the market. Studying the painting's style . You need to imitate its style – where the artist was influenced and for how long. This will help you understand why and how it got popular if you ever decide to sell your investment.
Detecting fakes. This can be difficult, especially if you're dealing with a masterpiece by Monet or Van Gogh. Ironically, it is common for them to be faked posthumously, so check any possible years that they were made before they were officially authenticated (even if they weren't revealed as authentic until later). And finally, checking its provenance.
Consider to where to buy painting in the Philippines
People used to go to museums or attend art talks hosted by reputable institutions to uncover possibilities to purchase pieces or painting in the Philippines below market prices. However, the ongoing COVID-19 pandemic has had an impact on all parts of life, including the art industry. Every aspect of the art world has had to adapt, from art fairs grappling with the need for social distance to artists exploring new ways to engage their audiences and evaluating their relationships with galleries.
To keep connected to the worldwide art market throughout the pandemic, some art exhibitions opened online viewing rooms and organized online lectures.
Artists now have the digital platforms and social media to share their work on a larger scale. Viber or even live streams are used now to sell some painting in the Philippines. One of the websites that you can visit is filipinoart.ph. It is an online art gallery situated in the Philippines where visitors may browse a wide range of Filipino artworks and connect with a growing community of art lovers and patrons.The main goal was to inspire local residents and art collectors around the world to support Filipino artists by purchasing their original works.
However, if you prefer to stick to tradition and visit several galleries and museums to find the best painting in the Philippines, here are a couple of top local galleries where you can find the best unique pieces:

Doubts & Dreams by Jed Gregorio & Renzo Navarro | Silverlens Galleries
Photo from Vinly on Vinyl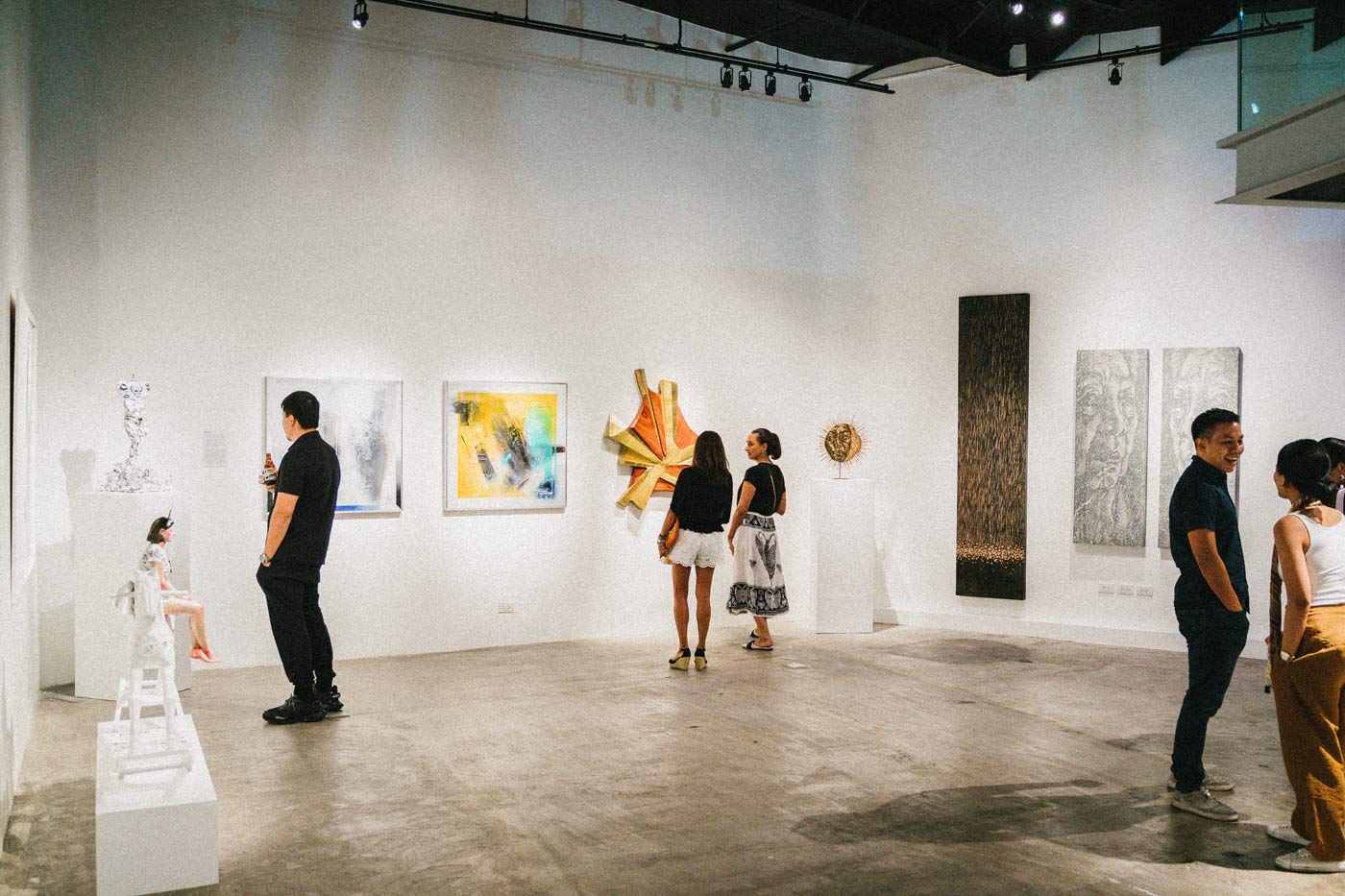 Photo from Modeka Art
Photo from Blanc Gallery
Suggested Read: https://www.brittany.com.ph/blogs/where-you-can-purchase-unique-art-pieces-for-your-luxury-home/
So, is it a good investment? 
Art investment isn't recession-proof, but they do come into fashion at different times. You should not utilize it as a get-rich scheme or a short-term investment because it is a long-term and non-liquid investment. Nonetheless, it can be a great way to diversify your portfolio.
Suggested Read: https://www.brittany.com.ph/blogs/why-luxury-real-estate-investment-stands-out-in-the-new-normal-2/
Think about living in a painting in the Philippines for a moment.
How about living in a very beautiful home (it feels like you're in a painting?) or other luxury things, activities, or investments you'd like to add to your portfolio?
Luxury houses in the Philippines are always a smart long-term investment. Having luxury real estate properties like the most beautiful houses in the Philippines, as well as a luxury condominium in the Philippines, is always a wise investment.
Continue scrolling to see Brittany Corporation's luxury real estate opportunities like luxury houses in the Philippines and luxury condominiums.
Brittany Corporation offers luxury real estate investments with the most beautiful houses in the Philippines.  The houses from Brittany Corporation are only made with high-quality materials by the country's most competitive engineers and constructors.
Surely, they're the finest in luxury condominiums and luxury houses in the Philippines and can be the home of the finest painting in the Philippines.