BLOGS
Influence of a Multimedia Artist in Real Estate
When you sell upscale home properties, you are not only selling the house but also the comfort, security, and luxury. Even with the best team of real estate professionals, it takes more than a great sales pitch to convince a customer. This is how multimedia artists influence the flow of real estate in the new normal.
Taking your customers into an elaborate virtual tour through pictures, videos, and graphic design might just be the clincher you need to ensure successful sales. As a luxury real estate brand, Brittany Corporation ensures that its clients can see the magnificence of their upscale properties through the detailed presentation using multimedia content.
There is great value in improving the multimedia aspect of a brand, and Brittany Salesforce has acknowledged that. This is why they are looking to recruit skilled creative professionals that are capable of taking their ideas into life through multimedia arts. You can be part of a brilliant marketing team that values excellence.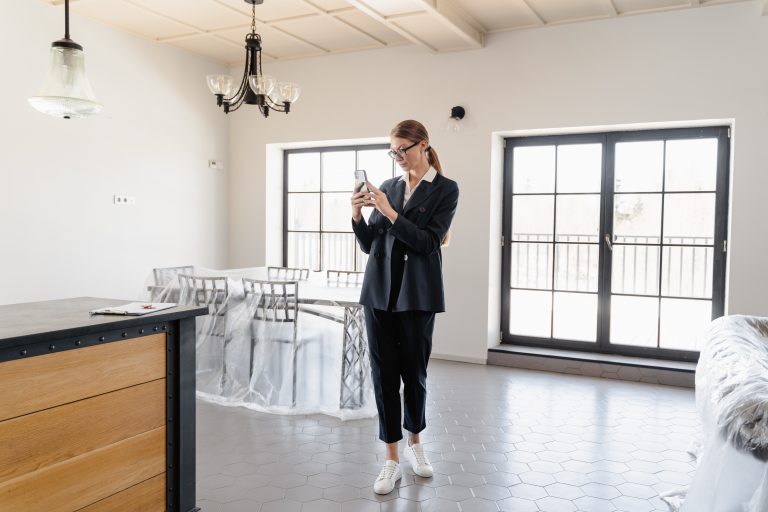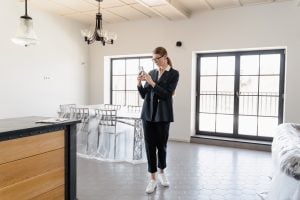 How multimedia influences real estate. | Photo by MART PRODUCTION from Pexels
Real Estate in A Multimedia Artists' Perspective
Almost all of the business sector are investing in multimedia arts nowadays. There are a lot of advantages in utilizing digital design in advertising. The first step to attracting potential customers and investors is to have an eye-catching design or photo. Especially in real estate where the first peek of customers is through photos and videos found online – having an impressive lineup can be the deciding factor for your sale opportunities.
Utilizing this, Brittany Salesforce invests in multimedia to boost their real estate marketing. In real estate marketing, it is important to show what sets apart their brand from the rest. As top realty not only in Metro Manila but in the entire Philippines, Brittany Corporation publishes eye-catching content that can leave a good impression on their clients.
1. Interpreting Thematic Appeals
To improve the user experience when browsing a website or social media account, multimedia content is a key component. A picture or a video is equivalent to a thousand words. Aside from photos and videos, you can interpret thematic appeals and a brand's identity through digital arts as well.
It is easier for investors and homebuyers to picture in their minds the kind of properties that they can own with the various photos available on the Brittany Corporation website. They are able to showcase the distinct architectural design used in their different luxury properties such as classic American luxury homes in Brittany Sta. Rosa, Italian-inspired properties in Portofino Alabang, and the exclusive sanctuary located in Crosswinds Tagaytay.
The thematic appeal that Brittany Corporation follows for its lineup of upscale properties is interpreted through the design of their website as well. The digital arts used in their website and various social media accounts are creative, which effectively attracts more audiences.
2. Eye-Catching Details
When it comes to multimedia content, bringing an idea to life is not enough. There are generic designs that are just used as fillers. To truly catch the attention of your audience, using eye-catching details is important. It requires a high level of skills, which only multimedia arts professionals are only able to do. This is even more crucial for luxury real estate to stand out in order to fully capture the sophistication of the properties that they sell.
For Brittany Salesforce values excellence and it is essential to drive their brand identity of luxury towards the audience. Their motto of making living luxury a reality already makes their brand stand out as the top realty in the country. However, the experience of users visiting their website can is enhanced with graphic design that wows their visitors. By using eye-catching details in their design, they can definitely keep the attention of their target audience.
Aside from creative social media ads, these type of multimedia content further contributes to the increasing desire of clients to purchase. Seeing the unique architectural design and thematic appeal of the properties and giving them an in-depth tour of the place can help them visualize the life they are about to live in a home that fits their lifestyle.
Suggested Read: Up and Coming Tagaytay Artists | Brittany Corporation
3. True-to-Brand Designs
When it comes to multimedia design, whether that's through social media or a website, it is important to follow a particular theme. For Brittany Corporation, that is sophistication and luxury. Thematic designs are not only used for real estate but for multimedia work as well, where most investors and home buyers first get a sneak peek of the property.
Staying true to the brand through design can have a bigger impact when it comes to making impressions to audiences. It solidifies the identity of a brand that they are the most successful luxury realty in the country. A multimedia artist can help the brand communicate to the client their intended message of comfort and luxury.
Even a photo, video, or multimedia design can tell a story that the client might want to hear more about. Outstanding graphics can even improve brand awareness as they make sure that your website or social media account can stand out. Through a multimedia artist's work, you are allowing them to finally discover the space that they can call their own.
Visualizing Luxury Living Through Multimedia
Brittany Corporation makes sure that they are on top of the list when it comes to luxury real estate. Their company has a team of talented young people who make up their sales and marketing team. With their skills, they are able to achieve a feat that very few have succeeded in. They have successfully sold their upscale houses to the most prestigious clients in the Philippines.
With a marvelous line of internationally-recognized luxury property, Brittany Salesforce ensures that the integrity of its brand is shown through its multimedia content. For potential investors and home buyers – see photos, videos, or graphics in various forms can help them see what makes this brand successful.
Luxury living is not only an idea. Through the help of multimedia art, it is possible to visualize the thematic appeal of upscale living. Especially with the unique architectural design masterfully crafted by Brittany Corporation, it is even more important to show it through multimedia arts.
Through photo, design, and video, investors and homebuyers are able to go on a virtual tour without having to go to the place. This is a huge advantage especially in the new normal where everything happens on the digital platform. It becomes even easier for your clients to visualize a future of luxury living through these virtual tours.
Curated Social Media Content
Social media has become a portfolio of photos and videos where users are able to keep track of their latest activities. For luxury property brand, Brittany Corporation, this means that they have to curate their social media content, portraying luxury living through photos. Well-curated social media content and posts serve as effective advertisements to the audience.
Brittany Salesforce, the elite marketing team, also uses modern social media strategies that make it easier for their audience to visualize luxury living through their content. Some real estate professionals are even curating their own Instagram accounts for real estate marketing. With the skills and talents of a multimedia artist, social media platforms can show the appeal that a luxury home brand wants to sell to its customers.
In-Depth Virtual Tours
Virtual tours are at the peak of their popularity today. There's no need to travel to certain locations anymore. Especially with local authorities implementing social distancing protocols, it has become harder to travel safely and efficiently. This is why virtual tours are such a hit for potential home buyers because it is not only a creative presentation, but it is very convenient as well.
Through these in-depth virtual tours of luxury houses, they get to see all corners of the space they are considering purchasing. They can even revisit these places anytime, anywhere only with a few clicks. Brittany Salesforce made sure that they are able to provide this convenient experience to their customers and investors. You can find their in-depth tours on the website or their YouTube account.
Of course, these tours are possible only with the skills of a multimedia artist, helping put together an extensive tour that shows the design, layout, and size of a property. Homebuyers can now inspect and marvel at the beauty of masterfully-designed spaces and even see the magnificent view in locations that are always visited by tourists and vacationists.

In-depth virtual tours through websites and social media platforms. | Photo by cottonbro from Pexels
Luxury Brand Identity and Design
To interpret luxury into a brand's identity and design is a skill that only an adept multimedia artist is capable of doing. As artists, they can make an impact in real estate through visualizing an idea into arts and design and attracting more audiences, who can be converted into potential clients for the elite sales team.
Brittany Corporation, as a luxury properties brand, is by far, the best realty in the local industry. However, to show it to audiences through a digital platform, a multimedia artist plays a primary role. It is not only about designing or creating multimedia art that stands out. A multimedia artist's main responsibility is to always showcase the luxury, sophistication, and excellence that the brand sells through its work.
Whether it's through photos, videos, or design – the first step to a successful sale is to catch the attention of your client. Your work is an integral part of the process of helping a home buyer purchase the house they've always dreamed of. This is why a talented multimedia artist is greatly valued in the real estate industry.
Opportunity for Luxury Brand Career
As a multimedia artist, there are various industries that you can work in, expanding your knowledge and skillset. However, you must also consider how much a company invests in outstanding career growth as a professional artist. With Brittany Salesforce, you get to enjoy the perks of having a competitive and highly-rewarding job as they offer career opportunities for creative professionals.
Brittany Corporation invests in its team of professionals and ensures that they experience many benefits of working for a luxury property brand. Whether that's through incentives, educational training, and effective modernized systems – you can be a part of it all. They even ensure that you get to enjoy your work by allowing you to choose your work environment.
Brittany Salesforce is dedicated to providing only excellent services to their prestigious clients. Their team, comprised of talented young people, continues to push forward and create a significant impact in the luxury real estate industry. Become one with this team of goal-oriented professionals and experience the dream of working with a luxury real estate brand.
---
Visit Brittany's official property page to know more about Brittany's beautiful thematic offerings or follow us on our Linkedin, Facebook, Twitter, and Instagram accounts!
For those who are interested to be a seller for Brittany, visit our E-Suite seller's portal here.
Concerns on your home? Click on our Vista Land Homeowner's Portal.
UP NEXT: Elevate Your Creative Career in Luxury Real Estate | Brittany Corporation