BLOGS
Mural Art Ideas For Your Luxury Home
Mural art has been around ever since the beginning of humankind when we first started creating it on the walls of caves. As civilizations arose, mural art dominated classical architecture and eventually seeped into urban spaces.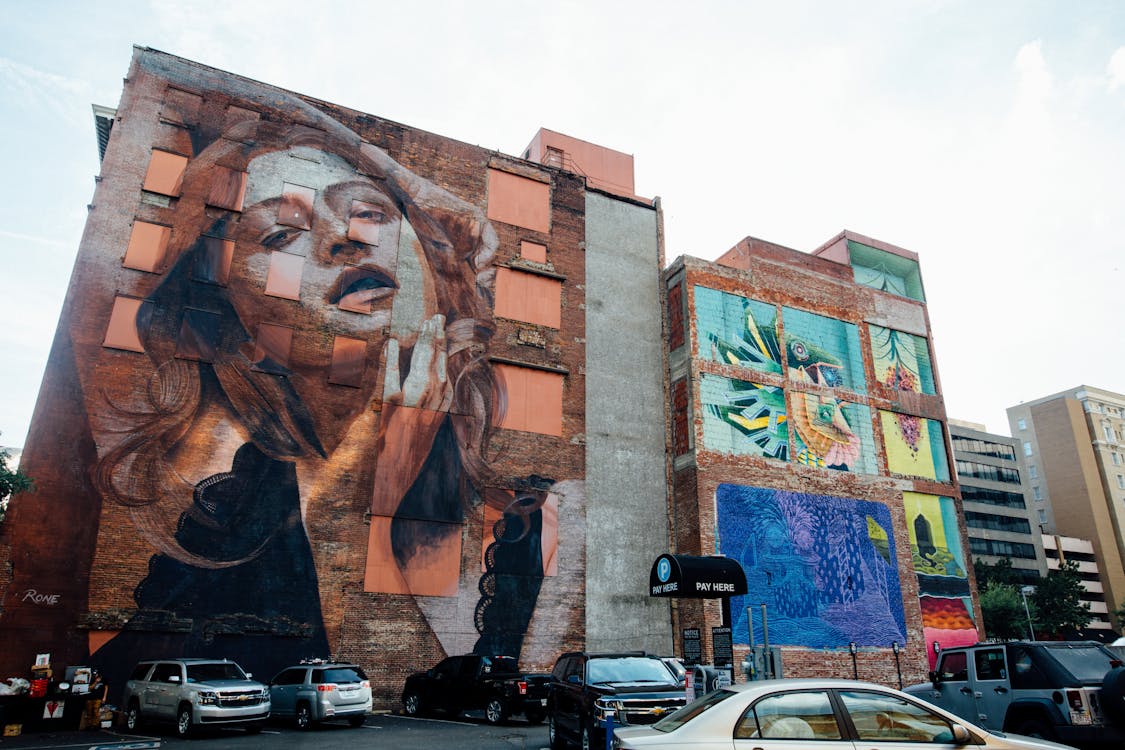 Mutal art has increasingly thrived to today's modern age as seen in urban spaces. | Photo by Kelly L from Pexels
While it's common to see murals outdoors, we have also started to explore the beauty it can bring to the interior design of indoor spaces, and most specifically, in our homes. Traditionally, murals were created to adorn outdoor and indoor spaces. Over time, as art can never be just for art's sake, murals began to be a medium for social and political commentary, and even for memorializing a historical event.
Indeed, art speaks. From cave paintings to mural paintings in today's modern home, we have evidently long believed for centuries that a home is more than just a physical dwelling where one feels safe and secure.
More than just a place, we have always thought that a home should tell a story about those living in it. Building a house where you can find your sense of belongingness with an unmatched level of emotional connection—This is what truly makes a house a home, and not just a physical structure that's filled with personal belongingness for mere survival.
Perfect Locations For Mural Paintings in Your Luxury Home
As human civilization thrived and progressed, we have certainly made a lot of innovations in our home which makes daily life much easier and more comfortable. Now, we have set up divisions within our home which all serve various purposes vital to our survival and comfort. So just where is it ideal to display beautiful mural paintings in your home in order for you to effectively tell your story?
This mostly depends on the central theme you'd want to be apparent in your home. Some who go for the modern and luxurious industrial vibe would display mural art in their living room which exudes straightforwardness and extravagance. If you prefer to stay lowkey, it may be better to showcase your most prized mural paintings in your private office or bedroom.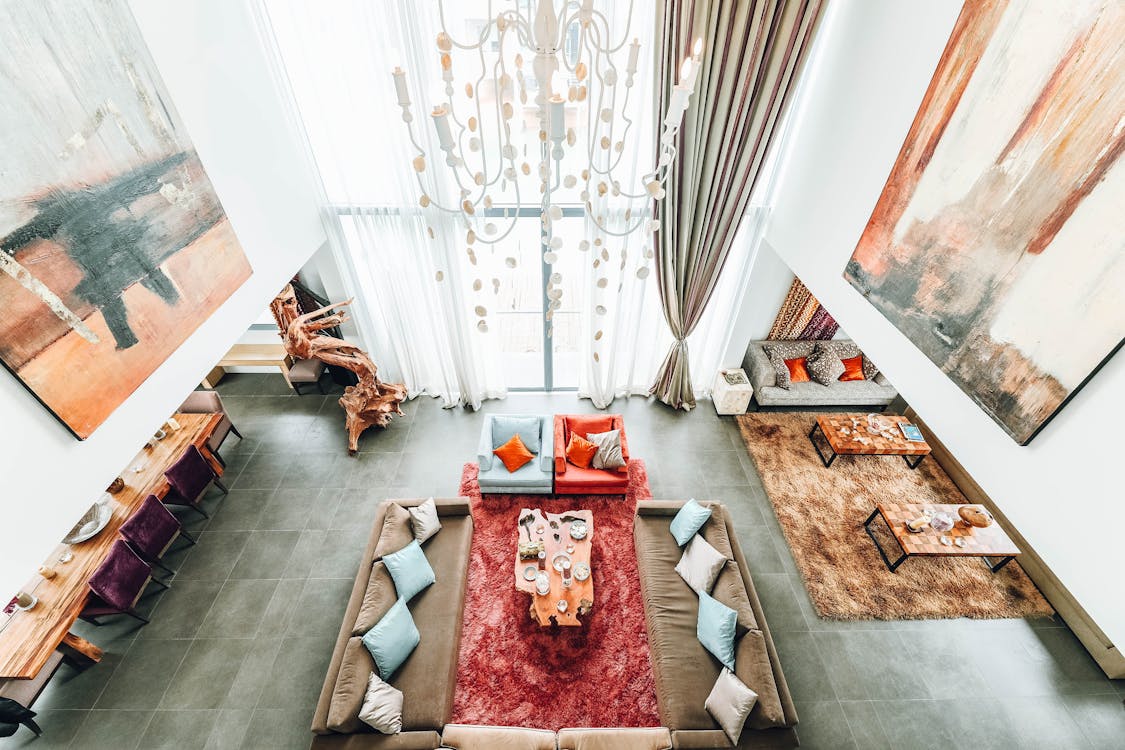 Place mural art in your living room with tall ceilings to show harmony and extravagance in the central area of your luxury home. | Photo by Naim Benjelloun from Pexels
Aside from design factors, you would also have to consider the layout of your home and find where it works best to place mural art. Placing mural paintings in the areas of your home with higher ceilings allows for a larger canvas. You can either make the walls themselves your canvas if you prefer sticking to one design for the long-term, or opt to scatter carefully curated mural paintings if you would love to switch it up once in a while.
Location As A Key Factor to Harmony In Your Luxury Home
Mural art is indeed beautiful to display in your home, but its beauty would be even more harmonious and emphasized if it ties together with the home's central theme and location. Sure, mixing and matching is great especially when done by a professional, but even the most trained designers know well enough to prioritize harmony and balance over pure aesthetics.
So apart from the placement, layout, and design, you would also need to consider the location of your home for the most luxurious effect. It is undeniable that an urban or industrial style home fits better when it's in a capital city surrounded by business districts, and a dainty country style home blends in better in a home that's surrounded by large green spaces.
Nonetheless, you shouldn't have to compromise the quality of life over modernity and convenience. A life lived in great ease and comfort can only be achieved if you prioritize convenience without having to sacrifice quality, both in an aesthetic sense and the lifestyle that your home's location promotes.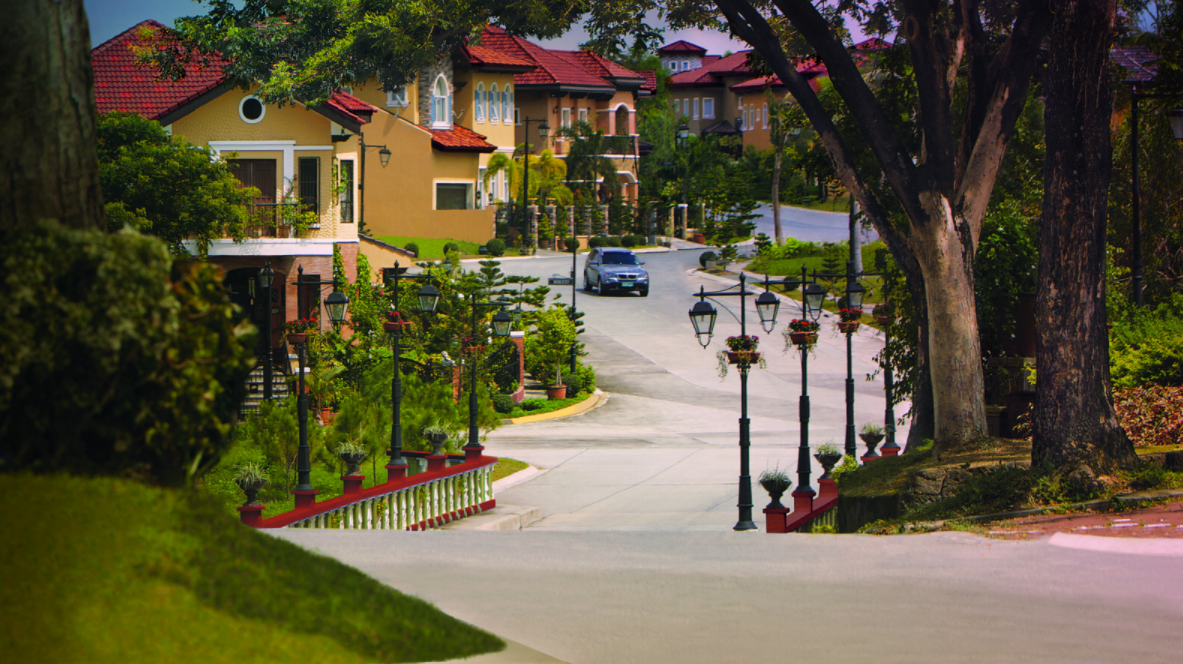 Vista Alabang is the prime location for your next luxury home.
If you're on the search for a luxury house and lot in Metro Manila that allows you to achieve this, the master-planned community of Vista Alabang is the prime location for your next luxury home. At the heart of this property development is the several residential properties in varying exclusive Daang Hari subdivisions.
Sprawled across Vista Alabang are strategically located commercial areas, medical facilities, educational institutions, recreational spots, and so much more. If you prioritize convenience and exclusivity, a house and lot in Daang Hari can be your best bet.
Aside from convenience, the community also boasts of its great accessibility as it's also nearby Metro Manila's business centers in Makati and Taguig through the adjacent roads and thoroughfares. It also provides direct access to the nearby provinces of Cavite, Laguna, and Batangas. So wherever you may need to go, your access to almost anything is just within your reach. This is living in harmony and ease at its best.
Ghiberti: The Epitome of Harmonious Luxury Living
A luxury home is not a luxury home without harmony. Mural art can help emphasize the harmony when all these factors tie together. Let's include in the picture Ghiberti, a 349 square meter luxury home that's ready for occupancy in Portofino Heights, one of the many Daang Hari subdivisions offering luxury homes and lots. If you're looking for a luxury house and lot in Metro Manila, Daang Hari subdivisions are your best bet with its great location and accessibility while maintaining exclusivity.
Ghiberti is characterized as the home with the castle-type tower in Portofino Heights, together with its refreshing inner courtyard, and casitas. This luxury house and lot in Daang Hari is the epitome of the sophistication and quality of Italian architecture.
Large windows open up the house in every area, paired with high ceilings making its interior design airy and light on the eyes. This makes for the perfect home to showcase mural art in as it provides you not only more than enough space but light as well for the interior design to really shine with the story you'd like your home to tell. With the abundance of space and great ventilation, Ghiberti's interior design can be made homey despite its regal and extravagant structure.
This luxury house and lot in Daang Hari is truly a standout with its unconventional yet highly practical layout. Upon entering the home, the inner courtyard adjacent to the foyer welcomes you. With this unique home feature, you should definitely maximize this outdoor space. This refreshing courtyard in the middle of the home is a great spot for an outdoor style mural art.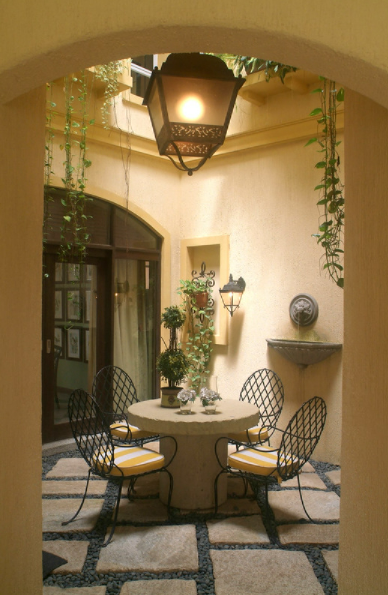 The refreshing inner courtyard in Ghiberti is the perfect spot for outdoor mural art.
You can display Italian style mural art to stay cohesive with the home's Italian style architecture, or you can also opt to add your own character to it to really show your  authenticity. Whether it be modern or classical style in any color palette, Ghiberti allows you an abundance of space to make it your own, as it's located in a low-density community, which helps maintain harmony but still encourages individuality.
Living 'The Good Life' in Portofino Alabang
Portofino Alabang is made up of three exclusive residential enclaves in the master-planned community of Vista Alabang, namely Portofino Heights, Amore at Portofino, and Portofino South. The whole community, along with these Daang Hari subdivisions exhibit its luxury and exclusivity by having these residential and commercial properties thoroughly planned and developed which makes the area low in density.
This allows Vista Alabang more room for growth as it thrives as a community while still maintaining a great standard for living, with its prime location that's sought after by every homebuyer looking for a luxury house and lot in Metro Manila.
These developments in Vista Alabang, whether commercial like that of the well-known and loved Evia Lifestyle Center, or residential like that of Amore at Portofino, all encourage the Italian way of living with the architecture and design of each property and the landscape surrounding them.
Luxury Homes by Brittany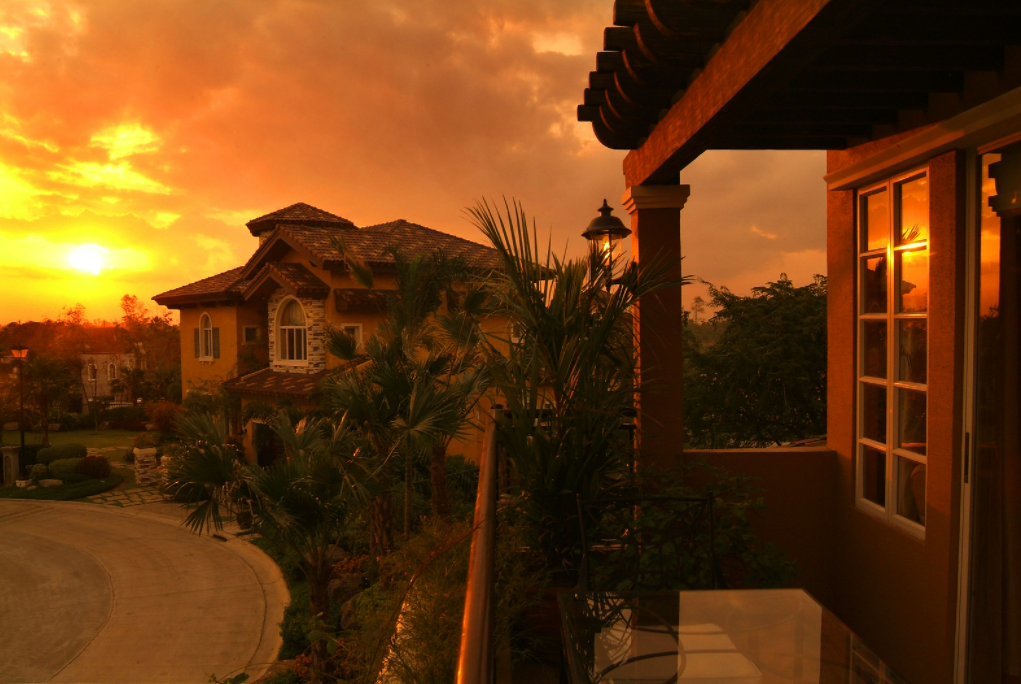 Luxury begins in the community where your home is.
Living la vita bella or 'the good life' should mean effortlessly maintaining a certain standard of life through harmony. The Italian lifestyle encourages the love of going out and about, so luxury shouldn't just end within the corners of your home, but should instead begin with the community it's situated in.
This is precisely what makes the Italian way of life so charming. It encourages celebrating all aspects of life on the daily, no matter how insignificant they may seem. Luxury at its most authentic allows you to find joy in the little things like spending time with family and friends, eating and drinking well in a great restaurant just within the community, and going out for a leisurely stroll or drive after a hearty dinner along the cobblestone pathways and tree-lined roads.
Luxury goes beyond just having a comfortable home, but being in a community as well which promotes a great standard of living that's holistic and consistent, no matter how fast it thrives as a metropolis.
These luxury residential properties in the upscale neighborhood of Portofino Alabang are surrounded with tastefully curated green landscapes, which maintains the harmony of the bright and airy homes. With all these tied together, telling your story through your home is made effortless. Here are some concrete ideas on how you can utilize mural art as a medium to do so:
Modern Wall Map Mural Paintings For The Adventurer
If traveling is your way of living the good life when outside of your home, it would be a great idea to keep track of all your adventures through mural art. Not only will it remind you of the lovely adventures you've been in, but it's also definitely a great icebreaker for when you're hosting a dinner party or welcoming a guest into your home.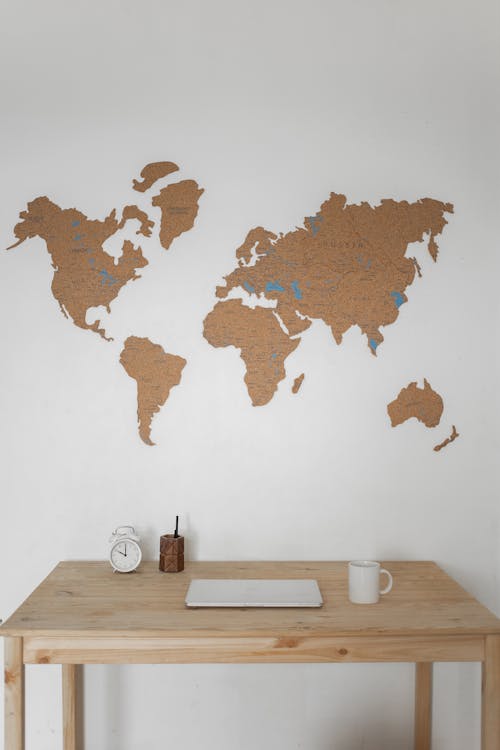 A mural art showing the places you've been in the world is the perfect conversation starter piece in the home of an adventure-seeker. | Photo by Monstera from Pexels
Should you prefer the latter or both purposes mentioned, it's great to show this design of mural art in any common space in your home like your foyer. Typically, foyers go unnoticed as most would think it just exists to serve as a pathway from the entrance of your home to its living areas, so why not spice it up with a contemporary wall map mural?
What makes this type of mural art even more creative is you can change it up every so often that you go to a new destination. Simply add a splash of color to the locations of where you've traveled in the world so far. Not only will it help spruce up what would otherwise be the less interesting part of your home, but it may also aid you when deciding on your next adventure or in inciting a conversation amongst guests of your past travels.
Floral Bouquet For A Soft Feminine Touch In Your Luxury Home
In the areas of your home where the ceilings are higher than the other parts, it may be tricky filling in the empty gaps. Usually, we would place indoor house plants to do so, but with high ceilings, it may just make your furniture shrink and appear quite out of place especially with plain walls.
A bright mural art of a colorful floral arrangement nestled in the nook of your living area brings warmth to your home without being too overpowering. | Photo by Urban Walls Decals
You may also find that adding more furniture takes up floor space which is not ideal if you prefer that your home keeps more areas open. Take Carletti in Amore at Portofino as an example, a luxury house and lot in Daang Hari with 211 square meters of floor area in total. When it comes to more modest size homes, space is increasingly more important. Truly, less is more with great interior design.
Nestle in a bright mural art of a traditional floral arrangement of peonies and roses in the corner of your living space and you will find that this brings a soft and warm climate in every season without being too overpowering.
Ceiling Mural Paintings To Depict An Awe-Inspiring Skylight
Typically, our line of vision is simply focused directly on what's ahead of us. Especially with our homes, we often give little thought to what is above our heads. With this, the ceiling is one of the most underutilized spaces in interior design.
But in the areas of your home where the ceilings are shorter as compared to the others, it may be a great idea to adorn it with some mural art to maintain the feeling of openness and brightness. Ceiling mural paintings physically does not take up space in your home, so it's a great addition regardless of your chosen theme.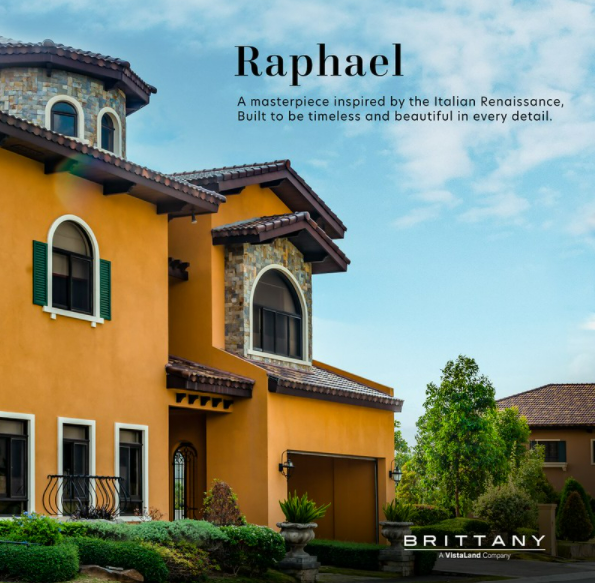 Rafaello, one of the picture-perfect homes ready for occupancy in the luxurious community of Portofino Alabang, uniquely features an attic. The ceiling in this area of the luxury home is a perfect spot to showcase mural art that further opens it up, like a mural painting that depicts the sky. Pair it with lights that can change colors throughout the day, and you seemingly already have a skylight without the architectural demands of one.
Your Luxury Home Is Your Physical and Mental Refuge
Ensuring that your luxury home is a place of balance and harmony is not a new idea, but it's definitely a timeless one. Our homes should serve as our safe haven for our often busy day-to-day lifestyles. Our home also tells our story as it shows the things and people which are important to us, indicative of our lifestyles and personality.
As a place where you rest your head in, your home has such a huge impact on how you  feel about yourself and how you define yourself. In today's modern way of living, we are almost always overstimulated which makes it all the more important that we place a careful thought as to where we choose to live in and how we make our homes our very own.
Your home environment should be a place where you can take a mental and physical refuge in, where you can relax and reinforce the best parts of who you truly are and who you want to be. Even the most adventurous spirits need a constant place to renew their spirits. Undeniably, nothing beats the comfort of your own home.
Next Read: The Basics of American Architecture
Next Read: The Best Health and Wellness Trends in 2021
Next Read: The Beautiful City of Santa Rosa
Next Read: The Best Investments for Young Adults
Next Read: The Basics of Italian Architecture