BLOGS
Rare Craftsmanship: Italian Item Collections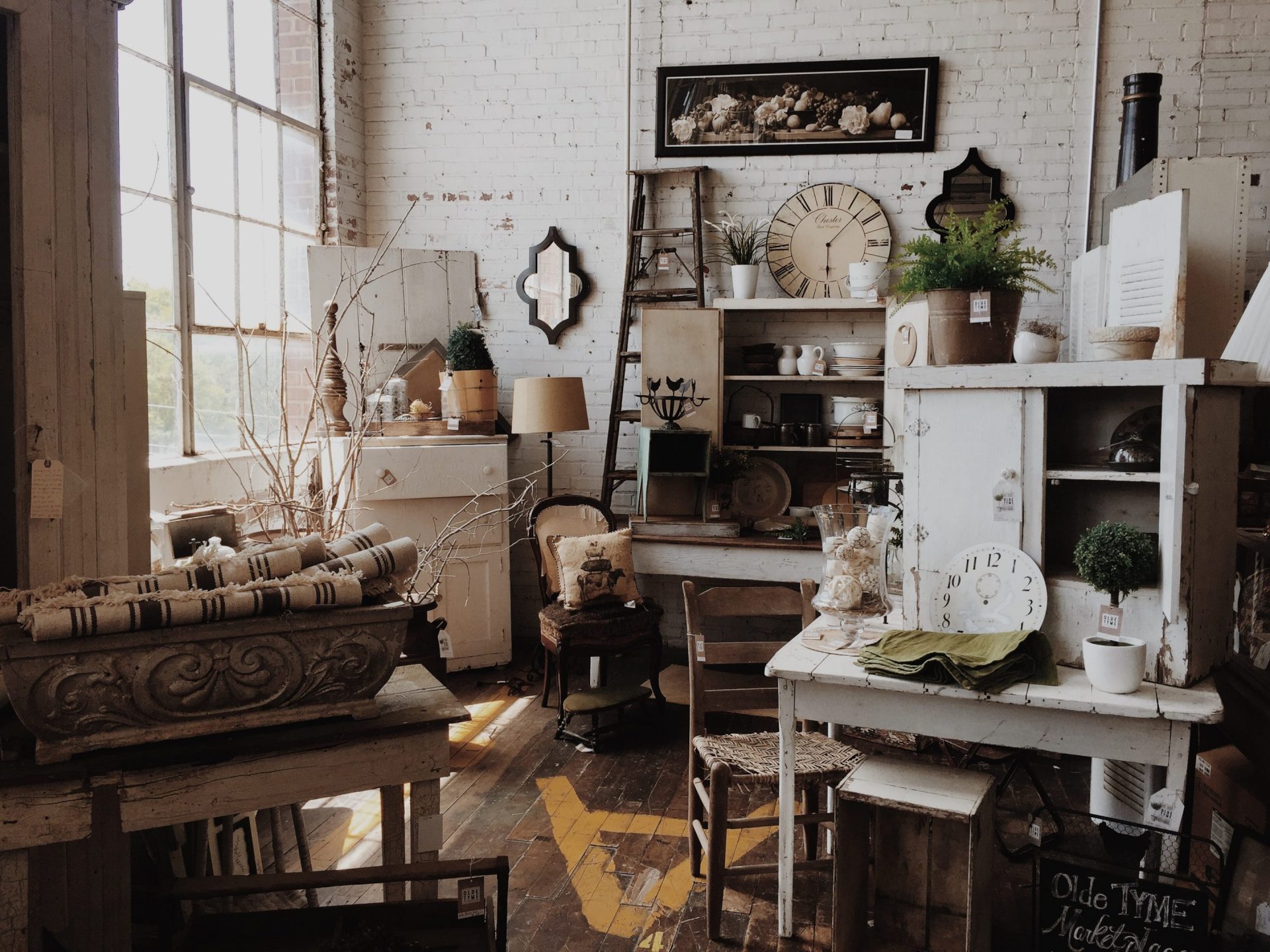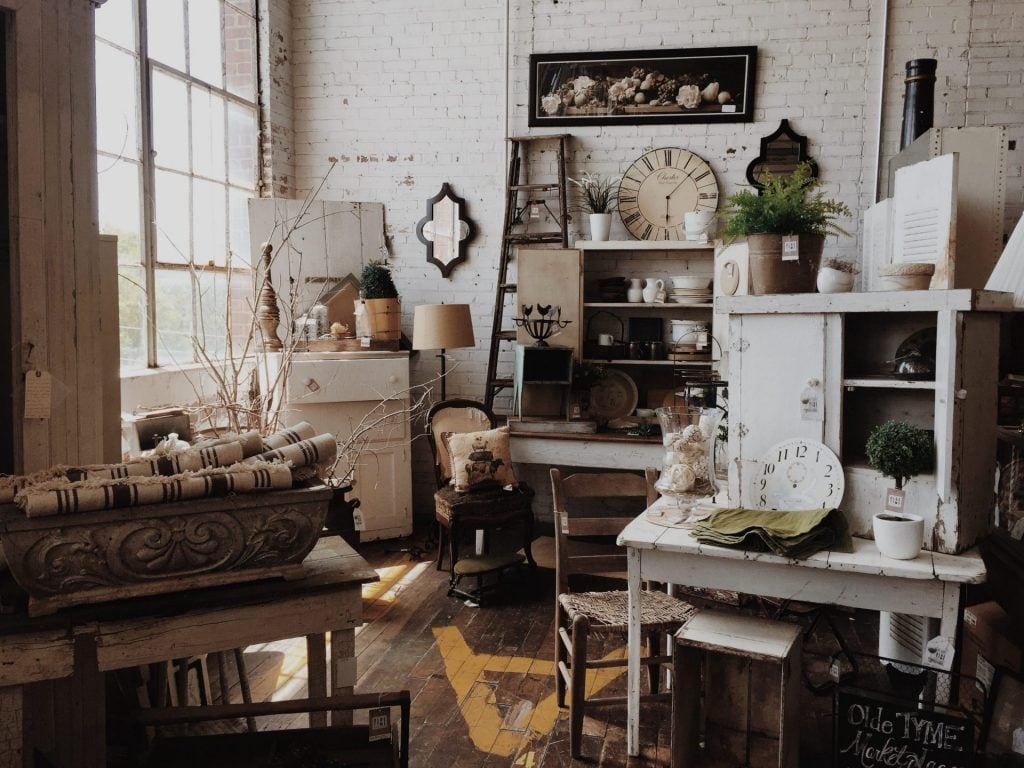 Vintage collection of home interior essentials displayed inside a bricked room
Creative professionals, art aficionados, and rare item collectors always have their shopping cart close to Italian item collections—and for good reason. Nowadays, simply clicking the login button on your shopping accounts can give you a variety of sartorial collections and other products to add in your collection. The catch: finding rare collection items and high-quality crafts remains challenging at a time when mass production and fast fashion are the norms. And this is why a "made in Italy" tag is recognized around the world as a close sign for class, luxury, and premium features.
Think about this: the greatest designers and artisans in the world, both in categories of fashion, architecture, and interior design for luxury real estate, hail from Italian metropolis areas, particularly in Milan and Venice. Think of the luxury home fixtures of Fendi Casa and Italian collection picks from the fashion racks of Gucci, Prada, and Giorgio Armani.
Read on to delve into the history, process, products, and collection that makes Italy the beating heart of rare craftsmanship.
Italy & Quality: What Makes Italian Craftsmanship Worth Your Penny 
Collectors swear by Italian-crafted goods because they are more than just products—they represent tradition, history, and culture of Italy. Everything from clothing, accessories, to luxury home furnishings are mostly hand-crafted and are made with premium grade materials. Italian craftsmen's dedication to creating handmade goods give their pieces unique details that are rare to find in mass-produced options in the mainstream market. Every detail speaks for the authenticity and creativity of the product's maker.
And because most local artisans and boutiques are family-owned, the delicate production process continues for generations. For example, Minotti—the popular manufacturer of high-end furniture for luxury homes in Italy and around the world—has been in the industry since 1948. All of their statement pieces meld design styles from old Italy to modern world aesthetics, which made their collection popular in furnishing villas and mansions owned by affluent families.
The Italian parliament is also serious in protecting Italy's prestigious reputation. Way back in 2009, the government passed a law ordering the use of "Made in Italy " label only on products that are produced and assembled in the country.
Collector's Items that Deserve a Spot to Your World-Class Italian Item Collections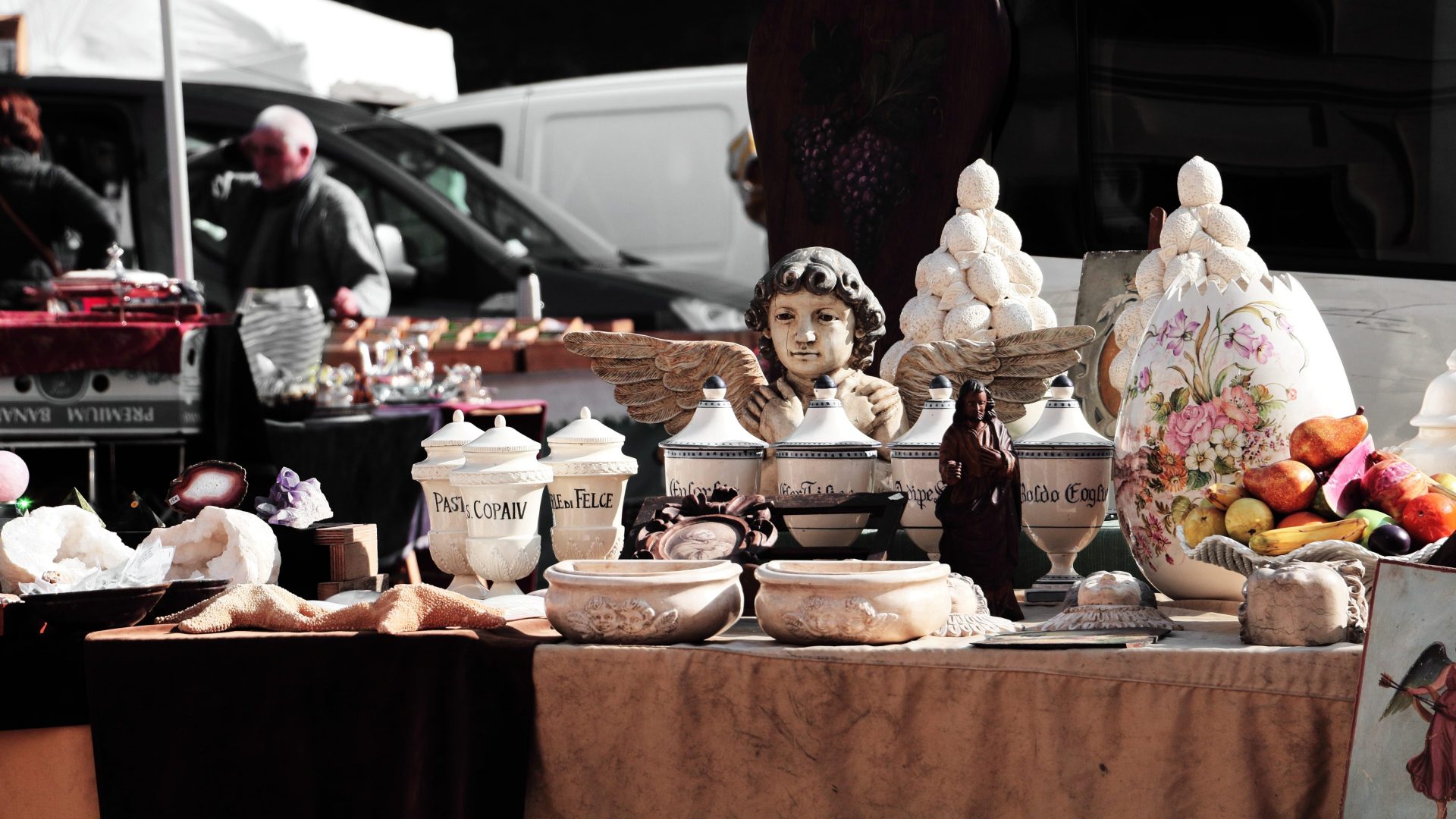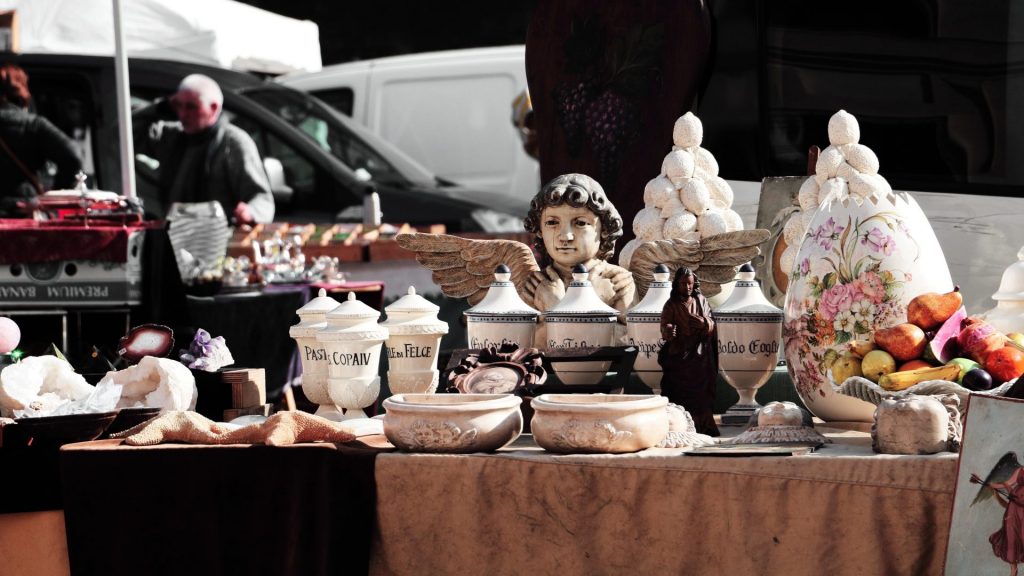 Variations of ceramic jars, plates, and stone statues displayed on a table at a flea market
Venice, Rome, and Italy in general are bustling with local artisans and craftsmen offering authentic, Italian item collections.  Whether you are looking for something fashionable, edible, or hand-crafted items that will remind you of Italy's idyllic charm and elegance, there are plenty of options in store for you. So, if you are planning to visit the country soon, here are some of the must-have items to add to your Italian collection.
Hand-Painted Ceramics Collection
Pottery is a thriving industry in Italy. In fact, the inland city of Caltagirone in Sicily is a UNESCO heritage site and is widely popular for their ancient ceramic art form. A quick stroll to the hilltop village will lead you to dozens of artisan stores that sell ceramics in various categories. Hand-made teapots, plates, spoons, and bowls come in bold and unique designs that stand out with blue, saturated, and bright hues. Adding this earthenware to your cupboards will definitely turn your luxury condominium or luxury homes into an Italian Oasis.
If you are looking for statement pieces to display in your living space, stroll further to the narrow streets of Caltagirone and look for large pharmacy jars painted with historical saints and nobles, traditional-looking amphorae, or decorative tiles. Most artisans in Caltagirone prefer using chiseled pigments and traditional varnishes in their craft. Doing so gives their ceramics a beautiful, rustic finish that suits old-world aesthetics.
Designer Italian Clothing
Italian designer clothes are easily accessible nowadays in most countries. However, shopping in Italy will give you a remarkably bigger and more diverse selection than you could find when you shop elsewhere. A popular shopping spot for tourists looking for authentic and exclusive fashion must-haves is Via dei Condotti in Rome. The fashion district is brimming with luxury designer brand stores like Versace, Prada, and Bulgari. If you are looking for rare sartorial picks, you can skip the popular fashion retailers and look for independent dressmakers and local fashion boutiques.
Italian fashion is best known for the extreme attention to detail poured in every collection—from sketches, to textiles, down to the finished product. So, whether you prefer the flamboyant collection of Versace or the minimalist elegance of Prada, Via dei Condotti has something for you.
Italian Leather Crafts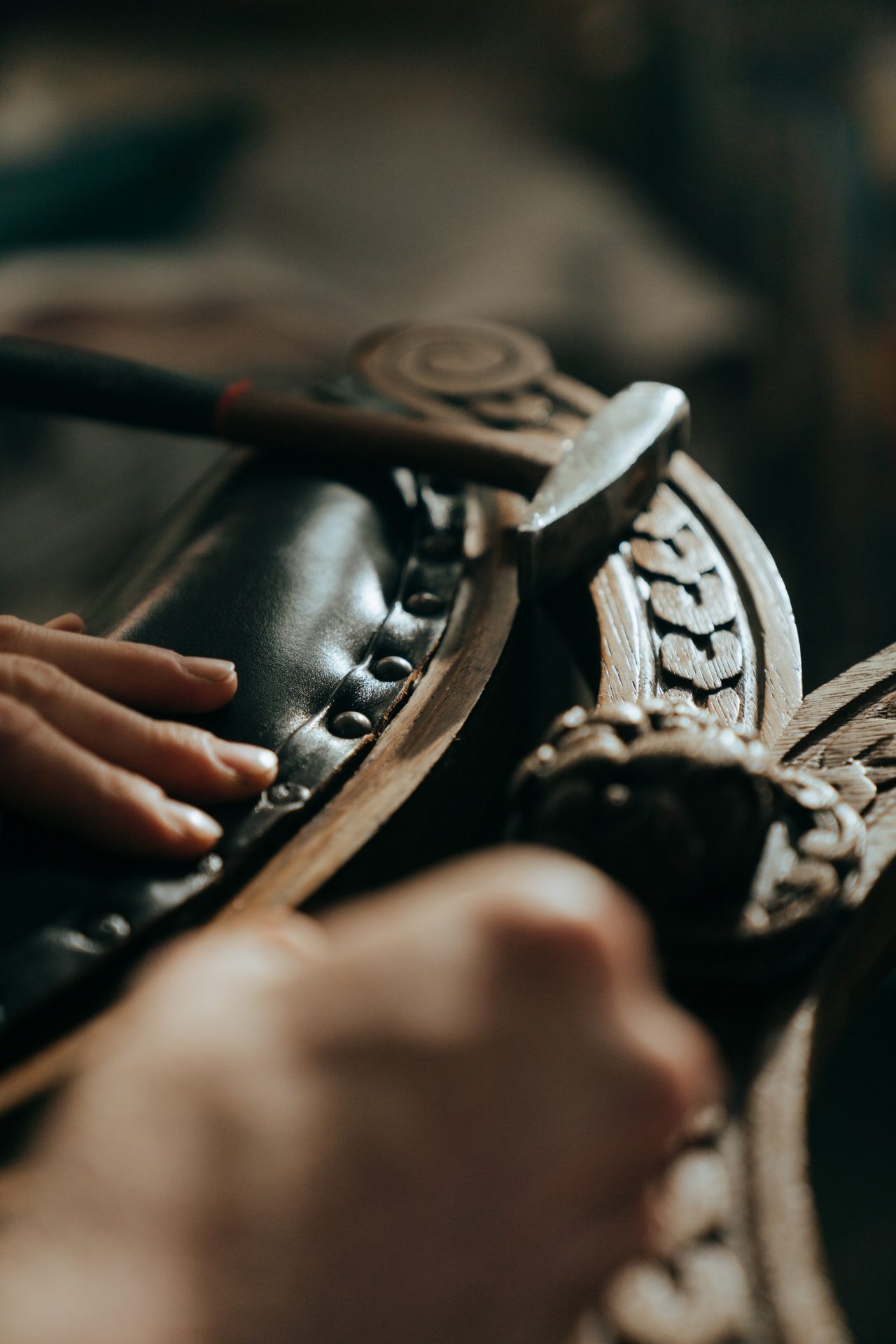 Premium Italian leather is built upon quality and history. It is popular not just for where it is made, but also how it is made. Majority of tanneries in Italy produce leather using the age-old method of vegetable tanning. This means natural tannins from plants, tree bark, or fruits are used to tan a sheet of leather. The slow process creates a finished product that is soft and comfortable to wear or carry, without compromising durability. Because of this, designer handbags, accessories, shoes, and even car upholstery that uses premium Italian leather are excellent choices for your collector items.
Religious Artworks
Being the core of the Catholic Church, the Vatican is a popular spot for many Catholic tourists in Italy. The place is brimming not only with pilgrims and churches, but also with local stores for catholic gifts or religious souvenirs that you can add to your Italian item collections.
For starters, you can opt for small yet significant Catholic mementos like rosary bracelets, embossed medals, pocket figures, or hand-painted crucifix. Local shops hand-crafted these items using various materials like red wood, ash wood, marble, and glasses, which make them more unique than the mass-produced options in shopping malls. You can even buy a replica of Pope Francis' cross that you can place in your altar at home.
If you prefer to shop for bigger collections, consider looking for terracotta plaques, statues of catholic saints, and huge Holy water bottles. Prayer cards that come with medals of specific catholic saints are also among the popular options for religious mementos in Italy.
Experience the World-Class Beauty of Italy in Your Luxury Home with Vista Alabang
Art has the power to bring one's mind to certain places, stories, and experiences. For instance, Italian item collections instantly transport its onlookers to the understated glamor and elegance of Italian fashion, culture, and music. That said, it's no wonder why many homeowners want to add the elegant touch of Italian Interior design to their luxury real estate properties.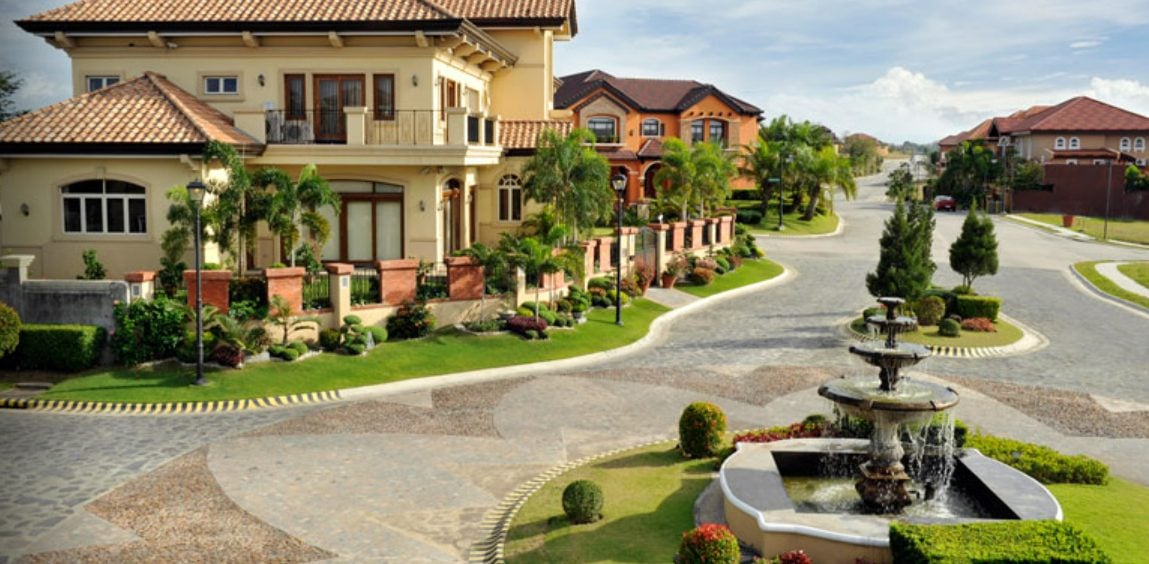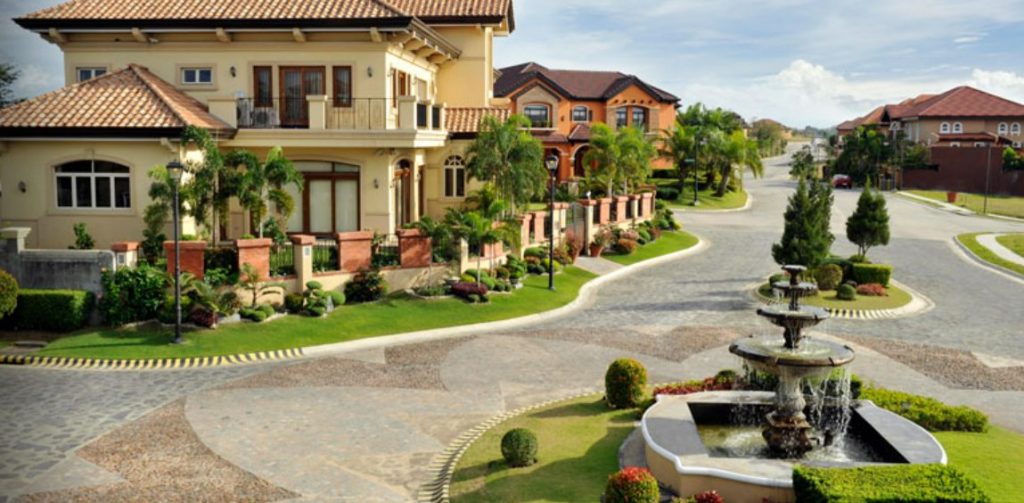 Living The Italian Life in Portofino Alabang
A prominent style of Italian home design is the harmony of contemporary and rustic elements. Incorporating this in your luxury home means proper usage of colors, textures, and statement Italian items. If you want to do the decor work correctly, a professional hand goes a long way. Brittany Corporation works with renowned interior designers in the country to transform all luxury condominium units and other luxury real estate properties it offers into world-class homes.
For Instance, all luxury house and lot properties in Vista Alabang exude the classic elegance of Italian design and architecture from the inside out. Vista Alabang is a European-inspired luxury residential development by Brittany Corporation. The 600-hectare enclave is surrounded by cobbled roads and green spaces, just like the idyllic countryside of Italy. Within are luxury house and lot properties that feature exposed brickwork, circular towers, and mini courtyards, creating a warm atmosphere initially found in Old-World Italy.
Ready to explore more of what Vista Alabang has in store for you? Take a virtual tour around Brittany's luxury condominium units, world-class house and lot properties, and exclusive communities by clicking here or reach out to Brittany's marketing team here.
READ NEXT ARTICLE: MOST EXPENSIVE TUITION FEES IN THE PHILIPPINES
READ NEXT ARTICLE: TOP 15 MILLIONAIRE HOBBIES