BLOGS
Italian Home Best Features
The dream is to wake up one day and can see Italy by the balcony, while sipping your cup of tea, before your way to work. There is something about Italy that makes you want to experience and live in it. Its structures, designs , aesthetics, people, home features, culture will make you fall in love with it. It gives off luxury living from the moment you stepped your foot into the city.
As we know Italy is miles away from the Philippines, and living there may not be possible and may take longer planning period considering the pandemic, a person's job status, the language, or may be because of their family. Good thing that in Vista Alabang, you can almost experience luxury living in Italy for the theme this city characterizes.
Since the first quarter of this year is about to end, it's never too late to do a house reset, or renovation for a brand new start. It may be a bit challenging to do so, most especially if you are aiming for an Italian vibe for your house. Here are some of the famous and known home features Italian homes must have:
Marble furniture and fixtures
A tradition passed through enturies ago is the use of Marble stones as part of the home features and can be seen used for either their walls, floor, or even in furniture. Its rock pattern makes an area or a room more elegant and neat looking. It has a chic appeal that best works on tabletops, tables, countertops, comfort room details, flooring, and such.
It best fits the Italian themed homes in Brittany Alabang because its exterior is already very classic and contemporary, Marble materials are also know for its quality and sturdiness so it may be a bit pricey compared to other materials, it will definitely pay off its worth.
"Nella Vetrina's luxury marble furniture thrives on precision and innovation. Sourced from the quarries of Carrara, Italy, our unique marbles are combined with cutting edge modern technologies and skilled Italian craftsman to form truly one of a kind creation." – Photo from Nella Vetrina
Chandeliers
To complete the luxury living experience, adding a center piece is definitely a must. Brittany houses have high ceilings which would really highlight your grand chandelier. Italy is known for its grandiose structures, sculptures, and crystals.
A chandelier, which never goes out of style, gives more elegance in a room even with the lights off because of its crystals and glass. Chandeliers can be seen in most buildings and are the most common home features in residential houses of luxurious houses.
Suggested Read: Where To Buy Your Upscale Furniture
Langlais 6 – Light Candle Style Classic / Traditional Chandelier with Crystal Accents| Photo from wayfair
Castle like exterior
Most houses and structures in Italy have their specific characteristic and unique design. Most of them are recognizable because of its classic and rustic design. Most luxury homes now adapt this like the house and lots offered by Portofino Alabang and are designed like a castle from the inside and out. Perfect example is the Ghiberti model of Brittany where offers castle like vibe because of its exterior design. And we all know castles from ancient years are for elite people only, hence, it being the perfect home for elegance and luxury.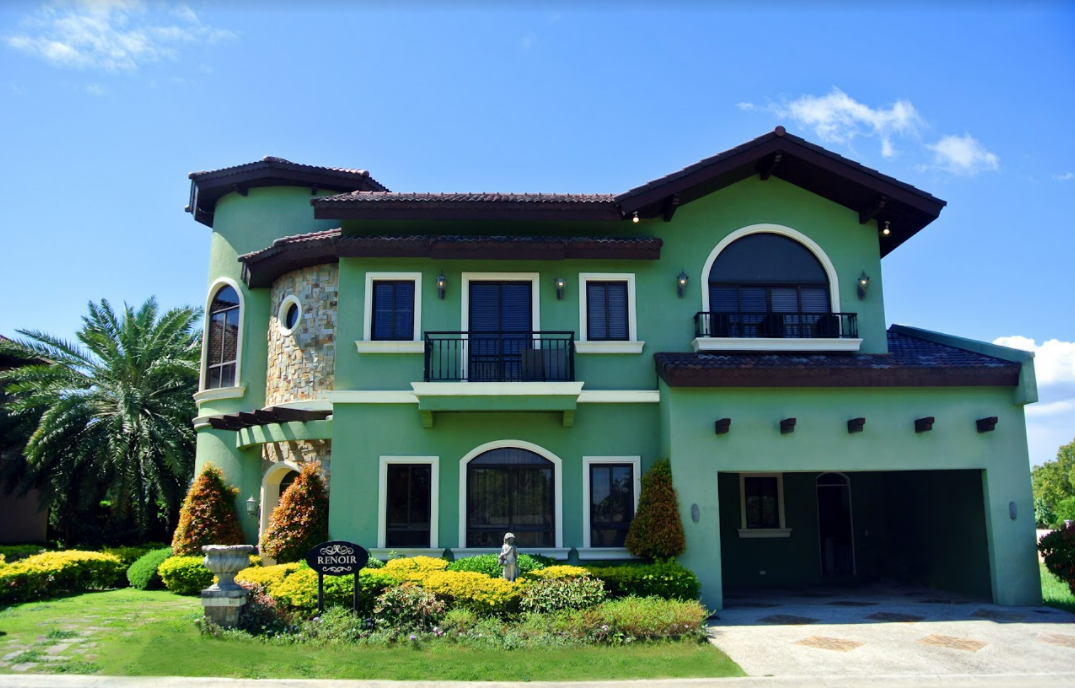 The Ghiberti is a 349 square meter Italian-inspired luxury residence distinguished by its castle-style tower, inner courtyard, and casitas set somewhat away from the main house. | Highlights of Portofino Alabang's Italian-themed Homes
Spacious Areas
Italian luxury homes are known for its spacious areas such as the living room, kitchen, and dining area. Some of them even have their own balconies and terraces. This feature best fits big families and people who likes to do gatherings with friends.
Considering that we're currently in a pandemic, there are still restrictions on public places and restaurants. With this, you can fully utilize these areas for your extended living rooms, or an extra gaming area for the kids. Houses in Portofino ranges in 200-400 square meters with big rooms and high ceilings that are good features to make full use of for your art accessories and fixtures.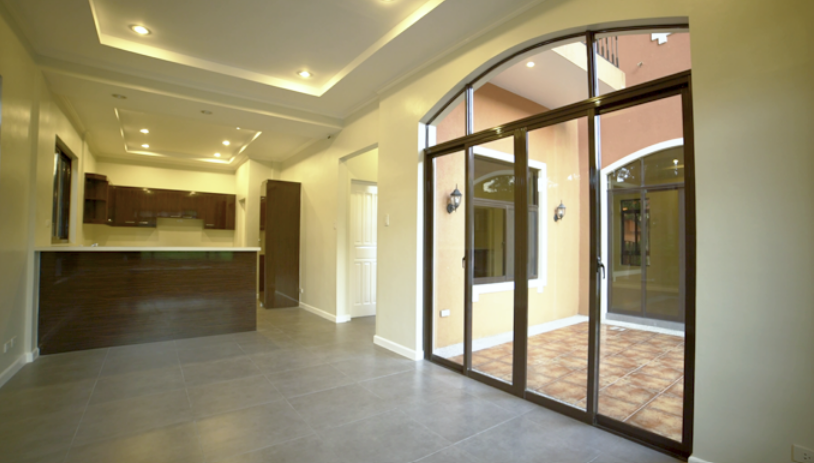 Bricks and stones
Italian designs are known for using materials such as marbles, metals, bricks, and stones. This depicts the rustic and timelessness that is of never off the trend. Most old luxury houses uses high quality bricks and stones that is the reason why they have strong and sturdy structures.  It creates an ancient vibe which makes your house look even more elegant. Though this is quite hard to maintain in terms of cleaning, it pays off because of the quality it gives. This material is actually very versatile as it works on almost all themes so if in case you wanted to do renovation, it won't be too hard for you.
Italian homes have something in them that lures someone to its beauty to whoever's looking at it. The goal to make it modern looking while still having the rustic and vintage features makes it very interesting. It can be a challenge on how, what, and where to put your vases and figurines, and your other home accessories.
Also, the color scheme you would be using to blend in well with the bigger furniture to make your house neat and elegant. The placement of each items even the small ones, are also a big part of the whole interior. Every piece of house accessory plays a role when looking at it in a bigger view. Even the home fragrance you use. These home features, when all combined together, would make your dream to live in Italy somewhat possible. It's like bringing the city in your own city.
It helps living in a community that uses Italian theme. From its malls, parks, and Italian homes, you can get the luxury living you've been dreaming off while still living in the metro of Philippines. This is well though off by Vista Alabang as it want to give you the full Italian luxurious experience. From your own home, to the streets, the signages, its name, and its common amenities.
NEXT READ: Chatelard: Your Luxury Ready Home For Move-In At Crosswinds
NEXT READ: How Landscaping Can Beautify Your Brittany Home
NEXT READ: 7 Most Beautiful Churches To Visit in Laguna