Blogs
Chatelard: Your Luxury Ready Home at Crosswinds
The definition of a dream house will be different for different people. Some are building their own house, and some opt to live in a ready-for-occupancy luxury home. In this regard, Chatelard, a fully furnished Swiss chalet in Crosswinds Tagaytay, has a lot to offer in terms of exclusive details and features. Nowadays, a ready-for-move-in luxury home is quite popular with both property seekers and real estate investors as many luxury houses are made with exclusive features that make your dream home peculiar.
Chatelard is located inside the first-class Swiss luxury community of Crosswinds Tagaytay.  Nestled on this 100-hectare development by Brittany Corporation, Crosswinds Tagaytay was inspired by the continuous interweaving winds from Tagaytay and Laguna de Bay. It is also surrounded by more than 35, 000 pine trees perfuming the air and the view of rolling hills with sweeping vistas offer a welcome repose for nerves frayed and tattered by the stress of work and urban life. 
Chatelard is perfect for weary city folk who want to experience the windy ridge in a totally different way, this breathtaking property is something you definitely won't want to miss. Take your much-needed rest here at Crosswinds Tagaytay where there are no tall buildings, no noisy city life, and no distractions, just the gentle breeze allowing you to bask in your own home away from home. 
Why Chatelard Should Be Your Next Luxury Home
There are several things to consider to satisfy the definition of a luxury house and lot especially if you look into the technical details however, to make things simple of what a luxury house looks like is when aesthetics meet functionality. 
What makes Chatelard lavish and luxurious are its features- interiors, facilities, and amenities. 
1. Exquisite Architectural Design
Architectural design is the primary feature of any luxury property as it depicts how elegant the façade is. The design gives a distinct character and style that makes it different from other luxury houses. Like Chatelard- a Swiss-inspired modern chalet and its exterior features can give you a novel touch of a luxury house.
Chatelard is built with high-quality materials, including asphalt shingles with roofing insulation, synthetic stones, cement clapboard in the paint finish, wood and metal works in stain or paint finish. Doors are solid panel doors with a standard lockset, casing, and stopper. Windows are of powder-coated aluminum with a clear glass finish. All closets and cabinets are modular with cabinet pulls. Each room in the luxury home is furnished with the finest fixtures and tiling.
2. Elegant Interior Design
The sophistication of a luxury house structure and design is meaningless if you don't get the same impression once you enter it. Thus, with the right combination of colors, furniture, and finishes you can make your home luxurious and livable work of art. 
They say, with a luxury home comes with vast space. In terms of spaciousness and balance, Chatelard has a good interior design with great use of space and well-thought-of functionality. 
3. Security
Interior and exterior design are not the only essential for a luxury house and lot. It must have safety and security installations. These security features are what separates luxury homes from normal ones. In order to secure your house from unwanted attention and burglary actions, the homes come with smart locks, CCTV cameras, safety alarms for fire, floods, or break-ins. Apart from home security systems, these luxury homes also have strong security at the entrance of the property. Just like Crosswinds Tagaytay, it is a gated community for the exclusivity and safety of its homeowners. 
4. Lavish Kitchen
At the kitchen, the heart of the home. Opulent living requires a magnificent kitchen. We've already established that a luxurious home is meant to be enjoyed with guests and we all know that food is a staple in these affairs. A lavish kitchen is not just about the quartz and granite countertops, it's more about the built-in equipment that helps you serve your family and guests with a wide variety of cuisines and impress them.
5. Balconies and Outdoor spaces
Nothing feels better than coming home from work to a peaceful environment. Luxury homes in Crosswinds Tagaytay are designed with open areas and huge balconies that provide a surreal view of the surroundings. That is why Chatelard is a uniquely made Swiss chalet as it offers 5 bedrooms with a balcony to maximize the view of the community being surrounded by more than 35, 000 pine trees. 
SUGGESTED READ: The 17 Longest Lasting High-Profile Marriages
6. Amenities


Luxury homes aim to provide you a charmed and resort life. Hence, many luxury houses and lots come with lavish amenities. Some of these include a gym, swimming pool, safe playground area for kids, parks, walking trails, jogging paths, commercial strips, Santa's house, Christmas village, and even lawn on the hilltop. Amenities provide residents with opportunities to foster good relationships with fellow residents and aid in keeping themself physically and mentally healthy.
Commercial strips closest to the area
Napa at Crosswinds 
While Crosswinds Tagaytay is famous for its Switzerland-inspired houses, a newly-opened spot in the neighborhood would bring you to another side of the world. Inspired by rustic houses in Napa Valley, California, this new café would make you feel like a vineyard owner with its rustic wooden interiors, relaxing ambiance, and picturesque alfresco dining area.
Café Voi La
Café Voi La offers a smorgasbord of home-styled Asian and international dishes even the pickiest eater will enjoy. It's also a great spot for families and friends who are eager to dine out while enjoying both the indoor ambiance (or the outdoor table settings) and the overall eclectic and whimsical atmosphere of the restaurant. Diners can also enjoy the restaurant's open bar with great wine selections and a variety of bestseller cakes.
And if you are looking for a nightcap, you can simply head out to the neighboring Café and enjoy the international chain's variety of coffee and pastries at Coffee Project and Ruined Project?.
Ruined Project?
As the name suggests, it has an unfinished exterior and interior design that makes it different from other coffee shops. Ruined Project has a great outdoor feel completely surrounded by plants and pine trees with a great view of Crosswinds Community. It has an old and rustic ambiance making this café appealing to coffee lovers. 
Crosswinds Tagaytay is packed with all these features and commercial strips that provide a grandiose living experience. Given the location of the property adds to the surroundings and breathtaking views. Brittany Corporation designs its project with care to make the life of the buyer easy and lavish. 
Floor Plan of Chatelard in Crosswinds Tagaytay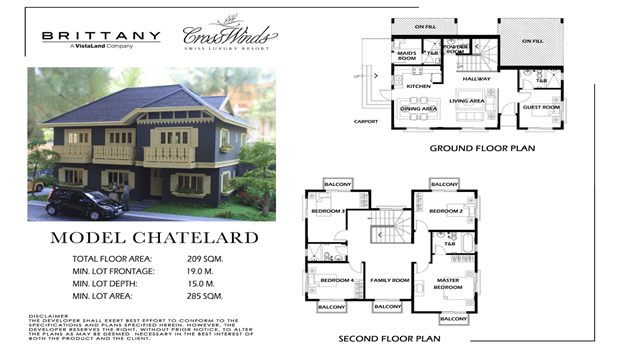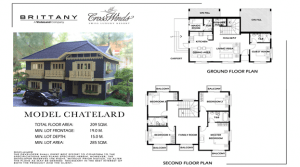 Indeed, with the artistry of the façade, exquisite interior design, multiplicity of rooms with multiple functionalities, and overall elegance of the property, Chatelard is truly a definition of a luxury dream home in Tagaytay City. 
ALSO READ: Lucerne Ready Home: Your dream home in the most luxurious community in Tagaytay
For reservations and inquiries, please refer to the Crosswinds property page.