BLOGS
How To Get To Crosswinds Tagaytay from Manila
Go-to destinations for holidays and "staycations" for most tourists and city dwellers are most thought of by those who travel to Tagaytay from Metro Manila. The variety of tourist spots at Tagaytay surely makes it the top destination for leisure activities, aside from the go-to coffee shops and restaurants, people prefer to spend the remaining of their time at hotels or resorts, places wherein they can sit back and loosen up whilst enjoying the refreshing atmosphere with a cup of their favorite beverage.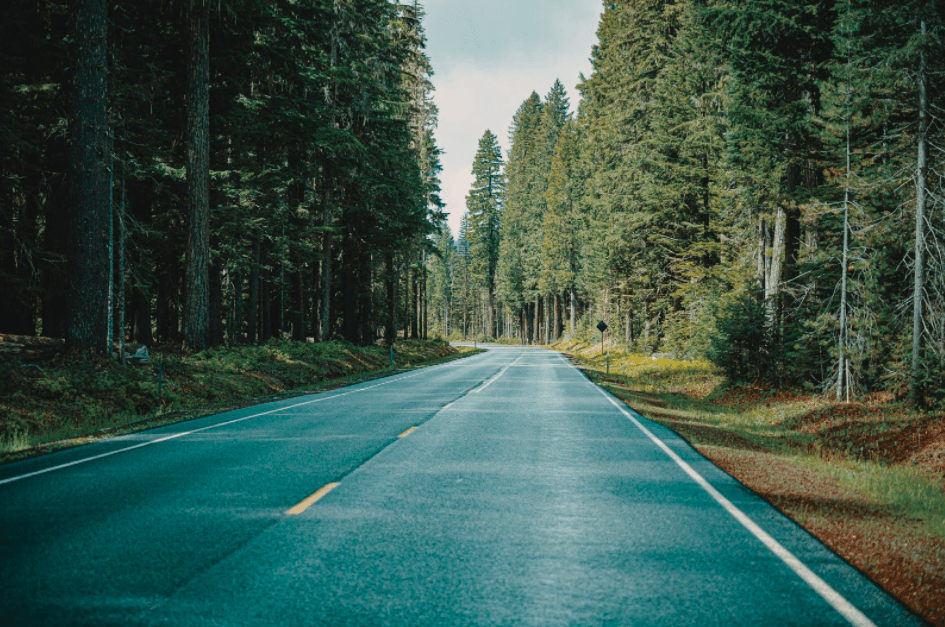 Getting to Tagaytay from Metro Manila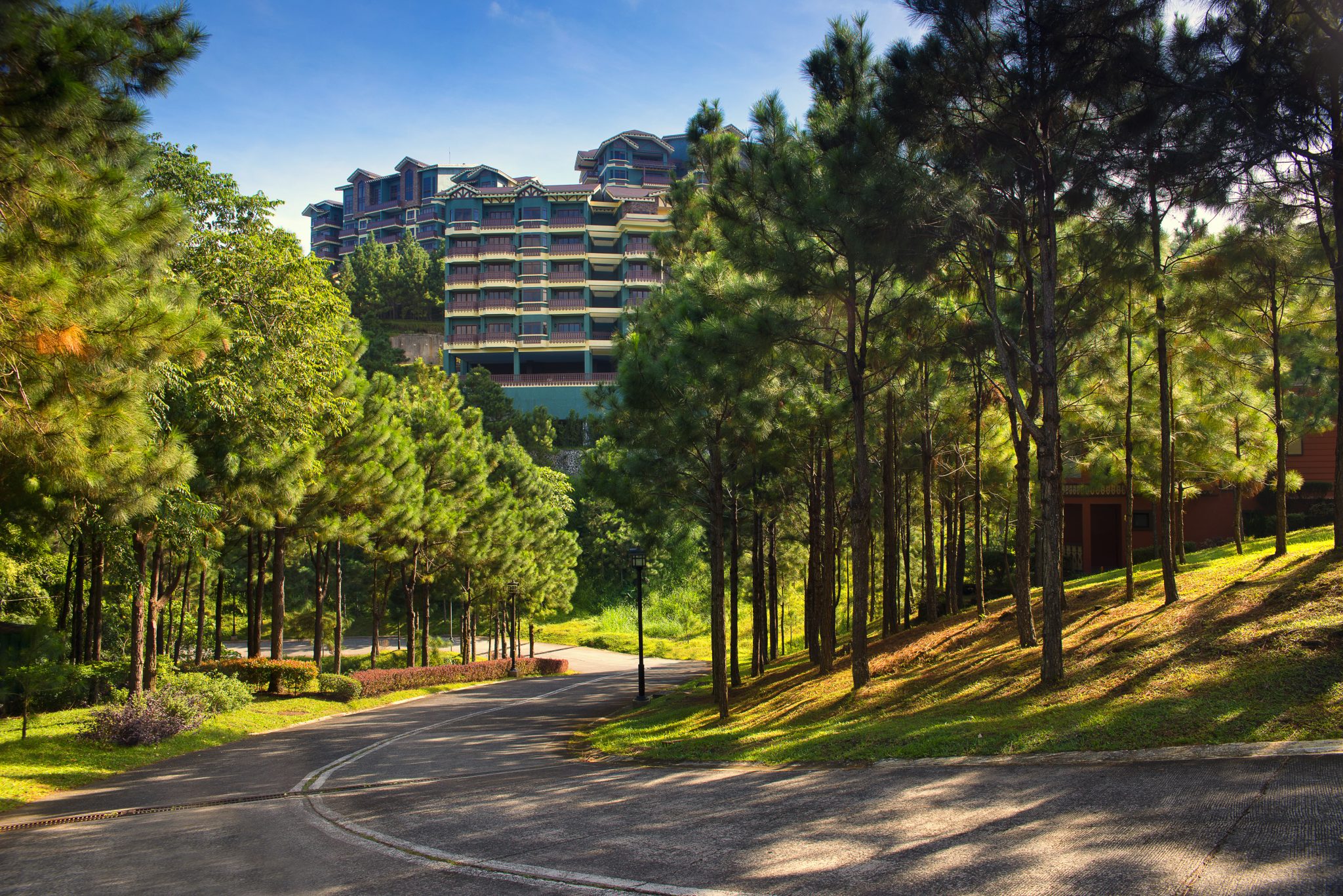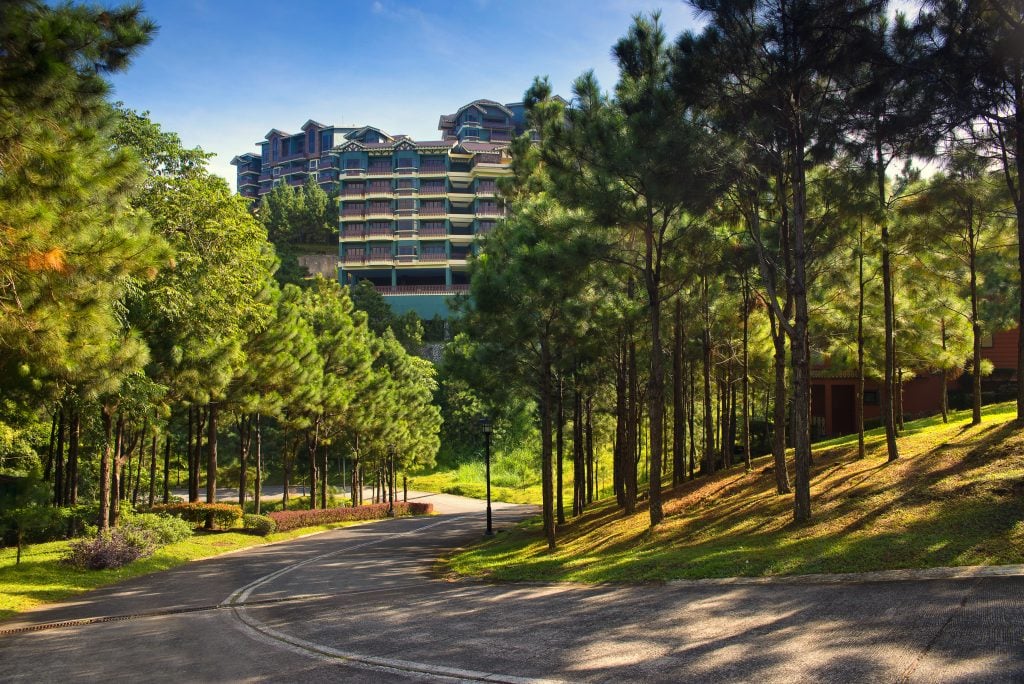 Travelling to Crosswinds Tagaytay from Metro Manila offers a travel experience with awe-inspiring landscape views atop mountains of lush greenery and cold crisp air.
Getting to Tagaytay from Metro Manila is unquestionably easier than it used to be. Tagaytay is approximately 60 kilometers from Manila, it takes about 1 hour to 1 hour and 30 minutes at most. If you are coming to Tagaytay from Metro Manila the best route to take would be South Luzon Expressway (SLEX) then take the exit at Sta. Rosa or Eton. Another option would be Emilio Aguinaldo Highway.
There are a variety of family-friendly activities, tourist attractions, romantic getaway destinations, and Instagram-worthy commercial establishments in Tagaytay. A tourist spot for artists or art enthusiasts would be the privately owned museum called Museo Orlina, a contemporary art gallery that also helps young artists showcase their work. Sky Ranch is the go-to leisure-themed park, the perfect place for the whole family to enjoy activities together. If you are interested in relaxing and healing, QI Wellness-Living is a Chinese-inspired spa wellness destination for pampering to heal your body and mind.
If you going to Tagaytay from Metro Manila to dine and explore restaurants, to name a few there is Balay Dako, Sonya's Garden, and Aozora Japanese Restaurant. Balay Dako is a Filipino-Spanish restaurant and has been the go-to restaurant for families visiting Tagaytay. Sonya's Garden is a bed and breakfast surrounded by numerous gardens of flowers, it is the ideal spot for a romantic brunch or dinner. Lastly, Aozora Japanese Restaurant is tagged as the number 1 Japanese restaurant in Tagaytay, their Bulalo Ramen is definitely a must-try.
After a whole day of activities, you can head to Crosswinds Tagaytay to relax and unwind with a delicious hot beverage of your choice at Coffee Project or Ruined Project.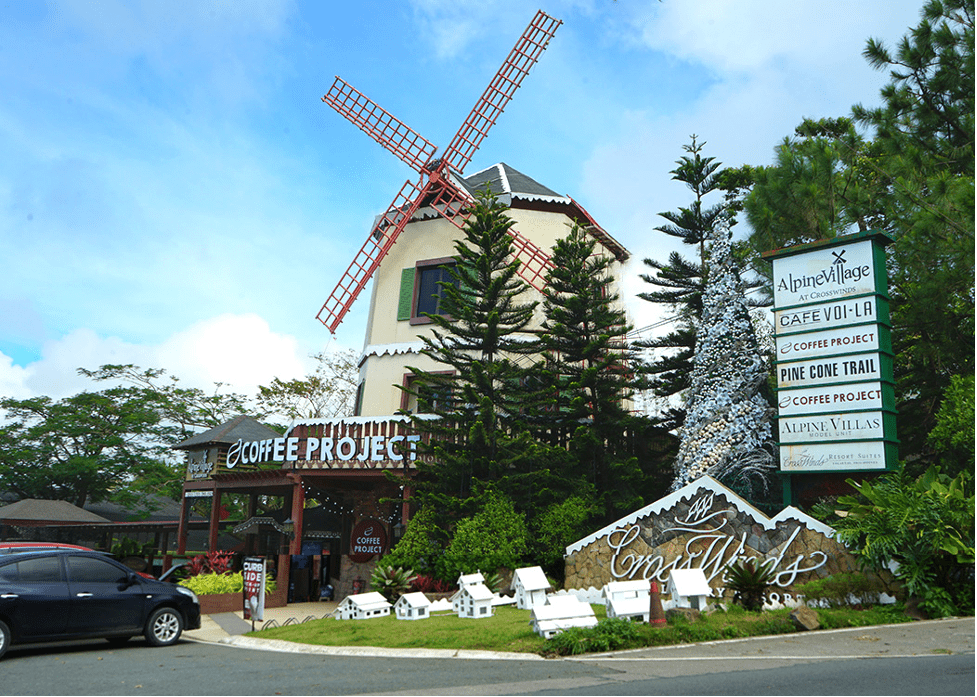 While on your way to Crosswinds Tagaytay from Metro Manila, you'll know you have arrived once you spot this prominent windmill landmark.
Upon reaching Olivarez, from the rotunda take a left and in 10 minutes you would reach Crosswinds Tagaytay from Metro Manila. Once you spot the iconic windmill at Alpine Village that is when you know, you have reached the renowned luxury Swiss Resort, a destination that completes your weekend getaway experience.
Why you should visit Crosswinds Tagaytay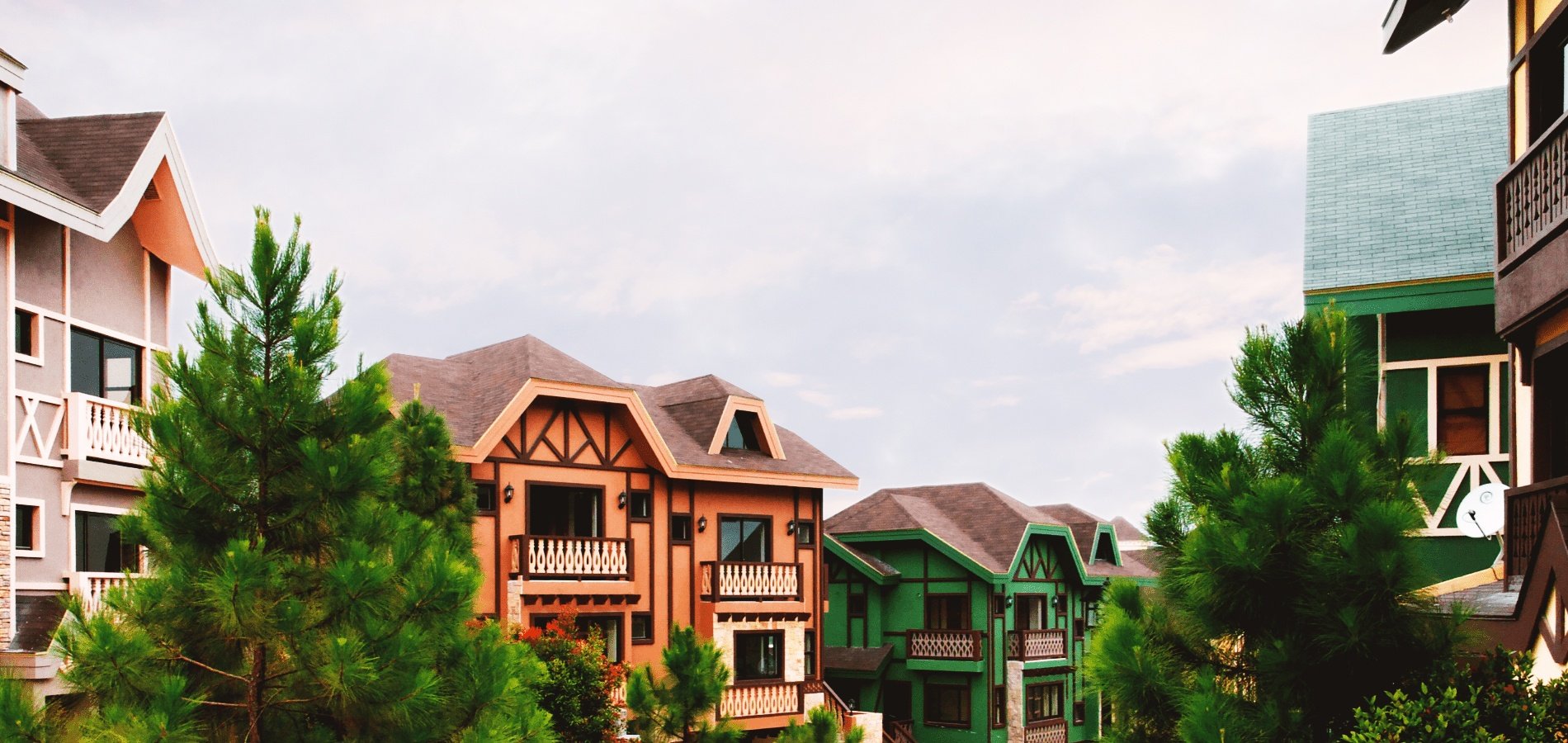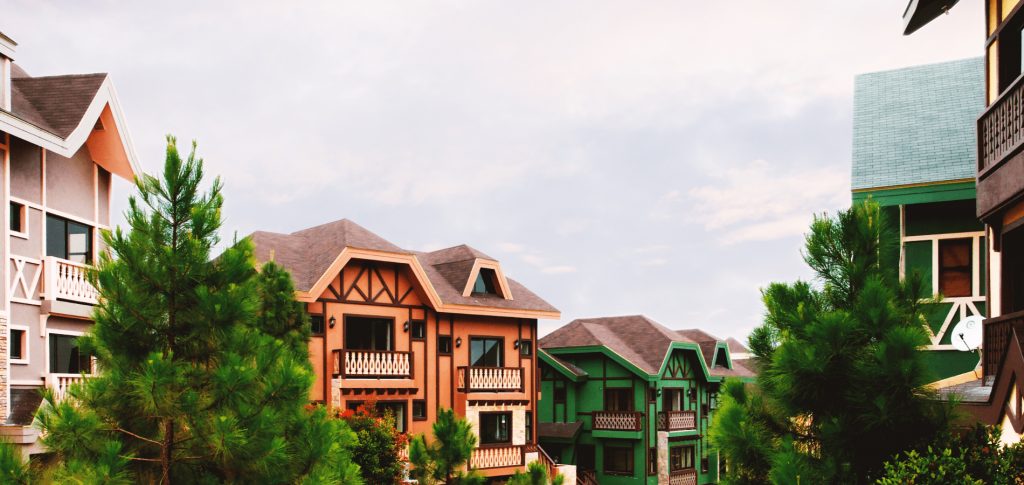 Discover what makes Tagaytay— Tagaytay.
For the flock of tourists who go to Tagaytay from Metro Manila, Crosswinds Tagaytay is definitely one of the top-visited spots. The cool atmosphere and nature-filled environment create the impression of being transported to the Swiss Alps. Why go all the way to Switzerland if you can experience it right here in Tagaytay, where it is closer and more accessible. Get away from the congested cities and travel to Tagaytay from Metro Manila to unwind and relax surrounded by the crisp scent of 35,00 pine trees perfuming the whole vicinity of the Crosswinds community. A sweeping panoramic view of the lush mountains and terrains surrounded by the cool weather away from the heat of the city.
Crosswinds Tagaytay is not just your typical family weekend getaway, it is a prime location for real estate and has undeniably garnered a significant amount of investors to acquire a luxury home, lot, or property at the Crosswinds Tagaytay Swiss-inspired community. Tagaytay throughout the years has evidently proven to be one of the best emerging cities with its booming business opportunities, high-end real estate developments, and its apparent accessibility to Tagaytay from Metro Manila. Crosswinds Tagaytay's luxury Swiss-inspired resort and community is beyond doubt, the best high-end real estate development in Tagaytay. It is located at the highest peak making it the most exclusive and a prime location for its properties.
Crosswinds Tagaytay Luxury Swiss-Inspired Community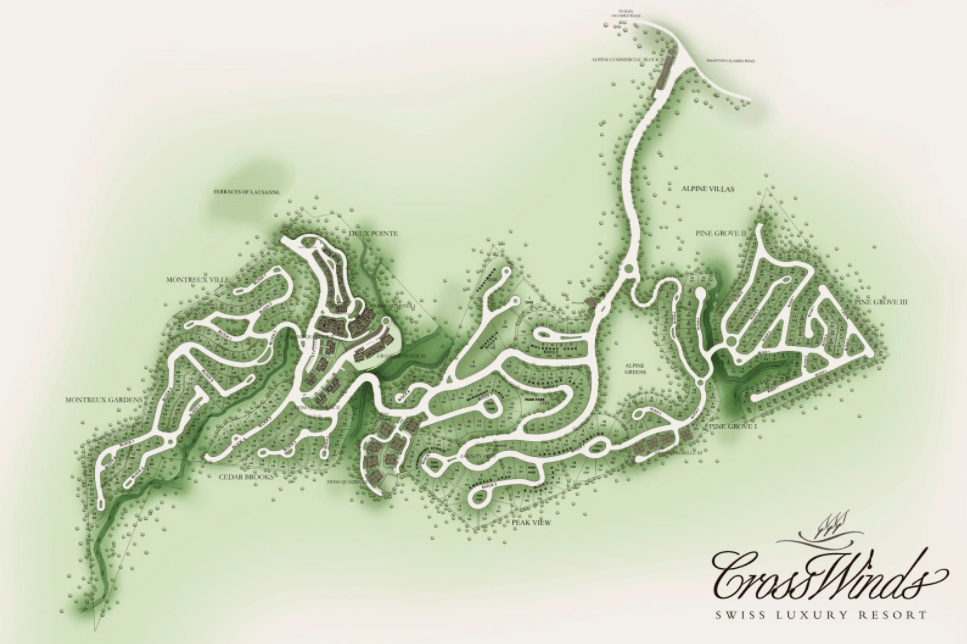 Crosswinds Tagaytay is nestled on a 100-hectare Swiss-inspired community surrounded by 35,000 pine trees. It is a prime location in Tagaytay City that offers luxury lots, luxury house and lot properties, townhomes, and luxury condominium units.
Crosswinds Tagaytay is the flagship luxury development by Brittany Corporation, a subsidiary of Vista Land, one of the leading integrated property developers in the Philippines and the largest homebuilder in the country. Vista Land's subsidiary brands include Crown Asia, Lessandra, Vista Residences, Lumina, Camella Manors, Camella, COHO, and Brittany, the high-end real estate brand that offers world-class themed luxury houses and lots for sale, luxury condos for sale, and luxury lots for sale.
Brittany Corporation has over 20 years of experience in building masterplanned estates, all strategically developed communities inspired by notable destinations from around the globe. The thematic appeal of every community has been masterplanned exceedingly and will undoubtedly attract investors to invest in Crosswinds Tagaytay.
Crosswinds Tagaytay continuously expands its developments which makes it beneficial to investors who are investing in a property at Crosswinds Tagaytay. This advantage allows the value of their property to increase as the community progresses.
Suggested Read: Invest in a Luxury Home in Tagaytay Amidst a Pandemic
What to do in Crosswinds Tagaytay
Crosswinds Tagaytay has always been one of the most visited places in Tagaytay City. Aside from the luxury homes and community, there are a ton of establishments within the vicinity. Coffee Project is located just below the iconic windmill, a great place to have delicious coffee, a variety of baked goods, and meals.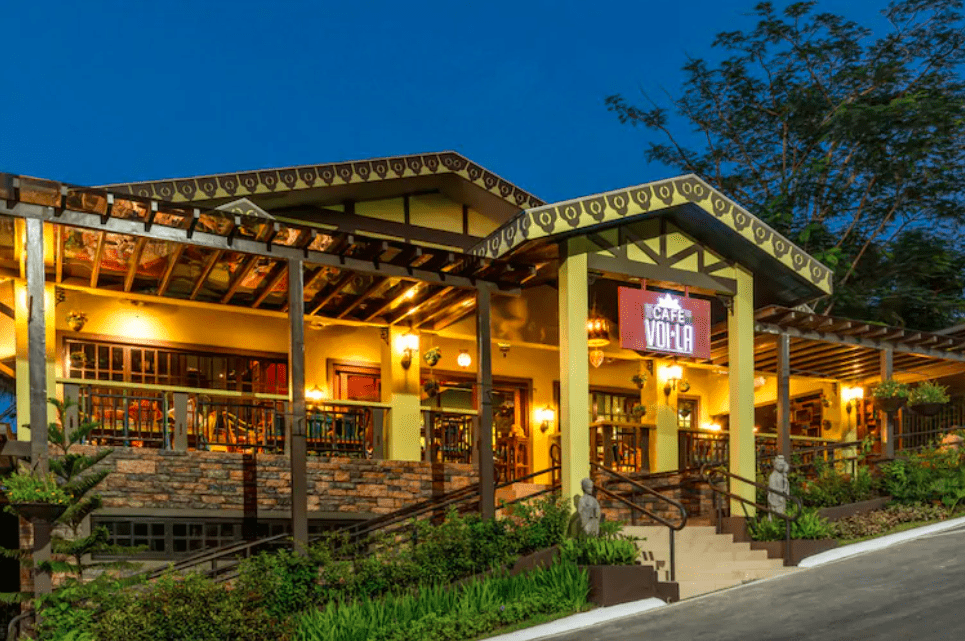 Along the same strip, Cafe Voi La is a cafe with a beautiful interior full of oriental furniture that is accompanied by dishes with a fusion of Southeast-Asian mostly Vietnamese, and European cuisine. Cafe Voi La (Boi La in Vietnamese) is definitely the go-to restaurant for foodies and most especially food bloggers. The diverse menu and Instagramable ambience have surely garnered a lot of attention since it first opened back in 2014.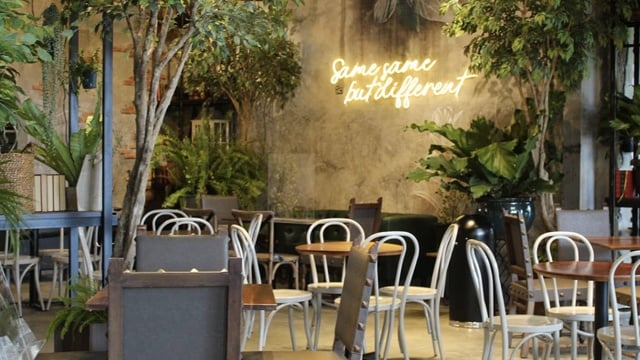 Ruined Project is an industrial, biophillic styled cafe that serves Coffee Project's signature, best-tasting coffees, and beverages. Image from Ruined Project / Facebook
The Ruined Project is a hidden and exclusive coffee shop located just within the Crosswinds Tagaytay Swiss-inspired community. Just like Coffee Project, the Ruined Project is an Instagram-worthy coffee shop and has been the go-to cafe for most tourists and families when in Tagaytay City. The difference between Coffee Project and Ruined Project is that despite the two cafes having similar interiors, the Ruined Project hence the name, "Ruined", is designed as an unfinished commercial establishment. Manny Villar had a creative idea and turned the unfinished "ruined" project into a coffee shop. Despite the unforeseen circumstances of the pandemic, a so-called "unfinished" project can still be turned into something of significant value. Ever since it was launched last year in the last quarter of 2020, the Ruined Project remains to be one of the most-sought out coffee shops in Tagaytay City.
Suggested Read: Why Tagaytay is More than Just your Next Vacation Destination
Suggested Read: Luxury Lifestyle and Sophistication South of Metro Manila

Invest in a luxury Swiss-themed home at Crosswinds Tagaytay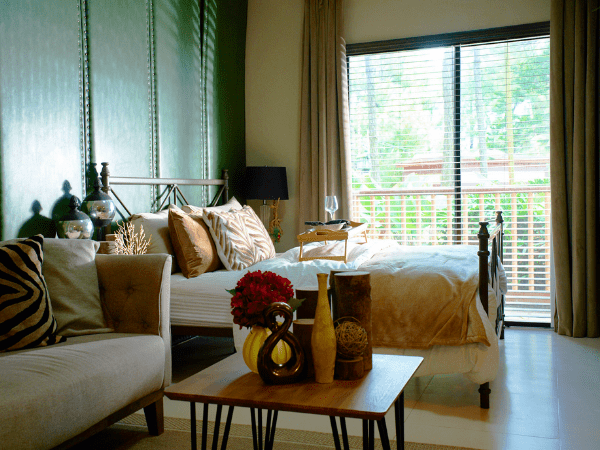 A luxury condo unit at Alpine Villas is a worthwhile investment for privileged investors.
Alpine Villas is a pre-selling luxury condo with six to eight-storey villas inspired by Swiss chalets and with two buildings that are currently pre-selling. The first villa Bernese will be turned over by the last quarter of 2021 and the second building Blanc is expected around the first quarter of 2022. Alpine Villas offers studio units and one-bedroom units ranging from 30 square meters to 32 square meters.
Another pre-selling luxury lots property is the Lausanne at Crosswinds, hence the term "terraces", a 24-hectare rolling terrain, mixed-use development that offers luxury lots. It is nestled at the highest peak of Tagaytay and extends a breathtaking panoramic view of Laguna de Bay, Manila Skyline, and the hillsides of Tagaytay City.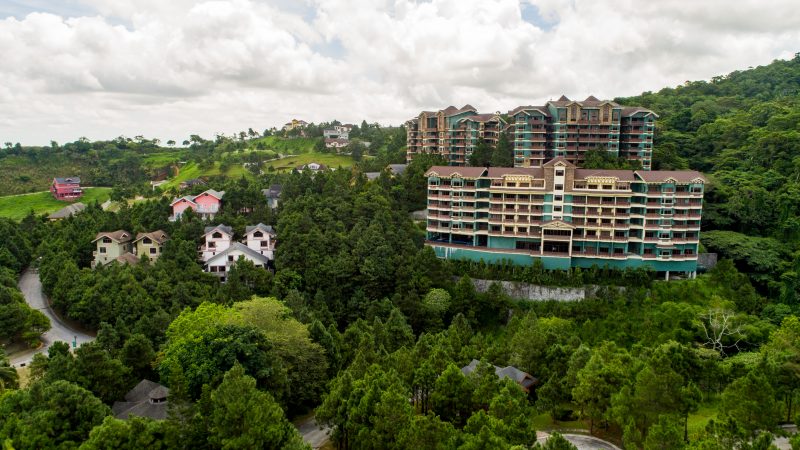 Luxury condo units at the Grand Quartier give you the full value of a vacation home for sale in Tagaytay.
The Grand Quartier is a prime enclave of luxury condominiums located within the Crosswinds Tagaytay Swiss Luxury Resort community. Surrounded by the crisp scent of pine trees it also offers a great view of the Crosswinds community and a scenic view of the hillsides.
The Grand Quartier comprises three buildings, two however are fully functional condotels, and the third building offers an investment option to own your own luxury condo unit. Grand Quartier III is a six-storey building with amenities at the gallery level, with a balcony in every unit overlooking the whole community.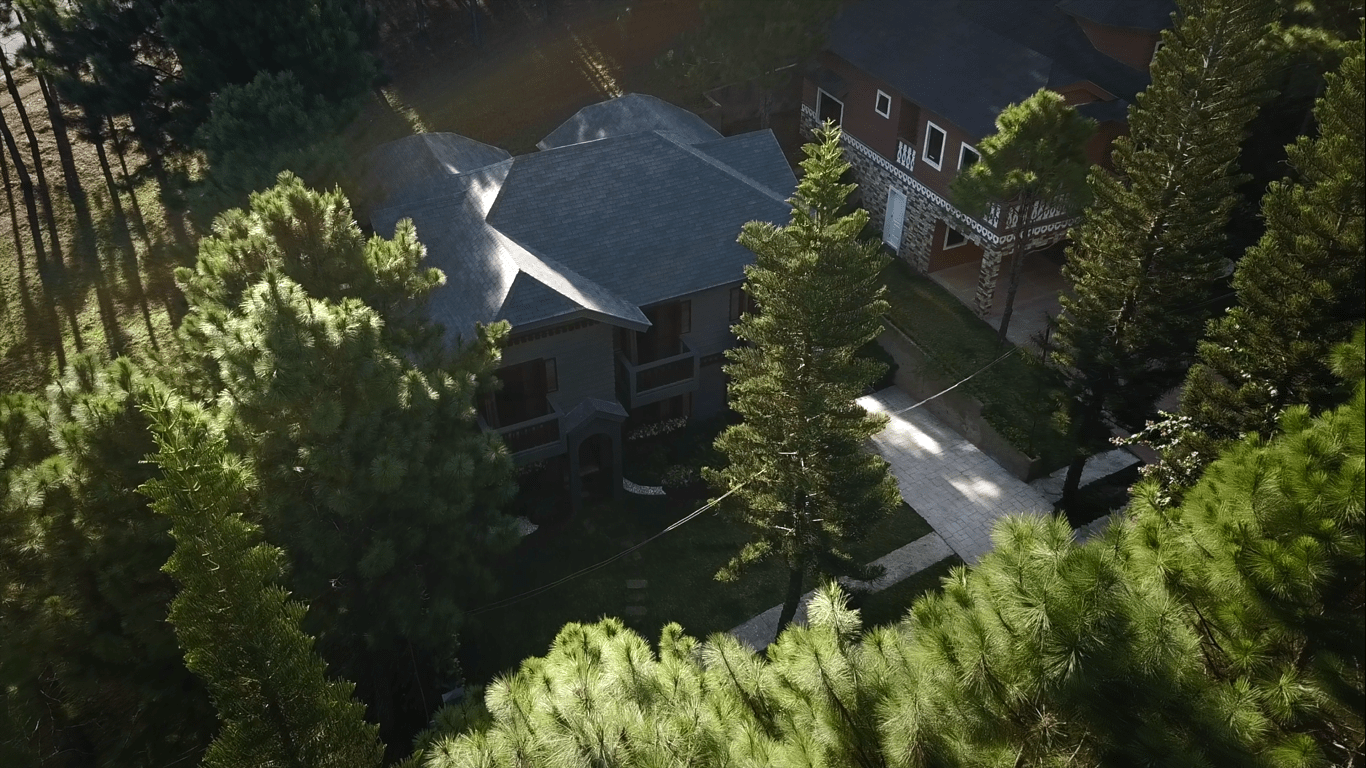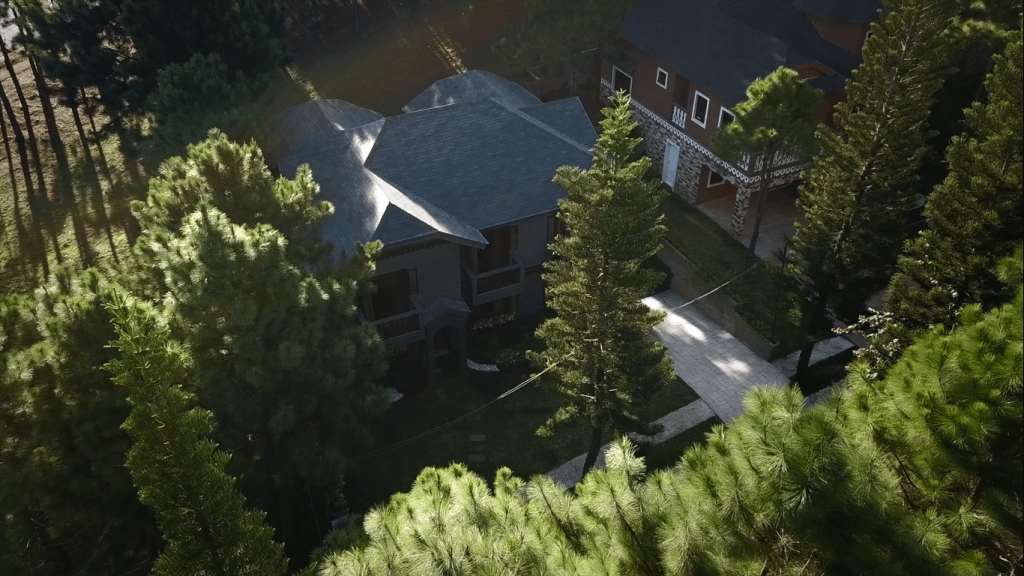 Chatelard is a Ready Luxury Home for Sale in Crosswinds Tagaytay.
Crosswinds Tagaytay also offers luxury houses and lots for sale namely Chatelard and Lucerne luxury house models. Chatelard is a five-bedroom fully furnished house and lot with a lot area of 679 square meters and a floor area of 209 square meters. Lucerne is a three-bedroom house and lot with a lot area of 639 square meters and a floor area of 207 square meters. Both luxury houses and lots located at Peak View. Turn your dream luxury house into a reality with Chatelard or Lucerne, undeniably the perfect home for your family.
Imagine waking up to your new luxury home in Tagaytay City surrounded by endless picturesque views of nature and refreshing weather all year round. The prime location for real estate and proven exclusive high-end properties only at the Crosswinds Tagaytay luxury Swiss-inspired community.
Invest in a luxury home or luxury condo to make your fantasy a reality. Inquire today and make an appointment with a Corporate Sales Associate at Crosswinds Tagaytay to find the perfect home for you and your family.
Visit Crosswinds Tagaytay on Facebook or Crosswinds Tagaytay for more information and enquiries about Crosswinds Tagaytay luxury real estate properties.