BLOGS
Expensive School: Why Choose Them?
"An investment in knowledge pays the best interest" – Benjamin Franklin
Education is vital for each one of us. The things we learn in our school are what we will carry our whole lives. The knowledge we accumulate will help us reach the dreams that we have.
There will be numerous opportunities for us with more knowledge, including in our careers. Education plays a significant role in the world of careers. If you want to be an artist, go to an art school. If you're going to be a doctor, attend medical school.
Want to be a lawyer? Then enroll yourself in law school. Like most people say, education is key to success. When we receive proper education, we can make wise decisions.
When the right choices are made, we can achieve more in life. It is important to invest in the most expensive schools in the Philippines for our children. But what are the things we should consider? Well, here are some:
10 things to consider when choosing an expensive school for your child
Academic program
An academic program is the combination of courses and affiliated activities arranged for the achievement of specific learning outcomes as defined by the school. A parent should deliberately read the school's academic program and decide if it would be an excellent fit for their child.
Would their child learn a lot of things in the educational program being offered by the school? But for sure, if your children go to the most expensive school, they will learn a lot.
The PAREF Southridge academic program in grade school includes the subjects in the picture above. PAREF Southridge is located at Hillsborough Alabang, W Service Rd, Cupang, Muntinlupa.
Suggested Read: Most Expensive Tuition Fees In The Philippines
Extracurricular activities
On the other hand, extracurricular activities are the activities organized outside of a student's regular academic school day. One of the most common extracurricular activities is student organizations. In De La Salle Santiago Zobel, they have a student organization called Lasalyanong Pinoy.
According to the school's official website, the said organization aims to live the Lasallian mission and teachings of the founder, St. John Baptist De La Salle, through activities that underscore nationalism, patriotism, and the Lasallian Core Values of Faith, Zeal for Service, and Communion in Mission. If you want your child to serve the country in God's way, you may encourage your son or daughter to join this organization.
There is a student publication in the school as well. If your child is interested in writing, you may sway them to join the student publication to learn more about writing and enhance their skills.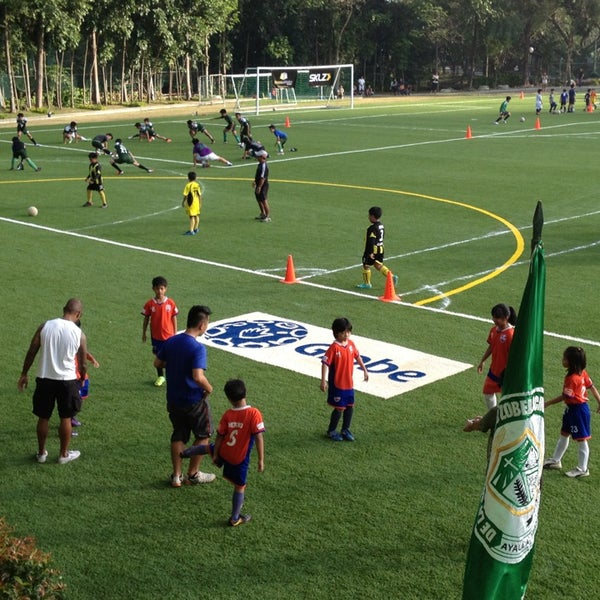 De La Salle Santiago Zobel is located in University Ave, Ayala Alabang, Muntinlupa.
Another example of extracurricular activities is student programs. There are numerous student programs In  De La Salle Santiago Zobel, including the Progressive and Enhanced Officers Program for Lasallian Leaders, (PEOPLE). In curating this student program, the school made different sub-programs to make it effective.
One of the sub-program is "IgNIGHTing the Spark toDAY," which is commonly known as  The Spark. In the school's official website, it stated that it is a leadership training activity that strengthens the relationship between the student leaders of the day school (SRCC), and the night school of BRafeNHS Student Government by means of discussions on the best leadership practices and possible ways to cultivate active collaborations.
Performance
It is important to evaluate the performance of the schools you are considering. Look over the school rates on measurable outcomes, such as the performance on national tests. An example is the national achievement test, which is a standardized test taken in the Philippines by students in grades 3, 6, 10, and 12.
In picking a school for college, you can check the passing board exam rate of the school. Architecture, engineering, nursing, and accountancy are some of the courses that have a licensure exam. If the passing rate is high, it is a good option for the school of your child.
Quality of education
We all know that the quality of education is important in choosing a school for our child, but how do we define quality education? For the Director of the Whole Child Programs at the Association for Supervision and Curriculum Development (ASCD), Sean Slade, quality education is achieved if the students are becoming active members of society. For the director, quality education is not solely measured by scores in exams, or how good their writing skills are.
Association for Supervision and Curriculum Development stated that "A quality education is one that focuses on the whole child—the social, emotional, mental, physical, and cognitive development of each student regardless of gender, race, ethnicity, socioeconomic status, or geographic location. It prepares the child for life, not just for testing."
Since you will be enrolling your child in the most expensive school in the Philippines, make sure that you will get your money's worth. Now that we are in home-based learning, we should double-check the quality of education the school is providing.
5. Reputation
American poet James Russell Lowell once said that reputation is only a candle, of wavering and uncertain flame, and easily blown out, but it is the light by which the world looks for and finds merit.
Today, almost everyone has access to the internet, where almost everything is posted. With this said, take note of schools that are connected to negative issues, such as teachers who mistreat their students. There is also news circulating regarding the unfairness of administrators, including those schools that do not consider the concerts for students.
Make sure that the school you are going to choose for your child has a reputation for quality education and has compassion for its students. It would also help if you browse through the news about different schools, let it be positive or negative.  Remember that your child will be attending the most expensive school in the Philippines, make certain that it is the branding of your family too.
6. Facilities 
In order to maximize the skills and abilities of students, state-of-the-art facilities are needed. With good facilities, students will be more comfortable as well. In most schools, facilities are often neglected, especially the bathroom.
It is important for schools to have a management that overlooks the facilities; they should evaluate the facilities, and raise concerns to the administration. For example, if a faucet is no longer working, the management should talk to the higher-ups regarding the issue, and perhaps request a budget to fix it or buy a new one.
Laboratories are part of the facilities also. How many specialized laboratories does the school have? Will these laboratories cater to the needs of my child? Since there is a pandemic, it is home-based learning. Make sure that the school provides the children with the needed applications and websites.
Caption: The Sports Pavilion in De La Salle Santiago Zobel is the main gym of the school, which houses the gym and weights room, table tennis room, aerobics room, and archery room. There is also a basketball, and volleyball court.
School environment
Of course, the overall environment of the school is essential. A school environment is broadly distinguished by its facilities, people, and policies. Are the facilities in good condition? Are they being adequately maintained? The facilities should be in great shape for the students to use them properly.
Take into consideration the people, specifically the students and teachers, in the school. How large is the student body? Can the teachers properly handle that amount of students? Does each one of the students feel comfortable in the classroom? Or is it too small for them? Find out too if there is a place within the school where your children can rest, and/or hang out with peers.
The schools should also have clear disciplinary policies and practices to maintain order and harmony. In terms of online learning, since it is home-based learning today, check if the
Great American singer Elvis Presley once said that values are like fingerprints, nobodies are the same, but you leave them all over everything you do. The school's values are essential because your child will grow to personify them.
Just like what the famous singer said, we will embody the values in everything we do. Not only will your child know what right is from wrong, but these values will shape their mindset.
It is a must to check if the values of the school align with the values of your family. Remember to choose a school that promotes positive and ethical behavior. If you want to learn about the values of a school, you may check their official website.
Today, because it is home-based learning, browse through social media applications if there are criticisms regarding the teachers and administration of the school. Recently, a school in Manila was heavily criticized because they do not want to suspend home-based learning.
School culture 
In terms of school culture, pick a school that has a strong and healthy culture. A strong culture produces teachers who are dedicated to positively influencing the students' performance, while a healthy culture encourages the teachers to connect with their students in a professional way.
The culture of the students is essential to know as well. Are the students friendly? Were there any reports of bullying? This is very crucial since the people within the school are the people your child will spend most of their time with.
Proximity to home
When selecting a school for the kids, it is best to consider a school close to home. Picking a school close to your home has many advantages. First of all, it will save you money since the transportation cost will be lower. According to the research conducted by the University of the Philippines, the average fare of students who live in Metro Manila is PHP 644 per week.
The next benefit is time, which we all know is very important. Keep in mind that a school close to home saves thousands of seconds. Instead of traveling for hours, your child can use that to study or rest. With that said, the last advantage of having a school near your house is comfort and convenience.
Your child will not experience the tiredness coming from the hassle of commuting long distances. There will be no need for numerous long queues and crowded vehicles. As a parent, you will be at ease somehow because you know that your child will always be near you, and the child will have a safer path from going to and returning from school.
American singer-songwriter Riley King once said that the beautiful thing about learning is that no one can take it away from you.
Education is actually a long-term investment. Time and money are needed in order to attain it. In studying, there will be challenges that you have to overcome; but always keep in mind that your hard work will keep on paying off for the rest of your life.
Besides education, another thing you should invest in is your Portofino home
Portofino Heights and Amore at Portofino are some of the Daang Hari subdivisions of Vista Alabang. If you are looking for a luxury house in Daang Hari, head over to Portofino Alabang.
Imagine how happy your child will be if s/he is enrolled in the most expensive school in the Philippines, and s/he is living in a luxury house and lot. For sure, your child will be the happiest.
There are many advantages to living in the Daang Hari subdivisions of Vista Alabang. And one of them is being near numerous schools. If you live in Portofino Alabang, your child can go to the most expensive school in the Philippines while considering the above considerations in picking a school.
It may be home-based learning in today's time because of the pandemic, but soon enough, the country will go back to face-to-face classes.
As early as now, you should invest in a luxury house and lot for sale in Daang Hari, specifically one of the Daang Hari subdivisions in Vista Alabang. 
Moreover, the safety and security in Portofino Alabang are top of the line, that's why rest assured that your children are safe. Let it be in Portofino Heights or Amore at Portofino, as long as it is in Vista Alabang, rest assured that your children are indeed safe.
NEXT READ: Premier Colleges In The Philippines
NEXT READ: A Guide To The Future UST in Santa Rosa
NEXT READ: Top 10 Investment Opportunities For The Wealthy
NEXT READ: Preparing Your Children To Move To Your New Alabang Home