BLOGS
Work From Home Productivity Tips
With the spread of the COVID-19 virus, many companies have started mandating or recommending a work-from-home scheme or a combination of on-site and remote work. As many people would say, work from home has become the new vertical that many of us are dealing with right now.
Think Slacks alerts, unlimited coffee, eating while working and working in wherever you like – your own room, in the living room or in the kitchen. The pandemic has taught us that we can absolutely work from the comfort of our own home, foregoing long commutes in favor of more sleep, family or exercise time.
Though it has many perks, working from home is also a double-edged sword. Yes, you get to stay home but it can be harder to focus on your deliverables. Sure, those piles of laundry would seem to be more appealing than your to-do list or a quick three-hour binge your favorite Netflix series would do you no harm.
Suggested Read: New Normal Advantages For Real Estate Professional
Plus, the effect of isolation can quickly become a downer especially for those who are used to interacting and socializing at work. With all these, you might be asking yourself – how can I be productive at home?
So, first thing's first – sit up straight, eat your breakfast and dress appropriately. Here are some tips to keep you focused on your job and mentally healthy while working from the comfort of your home.
Location, Location, Location
Location, location, location is one of the most commonly used phrases in luxury real estate and also one of the most important reminders for those working from home. To work properly and productively, try to find yourself a dedicated and comfortable space to work that you can associate with your job and leave when your duty is over, which means get off that couch and definitely get out of bed.
It would definitely help you keep focused if you have a dedicated space for working from home. Set up a simple home office where you can easily shut out any distractions. Choose a spot where you can place all your work stuff and access them easily.
Look for a Buddy
You might be enjoying stillness at home and find it easier to be productive without your talkative coworkers telling their countless stories. But social interactions even with coworkers can help lessen the feelings of isolation and loneliness.
Some experts say that the psychological effects of working remotely for extended periods is often overlooked or ignored, despite it being an important factor in our mental well-being and team bonding. Social interaction, bonding, even chatting promotes cooperation and closeness among the team.
To help fill the socializing gap while working remotely, it is recommended to find a workmate you can call or text immediately when you're feeling the need to chat with someone. Don't you think hopping on a social video call instead of Slack or text isn't a bad idea?
Suggested Read: Working Remotely From Home: 10 Productivity Tips
Create a Plan
When working alone in your luxury home, you should keep a more structured and organized schedule. Other people usually influence our time and the structure of our day so if you decide to work in solitude, make sure you keep things on track and organized.
Don't forget to have multiple breaks throughout the day. Lucky you if you live in a serene, safe and secure neighborhood where you can take a quick walk and enjoy fresh air and the soothing scent of pine trees.
Explore Other Ways to Communicate
When working from home, it is important to go beyond email and explore other digital tools that can better mirror the personal office experience and provide for clear communication.
Communication is crucial when working from home so it is best to regularly communicate with our team using chat apps like Slack or Signal and videoconferencing services like Zoom or MS Teams.
Having better communication while working remotely can help maintain good relationships with your colleagues, managers, and direct reports. It's also important for managers to encourage employees to share their ideas, opinions or concerns about a particular project so they don't feel like they're not being considered just because they're not in the same room.
Remember Everyone Works Differently
We should all remember that not everyone actually wants to work from home, a shift that can be stressful for some. As most companies mandate that employees must work from home during the pandemic, it's key that they communicate as much as possible and help those employees who are struggling with the change.
Move! Move! Move!
Get your steps in! It is important to go outside or simply move. Get some fresh air and move beyond the confines of your home. You can always use your lunch break to take a walk, listen to a podcast or meditate to clear your mind and use the remaining hours of your day to stay active.
You can also do some quick home workouts to keep you moving and stay active even while at home.
Keep your home office spotlessly clean
Keep yourself sane during the pandemic by ensuring that your home office is spotlessly clean. Wide down surfaces, vacuum twice a day, reorganize your stuff, get through your clothes and shoes. Tidying up your space will not only help your home office clutter-free but also your mind clear and functioning well.
Read self-help books
You should allot at least 10-15 minutes each day to meditate and help relieve stress. Time to give your mind a break!You can make use of guided meditation apps to help you clear your mind.
Apart from meditating, another way to help you stay sane during these times is reading. IHave some of your spare time reading a book. Whether it's reading that book you've been meaning to finish or revisiting one of your favorites, reading will help you escape from the four walls of your room.
Protect the face at all times
You might have heard about the 10-step skincare routine. There's no better way and time to do it than now. Aside from the fact that you'll come out of the pandemic looking better than ever, it's a good opportunity to take a moment to give yourself the love it deserves.
Practice some mindfulness and relax. And if you're sitting by a sunny window or on your balcony, don't forget to protect your face with sunscreen!
Make an effort 
Even if you are just working from home, make an effort to prepare, tidy yourself up or even dress up for meetings. It might not seem like a big deal, but making an effort is guaranteed to make you feel fresher and more positive throughout the day.
Practice yoga
There are a lot of yoga classes that you can subscribe to for clearing and resetting your mind. All you need is a mat, your tumbler, comfortable clothes and tutorials to follow. You can also try different yoga challenges. These will make you feel like you've accomplished something without leaving the house plus, you'll surely see the results after several days!
The power of conversation 
Check-in with your neighbors, your friends and relatives. Maintaining social relationships is important, so make sure to maintain regular conversations with people who are special to you.
Get that incense mood
Working remotely can also be both physically and mentally demanding. To avoid this getting you down, try to create a relaxing ambience and turn your home into a sort-of resort for the mind – clutter-free, refreshing and filled to the brim with incense. This will help you keep calm and enjoy the rest of the day.
Apart from the tips listed above, one of the best ways to keep yourself sane this pandemic is by staying in a safe, peaceful, and secure neighborhood where you can enjoy a good walk and appreciate the beauty of nature, the scent of pine trees and good climate before, in between or after remote work.
Brittany Corporation, proven to develop top residential communities
Brittany Corporation is the country's pioneer in luxury themed developments with proven expertise in developing residential communities inspired by the world's premium destinations. It offers Old European and American-themed projects and creates masterpieces of upscale living for luxury homebuyers with a taste for artful living.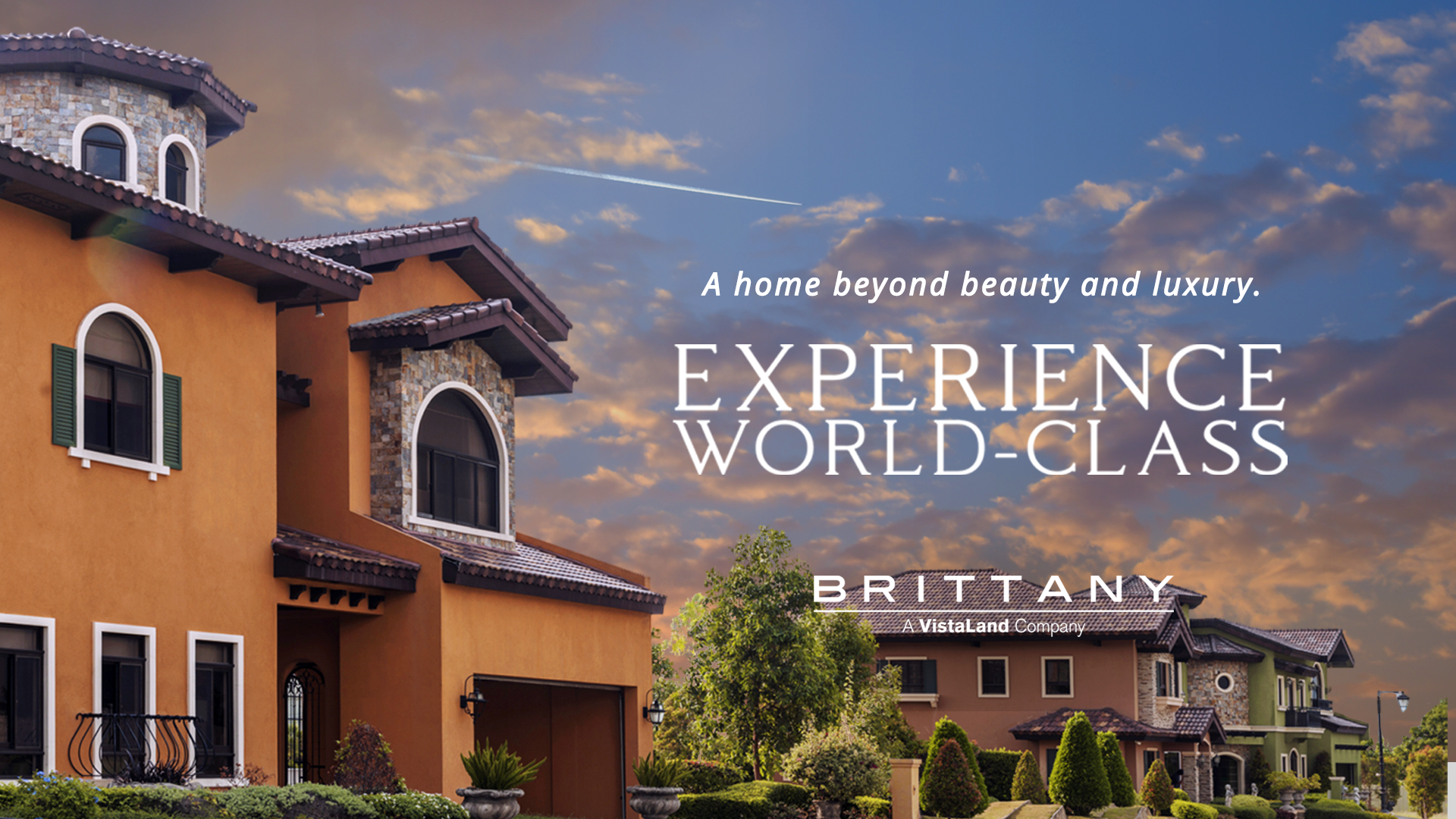 It has a fine selection of luxury home designs in excellent locations: Portofino in Alabang, La Posada in Sucat, Augusta, Georgia Club, and Promenade in Sta. Rosa, Laguna and Crosswinds Tagaytay.
Brittany Corporation's communities continue to offer luxury properties that are rich in character and sophisticated in thematic appeal.
For more information on Brittany Corporation and its roster of luxury themed properties, visit their official Facebook page.
The luxury real estate market
The luxury real estate market often has an air of "exclusivity and privacy" that feels impenetrable if you've never bought a property within the upper tier price points.
Meanwhile, when investing in luxury properties, it is recommended to work with a luxury real estate sales professional who has a proven track record and experience in successfully navigating the luxury real estate market. You have to know that all real estate sales professionals have their expertise and it is necessary that yours understand the ins-and-outs as well as the trends in luxury real estate.
Without a luxury real estate expert, you could see your house sitting, price dropping, with no prospective buyers or you could be led to lesser quality properties in the market.
NEXT READ: Preparing Your Children To Move To Your New Alabang Home
NEXT READ: Quick Guide: Buying Property During ECQ
NEXT READ: 10 Communication Skills Of A Salesperson
NEXT READ: Home Buying 101: Importance Of Location And Accessibility