BLOGS
Valentine's Chocolate Recipes To Prepare This Valentine's Day
With Valentine's Day coming again this year, there is no better way to show your love than giving chocolates! Chocolate comes in various forms and shapes – just like there are different types of love.
Looking for how to make this special day of love memorable? Here's how you can make someone's heart flutter on Heart's Day with chocolates.
What Type of Chocolates is Best for Valentine's Day?
Chocolate Bars
You can never go wrong with this classic Valentine's day gift: chocolate bars. The best way to enjoy this sweet treat is by sharing it with your partner and appreciating the different flavors. Hershey's, Cadbury, Lindt, and many more brands are available anywhere in the country.
If you want to take it to another level, local brand Auro Chocolate has their Introduction to Chocolate Tasting sets that you and your loved one can enjoy together. For P1,425/pax, each set has 60-gram bars of their classic chocolate bar varieties – dark chocolate, milk chocolate, cacao nibs, and beans, and access to their 60-minute guided Introduction to Chocolate Tasting program. Go to Auro Chocolate's website to order.
Chocolate-Covered Fruits
Take it to another notch with chocolate-covered treats such as strawberries. CMV Txokolat offers their tasty and juicy Benguet strawberries filled with Nutella and milk chocolate with their Chocolate Covered Sofia Strawberries. You can get a box of 6 for P480, 12 for P960, and 24 for P1,920 by placing an order through their website.
Bonbons and Truffles
Nothing is more delightful than receiving a box of chocolate in tin foils in different shapes. Take, for example, giving a box of La Maison du Chocolat that comes in either a box of 14 or 45 chocolates – filled with their best-selling milk and dark chocolates. Or Godiva with their Signature Chocolate in a timeless gold box filled with truffles of milk chocolate, dark chocolate, and white chocolate, including Dark Caramel Embrace, Dark Ganache Bliss, Milk Praliné Heart, and Raspberry Star.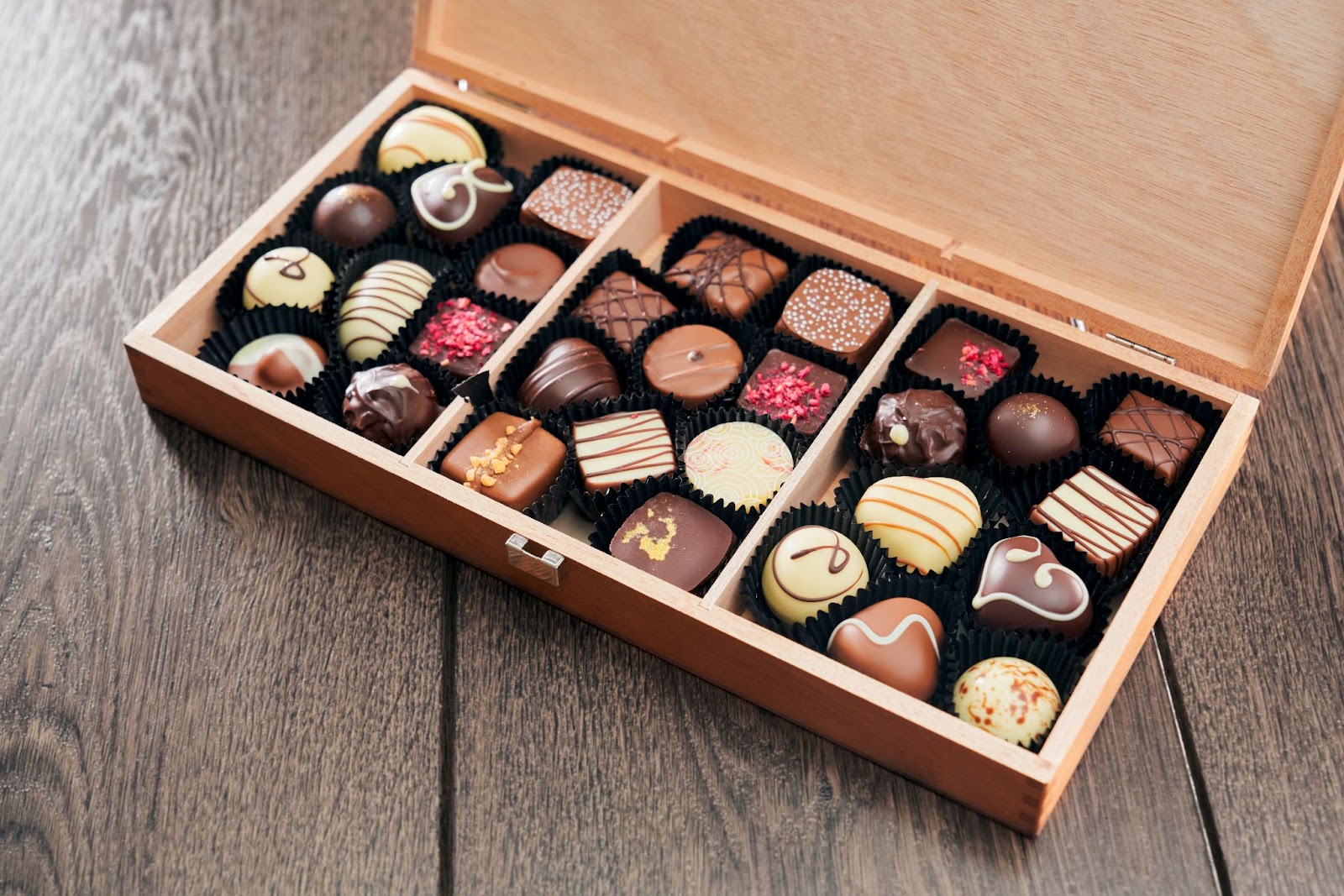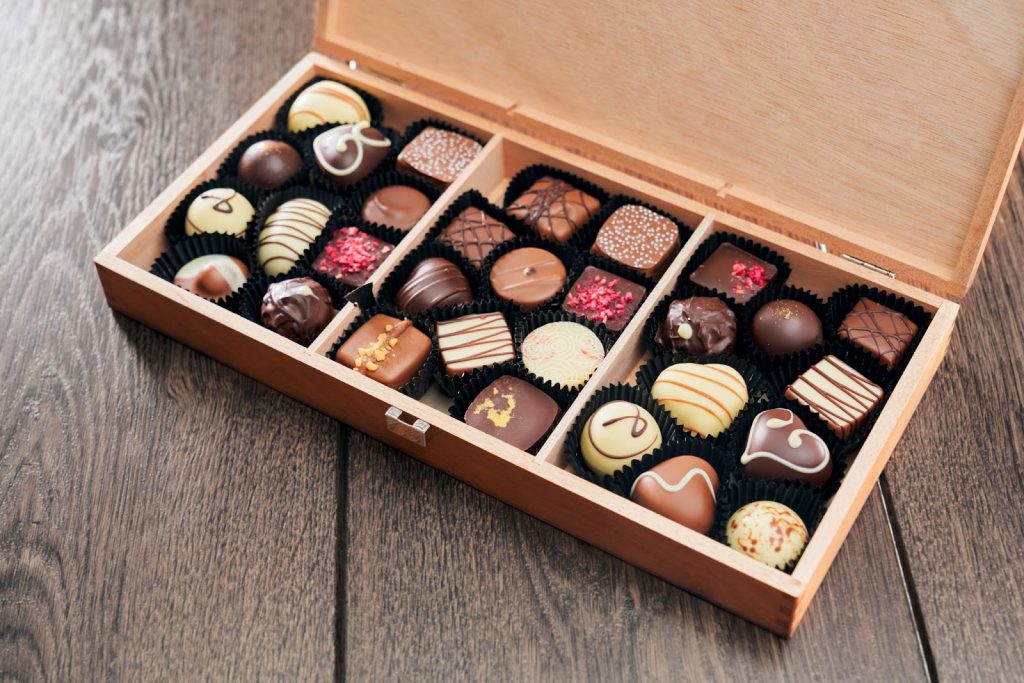 Chocolate Piñata Cakes
Looking for a new way to wow your significant other this Valentine's Day? The Chocolate Piñata Cakes from Tsokoñata may be for you! This cake has an exterior shell made with chocolate and fondant; you're meant to break it open with a wooden mallet. Smashing its shell reveals approximately 600 to 700 grams of assorted chocolates, candies, and gummies! The shell comes in pink, red, purple, blue, and white, and you ask for a customized message on the exterior with whatever you please! Visit their Instagram for more.
DIY with Chocolates
Have the time or want to put more effort into your Valentine's Day gift? You can try doing it by yourself in the kitchen! From chocolate cakes to cookies to making your truffles and other treats to share with your S.O., you can make this special in your way. After all, the best way to a person's heart is through their stomach.
What Dishes Can be Made from Chocolate?
Chocolate Cake
A chocolate cake will always be in style for any occasion. This Simple Chocolate Cake recipe is easily made within an hour and comes with a great chocolate flavor with a soft and moist texture. On the outside, you can frost the cake with the goodness of a smooth butter chocolate fudge frosting. Check the recipe in this link.
Chocolate Chip Cookies
Time for some deliciously soft, chewy chocolate cookies that everyone loves. A homemade version of this treat makes it extra special for the season of love. With ingredients that are easy to find, you can readily make this classic with an oven or oven toaster, even without a mixer! This recipe gives the best addicting chocolate chip cookies that you can give your loved one.
Brownies
The best homemade brownies are made with love! These baked goodies are ready within an hour, giving a flaky, cracked top with a chewy, fudgy, gooey goodness of chocolate flavor on the inside, giving it an indulgent flavor. The best part of making brownies are their crispy edges, that you yourself can also indulge in. Check out this recipe for more.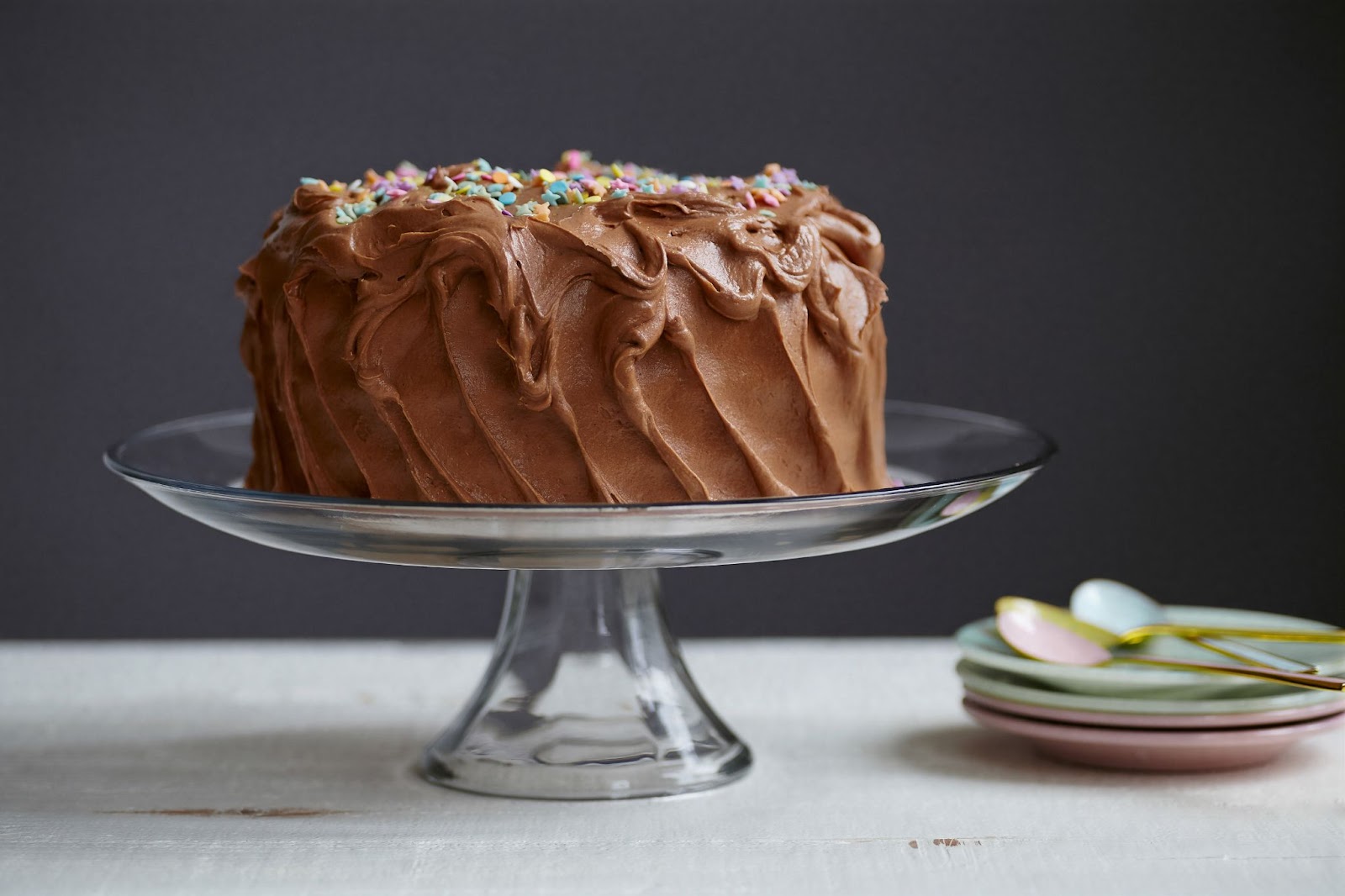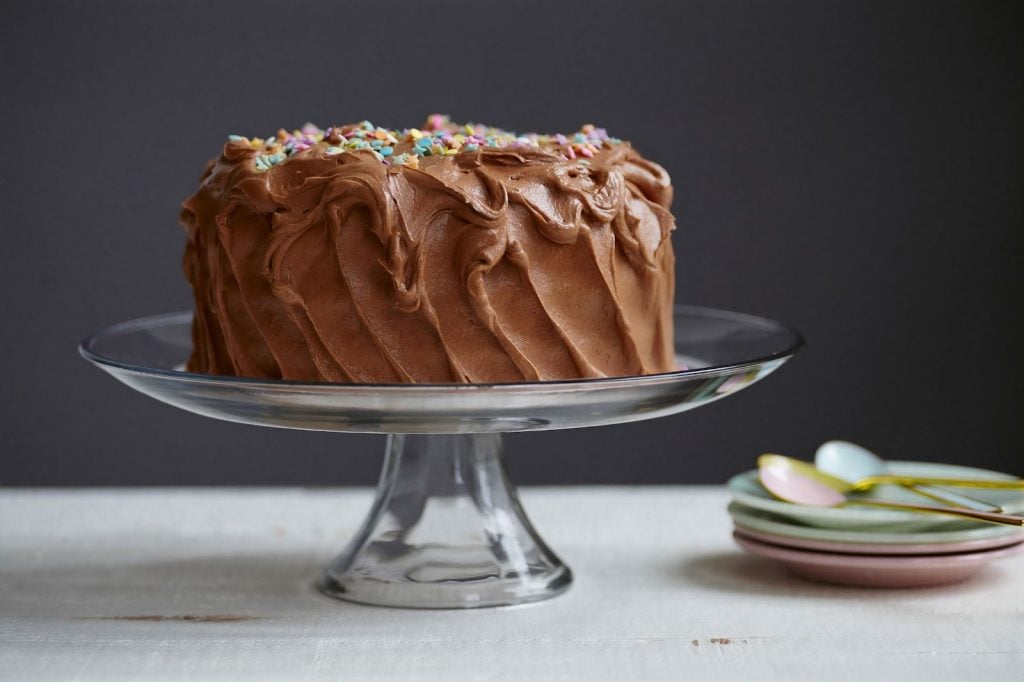 Chocolate Truffles
Ever thought of making chocolate truffles yourself? This chocolate is surprisingly easier to make than you think, giving you the same smooth, creamy chocolate ganache center coated with chocolate, cocoa powder, coconut, or chopped and toasted nuts on the outside. Learn how to make these chocolate round treats here.
Chocolate Tart
A no-bake chocolate tart is super easy to make in 30 minutes with basic ingredients in the pantry, such as oreo cookies, cream, chocolate, and butter. You'll get an indulgent elegant flavor with a ganache filling and the oreo crust for that double chocolate attack that will surely surprise anyone who takes a bite of this. Find the recipe for no-bake chocolate tart here.
Chocolate Lava Cake
Take chocolate cake to another level with a molten chocolate cake. Imagine breaking into the rich, moist chocolate cake with a chocolate "lava" pouring out from the center – an explosive surprise for anyone who eats this molten cake. It's perfect with a scoop of vanilla ice cream on top for an ultimate sweet tooth experience. Get the recipe for chocolate lava cake here.
Chocolate Crinkle Cookies
These chocolate crinkle cookies are perfect all year round for anyone with a sweet tooth. Make it even more special by baking it yourself. These cake-like cookies have a cracked powdered sugar coating on the outside with cakey chocolate fudge cookies on the inside. For more of this recipe, check this link on how to make it.
Chocolate Mousse
A cup of this decadence will make you look for more. This chocolate mousse is made with chocolate, cream, and egg whites for a rich and creamy taste with a light and airy feel at the same time in your mouth. Chill and serve on its own for your beloved for a sweet dessert or with fruits. Check this recipe for more.
Chocolate Fondue
Life in any party is a fountain of chocolate fondue on the menu. Now, you can make this your own for that dinner with your loved one by sharing this dip with many kinds of dippers – biscuits, fruits, you name it. It takes less than 30 minutes for a sweet and savory snacking or dessert. Learn how to make chocolate fondue here.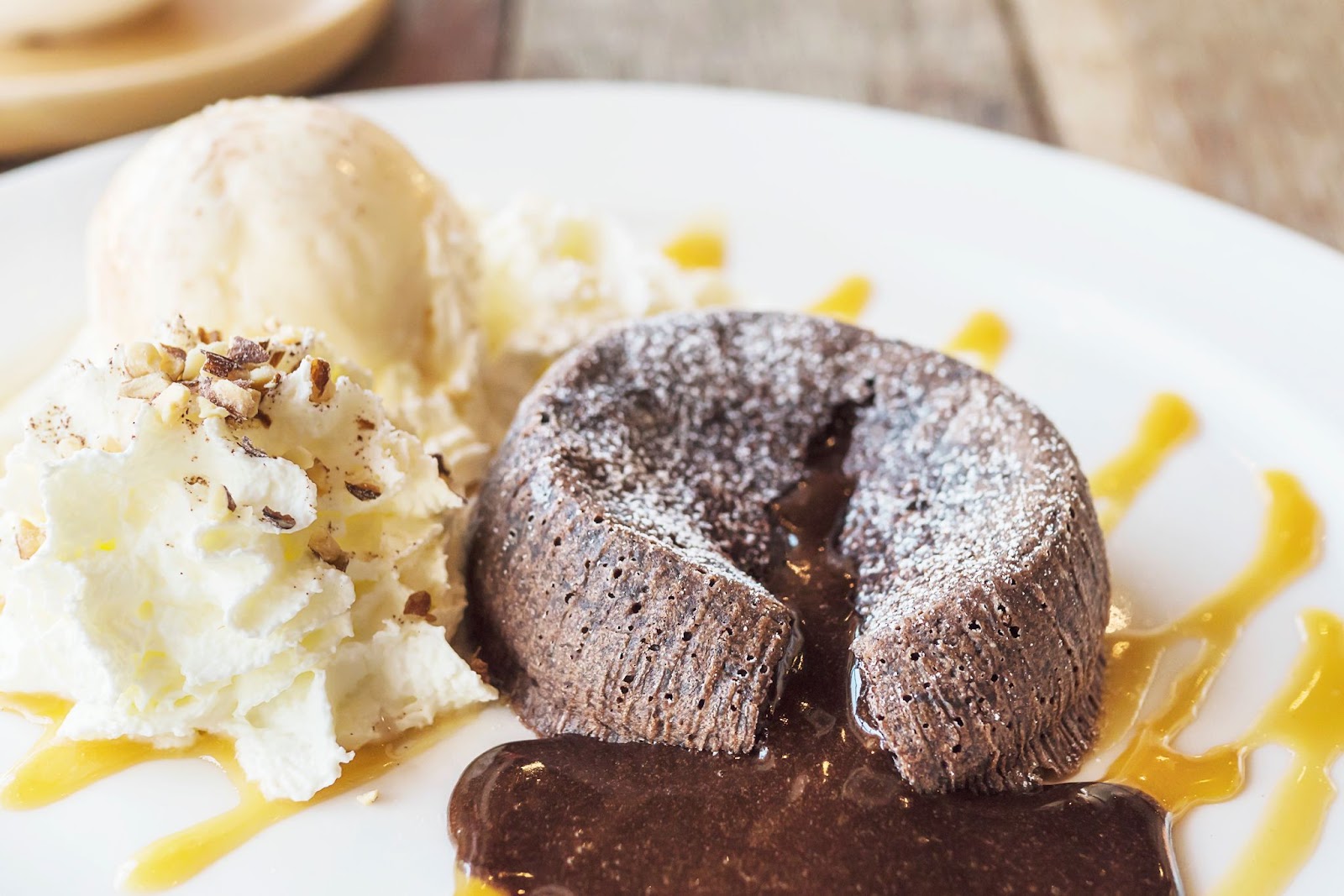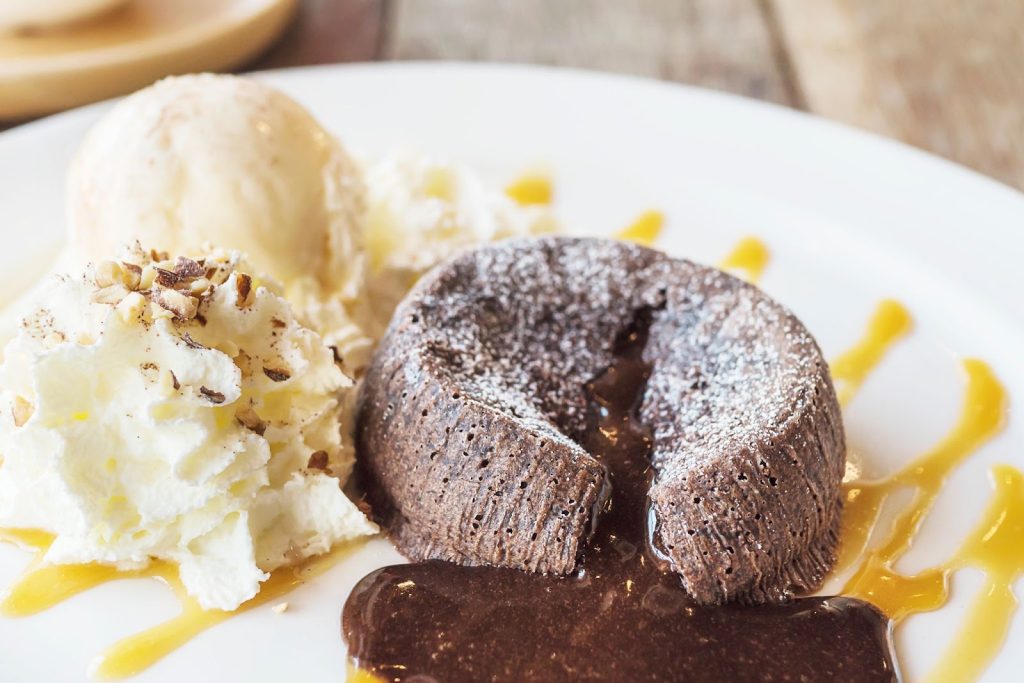 Sweet Time at Brittany Sta. Rosa
Wanting to have a sweet home in the South to escape from after a long day in Metro Manila? Be one with the beauty of house and lot units at Brittany Sta. Rosa. Discover the lush green environment with nature and marvel at the beauty of the scenery. It's also located in Laguna's educational and commercial hub and surrounded by the country's top golf courses – a leisurely experience for anyone finding a home in Laguna.
Brittany Sta. Rosa features a variety of world-class properties for sale, waiting for new homeowners:
Classic South American signature homes in Georgia Club and Augusta
Master-planned English countryside manor houses in Promenade
Beautiful dream-like French-Mediterranean ambiance homes in Belle Reve
Promenade also brings its Country Manor Clubhouse for leisure, fun, and relaxation to its dwellers, with function halls, a basketball court, and a secret garden. You may view the property listings available in Brittany Sta. Rosa, through this link.
Any questions about more homes and living spaces available? Go to this link or contact them soon for an appointment. You may also contact them here for concerns and inquiries.
Suggested Read: A Sweet Home As Sweet As Swiss Chocolates
Suggested Read: 20 Best Strawberry Recipes You Should Try
Suggested Read: Swiss Food For A Swiss-Inspired Community
Suggested Read: Where To Spend Valentine's Day 2022
Suggested Read: Valentine's Date Spots In The South