Blogs
Style Tips To Follow This Pandemic, Rainy Season
When it comes to fashion nowadays, you wouldn't think that following a few style tips will help you navigate the hazards and the uncertainty that the ongoing pandemic brings. After all, most of us are working at home, have online classes, or catching up with our passion hobbies. Also, almost everything can be ordered online and delivered to our luxury homes. 
But fashion still reigns even though we do not consciously seek it. After all, who wouldn't want to be stylish and memorable? However, the pandemic has shifted our sense of fashion significantly. While the days of everyday business casual wear for the office or school and dressier outfits for going out may be far from between, we still seek style tips when it comes to virtual meetings, or even in moments where you just want to lounge in comfort.
Moreover, going out now requires additional protection to keep the virus away. Face masks and face shields have become necessities in the way we dress to go out. And with the rainy season, protection from the weather is a must.
We have rounded out 12 style tips you can follow to feel comfortable and stylish anytime, anywhere, even if it is just at the comforts of your luxury house or luxury condo.
Trending Alert: 13 Style Tips You Should Take Note
1. Loungewear
Loungewear was one of the hottest clothing of 2020, which was incidentally the year the pandemic started. As people are on furlough and had their number of work or school days reduced, the need to wear a stylish set of comfortable clothes became a necessity because of self-care. Whether it is a matching top and bottom set or a pair of the softest joggers, loungewear became a uniform for people who work and stay at home, and continue to be so in 2021.
The quest for loungewear relies on two important criteria: high-quality practical clothes made in buttery soft, and sometimes thin materials like silk, teddy, waffle knit, and even velvet. Some go all-out comfort and now swap their jackets for the plushest bathrobe and matching home slippers. As more and more importantly find the importance of self-care at home, even if it means laying about and watching tv shows or the latest K-drama, wearing comfortable loungewear will help you get into the mood. For those who are athletic or those who need to move around, a comfortable, flexible pair of track pants is essential so it is easier to transition to relaxation after doing the daily chores.
Other classic comfort pieces are sweatshirts and sweatshorts. The desire for comfort while staying inside the home plus the humidity and winds from outside had some fashionistas seek some form of coverage while still keeping the other extremities breathing. Sweatshorts and sweatshirts are quite popular in neutral colors like browns and grays, and soft pastels.
2. Practical footwear
There is not a lot of opportunities for many of us to step outside from our homes nowadays. And if we do, it may seem defeatist to wear something ostentatious, considering the current times. Footwear in browns, blacks, silvers, whites, and a combination of them are in nowadays.
For folks who simply do not want to get their feet wet during the rainy season, here are some style tips: get a pair of boots that can withstand the weather outside and inside. A good pair of leather boots are more waterproof than boots made of absorbent materials like suede. Plus, they are easy to clean, and wouldn't get cracked even in the most humid of weather.
But if you prefer some breathing room, a chic pair of Birkenstocks or leather sandals will also do the trick. 
At home, a good pair of the fluffiest slippers will do the trick. Think of it as a vacation for your feet: they're flat, soft, and good for your soles as you take each step. Some go with Ugg slippers as this provides more protection than a pair of socks does. Also, it beats going barefoot on the cold, marble-tiled floor of your luxury home, does it?
3. Cute Activewear
The pandemic has resulted in some fitness centers and gyms operating on a smaller capacity or close for good. However, more and more people see the need to be active to stay healthy, and are now relegated to working out at home using health apps or watching fitness videos on YouTube. 
There are plenty of athletic wear brands in the market today, but the usual staples for women are a good, snug pair of workout bra or top, and a sturdy pair of leggings. And because of the number of athletic wear brands in the market today, there are a lot of options to choose from, especially for women who also prioritize aesthetics and fitness. Some of the athletic wear now come in fun and pastel colors, and even in certain styles like mesh panel cutouts or a backless feature. The cuter the athletic wear, the more opportunities for you to document your #fitnessjourney, and look good while doing it.
On the other hand, there is a rise in cycling shorts among women nowadays, Usually paired with an oversized t-shirt or a sweatshirt, they are seen as the better choice than a snug pair of leggings. For the bolder ones, a matching crop top completes the look while sharing their hard-earned set of abs and buns.
4. Designer Face Masks
As we never leave home without a face mask, so why not get a designer one? The most stylish personalities are now seeking designer face masks that offer similar protection, but are styled in so many ways that it is no longer hard to express your individuality in them. From prints, monochromatic colors, to embellishments and emblazoned logos of some of the most popular fashion and athletic brands today, it is really possible to stay stylish and protected. 
Despite all of these style tips, health agencies and regulators still recommend that you get ones with extra layers of construction and features such as filter pockets to ensure that you still get the protection you need against COVID-19.
5. Casual Sneakers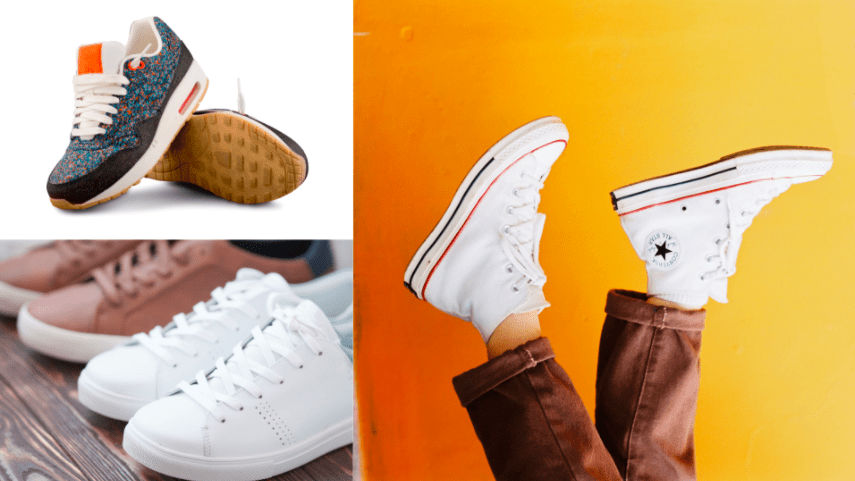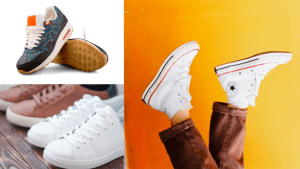 Our clothes aren't the only things that became more casual during the pandemic. Sneakers remain the perfect footwear for many who are not into a fancy pair of boots, even during the rainy season. They are more comfortable to wear and go around in and are available in the hottest styles that some of them can even pass as evening footwear.
And if you are worried about getting it wet? Don't even think about it. Products like waterproof spray and whitening marker are your best friends in retaining the new look and feel of your sneakers. If you do not want to get bothered with the sneaker maintenance, you can always opt for sneakers in waterproof materials, no shoe raincoat required!
6. Understated Pajamas
Caption: Gone are the days of wearing goofy print or boring plaid pajamas.
Aside from loungewear, this kind of pajamas is becoming a work-from-home staple during this pandemic. They can be easily confused with loungewear, thanks to the materials used in the pajamas. But the main difference is that these pajamas are so comfortable to sleep in, and so convenient to wake up in minutes before your early morning Zoom meeting.
You can go for a matching set made in ultra-luxurious fabrics like silk, velvet, and even knit. If you are not into matching sets, opt for a monochromatic pair, with a darker color for your top and a lighter color at the bottom. Also, do choose pajamas with luxurious details like pockets, bias-cut short sleeves, and curve-hugging pleats.
Here's an extra style tip for you: Get several pairs of pajamas that you can mix and match for more combinations. 
7. Tie-dyed Fabrics
Just because it is the rainy season doesn't mean we shouldn't introduce exciting colors in your wardrobe. Whether it came from the latest fashion brands or they are homemade, tie-dye can definitely brighten up the mood of your luxury house or luxury condo.
Also, set your sights on apparel other than t-shirts. You can update your wardrobe by seeking out shorts, polos, pants, or even your innerwear. If you cannot spot any tie-dye apparel to your liking, you can revive old clothes at home using a tie-dye kit.
8. 'Zoom' tops
While loungewear and luxury pajamas may be enough for some meetings, there will be meetings wherein you need to present your professional self. "Zoom" tops were coined early in the pandemic because many of us tend to dress the top half of our bodies only. "Zoom" tops are important especially for the most significant moments in your career, like a job interview, client presentation, or thesis defense for your continuing education course.
Suggested Read: Power Dressing 101: How to Power Dress for any Meeting
"Zoom" tops are mostly blouses that are made in structured fabrics. However, you can use a silk or polished shirt under a structured jacket. If you want to introduce a little femininity, you can choose blouses in muted pastel colors, creams, or whites. 
9. Branded items
As people spend more time on social media during this pandemic, people are also more exposed to their favorite influencers and the brands they are wearing. And if you happen to own a piece or two, wouldn't it be fun to sport them now? With fewer opportunities to show your stuff, wearing your favorite luxury brands now will be such a treat. Try wearing your luxury coat or anorak on an errand run or when you need to visit the bank. 
Also, you do not need a reason to bust out your branded clothes. Simply wear them at home on days where you need to lift your mood. You can also follow the style tips you learned from your favorite influencers at home too. Wear the luxury brands with pride by choosing those with the obvious logos up, front, and center.
10. Bright colors
Introducing bright colors into your wardrobe will definitely help pick up the mood, but what colors exactly are in nowadays? According to consumer market trends, you need to go towards the brightest part of the color spectrum. This means neons, fluorescents, hot pinks, reds, and loud oranges are the colors that make a statement.
If you do not prefer to go all out with these solid colors, how about introducing these colors in your accessories? You can introduce bright colors in your hairbands, friendship necklaces and bracelets, and even your watch straps. 
11. Minimalist jewelry
Jewelry is something that you cannot miss. Go thin with everything: rings, earrings, bangles, and necklaces. If you want to highlight a jewelry piece, such as a pair of gold-plated earrings, you can still pile on with your minimalist jewelry without overpowering the entire look. While gold is the obvious choice, you can combine these dainty pieces with jewelry in diamond or colorless gem settings, or silver pieces.
12. Synthetic fabrics
Synthetic apparel is often the most preferred type of clothing during the rainy season. This is because synthetic clothes are engineered using plastic-type material that dries fast. As such, the fabric quality of these synthetic clothes reduces the risk of fungal infection as compared to water-absorbent apparel. Moreover, synthetic clothes do not stick to the body and are comfortable to wear. 
Some synthetic are lightweight too. While they are mostly used in raincoats, anoraks, and overcoats, synthetic apparel is also used in activewear as well.
13. Upcycled fashion
Upcycling clothes and even accessories are not only a fun hobby to do at home, it is also a conscientious effort to reduce waste. If you are not ready to let go of your worn-out favorites, you can turn them into new clothing or accessories. For example, how about converting your pair of pants into a pair of shorts or a cloth bag for your next errand run? How about sewing two oversized shirts of different styles together as one shirt, just like those you see in K-Pop idols? You can even cut out interesting fabrics from a designer item and decorate them on top of your face mask. There are so many stylish possibilities when you upcycle clothes.
Update Your Luxury Closet With These Rainy Season Style Tips
Before subscribing to these style tips, make sure that you take a good look at your luxury closet. This is so you have an idea about what you already have, and make space for incoming rainy day season clothes. Luxury homes and luxury condos for sale usually have walk-in closets that will make it easier to update the wardrobe according to season, and a separate entryway or mudroom with a closet to reduce the spread of COVID-19 at home. 
Brittany Corporation is a luxury real estate developer that considers all the aspects of a high-end, stylish lifestyle are considered in their luxury properties. Aside from developing stylish homes in residential communities that are close to nature, the luxury properties evoke a signature class and style that supports even the most sartorial-minded homebuyer.
Check this space for more style tips and recommendations for living a luxurious lifestyle. Check us out on Instagram. 
UP NEXT: How to Care for Luxury Items at Home
UP NEXT: Best Celebrity Walk-in Closets in the Philippines