BLOGS
New Spots to Visit in Evia Lifestyle Center
You'll have tons of fun choosing from so many selections of items for your crafting needs!
With the range of pandemic travel restrictions and requirements remaining in place as we're halfway through the year, the longing of planning for that long-anticipated vacation trip to the new spots to visit grows stronger. 
You're on the hunt for new spots to visit near you, but given that you've been staying indoors for the last couple of months, you're clueless as to where the next best place to visit will be. For everyone's safety, long-haul travel is still not as recommendable, so just how can you feed your ever-growing wanderlust while remaining safe at this time?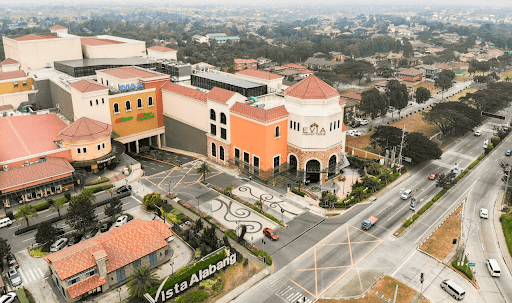 Evia is the upscale lifestyle center along Daang Hari that caters to the high-end market offering world-class services and dining experience.
Fret not, as Evia Lifestyle Center has got you covered. Situated in a master-planned community that is Vista Alabang, you can certainly feed your wanderlust while staying safe, not to mention you won't have to worry about being jet-lagged while doing away with the hassle of having to pack your suitcases.
Suggested read: A Guide to the Shopping Experience at Evia Lifestyle Center
Evia Lifestyle Center: Your Convenience and Delight In One
Evia Lifestyle Center is well sought-after for having a variety of food establishments and retail stores for all you'll ever want or need. From groceries to hobby items and drugstore needs, Evia, as it's lovingly called by the locals, has just about everything to offer.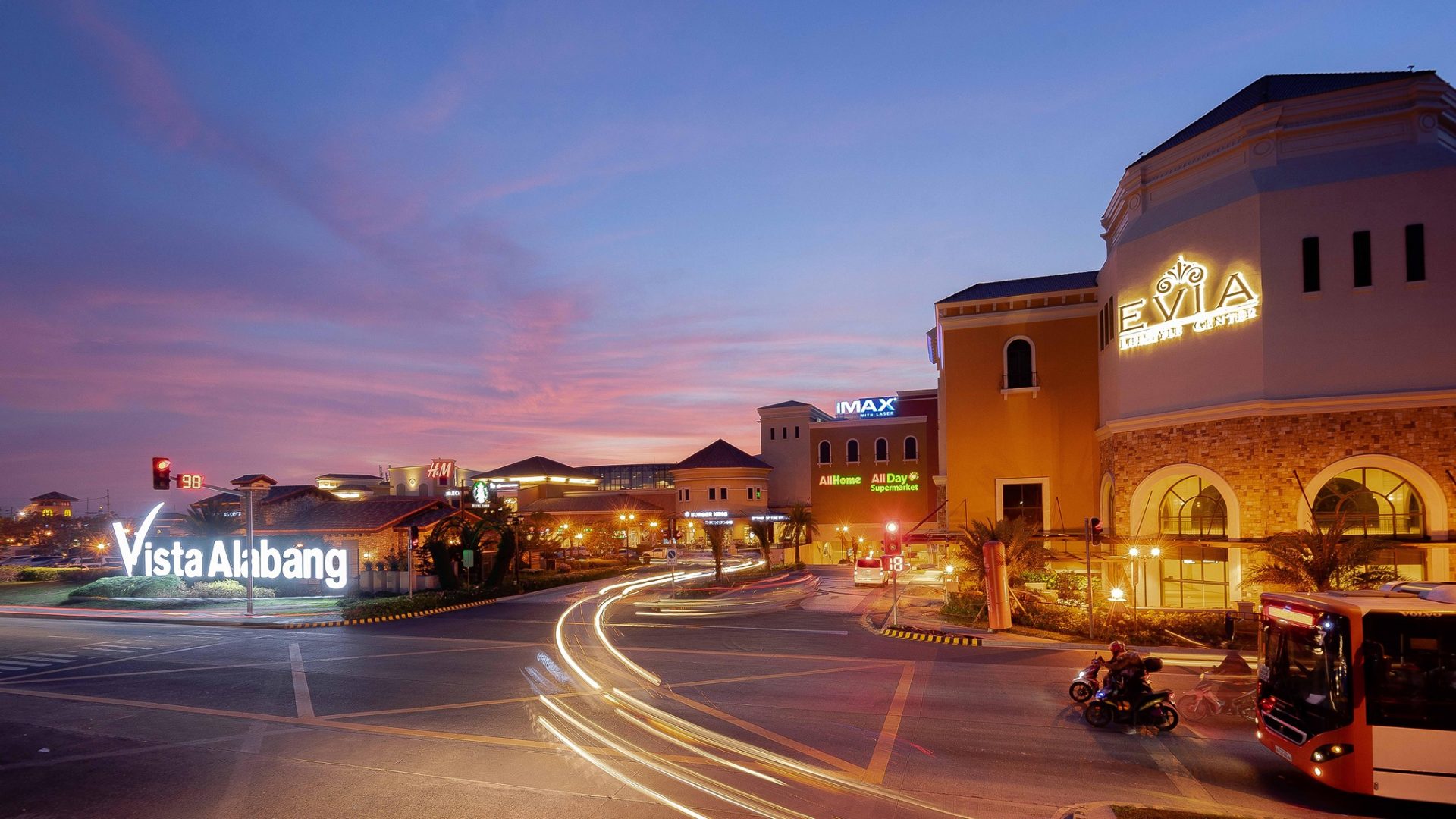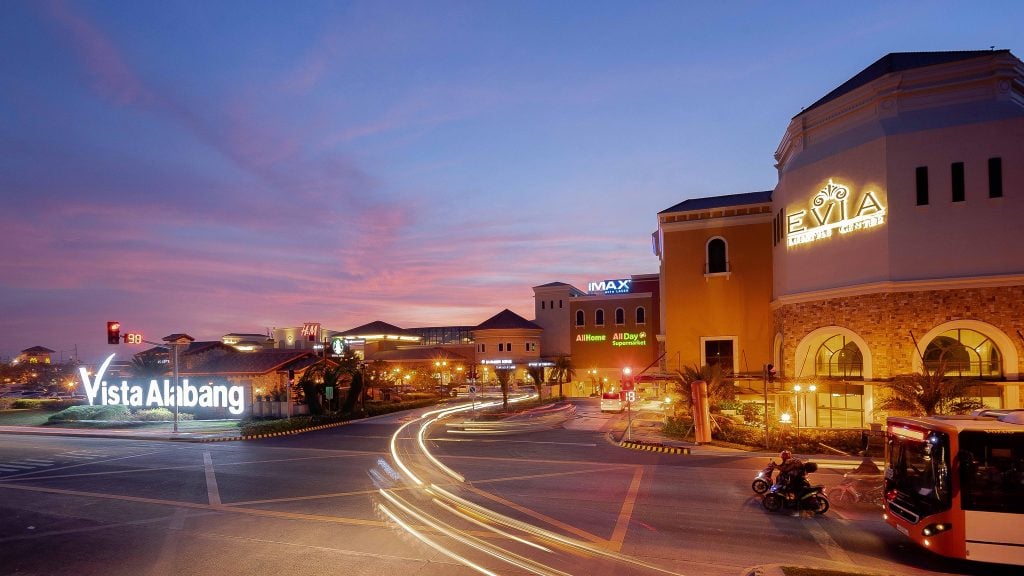 Evia Lifestyle Center, located at Daang Hari, is the perfect place to unwind with your dearest friends and family giving you the close-to-home vacation experience.

If you haven't heard yet, there are four new spots to visit in Evia that will not only take care of your food cravings and desire for some retail therapy but will also satisfy your desire for travel as they will definitely take you to a different world whenever you visit.
What New Spots to Visit
1. San Marco, Your Italian Escapade
Dreaming about a tour to the Italian seaside? Stash your passports and save yourself the worry of having to take a long-haul flight as you don't need to travel far anymore to get a taste of that Italian sophistication.
The latest venture of The Coffee Project, San Marco, perfectly captures the culture of living the vita bella, or the "good life". Inspired by the beautiful Italian charm and ambiance, San Marco is not just your regular cafe. From its interiors to its impressive menu, San Marco will surely be your little Italian Escapade when you visit Evia Lifestyle Center.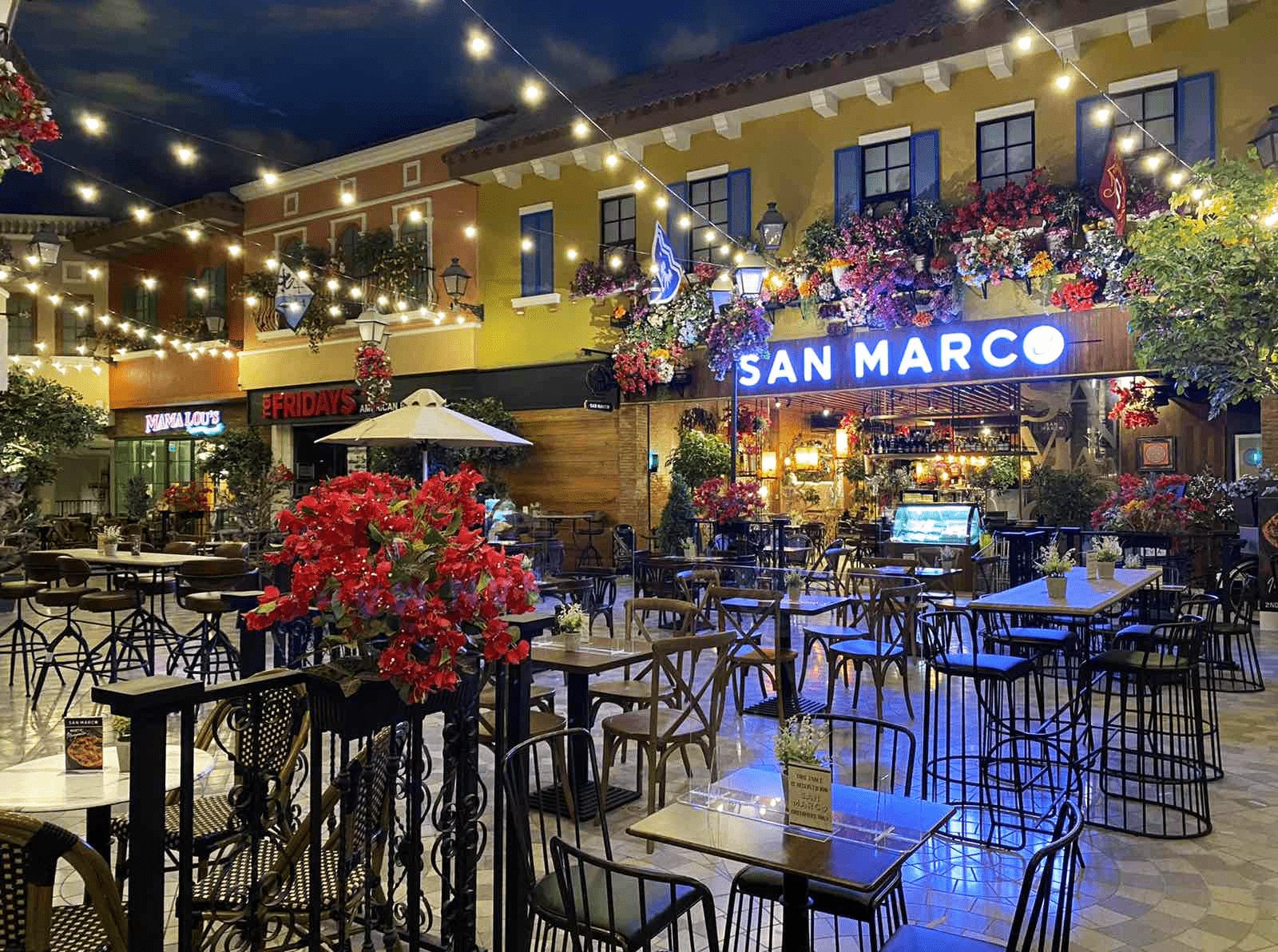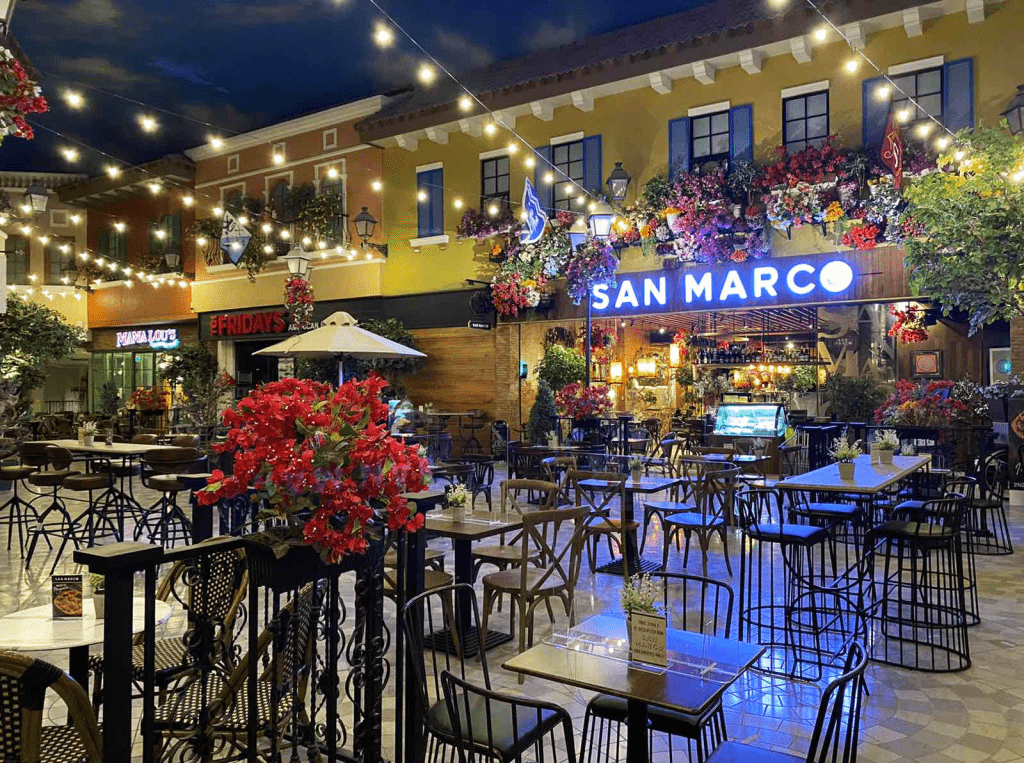 San Marco is located at Level 2 in Piazza at Evia and even as it's located indoors, it still gives you the vibe of al fresco dining!
Although located inside Evia, visiting San Marco gives you the feel of outdoor dining. Beautiful string lights above welcome you to the cafe. Going inside, wonderful floral and plant arrangements invite you in, coupled with the warm lighting and brick walls that complete San Marco's cozy yet elegant vibe.
Your palate will certainly be pleased as well as they offer a wide variety of food and drink choices. Whether you're in the mood for pizza, brisket, salad, a sweet dessert, or simply just a cup of coffee or a glass of wine, you'll be delighted to spend your time dining and relaxing in San Marco. You'll be instantly taken to the beautiful Italy where the day begins and winds down beautifully with a captivating charm.
They are now open from 8 am to 9 pm daily, so whether you're gunning for brunch or dinner, San Marco will surely be included at the top of your list of new spots to visit the next time you want to spend some R&R outside of your home.
2. Dear Joe, Your Time Travel to Retro America
During these times, almost everything has gone virtual. In today's world where anything that's not automated or done with a computer is considered a thing of the past, writing letters seems to be outdated. Can you even remember when was the last time you actually wrote a letter to someone?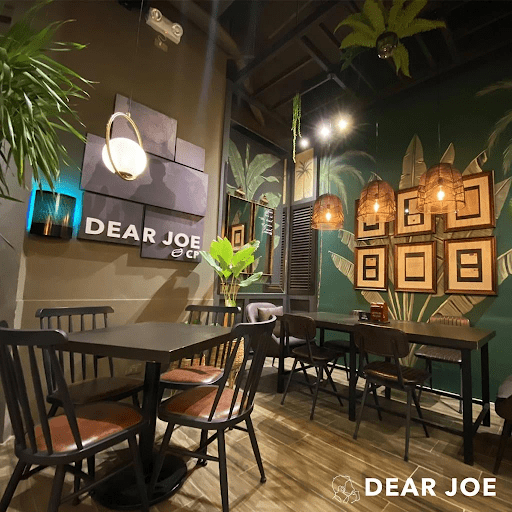 Recently a newly opened branch in Evia, Dear Joe is the perfect place to be if you want to relax over a great cup of joe and fun stationery.
Dear Joe is the first-ever letter-writing cafe in the country, yet another venture established by the creative and brilliant minds behind The Coffee Project. Showcasing an authentic retro American vibe, you'll definitely find yourself trying your hand at writing a letter using their fun stationery while sipping on a warm cup of fine coffee.
Upon entering, you'll be greeted by its modern decor, complimenting the rustic vibe of the tables and chairs, with the whole space adorned by potted plants to complete the relaxing ambiance of this not-so-ordinary coffee shop. The fun framed prints on the cool brick walls also tie together the coziness of the sleek space. It's one of the new spots to visit in Evia where you have to make sure you have your smartphone handy as you'll surely find yourself snapping so many photos.
You can also schedule a brief meeting with work colleagues or friends over coffee, as they have a great private corner where you can be productive while remaining at a safe distance from each other in this very relaxing cafe.
If going solo, it'll then be the perfect time for you to wind down and reflect while writing some handwritten letters using fun stationery readily available in Dear Joe. Don't forget to drop it off at their letterbox! If in a morning rush and you're in between meetings, you can also opt to get your coffee fix via their own drive-thru. And not only that, but they also have a variety of mouth-watering food choices. 
Dear Joe is open from 7 am to 9 pm, Monday to Thursday. As for Friday to Sunday, they are open from 7 am to 11 pm. With such a delightful vibe, the finest cups of joe, and the most delectable food options in a relaxing and comfortable space, Dear Joe will be your next go-to cafe for just about any kind of day.
3. Bread Basket, Your Sweet New Happy Place
If you'd like to take a break in the middle of your day and uplift your spirits over delicious food, delectable pastries, a warm cup of coffee, or a cool drink, Bread Basket should be your go-to.
As soon as you walk inside, you'll know visiting Bread Basket is like walking towards a fairytale. This new spot in Evia Lifestyle Center is perfect for first dates, quick midday pick-me-ups, chill evenings, and everything in between!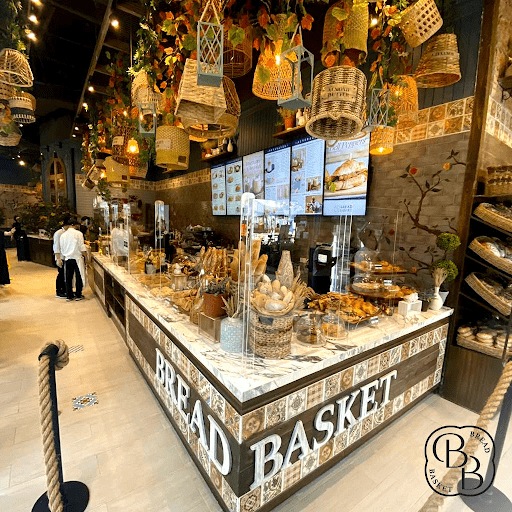 Bread Basket is a whimsical cafe that offers a mouthwatering selection of bread, pastries, food, and drinks.
Wicker baskets seem to be floating in the air as they hang from the ceiling, which perfectly compliments the cozy warm lighting and meticulously designed interiors. There are also IG-worthy light-up signs around the cafe that will get you hooked on taking photos for your feed.
There is also a lane where you can pick up a wide selection of delicious, heart-warming pastries which you can take home for yourself or for your family and friends. There are also plenty of tables and chairs inside and outside, which definitely makes following social distancing protocols a lot easier. As one of the new spots to visit in Evia, this is surely where you can relax and have some peace of mind, and maybe also a fine piece of bread to go with that cup of coffee.
They are open from 10 am until 9 pm every day, so mark your calendars now to come and discover your new happy place outside of your home.
4. Paper & Co, Your Fantastic World of Arts and Crafts
Something we definitely all missed doing last year is having the satisfaction of walking into a store in person to have some retail therapy. Sure, online shopping is pretty convenient, but nothing beats the old-fashioned way of shopping where you can get your hands on the items first to get a better feel of them before purchasing.
With the amount of free time we had due to staying at home for more than a year already, most of us have tried our hand in doing arts and crafts to pass the time productively. To add to that, most of us also have gone digital with the way we gave gifts during the holidays and other memorable occasions in the past couple of months.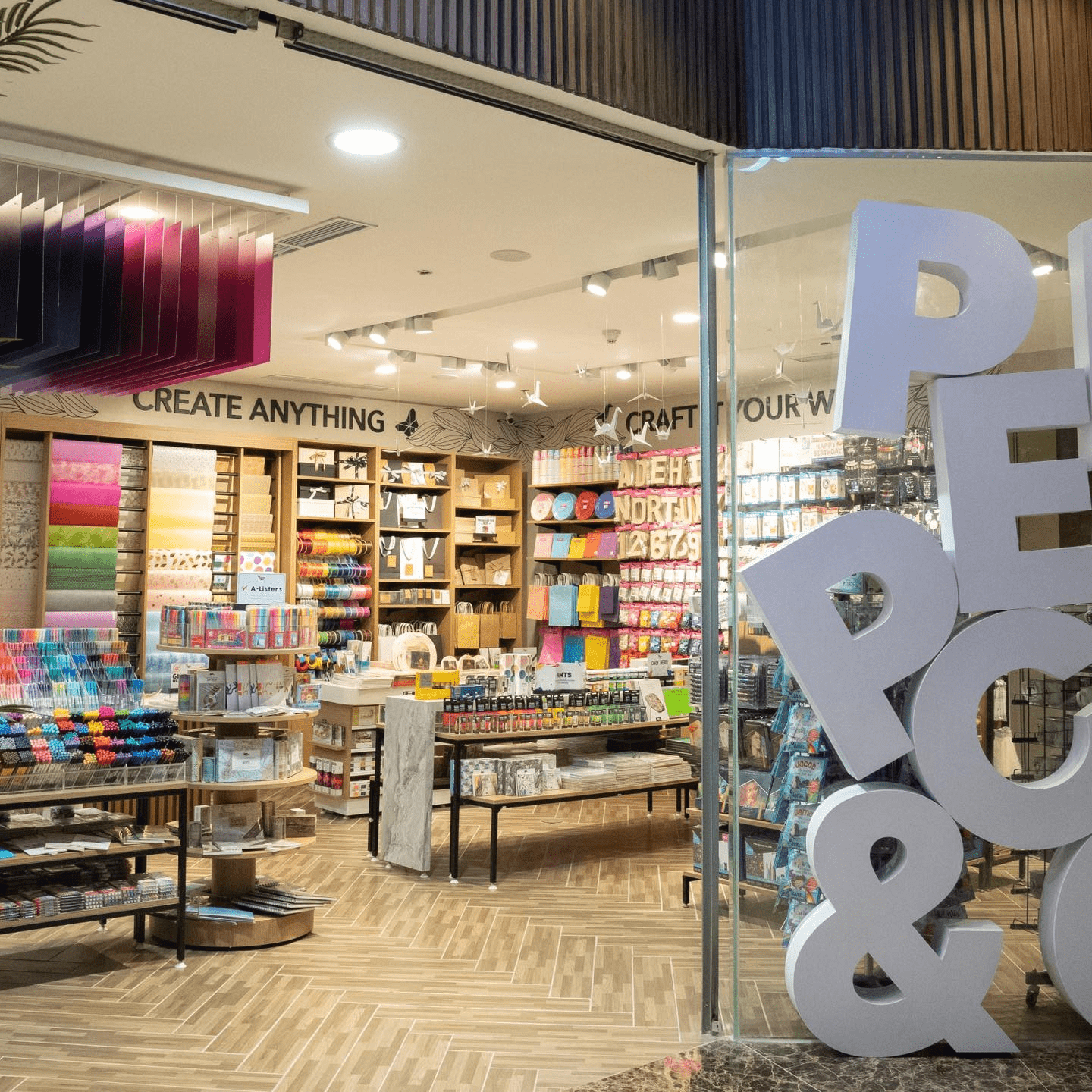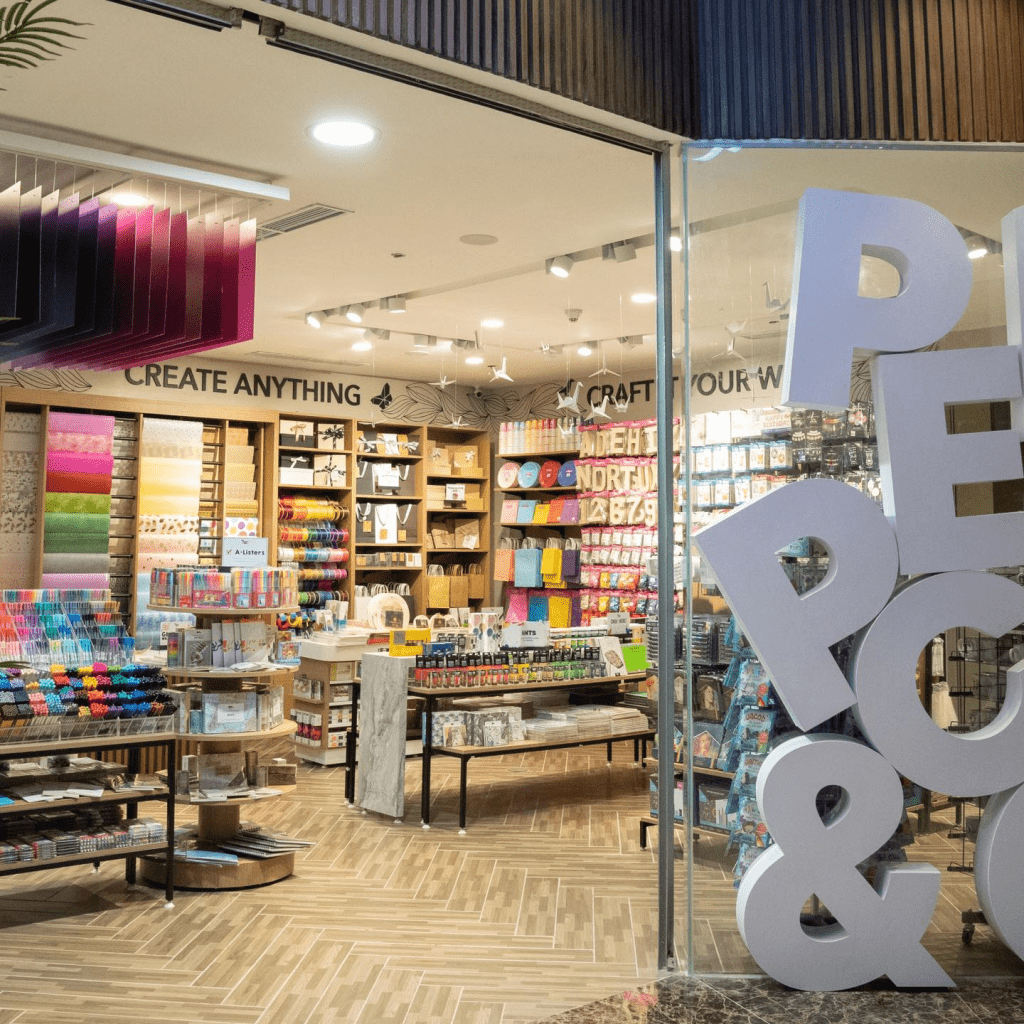 Offering you a large assortment of materials for arts and crafts, Paper & Co is your fun and reliable store for all your crafting, gift wrapping, and packing needs!
You have surely missed the heart-warming tradition of gift-giving during memorable events and the holiday season. As we are halfway through the year and you and your family may have already been fully vaccinated, you may find yourself wanting to do away with having them delivered to your family and friends via a courier which we've already been doing for the past several months. There's nothing better than handing your gift personally to your dearest, is there?
Not only that, with everything including office and school work going virtual, you may also have missed the excitement and joy of purchasing new office supplies once your drawer runs out of items, or new school items when you or your family are starting a new school year or term. You'd have to admit that not even the most advanced software on your computer can beat the satisfaction of physically writing or using other writing materials on paper and important documents to organize your workflow.
You may also even have started on a new online business venture amidst the pandemic to add to your streams of income while mobility is still limited. It may be exciting, but packing the orders maybe a little bit tedious especially if you don't know which retail store to count on for your packing needs which will also help capture the aesthetic of your brand to make it more enticing to your customers.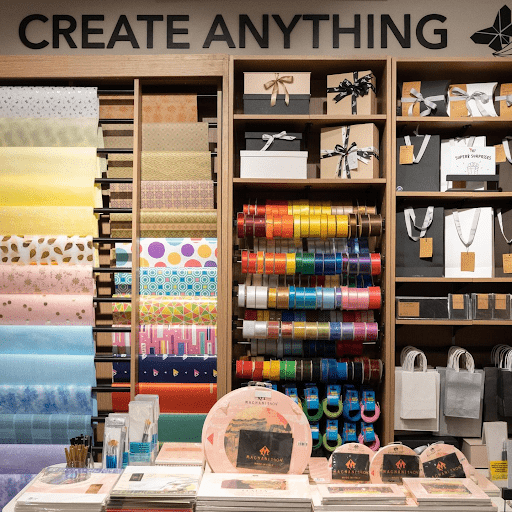 You'll have tons of fun choosing from so many selections of items for your crafting needs!
Enter Paper & Co, one of your new spots to visit in Evia for when you're on the lookout for all your gift wrapping, arts and crafts, office, and school needs. Whether you're simply working on a new and creative skill or hobby, wanting to personalize your gifts to family and friends, needing new office and school supplies to help improve productivity, or whether you're managing an online business, Paper & Co is your reliable go-to crafts store.
Paper & Co definitely takes you to a fantastic art world with all the exciting variety of items you can choose from. Everything comes in different shapes, colors, and sizes that time will just easily pass as you stroll around the store, looking at all your different options to choose from.
These New Spots To Visit and More, All Within Your Reach
These exciting new spots to visit in Evia just show how Vista Alabang is truly a master-planned community, always adapting to the constantly evolving needs of those who are living in its residential areas, with the improvement of quality of life as the top priority. May it be that you're searching for new spots to visit to wine and dine in, or for essential establishments to fulfill your basic needs, you'll most certainly be taken care of.
Luxury living offered by Brittany gives you a wide range of stunning houses and lots for sale in Daang Hari to choose from in awe-inspiring thematic communities. Residing in one of them gives you accessibility to strategically developed establishments like that of Evia Lifestyle Center which greatly improves the quality of your life, regardless if there's a pandemic or not. 
Surely, investing in a luxury house and lot for sale in Daang Hari or at Vista Alabang is your next winning move, especially in the New Normal. It is not surprising how the value appreciation is constantly rising at impressive rates for these houses and lots for sale, with the impressive quality of these properties coupled with the several key establishments that are continuously being developed around its area.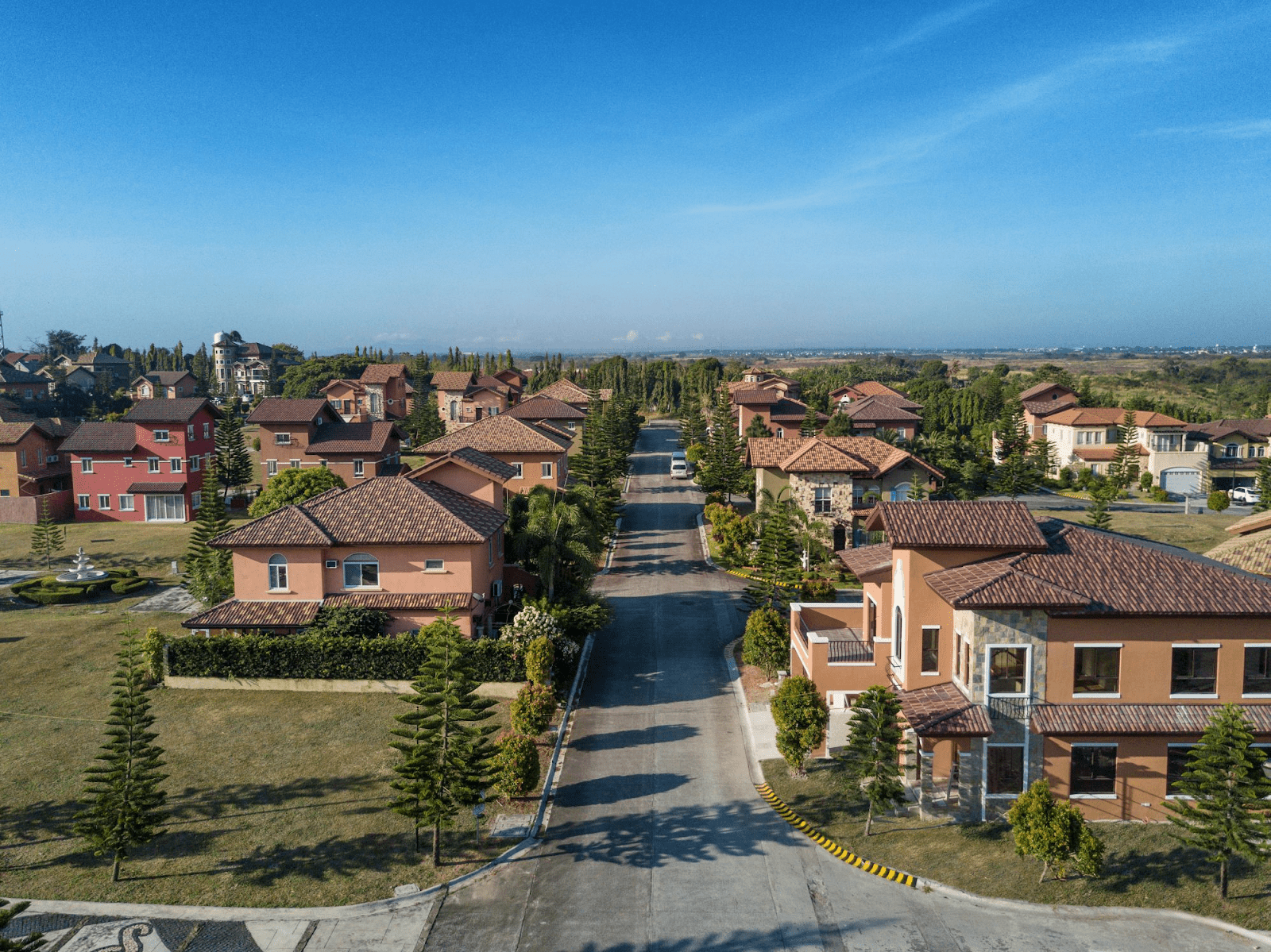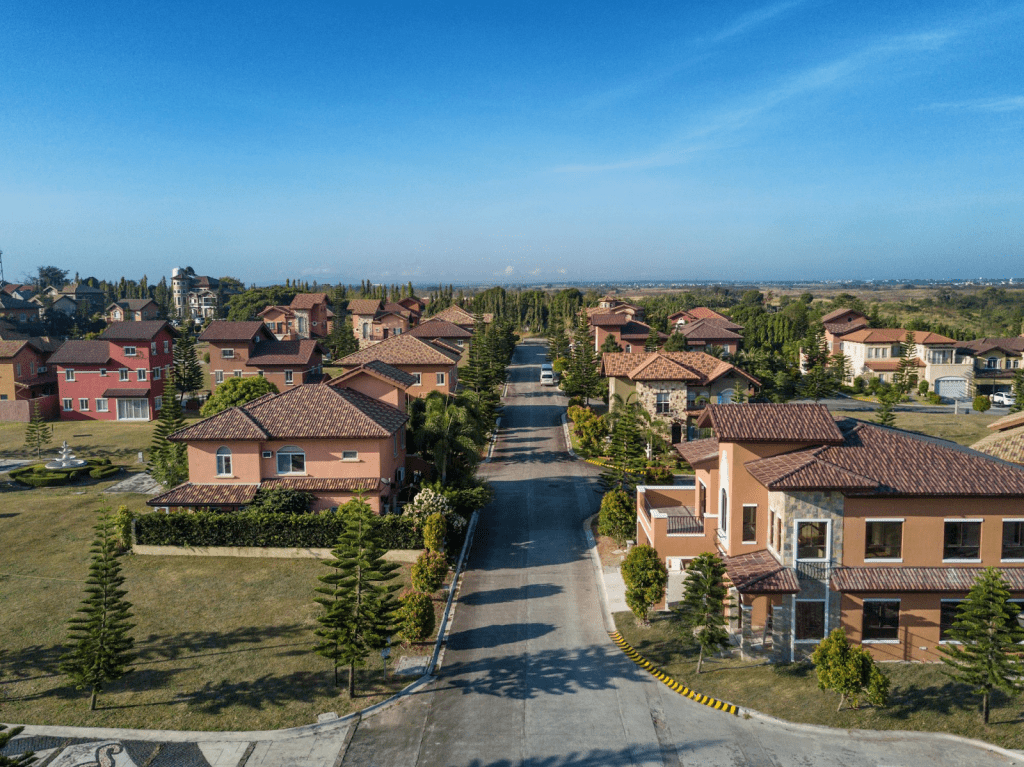 Vista Alabang is one of the many thematic luxury residential enclaves by Brittany, boasting of its awe-inspiring scenery and an impressive selection of houses and lots for sale.
These new spots to visit perfectly mirror the residential enclaves in Vista Alabang. Just like how they seem to always have a cohesive theme, each house and lot for sale in Daang Hari stays consistent within one solid theme for every residential community.
Aside from being thematic, these luxury homes also go above and beyond in providing you with the best experience possible. It is evident that each of these awesome new spots to visit in Evia aims to be a cut above the rest. 
With San Marco, Dear Joe, and Bread Basket, it is clear that they're not just another cafe you'd find yourself visiting. They look like destination spots where you'll find yourself longing to visit not only when you're craving for coffee as they all offer a wide array of food and drink options on their impressive menus, not to mention the stunning and relaxing vibe you get from hanging out in them. So when visiting Evia Lifestyle Center, you just have to decide which kind of world you'd want to be taken to, and you'll be sure to get the best experience.
As for Paper & Co, it also gives you a lot of selections depending on your preferences, just like with these residential properties in Vista Alabang. Whether you're looking for a house and lot for sale, or simply just a lot for sale if building your own home has always been your plan, Brittany can easily provide you with these options to make your dream come to life.
Portofino in Vista Alabang is one of Brittany's residential communities along Daang Hari, and just like its other neighboring enclaves, it boasts of its meticulously designed grounds and world-class landscapes. Either for a lot for sale or both a house and lot for sale in Daang Hari, you'll definitely get the bang for your buck through investing in one of them, and proximity to these fantastic spots is just one of the many reasons why.
Read Next: Mocktail Recipes to Try in 2022
Read Next: Why Real Estate will Remain Strong in 2022
Read Next: Where to Spend Valentines Day 2022