BLOGS
2021 Most Visited Restaurants in Tagaytay
Everyone has enjoyed a long break in the year 2021. Pandemic restrictions were eased a little this year, and for a short period of time, travelers were allowed to travel for pleasure. Being able to step outside of your luxury homes in the Philippines was a relief, and seeing different perspectives seemed to be a form of therapy.
Benefits of Traveling amid the Pandemic
Whenever the travel guidelines are relaxed, people are quick to book and schedule flights for vacation or other leisure travel. Even those who live in the most beautiful homes in the Philippines become enthralled by the prospect of escaping their surroundings for a brief period of time. Traveling has never been more rewarding, especially after such a long, stressful, and uncertain season as has been experienced due to the global pandemic.
Traveling proved to be a useful outlet for releasing stress and disconnecting from the stresses of everyday life. According to a number of studies, traveling has a variety of advantages in everyday life.
Traveling brings peace
Many would agree that traveling is a source of peace. Being away from the regular programming and visiting other places brings peace that feeds the soul. Through traveling minds are being shifted to the other side of the world, away from the stress and pressure of daily life. Even if for just a few hours, it brings a moment of tranquility and peace.
 Traveling allows you to process inner issues
"Soul searching"
You might hear it several times, but many would tell you that traveling is like soul searching. Once in your life when you travel you feel like the world that you have would suddenly pause and allow you to take a deep breath. Stillness in traveling is an opportunity to meet yourself and process your inner issues, giving you the ability to reconcile concerns and create solutions to problems. Traveling, you leave all the worries and problems that you have at your destination.
Traveling makes you happy
Traveling makes you happy, it's as simple as that. It doesn't matter if it's too far away or just nearby; traveling brings a different kind of joy to your heart that you can't quite explain. It improves your mood and makes you more enthusiastic about life.
Traveling increase creativity
Traveling will be beneficial to anyone whose life is devoted to the creation of something. Traveling exposes you to a variety of cultures, people, places, and situations, all of which can serve as inspiration for you to create great things.
Traveling allows you to recharge
Beyond recharging your physical batteries, traveling allows you to recharge your mental batteries as well. Providing you with the opportunity to clear your minds, re-energize your body, and refill your cup of joy.
Traveling allows you to try amazing food
Food is one of the most enjoyable aspects of traveling. Different cuisines from various locations will be available for you to sample. Increasing your awareness of different tastes and options.
The Most Visited Tagaytay Restaurants in 2021
Because it is only two hours away from the bustling metropolis of Manila, Tagaytay has always been a popular destination for families and friends looking for a short getaway. It is not only a place to go when you are unsure of where to go, but it is also a place where you choose to go when you are unsure of where to go. This destination has consistently ranked first on lists of top destinations, is the first choice of many travelers, and is the top choice of many more.
In addition to having some of the most beautiful houses in the Philippines, such as those of Brittany Corporation, Tagaytay also has places that are considered treasures because of their beauty, value, and excellence. Brittany Corporation's house is one of these treasures.
You may be tempted to leave the luxury homes Philippines or the luxury condo you have been living in, but there are many places you can try and visit in Tagaytay that will make you feel good about yourself just for making the decision to go there. What's even better about these establishments is that they provide excellent food, a pleasant ambiance, and high-quality service.
Here is a list of the most popular Tagaytay restaurants from the year 2021 that you might want to consider visiting this year.
Breakfast at Antonio's
What comes to mind when you think of the most popular Tagaytay restaurant? Breakfast at Antonio's would be at the top of the list. It is not only the most popular tourist destination, but it is also the most blogged about Tagaytay Restaurant by people of all walks of life, including celebrities. It is consistently the most sought-after and highly recommended Tagaytay restaurant.
A fine-dining setting that exudes a warm and welcoming ambiance, perfect for a special occasion. It has a rustic theme, elegant interiors, and a fantastic menu to go with that theme.
As an example, the Brittany Corporation, which builds the most beautiful houses in the Philippines with extraordinary themes, is also elegant in its interior design and excellent in its construction.
Both companies offer products that will entice you to come back.
Sonya's Secret Garden
This Tagaytay restaurant not only provides a beautiful setting for relaxation, but also serves delicious classic home-cooked meals. Since its inception, Sonya's Garden has been a popular destination for couples because it is surrounded by lush greenery, vibrant flowers, and authentic wooden furniture, which makes it an ideal location for dates, intimate gatherings, and even proposal venues. In addition, Sonya's Garden is a pet-friendly establishment.
Greenery surrounds the house and lot properties for sale by Brittany Corporation, which is another company that specializes in greenery. The most beautiful houses in the Philippines built by Brittany Corporation have the most beautiful landscapes, which will give you a front yard worthy of your Instagram feed.
The most relaxing places to visit are those filled with greens. Green evokes a feeling of abundance and is associated with refreshment and peace, rest, and security according to Christi Wharton.
Bag of Beans Tagaytay
No other classic choice but Bag of Beans. Many would consider this Tagaytay Restaurant as their go-to spot for their quick escapes with cool breeze and weekend trips. More than the variety of food they serve, they are in an excellent location for viewing the Taal from the outside of the restaurant, and the interior of the restaurant has a charming interior dining set-up.
Bag of Beans Tagaytay is legit to be instagrammable in the same way that the luxury condo of Brittany Corporation is.
Nurture Wellness Village
An all-inclusive travel destination that you and your family and friends might want to consider adding to your bucket list. The Nurture Wellness Village is a relaxing respite from the hustle and bustle of city life, allowing you to unwind while also satisfying your healthy cravings. It is a Tagaytay restaurant that provides its customers with nutritious and organic meals, allowing them to eat guilt-free while still enjoying delectable dishes.
NAPA at Crosswinds Tagaytay
In Tagaytay's highest peak, Crosswinds Tagaytay is known for its luxury homes Philippines and is considered to be a community with the most beautiful houses in the Philippines. The community also has a wonderful Tagaytay Restaurant that draws people in and keeps them coming back.
During your short vacation with family and friends at Crosswinds Resort Suites, you may want to visit the Crosswinds Tagaytay's NAPA Resto, which is one of the most popular places in Tagaytay and offers a variety of Filipino dishes.
NAPA is becoming increasingly popular due to the fact that it is alfresco and that the majority of its interiors are made of wood. Even if you try to eat inside the establishment, the atmosphere is still that of dining alfresco because the windows and doors are left open to the elements.
There are burgers, pasta, and desserts available at this Tagaytay restaurant. They also serve coffee and tea. In case you want to be a little more romantic, they also have a wine selection that will spice up your dinner date.
Lime and Basil Restaurant
This restaurant serves Thai cuisine with alfresco dining, which allows you to enjoy the cool Tagaytay breeze. This is also a good Tagaytay Restaurant for people who are health conscious because the majority of the dishes contain a healthy serving of greens and vegetables. This restaurant will satisfy your cravings for Asian cuisine.
Balay Dako
This Tagaytay Restaurant is one of the favorites of Tagaytay goers. They serve Filipino cuisines that will make you feel like it's the first time you eat that kind of food. They also have an alfresco area with a view of the grand lake. They also serve Spanish-Filipino and Filipino-Chinese dishes.
This place is also open for intimate gatherings like proposals, birthdays, and weddings.
Cafe voi la at Crosswinds Tagaytay
A smorgasbord of home-style Asian and international dishes is available at Café Voi La, which will satisfy even the most discerning palates. A great place for families and friends who want to enjoy a meal together while taking advantage of both the indoor and overall eclectic and whimsical atmosphere that is present at the restaurant. A great selection of wines, as well as a variety of popular cakes, are available at the restaurant's open bar. A place for everyone who wants to experience as short swiss escape. Check out Cafe Voila's Must-Try dished on this link: Must-Try Dishes in Cafe Voi La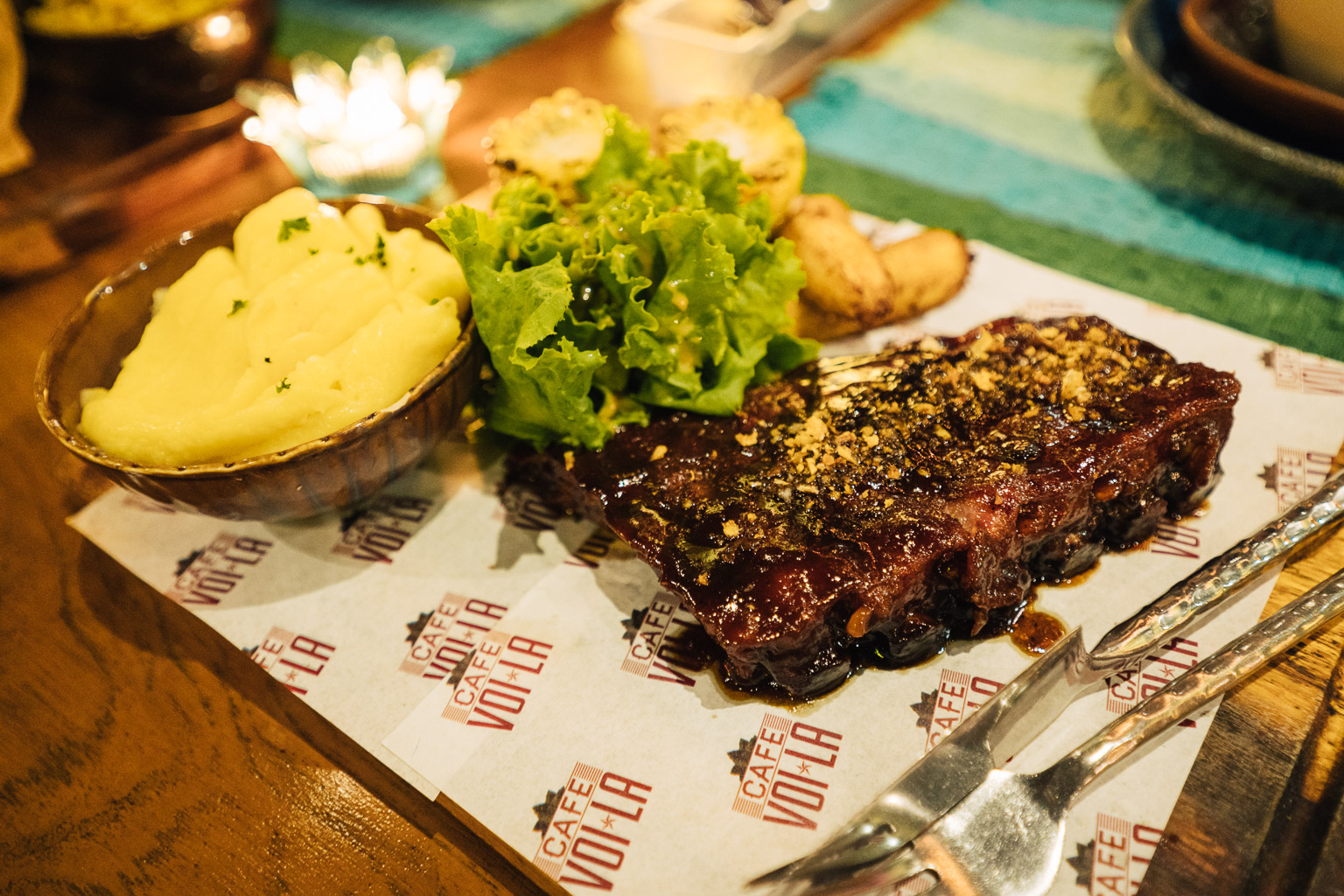 Ruined Project at Crosswinds Tagaytay
Even though the pandemic delayed the opening of Ruined Project?, it turned out to be a blessing in disguise for the al fresco café, as the bare concrete walls, wooden furniture, rustic light fixtures, and plethora of plants displayed from the ground to the ceiling created a truly unique destination, especially for caffeine addicts. Additionally, the cafe has a balcony from which guests can take in the breathtaking Crosswinds view as well as the cool breeze of fresh air of Tagaytay while sipping on a cup of coffee.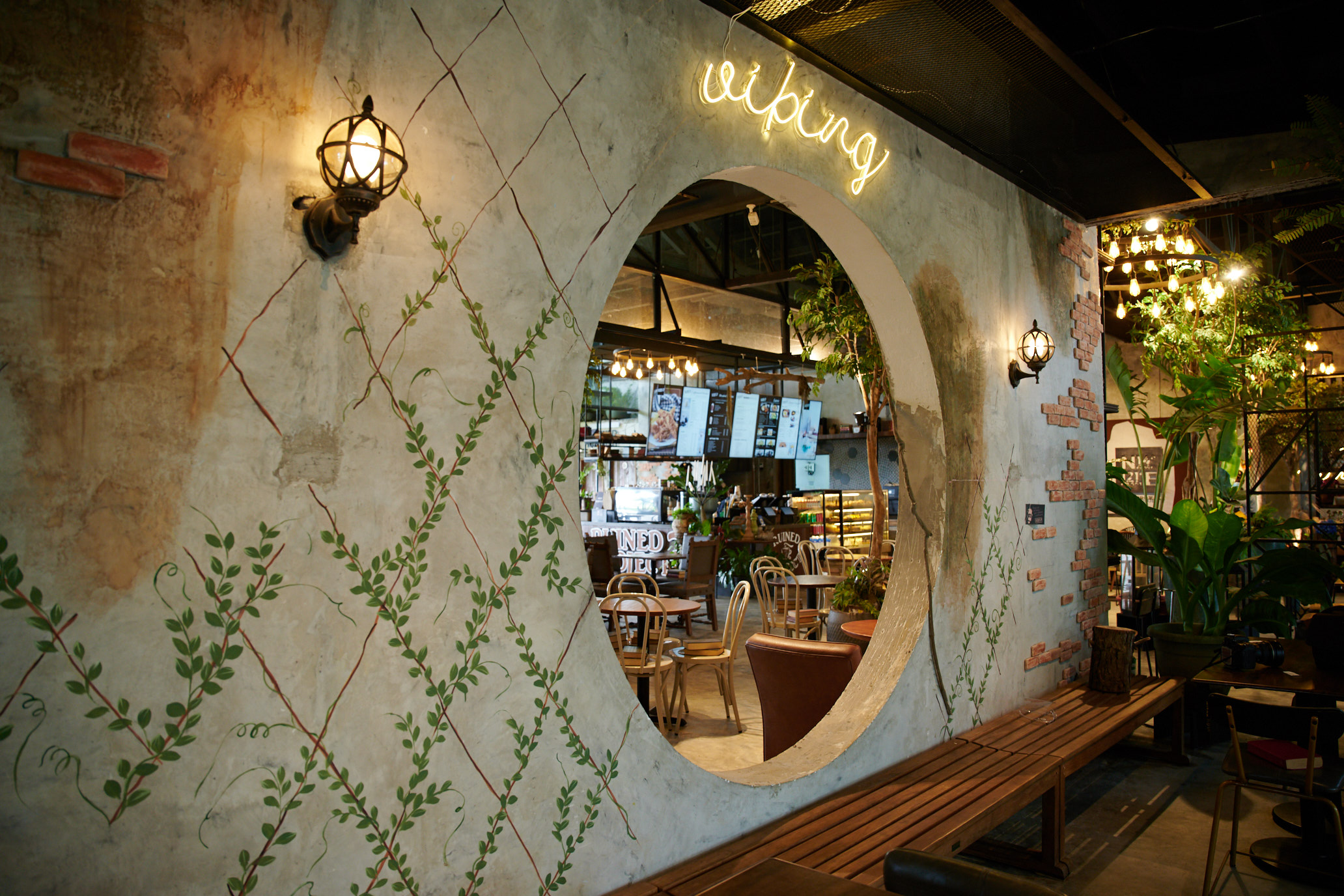 Ruined Project? carries most of your favorite Coffee Project items, but they also carry items that are only available at their branch, such as the Shaken Up and Yoga Yogurts. These tea-based drinks are shaken over a glass of ice and served straight up with no sugar or cream. The Yoga Yogurts are made up of tangy yogurt blended with a variety of fresh fruits. You may check out their secret menu on this article: Must-Try Secret Menu in Ruined Project?
The Windmill at Lausanne
The opulence of the European aristocratic class can be seen emanating from the windmill in Lausanne. When you walk into The Windmill at Lausanne, a restaurant and café constructed of wooden boards and brightly colored walls, you are transported to the iconic symbolism of Europe's countryside. Swiss folk art is displayed throughout the establishment, creating a relaxing ambiance that mimics traveling to the Nordic countries.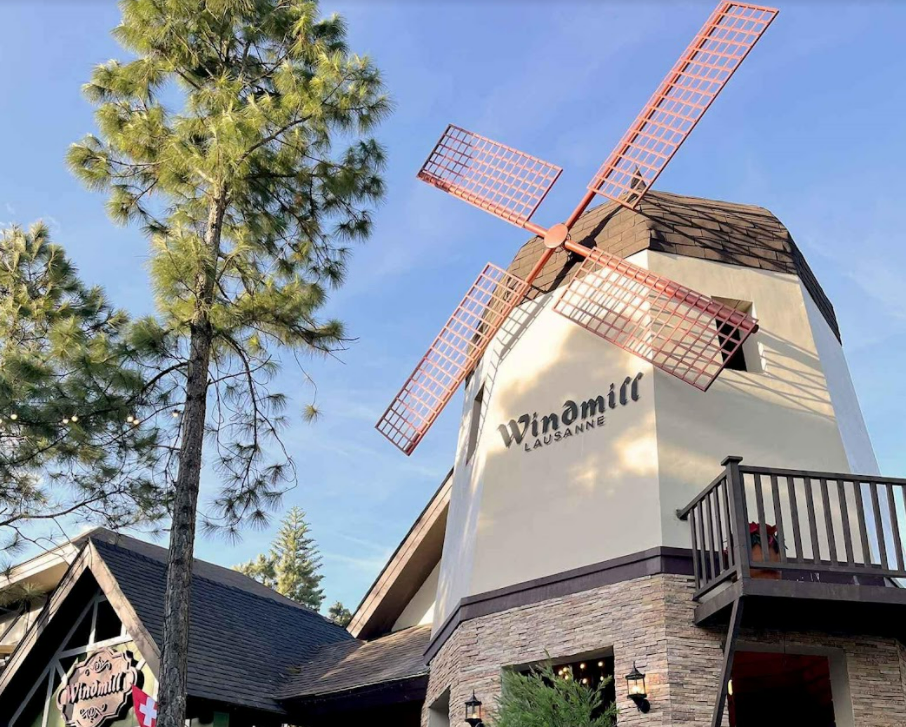 In addition to being the first and only Danish village in Tagaytay City – Crosswinds by Brittany – the high-end restaurant and café provide an unforgettable dining experience as the first and only Danish village in the Swiss-inspired community. A swiss escape that will surely be enjoyed by everyone.
Having this list of wonderful Tagaytay Restaurants will make you get up from bed in your luxury homes Philippines and go straight to these destinations. However, because the year began with a high number of cases of covid, travel restrictions were once again implemented.
As a result, eating at high-end restaurants will be more difficult to come by. However, if you are staying at home, you can try to recreate some of the amazing cuisines served at this restaurant for your enjoyment. It may not have the same flavor as the original, but at the very least you will have the opportunity to try authentic food.
Crosswinds | Luxury Swiss Resort in Tagaytay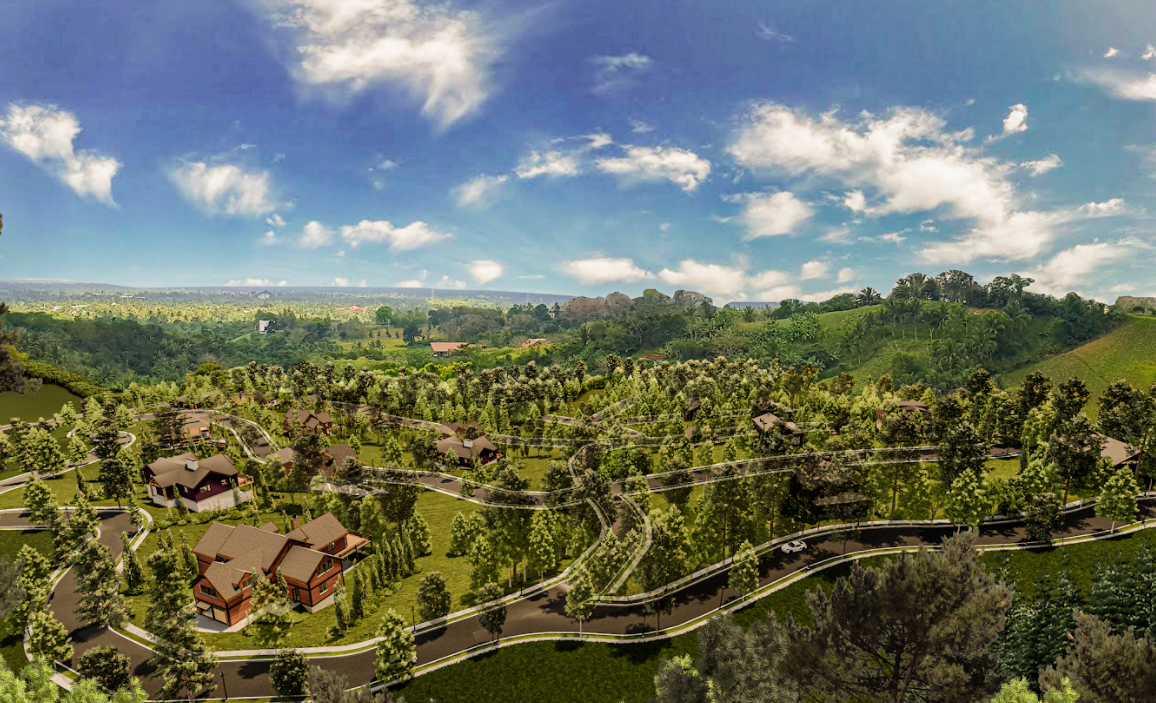 Crosswinds Tagaytay is more than just a tourist destination; it elevates the mountainous retreat experience that you would expect in the City of Character, which helps to keep Tagaytay refreshed. Consider checking out the available house and lot properties for sale from Brittany Corporation while you're out trying out these experiments. Crosswinds Tagaytay offers luxury residential properties composed of condominiums, ready homes, ready lots, and pre-selling lots:
Alpine Villas at Crosswinds
Alpine Villas, one of the most luxurious condominiums in Tagaytay, provides much more than these amenities. It provides an escape, a haven, safety, beauty, and tranquility. There's no doubt that this is what we all imagine "home" to be like.
Grand Quartier III
All of the units in the first two buildings are fully functional as a condotel. Located on the sixth floor of the Grand Quartier III building, there is an amenity level that includes a swimming pool and a gym. All of the units have balconies, which provide owners with a spectacular view of the natural beauty that surrounds them. It is perched atop one of the highest peaks in the surrounding area of the community.
Lausanne at Crosswinds
Located on a 24-hectare site, Lausanne at Crosswinds is new development that offers lots ranging in size from 300 to 500 square meters and offers enchantingly sweeping panoramas, including views of the rolling hills of Tagaytay, Laguna de Bay, and the Manila skyline.
Inquiries can be submitted through their Facebook page and website. Take a look at some of the most beautiful homes in the Philippines, developed by Vista Land Corporation, the most reputable real estate developer in the country.
Want to know more about the reasons to invest in Lausanne? Chat with one of our Property Consultants via chatbox, or you may also send us an email  at [email protected]