BLOGS
How Does it Feel Living in Promenade?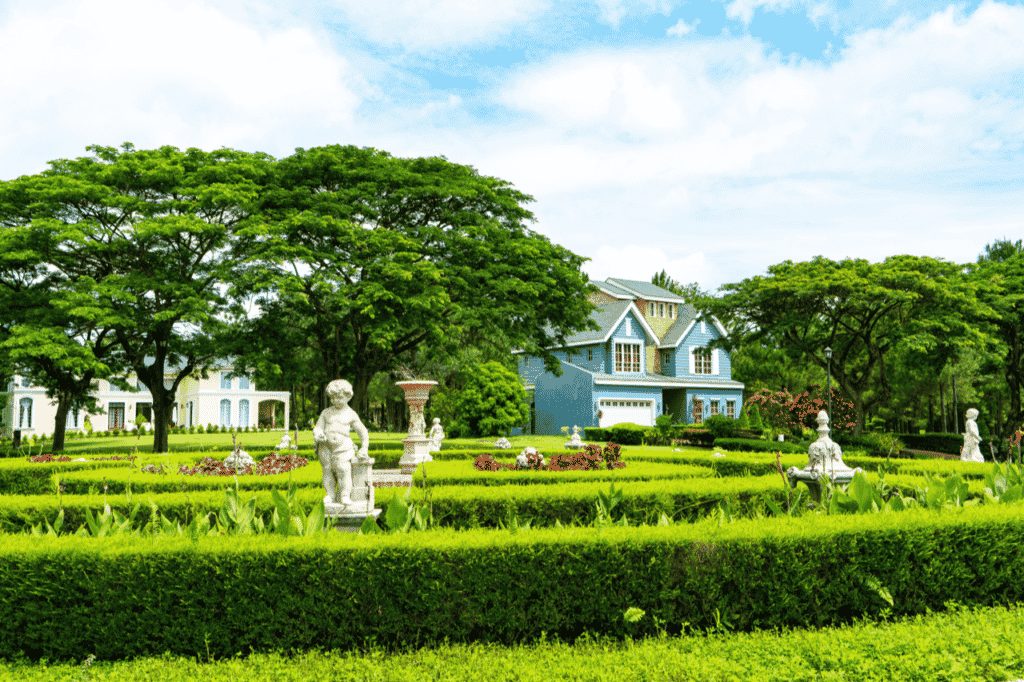 Santa Rosa, Laguna is known as the "Lion City," and although that name brings to mind a city that is growing and thriving in this new age. Santa Rosa is a city that has experienced a massive boom in commerce, which also includes some of the best dining, entertainment, and shopping establishments. Despite this impressive economic growth, Santa Rosa still maintains a welcoming environment of serenity for its residents. Santa Rosa has become a prime location favored by individuals and families looking for luxury real estate and exclusive communities in Laguna.
One of the most beautiful of Santa Rosa's luxury communities is Promenade. Nestled within the 300-hectare luxury enclave of Brittany Santa Rosa, you will discover the idyllic English countryside-inspired master-planned community of Promenade. Surrounded by lush green spaces, 50-year-old hardwood trees, and the majestic view of Mt. Makiling, living in Promenade is a nature-filled paradise.
Promenade Santa Rosa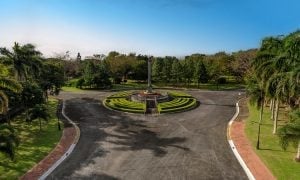 Promenade is a luxury residential development by Brittany Corporation, the luxury real estate arm of Vista Land. Brittany Corporation has an outstanding reputation as the country's premier luxury real estate developer, as the company has been behind several world-class destination-themed luxury communities in Santa Rosa, Tagaytay, and Alabang.
Close to Nature
With Promenade, Brittany Santa Rosa has recreated the lush and green environment of the English countryside in the heart of Santa Rosa. A comfortable and welcoming residence, living in Promenade feels like a calm embrace as nature is well-preserved and maintained in this luxury community. Enchanting hardwood trees, some of them over fifty years old, blend seamlessly into the several pocket gardens scattered across the Promenade enclave.
Living in Promenade, you and your family will not lack green spaces and views of nature. There are several landscaped gardens you can spend time in. A walk along cobblestone paths will also help you enjoy the fresh air. Mix luxury living with the wonders of nature and feel your stress melt away.
The property has maintained and protected its natural areas so well that its ecosystem has drawn several creatures to the community. Promenade's fresh air, numerous trees, and generous greenery is also the home of several species of birds and fireflies. Hear the birds serenade you on a daily basis as you go about your active day. This wildlife adds to the charm and the magic of Promenade.
Access to the City, Business, and Education
Santa Rosa is a thriving city, so it comes as no surprise that it is connected and has convenient access to other cities in the metro. Promenade can easily access other parts of the metro and South Luzon for your family outings through major roads like the South Luzon Expressway (SLEX) and the Cavite-Laguna Expressway (CALAX). Going in and out of Santa Rosa is a breeze with these highways, and Promenade is located close enough to take advantage of the mobility that these roads provide.
Living in Promenade also means proximity to some of the best educational institutions, such as St. Scholastica's College, Our Lady of Assumption College, Brent International School, Xavier School, Miriam College, and De La Salle University. You can send your children to any of these exclusive schools and be guaranteed a top-quality education.
Promenade is also a mere 40-minute drive from the Makati central business district. But aside from this, residents also live close to different malls and supermarkets such as Vista Mall Santa Rosa, S&R Membership Shopping, Paseo de Santa Rosa, Rustan's Santa Rosa, and Solenad.
A Haven for Golfers
The joy of golf is best experienced in a beautifully maintained golf course that offers golfers the chance to improve their skills through a strategically built course. Promenade is actually a perfect home for active golf lovers and an ideal environment for budding little golfers as this luxury community is located near some of the country's best golf courses and country clubs: Sta. Elena Golf Club, The Country Club, and Tagaytay Highlands.
A Luxury House with a View
A luxury house is not complete without a scenic view that can be seen from all the windows of the gracious accommodations of your home. Discover luxury living when you wake up in your new home surrounded by beauty. And living in Promenade will have you waking up to spectacular views. Some exclusive lots will have sweeping views of the beautiful Sta. Elena Golf Club. While another area of Promenade will have lots that afford you and your family majestic views of the mesmerizing Mt. Makiling.
Experience the Beauty of the English Countryside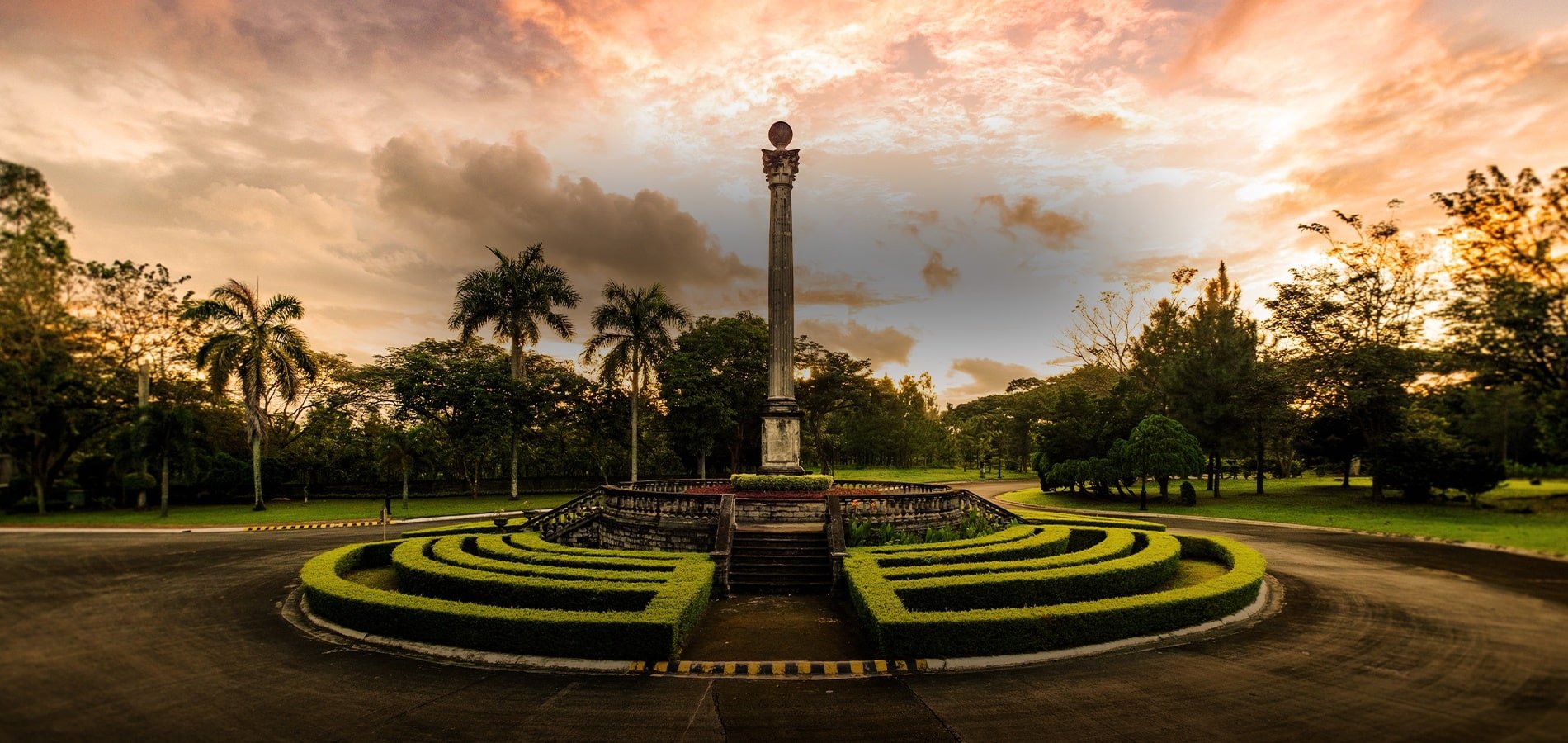 Brittany Corporation is known for developing luxury communities inspired by some of the most beautiful destinations in the world. The company's Tagaytay enclave is inspired by the Swiss Alps. On the other hand, Vista Alabang takes inspiration from the sunny Italian Riviera. And Brittany Santa Rosa's other luxury communities are designed after the grandeur of the American South.
Promenade is inspired by the tranquil and idyllic life of the English countryside. This means open spaces, landscaped gardens, quaint cottages, and traditional manors. The Promenade community takes these inspirations and designs the community to echo the beauty of small English villages. Welcoming you to the community is the massive black and gold 18th-century-style gate. As you drive further in, you will pass a grand obelisk and a fountain leading to the Promenade's clubhouse called the English Country Manor.
Aside from this grand entrance, the entire community is peppered with beautiful landscapes and architectural features that transport you to an English village, such as Italianate secret gardens, hedge mazes, man-made lagoons, and quiet pockets of woods.
Live in an English-style Luxury House
Promenade is an English-style luxury enclave, and as such, the houses of Promenade also reflect that architectural inspiration. While residents have the freedom to design your own home, you can aslo opt to go with the English-style model houses that Promenade offers. Each home is spacious, making it the ideal environment to raise a growing family.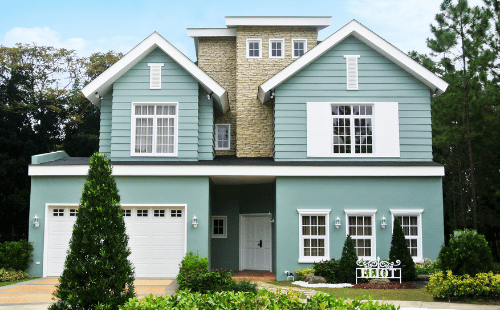 The first model home is Eliot, a charming Old English-inspired luxury house. The Eliot house has three bedrooms and includes an inner courtyard which you can use as a gathering place or as a safe play area for young children. This home also features an expansive living and dining area, a spacious kitchen, an attic space with a walk-in closet, and a generous two-car garage. This model also has huge windows which let in the bright sunshine and fresh air and treats you to the wonderful views surrounding Promenade.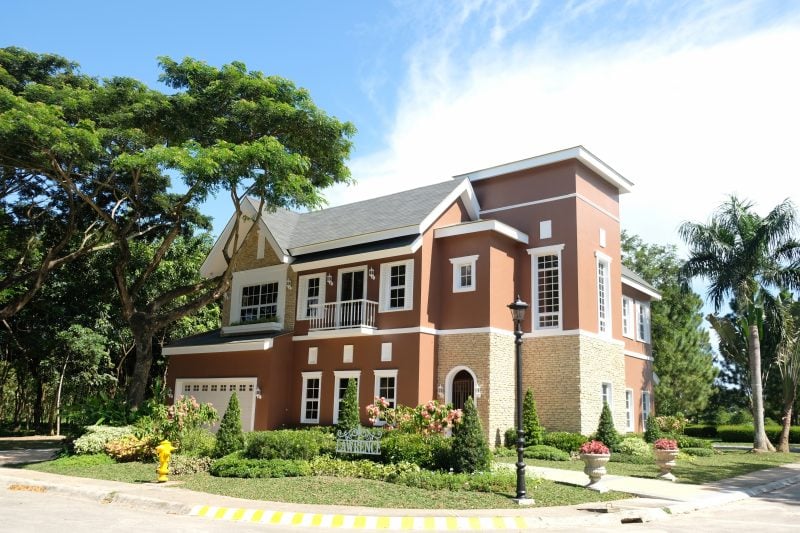 The next model home is the Lawrence house, a grand home in the style of a classic English manor. This home features three bedrooms, including a master suite with a spacious walk-in closet and bathroom. An indoor courtyard welcomes the residents as they come in, which leads to the living and dining space. The Lawrence house also has a sizeable family room which is perfect for card games and fantastic movie nights, a guest bedroom, a den, and a two-car garage.
Enjoy World Class Amenities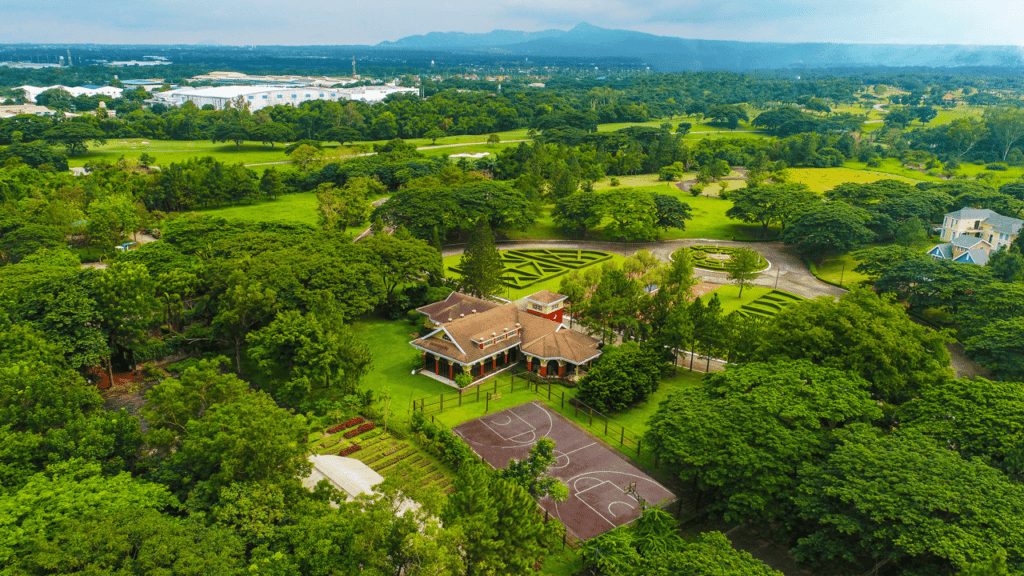 Of course, one of the wonderful perks of living in Promenade is the enjoyable luxury amenities that come with a property in this exclusive community. The Clubhouse, named the English Country Manor, is a generous gathering space where you, your family, and friends can hold events or celebrations to mark significant life milestones. Adjacent to the clubhouse is a basketball court, where you can play games with others from the neighborhood, and a beautifully landscaped private garden, where you can take relax or take a stroll. Promenade also has a sprawling swimming pool, a covered jogging path, and a few landscaped parks and playgrounds. Residents can enjoy healthy living with the many amenities you can use to aid your fitness. The amenities even support healthy aging, which can be a goal for any Promenade resident.
Brittany Corporation: A Developer You Can Trust
Brittany Corporation is behind the beautiful Promenade in Santa Rosa, Laguna, but the developer is also the name behind several other luxury residential communities. Located within Brittany Alabang is Georgia Club and Augusta, two American-themed exclusive communities. In Tagaytay, Brittany has built Crosswinds, the first Swiss-themed mountain resort in the country. Aside from this vacation spot in Tagaytay, you can also purchase a luxury condo at Alpine Villas or Grand Quartier. Luxury lots in Tagaytay are also available at Lausanne at Crosswinds. And in the thriving heart of Alabang, you will find three Italian-inspired luxury enclaves within Vista Alabang: Portofino Heights, Portofino South, and Amore at Portofino.
Brittany has earned a reputation as one of the Philippines' most trusted luxury real estate developers. What sets them apart is their penchant for developing world-class themed luxury communities inspired by the lifestyle and culture of the world's best destinations. Brittany living has become equated with luxury living, and with good reason. Brittany's master-planned communities are always built with the best features, amenities, management, and security in mind. Live a life of ease, comfort, and luxury when you invest in a Promenade home or in any other Brittany luxury real estate.
Experience Brittany living to the fullest by finding your ultimate dream home with us! Make us your first choice when investing in luxury real estate. Explore our website to learn more about the availability of Brittany's luxury developments. Follow us on LinkedIn and Youtube as well, so you don't miss out on new updates from us.