BLOGS
Fitness Goals 2022: Diet Plan
Fitness goals are usually on top of our resolutions every time a brand new year starts. It is like hitting a reset button and instantly getting the rush to work on some improvements we want to achieve in our physical bodies and overall health.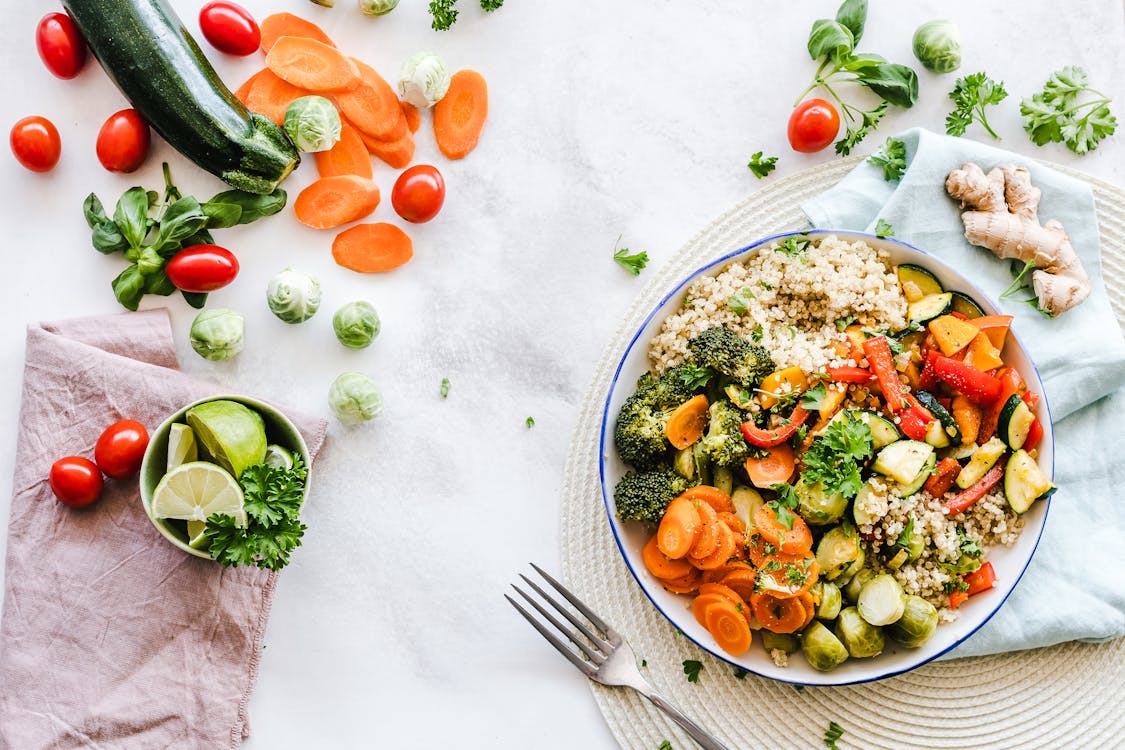 Good nutrition is important to improve one's health and fitness | Photo by Ellsa Olsson from Pexels
A significant increase in the fitness industry is taking place even before the pandemic started. Currently, the market has adapted to the sudden shift to digital fitness and is now on its road to an upward trend. More and more people are attempting to establish new routines inside their homes to incorporate fitness in their lifestyle. The demand for home workout equipment, wearables, and digital fitness content has proven that taking care of our well-being is indeed becoming a priority in people's lives.
Putting in time and resources to improve our health is always a good idea, just like investing in any of Brittany Corporation's luxury real estate, luxury condominium, and luxury homes where you can find some of the most beautiful houses in the Philippines. Making both of these choices today will only yield positive results from this year and beyond.
Suggested Read: Mediterranean Diet: Guide For The Filipino Palate
Brittany Corporation offers luxury houses in the Philippines designed to provide its residents a healthy and fit lifestyle
If you are working on your fitness goals 2022, one of the best ways to do so is by changing your diet. Nutrition is an integral part of the process and should definitely be on the top of the list to work on. The problem is that many people miss this part and start jumping the gun without studying the overall impact a diet plan can have on their health.
Over the years, we heard a lot of diet trends come and go—a new fad diet becomes popular all over social media until another one arises. However, choosing to go along with what is popular almost always does not work due to the lack of proper planning and consistency before hopping on the trend.
Before Creating Your 2022 Diet Plan
While there are plenty of diet plans readily available for you on the internet, a number of things should be first considered before creating your diet plan. This step is very important to make sure that your plan will yield healthy, efficient, and long-running results. We want to make sure that all the labor you will be putting into this endeavor will not be in vain.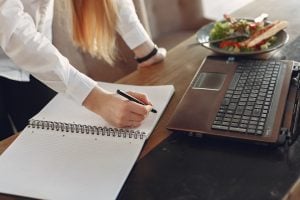 Creating a diet plan involves good planning to ensure efficiency | Photo by Gustavo Fring from Pexels
First things first, determine your fitness goals
When we hear the word diet, the immediate assumption is that the goal is to lose weight. Though it is the most common goal we hear, it is not always the case. A diet plan's ultimate goal is to improve one's health and well-being, and that can either mean losing or adding some weight.
There are a variety of fitness goals that people want to achieve with their bodies and each consists of a different type of diet. Two of the most common fitness goals and the type of diet needed to be incorporated are the following:
Lose weight. The diet needed to achieve this goal is to have less calorie intake than what is being burned. This will lead the body's stored energy to be used and eventually lead to shedding some pounds.
Build lean muscles. The diet needed to achieve this goal is to eat more calories than what is burned and add more protein to your meals. Though it is important to take note that muscles will not magically appear with just changing your diet. Exercise is key to achieve this fitness goal.
For more personalized and specific goals, a discussion with a professional is recommended to avoid jeopardizing your health by subscribing to a diet plan that would not work for your needs.
Suggested Read: Health And Fitness Guide For Busy Entrepreneurs
Lifestyle should be a factor to your fitness goals
As previously mentioned, exercise is an important part of achieving your fitness goals. This part is usually the culprit in one's failure in establishing a consistent routine, thus making the process slow and frustrating.
The usual reason we hear behind the inability to exercise is a rigid schedule that would not allow for this activity. This is why lifestyle should be factored in when creating a diet plan. Setting realistic goals will give you a clearer picture of your timeline and the areas you can adjust to see your fitness goals come to fruition.
If doing a consistent workout routine won't work for you, you can opt for a walk in your community instead while doing your usual errands. This can be a good substitute for a workout while being productive as well, especially if you are living in one of the most beautiful houses in the Philippines situated in an amazing community where a stroll can be therapeutic to your overall well-being. Brittany Corporation offers this kind of living with their luxury real estate, luxury condominium, and luxury houses in the Philippines.

Portofino at Vista Alabang is a good neighborhood to have your daily walking exercises
Have fun working on your fitness goals
Sticking to a diet plan takes guts and willpower which will be a lot more difficult if you have not considered your preferences. To ensure that you can sustain your diet plan for a long time, it will be a good practice to create a balance of your likes and dislikes as you make your adjustments. Cut off things you need to let go to achieve your fitness goals but also, include things you can look forward to in your daily routine.
Working on your fitness goals to improve your health does not always need to be difficult. With a good plan and proper mindset, you can enjoy this process while getting the results you wanted.
Start Your Fitness Goals 2022 with a Good Diet Plan
Now, you are all set and ready to start working on your fitness goals 2022. You might be asking what are the available diet plans you can start at home. Here are some of the best diet plans that you can use as a foundation in building your own that works best with your goals, lifestyle, and preferences.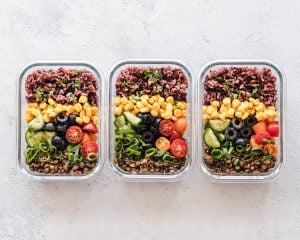 Meal planning is an essential part of your journey to fitness | Photo by Ellsa Olsson from Pexels
Fitness Goals 2022: Low-Carb Diet
This diet plan will work best for people who want to shed some weight and at the same time, work on building leaner muscles in their bodies. Popular examples of this diet plan include Ketogenic (Keto) and Atkins diet.
Low-carb diet plans work by restricting the carb intake and introducing more protein and fat. This will help keep appetite under control and improve metabolism. This diet plan also helps in improving the blood sugar and insulin levels, and reduce risk of heart disease.
Suggested Read: How Much Drinking Water You Need Based On Your Lifestyle 
Fitness Goals 2022: Plant-Based Diet
Vegetarianism and veganism have been around for a long time yet it is still one of the most effective and sustainable diet plans available. Proven to help in weight loss, plant-based diets work by eliminating meat and other poultry products like egg and dairy in your meals completely.
Even though some people went for plant-based diets for more reasons than health and fitness, it has been observed to reduce risks of chronic illnesses. If you find this diet plan very restricting, a flexitarian diet is also an available alternative where the intake of  meat and poultry products will be controlled but not totally restricted.
Fitness Goals 2022: Intermittent Fasting
Intermittent fasting continues to be the talk of the town as the best diet plan to help you lose weight fast. There are many variations available but basically, this diet plan works by reducing the calorie intake using restricting your eating time.
One popular example is the 16/8 method where one's eating time in a day will be restricted to eight hours while the remaining 16 will be for fasting. Although this diet plan may sound tedious, it is in fact one of the easiest to start as it will not require much changes and preparation to the kinds of food you eat but rather to your lifestyle alone.
Summary
Nowadays, staying in our best shape is like a luxury. With the pandemic still looming around us, we need to be on top of our own health and fitness. We have to make sure that we are giving our bodies the best care it deserves—from the food we eat, to our daily activities, and even the community we live in.
Experience luxury living in one of Brittany Corporation's communities! You can own one of the most beautiful houses in the Philippines by knowing more about Brittany's luxury real estate, luxury condominiums, and luxury houses in the Philippines.
Read Next: The Best Father's Day Gift for the Best Dad
Read Next: Best Garden Stores in Santa Rosa Laguna
Read Next: Best Real Estate Degrees
Read Next: Best Massage Chairs You Should Have