BLOGS
Creative Ways to Set Up Your Own Art Studio At Home
Whether you're a professional or just a hobbyist, having your own space that you can enjoy while doing your art piece is definitely a dream. It's not just a simple place, It should be a space where it can be convenient and comfortable to maximize your creativity in your own home. There are lots of different ideas that you can consider. Some rent out rooms and some want it at home. Brittany Corporation made a list of creative pegs that can inspire you to kick off this dream of yours. Have fun and unleash your creative spirit by setting up your own art studio at home!
Setting up your art studio at home
1. Maximize that corner
If you're living in a condo or you just want to have a little art space in your bedroom at home, just look for the perfect corner, where you can set up a desk, put in your paintbrushes, and own this creative space! On top of this, hanging some of your paintings and artworks on that plain white wall of your studio will allow you to create more accents. You'll be surprised at how this simple trick can spell a big difference.
If you are into digital artwork, you can also use it as your "creative workspace" or your animation studio where you can set up your computer. Before setting up, make sure to consider evaluating the following:
You should be comfortable with your chair but make sure you're not slouching
Your computer screen should be at eye level and at arm's length
Natural or artificial light, you must consider this as it will affect color lighting on your artwork and might also result in eye strain
Clutter slows down our focus and you can avoid this by organizing your art materials
As long as you have that corner, you can be more creative and productive than ever.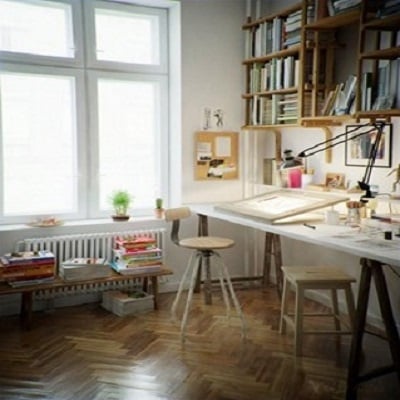 Photo Courtesy of Pinterest.com
2. Convert your garage to an art haven
It takes a lot of space to practice your passion for art and it requires a bigger area to store your supplies and finished projects.  Do you have extra space in your garage? Maximize it by setting up your own art haven!
Convert the carport of your Crosswinds' Luxury Ready Home – Chatelard — by renovating it into a covered one! Here are some tips on how to convert that garage:
Renovate. For those who have an open garage, you don't want your precious artworks scattered all over the place when it rains. Protect it by renovating and converting it into a covered one.
Cleaning and decluttering. You can start by emptying your garage space. If you have a lot of things or supplies stored in it, take time to separate the things you need and the things you can dispose of. After that, you can start by cleaning every little corner of your garage. This will take a lot of time but have in mind that starting with a clear and clean space can go a long way.
Consider the lighting. If additional windows can be added to a wall, do so.
Natural light can bring happy vibes to every corner of your art haven.
Look for storage that is convenient and safe enough to protect your finished projects and space for your art supplies.
If you're an artist who loves painting while listening to your favorite songs, a soundproof studio can also make it more special.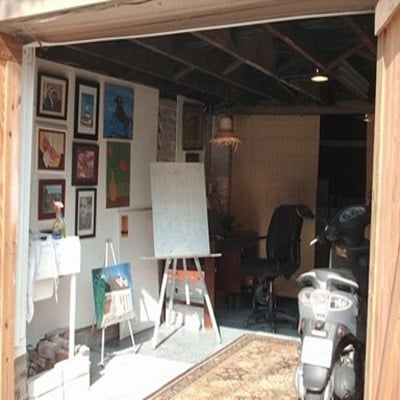 Photo Courtesy of Pinterest.com
3. Take over that attic
Artists love to have their own space in creating another masterpiece. It sounds simple but everyone knows that it requires focus and concentration. Having your own private place will surely help you with that. Among the top-of-mind spots that creative people are utilizing in their homes is their attic. In doing so, make sure to consider the heat of the room because humidity can make your paint dry out fast.
Crosswinds Tagaytay's Ready Home – Lucerne — has its own attic that you can actually convert into your creative studio. Aside from enjoying its exclusivity, you might also get inspired by the pine trees you can see right through the window. Here are some ideas that can inspire you to make that magic happen: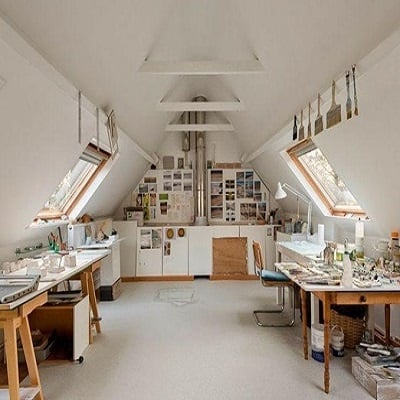 Source: https://www.decoist.com/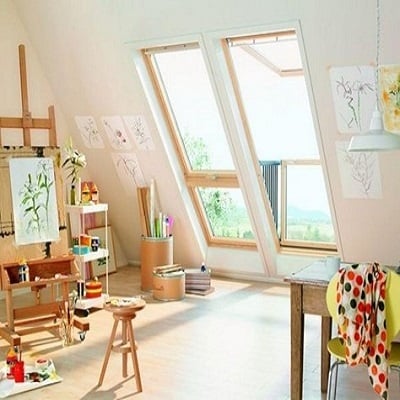 Image Source: https://freshouz.com/
4. Turn your spare room into a personalized art studio
If you have that one extra room at home, use it for the love of art. It doesn't have to be big. You just need to have a space for your desk and your imagination. Placing your desk near a window where you can have a glimpse of sunlight while doing your art will make a big difference. You can also add some indoor plants for a more refreshing relaxing vibe in the room. Not sure which type of plants to consider? Here are some of the indoor plants you might want to take care of:
Aloe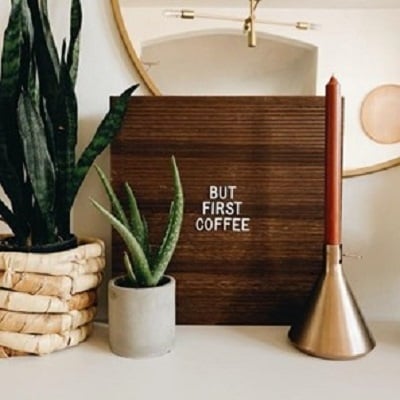 The aloe vera plant is an easy, attractive succulent that makes for a great indoor companion. – www.almanac.com
Snake Plant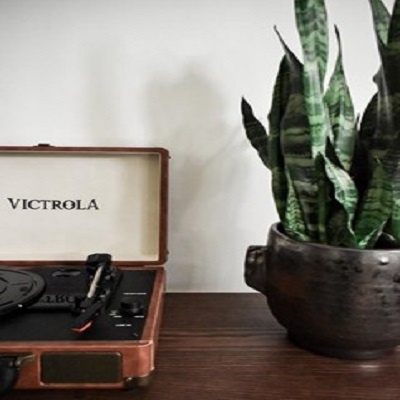 Snake plants are often used as home decor as they're pleasing to the eye, easy to care for, and require little water to survive. – www.healthline.com
Christmas Cactus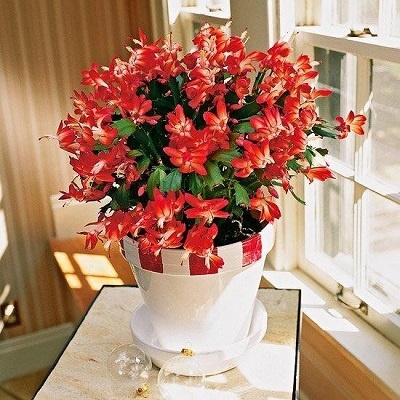 One of many types of easy-care cactus, the Christmas cactus (Schlumbergera x buckleyi) offers a graceful arching appearance, with long segmented stems and whorls of satiny flowers in lilac, deep rose, salmon, red-orange or white. – https://www.midwestliving.com/
5. Clean space means a clear mind
Clean space means a clear mind and a clear mind can help you release your creativity. You can also be more creative in organizing your art materials by creating your own art storage.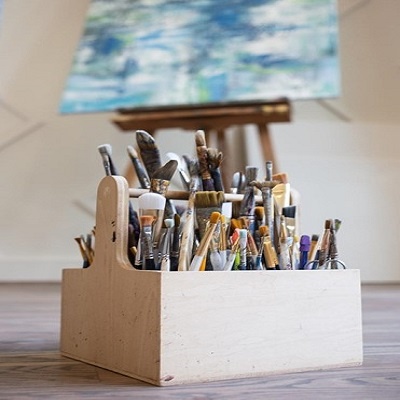 6. Create your own paintbrush holder
Having a jar of paintbrushes looks rustic, but doing your own paintbrush holder will make you look smart. You can do it by starting with a block of wood then drawing a line in every inch – vertically and horizontally, and drilling holes on every other line. Your drill holes should have to remove small and large ones to fit all of your paintbrush collections. And that's it – you now have your own paintbrush storage rack! Remember to stay organized for a cleaner space and clearer mind!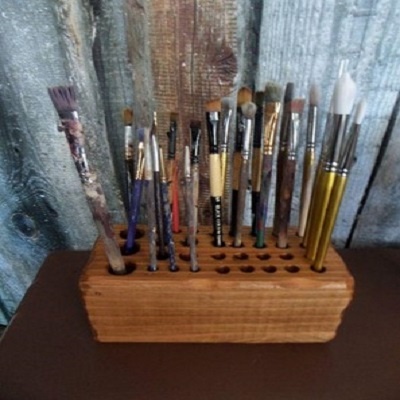 Photo Courtesy of etsy.com
Painting, drawing, digital – whichever type of art you're into, it will require a space where you can have it done. Maybe you just have to stop and look around your house and think of how to get the most out of it.
With Crosswinds Tagaytay offering spacious and luxury homes, you can do these creative and resourceful ideas surrounded by 35,000 pine trees. On a hundred hectares in the highest point in Tagaytay – snuggled in Barangay Iruhin Central, along Calamba Road – is a community developed by Brittany Corporation called "Crosswinds."  Named after the continuous interweaving of the winds off Taal Lake and Laguna de Bay, it was etched into the Tagaytay hills to bring to Filipinos and their families the pleasure and beauty of a first-class Swiss luxury resort.
If you'd like to escape to your own piece of Swiss paradise nestled in the beguiling hills of Tagaytay, please contact Brittany at (+63917) 883 8103, or visit our website at:  www.brittany.com.ph.
Why invest in Crosswinds Tagaytay? Discover here.
Check out this article about The Most Popular Paintings by Italian Artists – Italian artists have been around for a long time. They have perfected their craft. Check out these Italian artists that wowed us! Read more.
For those who are interested to be a seller for Brittany, visit our E-Suite seller's portal here.
Concerns on your home? Click on our Vista Land Homeowner's Portal.
UP NEXT: Where You Can Purchase Unique Art Pieces for Your Luxury Home