BLOGS
Nature at an Exclusive Sanctuary in Tagaytay
It has been known that living in an exclusive sanctuary in Tagaytay surrounded by nature gives a positive impact on one's wellbeing. Nature has its own unique way of helping people create positive mindsets that will lead them to the path of success. Living harmoniously with nature sets up healthy lifestyles and habits that have lasting effects on one's life. 
To live the best life is to have a positive outlook in life. Natural sceneries as what Crosswinds Tagaytay offers not only to help improve mental health but also give a positive effect on physical wellbeing. A hidden gem tucked exclusively at the highest peak of the city offers taking a casual morning walk to a higher level. At Crosswinds, your body refreshes and energizes by simply taking a walk in this exclusive sanctuary in Tagaytay, inside the community surrounded by 35,000 pine trees. Known as the only pine estate in the Philippines, Crosswinds Tagaytay promotes beautiful lifestyles for the privileged few. 
Away from the hustle and bustle of the metro that has harmful pollutants circulating everywhere, Crosswinds Tagaytay offers unpolluted and fresh pine crisp air that helps relieves anxiety, stress, and mental and physical wellness. Being one with nature at Crosswinds takes luxury to a whole new level. 
Choosing to build a home in places where nature is close by considers being a worthy investment. Investing in a property enclosure by nature is investing for a lifetime of luxury, tranquility, and serenity. At Crosswinds Tagaytay, one can experience the luxury of living harmoniously with nature to the fullest. 
Crosswinds Tagaytay redefines living luxuriously through a tranquil and exclusive setting. Giving your family the lifestyle that they deserve is a dream worth investing in. Aside from being enveloped in a nature-surrounded community, Crosswinds Tagaytay is known for its expansive living spaces that allow the family to have the time of their lives enjoying their own comfortable space. 
The Swiss-inspired community development at the highest peak of Tagaytay City is proof that living in mountainsides can be just as convenient as living in the city. Crosswinds is designed to have everything within reach for its homeowners. Aside from being surrounded by nature, Crosswinds offers a premium address that gives an edge to the privileged to have their own piece of the sanctuary. There's no better place to spend weekdays, holidays, and vacations than in this luxury real estate development. Tagaytay has been known by many as the "holiday escape" or the "go-to place" during the holidays and weekends. 
Owning a house and lot or condominium unit inside the exclusive community of Crosswinds offers being in tune with nature that uplifts the physical and mental health of a person. At Crosswinds, all property types are offered, – Ready for Occupancy and Pre-selling condominiums, ready homes, and pre-selling lots and ready lot packages. All these property types offered by Crosswinds have their own way of contributing to one's peace of mind. 
At Crosswinds, experience exclusive Swiss-living without having to go to Switzerland. Imagine waking up to cool breezy mornings while taking a walk at the breathtaking attractions inside Crosswinds, and waking up to mornings breathing in pine crisp scented air. 
Crosswinds by Brittany Corporation offers Alpine Villas, a pre-selling condominium unit with a view of the metro skyline. Alpine Villas is the ideal condominium property for those seeking a modern lifestyle surrounded by nature, away from all the noise and pollution of the metro. May it be a studio unit or a one-bedroom unit in Tagaytay, Alpine Villas at Crosswinds offers a change of scenery and a change of lifestyle. When it comes to density, Alpine Villas offers an uncrowded condominium community. The pre-selling condo is composed of six-to-eight story mid-rise buildings in the style of Swiss chalets. Aside from the breathtaking view, Alpine Villas offers close proximity to high-end dining at aesthetic-themed cafés and restaurants. Just across Alpine Villas, you will find Ruined Project, a café and restaurant serving mouthwatering dishes and the best coffee in town. To satisfy your Asian cuisine taste buds, Café Voila is just right beside the ever-famous Trone Giant Chair of Crosswinds Tagaytay. 
On the other hand, Crosswinds offers ready-for-occupancy condominium properties that sit at a high peak inside Crosswinds' residential area. The Grand Quartier takes luxury living to a whole new level. The single-loaded buildings of the Grand Quarter let you bask in awe at the lush greenery of Crosswinds' community. All units at the Grand Quartier have balconies meant for unit owners to enjoy Crosswinds' breathtaking vantage point.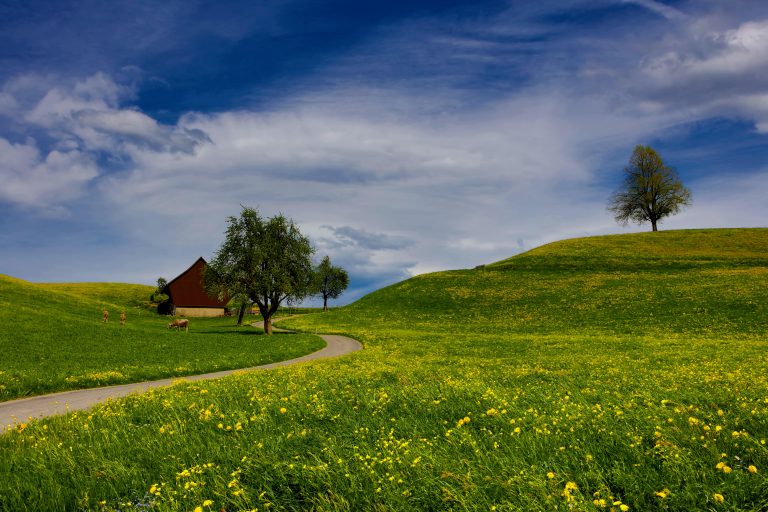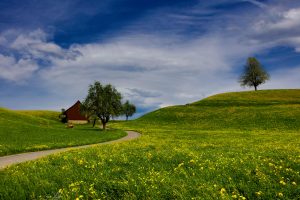 Aside from condominium properties, Crosswinds Tagaytay also has ready lots and pre-selling lots available for its clients. Building a Swiss-inspired home in the midst of 35,000 pine trees is an investment beyond comparison. Crosswinds lots and Lausanne offer endless possibilities for recreational activities and productivity. Discovering new hobbies that involve interacting with nature is one of the best things to maximize when you're living in a nature-surrounded community. Lausanne offers unlimited possibilities when it comes to utilizing your creativity and exploring recreational activities. 
SUGGESTED READ: Milestones for Brienz and Blanc at Alpine Villas
However, if you're looking for a move-in ready house and lots in Tagaytay, Crosswinds' offers two ready homes that offer expansive lot cuts. Chatelard, a 679-square meter luxury home inside Crosswinds' residential area, is an ideal home for families seeking a luxurious lifestyle surrounded by nature and stunning attractions to enjoy while taking a walk around the community. For a smaller lot cut, Lucerne is a 639-square meter luxury home with three bedrooms and two toilets and baths. Uniquely constructed, Lucerne has a basement and attic which can be converted to art studios, home-office, or just a simple recreational room where your favorite hobbies are. 
Bonding with nature together with the family has lasting effects on health and wellness, physical wellbeing, relationship, change of life perspective, and many other more benefits of being one with nature. Countless recreational activities and breathtaking views of the lush hills of Tagaytay, metro skyline, lush greenery, are things that can never be experienced in the busy city of the metro. Living in this Swiss-inspired luxury community in Tagaytay indeed feels like each passing day is a walk in the park. Crosswinds Tagaytay guarantees a healthier lifestyle, mind perspective, and tranquility while not compromising safety and security. 
Living in Crosswinds Tagaytay gives a refreshing ambiance and a serene environment that changes how we live our lives. From all the stress of the busy metro life, Crosswinds is the best exclusive sanctuary in Tagaytay when you want a change of scenery or just simply want to pause for a while and savor life's beauty. At Crosswinds, you'll get to appreciate nature's incomparable beauty. Crosswinds Tagaytay lets you experience beautiful scenery every day. 
UP NEXT: Key Home Features in Post-Pandemic Homes
UP NEXT: 6 Top-Tier Farm Resorts in the South