Blogs
Best Hotels in Tagaytay
Tagaytay City is the Philippines' second summer capital after Baguio City for its cool weather and balmy winds throughout the year. It is located in the Province of Cavite, about 60 kilometers from Manila, making it a perfect gateway spot from the busy and bustling streets of the Metro. Its proximity makes it a popular destination for tourists who want to experience the best hotels in Tagaytay.
With the easing of transport restrictions in the country, Tagaytay announced the reopening of their tourist spots, restaurants, and hotels this September 2020 to visitors without travel passes from areas under Modified General Community Quarantine (MGCQ).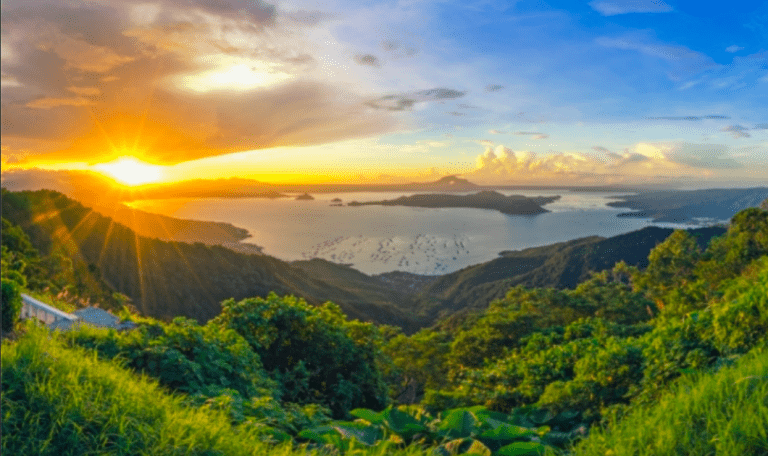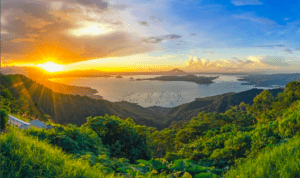 Known for its outstanding sceneries, range of romantic dining places and splendid panoramas of the Taal Lake, conventionally Tagaytay has served as an unfilled sanctuary for people who seek to have slow – down and stress-free lifestyle. It offers a relaxed way of life that everyone desires.
But, Tagaytay City is not only seen as a traditional next tourist destination. Nowadays, the city is recognized as a port for providing elite and luxurious city-living for those who are planning to invest in their own luxury house and lot in Tagaytay. The cold, ridge, and serene city of Tagaytay is irrefutably a real estate harbor, a favorite destination of investors looking for their income property, luxury condominiums, and luxury homes in Tagaytay.
Vista Land Chairman Manuel B. Villar Jr. saw the wisdom in buying and developing properties located in the heartening and opulent mountainous area of Tagaytay City. The well-known real estate magnate built Crosswinds Tagaytay to refashion the glamor of Baguio, a city known for its breezy environment and its immense number of pine trees.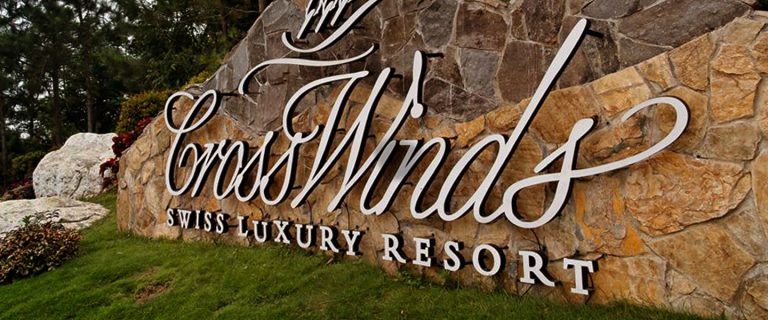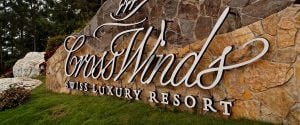 Crosswinds is a 100 – hectares lavish mountain resort estate inspired by the architecture of Switzerland. Rows of pleasing holiday homes nestled peacefully on a luxurious terrain at one of the highest points of Tagaytay City. Over 35,000 pine trees perfume the entire estate giving it a refreshing and sweet scent. The Brittany constructed luxury community offers an upscale and wide range of Swiss-inspired luxury condo and homes for varying tastes and lifestyles of its perceptive occupants. Every resident can choose from their pre-selling and luxury condo units at Alpine Villas at Crosswinds and The Grand Quartier at Crosswinds, luxury house and lot properties at The Swiss Quadrilles, and Custom Home Sites, luxury townhomes at The Deux Pointe, and luxury lots at The Terraces of Lausanne.
Grand Quartier
Crosswinds' primary vertical offering is The Grand Quartier, an enclave of a mid-rise luxury condo and one of the best hotels in Tagaytay. It is the primary masterplanned community built on the splendid terrains of the city to give its residents the striking rewards of luxury condo living. This medium-rise luxury condominium offers a viewing deck that features a 180-degree view of the lavish estate. The enclave is comprised of three mid-rise and luxury condominium towers which offer its residents to feel the cold, crisp, and cool weather of nature.
The Grand Quartier at Crosswinds is one of the best hotels in Tagaytay as it is a Swiss-inspired place in Tagaytay provides its occupants enriched studio condo units or, bedroom units ranging from 47 to 68 square meters with balconies for that gives a serene and closer view of the panoramic mountainous sight of Tagaytay.  It is strategically nestled on a high peak, side by side with the enclaves of the Swiss Quadrilles, Deux Pointe, and Pine Grove. The units in Grand Quartier III are all ready for occupancy. The enclave also presents prime amenities which include a swimming pool and gym.
Alpine Villas
Aside from the three mid-rise towers of the Grand Quartier, Crosswinds Tagaytay also is also known for the commercial development of Alpine Villas at Crosswinds, the latest pre-selling mid-rise residential luxury condominiums inspired by the Swiss architecture that presents the eye-catching landscapes of Tagaytay.  It is a luxury condo and one of the best hotels in Tagaytay built to remodel the fascinating European town. The six to eight storeys luxury condominium have Alpine Villas | 1 Bedroom Unit and Alpine Villas | Studio with Balcony with approximately 30 to 32 square meters in size. As the commercial hub of Crosswinds Tagaytay, it will home various restaurants, gift and coffee shops.
In this enclave, Vista Land offers a townhouse for sale, luxurious house-and-lot for sale, and lot-only for sale options to potential residents who dream to have a modern and lavish lifestyle cocooned in the beauty of nature.
Swiss Quadrilles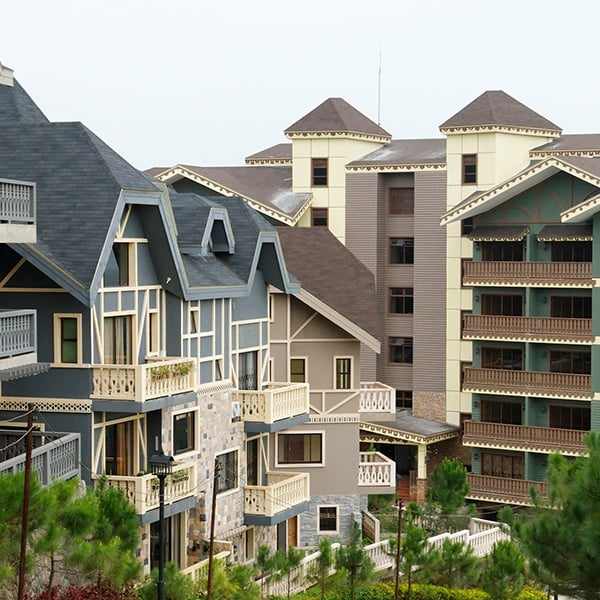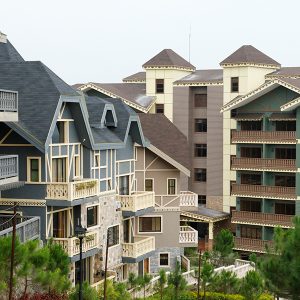 Within this beautiful Swiss-inspired community, another enclave of Crosswinds Tagaytay that are composed of quad units on wide lots made to follow the natural curves and arches of the hills. The designs of the homes in Swiss Quadrilles Crosswinds Tagaytay are inimitable and the Swiss-inspired architecture of the structure is distinctive. Each of the four units, which ranges from 133 square meters to 158 square meters, features two floors and a balcony, for a more intimate appreciation of the exquisite greeneries and cold weather of Crosswinds Tagaytay.  Inside the Swiss, Quadrilles are units that have two bedrooms each and provisions for an attic, for the residents and guests to appreciate the panoramic view of Crosswinds. This is also one of the best hotels in Tagaytay for those who are eager to experience nature.
Custom Home Sites
At Crosswinds Tagaytay, residents a given a chance to buy and built their own dream luxury house and lot in Tagaytay. The Crosswinds has three Custom Home Sites. The first custom home site is Montreux Ville. It is a luxurious 4.3-hectare exclusive enclave located on the north part of Crosswinds. It is a self-contained community within Crosswinds Tagaytay. Montreux Ville's offers a luxury lot for sale sizes range from 260 square meters to 560 square meters.
Pine Grove is the second home site where residents can build their own unique chalets. It is situated in one of Crosswinds' most prime areas that are suitably in proximity to the amenities of the lavish mountain resort. It also offers luxury condominiums and luxury lots for sale that follow the natural contour of the terrestrial and present distinctive home designs that match each unit. Phase I of Crosswinds Pine Grove has lot sizes ranging from 400 square meters to 600 square meters, while Phase 2 lot sizes range from 225 square meters to 374 square meters.
The most extravagant offering of Crosswinds Tagaytay with its Custom Home Sites is Peak View & Cedar Brooks. This is where residents can build their own dream Swiss-inspired chalets and turn it into one of the best hotels in Tagaytay. It is located on private and exclusive land within Crosswinds and its lot sizes range from 450 square meters to 1,000 square meters.
Deux Pointe
Another enclave that is nestled in the foliage area of Crosswinds is the Deux Pointe. A Swiss-inspired place in Tagaytay that showcases the elegance of the pacific and stunning terrains of Crosswinds Tagaytay. Deux Pointe is the only high–peak property that offers a well-designed and spacious Duetto series. Residents may choose among the Duetto Tresor, a two-bedroom unit, the Duetto Primo, a three-bedroom unit, and the Gran Duetto four-bedroom unit and see the splendor of the luxurious landscapes right at the doorsteps of your home.
Lausanne at Crosswinds
Their latest offering is the Lausanne, a 24 – hectares premiere residential development that will take its residents into new greater heights. It is a pre-selling vertical home that promotes a stunning view of Laguna de Bay, Manila Bay, and the opulent mountains of Tagaytay.
The new enclave offers luxury lots for sale that are fit to Vista Land's luxury standards. Another property that will allow its residents to appreciate the silhouette of the hills, smell the fragrance of the pine trees and feel the cold weather of the city. The Terraces | Lot Only Packages offers ranges from 400 to 600 square meters, perfect for couples and families looking to have a luxury and permanent home outside the Metro. Also, there be 75 lots and 26 units for phase one of the project, comprising 6.5 hectares of development, with 3.8 hectares up for sale.
Return of Investment
Tagaytay City is one of the most visited tourist destinations in the Philippines and with a growing number of travelers looking for more safe and refined best hotels, prospective unit owners and residents of Crosswinds will be pleased with a good return on their investment. An ideal investment, as it will not only be an impeccable place to experience modern living, but it is a perfect place to generate revenue.
A prospective resident may own a Swiss spot by availing of the pre-selling luxury condominium packages in any of the Swiss-inspired enclaves. The unit owner may also enroll their units under the condotel program managed by Crosswinds Tagaytay for their luxury condo or property to be available to guests who dream to experience high and sophisticated living at the beautiful Swiss-inspired landscape of Crosswinds. Under this innovative program of Crosswinds Tagaytay, the management will assist in the promotion of each property to invite guests to lease and give them the opportunity to experience the luxurious panoramic views and amenities of the Crosswinds. Also, Crosswinds management will provide for the maintenance of the luxury condo, townhouse and bedroom units. This new program of Crosswinds is intended to promote the property, boost its worth, and offer a premium to the unit owners.
UP NEXT: Luxuriously Safe: Interior Design in the New Normal
UP NEXT: Vista Alabang's Housing Market Sees Strong Price Appreciation