BLOGS
Portofino Alabang Sees Strong Price Appreciation
The Philippines has had a decade-long housing market boom making it one of the hotspots for foreign property investors in Southeast Asia. Due to its favorable demographics, Metro Manila has always seen the most significant interest. However, due to the COVID-19 pandemic, the housing market worldwide was sent to its knees, and the Philippines was not an exception. In early 2020, the Philippines was ranked as the worst-performing housing market and experienced little to no price appreciation in the Global Property Guide's 2020 Global House Price Survey.
But in 2021, the country's housing market bounced back. According to a report released in March, the Bangko Sentral ng Pilipinas (BSP), the central bank of the country, said the Residential Real Estate Price Index (RREPI) increased by 0.8 percent from October to December of 2020, rebounding from the 0.4 percent contraction in the third quarter.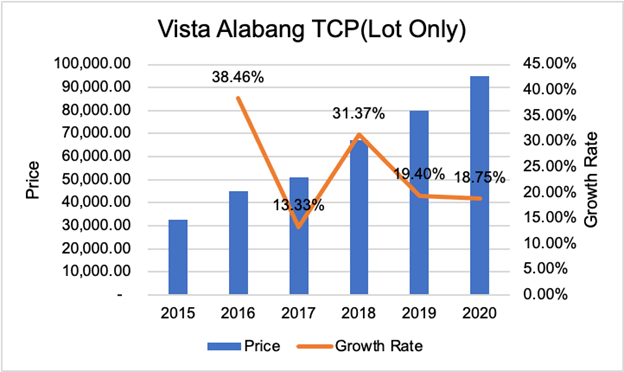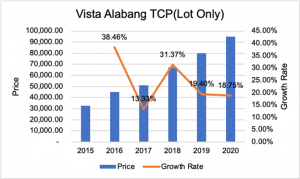 While other housing markets in the country took a big hit, Vista Alabang still sees a steady price growth. In 2020, for lot only, the total contract price (TCP) increase inched up by 18.75 percent from P80,000 of the past year to P95,000, after taxes. By the end of 2019, both Portofino and Amore sold P80,000 worth of lot while the initial increase in 2020 for lots sold was P95,000 for both Portofino and Amore.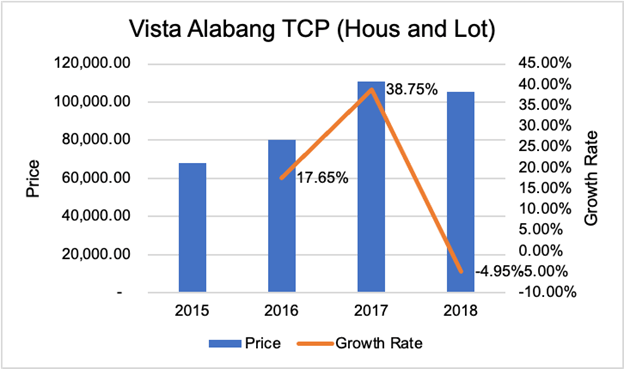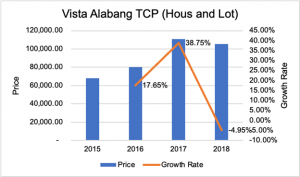 Meanwhile, for houses and lots, the Total Contract Price reached on average P111,000 and P105,500 for 2017 and 2018, respectively. In 2017, Portofino sold up to P113,000, and in 2018 it sold P115,000 oh house and lot.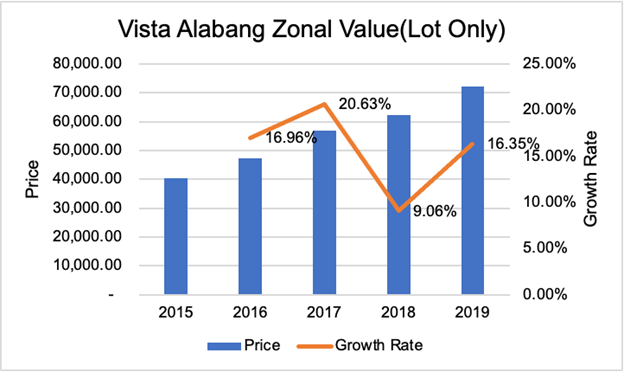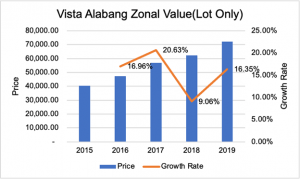 The zonal value of Vista Alabang also saw a steady increase starting 2015. The growth rate in 2019 is 16.35 percent after getting an average zonal value of P72,333. Both Portofino and Amore's zonal values were P80,000 in 2019.
Vista Alabang's housing market performance is unsurprising as it is one of the best housing estates in the country. In 2015, Amore, one of its enclaves, was recognized as the "Best Housing Development in Manila" and the "Best Housing Development in the Philippines" during the Philippines Property Awards. Especially during this pandemic when buyers prefer countryside homes rather than in cities, we would expect an increase in value. This community boasts its masterful Italian-themed architecture complete with world-class amenities, which attracts investors.
Importance of Real Estate Price Appreciation
Most investors' primary goal is to carry out real estate investments to gain price appreciation. Price appreciation, also known as capital appreciation, is defined as how much an investment's price accumulates over time. An example of this is when you buy a house for an initial price, and when you decide to sell it in the future, the price of the home is larger than the original price when you first bought it. It's easy to calculate property price appreciation just by calculating the difference between the current price and the asset's purchase price. Most investments, such as real estate and financial securities like bonds and stocks, rely on price appreciation.
The importance of price appreciation is mainly to allow investors to gain profit by reselling their property. This is valuable for a real estate investor because if you purchase, for example, a house, its value can increase over time, giving you significant gains. The price appreciation can be seen as a profit when you sell your property or during an increase in monthly earnings on your rental property. This can also be a valuable tool for owners to increase their property value by placing improvements on their property.
Another good thing about price appreciation is if you are also trying to increase the home equity if you have a mortgage. Equity is defined as the difference between the amount of money you owe on your mortgage and the market value of your property. For example, If you owe P180,000 on your mortgage and the market value of your property is P200,000, then your home's equity is the difference, which is P20,000. Equity can be an essential financial tool for you to get good financial benefits.
What can you do with home equity? Countless strategies can be utilized when it comes to home equity. You can use it to buy a new home and sell your current home and move to a larger, more expensive one. You can also use it to pay your debts and even for your retirement.
Determinants of Real Estate Price Appreciation
Many factors could affect the price appreciation of a property. This may range from its location, development plans, demand and supply, and even repairs and renovations on the property carried by the owner. The following are some of the relevant factors in the Philippines.
Location
Everyone has heard the overused mantra "location, location, location" when it comes to business. This also holds with price appreciation of a property. Most of the time, buyers are looking for properties that are proximal and accessible to essential industries such as grocery stores, malls, markets, hospitals, and the like. Properties in locations that are accessible are likely to fetch higher prices in the future. Buyers are willing to pay higher to own homes in an exact place within a community. Vista Alabang is in a prime location close to shopping like Evia Mall, dining, entertainment, hospitals like South City Hospital and Medical Center, and access to transportation hubs, giving it a higher market value. Check the location here.
Local development and amenities
Imagine a house without a pool and a similar house with a pool. The additional amenity can create a price difference of 10 percent to 15 percent. Owners who upgrade their property will put a better rate on their property than the prevailing market. Existing and future amenities can also boost the price of your property. In addition, similar to the concept of location, future commercial and municipal developments in the area, such as schools, stores, hospitals, and public infrastructure, may impact land values. Homeowners in Vista Alabang can enjoy exclusive community amenities like a world-class amenity center called Monte di Portofino and active areas like swimming pools, fitness gym, indoor badminton court, grand function room, kiddie park, basketball, and tennis court. It's no wonder their prices continue to increase.
Supply and demand
The real estate industry is not exempted from the forces of supply and demand. The concept is quite evident when the need for housing property is on the rise in a given area, then property prices in that area will also increase if the supply of new houses does not grow as fast as the demand. This attracts investors who plan to buy or build houses and then sell them when the supply declines and prices go up. Buyers will want to pay more to beat other interested competitors. What you gain above the original price of the house when you first bought it is the price appreciation of the property.
Reputation
Housing properties built by competent developers are always of better quality, and as a result, have higher resale value. Investors should always check a developer's background to see if the company has previously had a good performance or whether buyers were unhappy with their investment. The developer's good reputation is a good sign that the value of your property will most likely appreciate over time. It's no surprise that property value remains strong for Brittany. Vista Land is the largest and most accomplished homebuilder in the Philippines. Just last year, it took home the Most Innovative Community Developer award at The Global Economics Awards 2020.
Economy
The Philippines ' economic condition is also a significant driver in property appreciation. The value of money will reduce if the inflation rate increases. Overall economic indicators like Gross domestic product (GDP), purchasing power parity (PPP), and the unemployment rate may also affect price appreciation in the long run. The COVID-19 pandemic has undoubtedly caused prices to lower, but experts predict an imminent recovery in 2021and will continue to do so in the following years. If you're an intelligent investor, you would know that it's the best time to invest.
Savvy Investors Should Act Now
The Philippine real estate market is expected to recover in 2021, which means investors should buy property now. We all know an economic recession is one of the most tragic things that could happen to a country. But investors are taking the opportunity to invest as prices will soar as the economy rebounds. Prices might be fluctuating but keep in mind that property value always appreciates over time. This makes housing properties an excellent long-term investment.
In an article by Inquirer.net, experts predict that property prices will also rise after the country's economy will recover in the following years. The report said this was likened to the Asian and Global Financial Crisis during the 90s, when the country bounced back stronger, causing investors to expect the same spurt after the pandemic. The demand for real estate property is expected to outweigh the supply after the pandemic, resulting in increased property prices.
Housing properties, especially luxury real estate, have stable market value. Unlike the stock market, where assets can dip to zero, property market values are not easily affected by numerous risks. This is because luxury housing properties are tangible and therefore have intrinsic value that will never be destroyed for years to come. Among the other forms of investment, this makes it the safest form of investment since it's non-renewable and can stand the test of time.
Aside from long-term investment benefits, buying property right now also has other perks. Finding income during these trying times is challenging for most due to the many restrictions brought by the pandemic. Buying property right now could also be a good way for you to get passive income. If you're an intelligent investor, you would know it's best to diversify your income. This is to prevent any unforeseen factors that can just as easily make you bankrupt. By investing in real estate properties, you can generate a long-term passive income by inviting tenants to rent your property.
Don't worry if you think you don't have enough funds to invest in real estate. Banks have now reduced interest rates so that investors can easily get loans. In April of 2021, the Bangko Sentral ng Pilipinas promised to keep interest rates low to support the country's economic recovery from the pandemic. This is to let money continually flow, preventing stagnant market activity. With lower interest rates, it's cheaper to borrow money and invest in properties.
The Bottom Line of Real Estate Price Appreciation
Due to the COVID-19 pandemic, the country's real estate market suffered hard in 2020, but experts predict it will recover starting 2021. While some housing developers took a big hit, it seemed that Vista Alabang stood firm as its property price continued to increase since 2015.
A lot of things can depreciate your property's market value, especially during this crisis, but there are still ways you can do to add value to your property in order to allow its value to appreciate.
So, if you're convinced that it's the best time to invest in real estate property, then contact us now. Vista Alabang is an excellent housing developer. With us, your long-term investment will see strong growth. Make smart investments with us now!
To know more about our luxury houses and lots for sale developments in Vista Alabang, visit our official Facebook page or contact us at +63999 887 3142 or at our hotline: 55-8BRITT, LOC 0335-36.
Next Read: Top Structures Architectural Enthusiasts Must See
Next Read: Home Improvements For Your Portofino home
Next Read: Why Live In Portofino?
Next Read: An Easter to Remember at Amore at Portofino