BLOGS
Smart Ways to Organize Your Wardrobe
During the height of the COVID-19 pandemic, there has been an unexpected trend that was suddenly all over social media—the love for home organization. There was clearly a pandemic-induced boom over this subject during the quarantine period and many people started to subscribe to online content regarding the matter.
With all the time spent in the home, a need to upgrade or even completely transform the space people live in started to rise so they can have a more comfortable and enjoyable stay. It started as a content that people watch to help them cope through the worsening global situation at the time. But days passed and all of a sudden, new furnitures are being bought, walls are being painted, and wardrobes are being organized.
Someone who is already used to organizing their home, trying to make it one of the most beautiful houses in the Philippines, knows that there is a science involved in an organize wardrobe. While people can explore and choose what works best for them, there are definitely smart ways people can start to adapt for a more efficient closet organization.
Typically, organizing your closet starts by getting rid of the clutter, acquire your preferred compartments either by building or buying it, and making a space for each type of items in your closet. In the end, it is important to form a sustainable system that works for your personal needs.
Follow these 8 Smart and Easy Ways to an Organized Wardrobe
If you are working on organizing your closet and wondering how to start, you can follow these smart and easy to efficiently arrange items like your clothes, shoes, and accessories in your storage space.
1. Declutter
First things first. Downsizing is a smart way to make the process of closet organization so much easier and sustainable moving forward. Committing to regularly purge some of your clothes and more items that eats up available space is a good habit to start and is actually a vital part. Before making any huge changes to your closet like buying a new storage space, it is best to have an inventory of first to know how much space you really need.
In case you are having a difficult time and wonder how to let go of items in your closet, there are techniques available like the Marie Kondo one where you will lay all of your things and determine what sparks joy. This way, you will have more confidence in what you will decide to store or toss. You can also opt to donate items in your closet that you are no longer using for a good amount of time. It makes it easier, the thought of purging will become fulfilling and helpful.
2. Maximize your available space
In the recent years, you might have made multiple attempts to move things around in the home. Adapting to the crisis involved renovating the available space into a home office, a gym, and other areas you need. Now that it is time to face another transition as people slowly go back to the pre-pandemic routine, it might be a good opportunity to reorganize.
People with houses that has a wardrobe or closet space already installed might feel intimidated to start a new closet organization system. Admittedly, it is easy to assume that a pre-installed closet is the only possible choice to store items like your clothes, shoes, and accessories. The truth is, there might be other space in the house that may be used for your closet organization project—like having your very own walk-in closet in your home.
Luxury houses in the Philippines, like the ones offered by Brittany Corporation, usually have extra rooms that can be utilized for this purpose. Brittany Corporation's world-class luxury real estate developments are some of the most beautiful houses in the Philippines and are furnished with rooms that are more than enough for the whole family. Experience Brittany living as you live in a luxurious home that caters to what you need.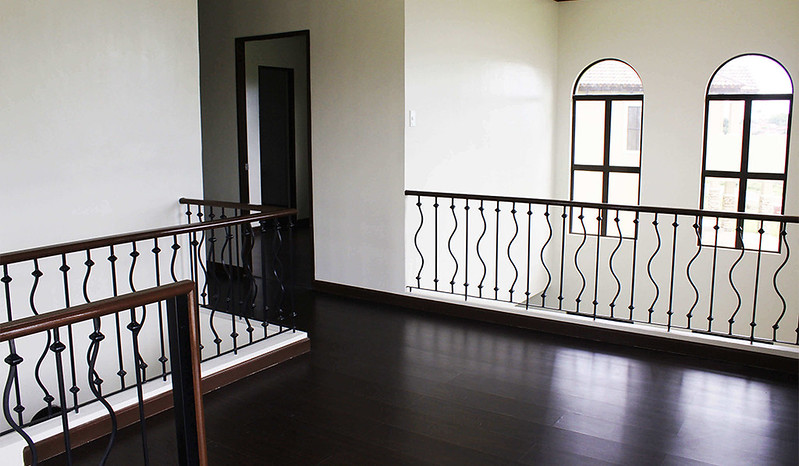 3. Consider using a clothes rack
If building a walk-in closet seems to be too big of a project, you may try using a clothes rack instead. Investing in a good clothes rack can help you easily arrange your clothing pieces without doing so much work and even multiply the existing closet space you have.
From the clothes rack, it is also easier to grab your frequently used item. Gone is the hassle of not knowing where to put it in, for it to be taken out again in days' time.
Another option to make the most of your closet is putting a dresser or storage boxes under your hanging space. This will help free up space in your closet and can easily become a simple solution to your divider and storage concerns. And the best part is, this organization hack does not require installation! You can put what you need in the hanging space and this instantly make it easier to neatly arrange your closet.
4. Use the wall space
Talking about the use of wall space during the process of closet organization is often disregarded because there is an assumption is that it will make the room look messy. On the contrary, with proper execution, this is a smart way to organize your home.
An example on making good use of your wall space is by using hooks or racks to store jewelry pieces. You can also use the space at the back of the door to hang accessories such as bags, scarves, ties, and belts. As long as the items are well-kept, the wall or the door can be part of your closet organization system.
5. Learn better folding and hanging techniques
Frequently, the storage space is heavily dependent on one's ability to fold and hang the clothes and accessories. Once you have finished decluttering and already figured out the storage you have, it is time to try new folding and hanging techniques. It is a skill to be able to neatly store your things while being able to maximize the storage available.
Marie Kondo also introduced a great technique to fold clothes into drawers which is worth imitating. Aside from Marie Kondo folding technique, try to give easy access to items that are being used frequently and put away those that are being used less. You can also try storing smaller items like bags into bigger ones to save space.
For items that you won't be be using for a long time, you can store them using a vacuum seal and put them in a hidden area like the top of your shelf or the back of your closet.
6. Invest in your dividers
One away or another, closet organization will cost you something. This includes your time, energy, and sometimes, even money. To personalize your closet organization project, you might need to purchase containers, racks, shelves, or drawers to help you with the habit of always keeping an organize wardrobe.
Dividers can be used to separate the items according to the way you understand them best. If you want to, it can be through the type of clothes such as jeans, blouses, sweaters, and dresses. You can also arrange them by color or by size or bulkiness. Starting to categorize your items will help you to keep having an organize wardrobe.
7. Use shelves or racks for shoes
Shoes are known to take up a huge space of your closet so people might find it challenging to neatly store them. If you do not have enough storage space for your footwear, lift them of the floor and try using shoe organizers like pre-built shelves, shoe racks, or stacking bins as a replacement. Placing them below your hanging items to make them look tidier may also work rather than just leaving them on the floor.
8. Put labels
As you rearrange your space towards an organize wardrobe, there is a huge possibility to forget where items have been moved specially if you are living with your family members who do not have any idea about the system you have put in place.
To keep what you have started going, the easy solution is to label everything. This will help people who might be looking for the items you tuck away in storage and also for you who is making a fresh habit to consistently keep an organize wardrobe.
Conclusion
Making home improvements as simple as closet organization is always a good idea. As long as it aligns towards upgrading the quality of life your family has, it should be considered a priority to keep working on. Investing on the family's comfort and enjoyment will never go wrong. It may be considered a luxury to others but when you have available resources, giving the best to your family is an important value to live by.
Brittany Corporation is your trusted partner when it comes to luxury living for you and your family so you won't need go the extra mile on your own. Experience Brittany living with their luxury houses in the Philippines situated in exclusive world-class communities in the country. Through Brittany Corporation's luxury real estate properties, your family will be able to experience Brittany living—a life of luxury—every single day.
Send a message to Brittany Corporation via this link so you can get in touch about their luxury real estate developments which are some of the most beautiful houses in the Philippines. If you want to get latest updates, follow Brittany's LinkedIn, Facebook,  Twitter, and Instagram accounts.