BLOGS
Safest Travel Destinations To Visit This 2022
If there is one thing people would all agree that they would want to experience this year 2022, for sure to travel is on top. People have been running around in a circle when the worldwide pandemic hit. People were stuck in their luxury homes Philippines doing the same thing every day. But this 2022, as the vaccine roll-out is being properly executed, and most Filipinos are cooperating in this process, we can look forward to coming out of homes and enjoying some relaxing time through traveling.
Even if you own one of the most beautiful houses in the Philippines under Brittany Corporation, staying home for almost three years has already been dragging and burdensome. Our souls need to find rest in the middle of nature, breath fresh air, or smell the sea breeze.
As you plan your sweet escape for the year 2022 to renew your minds and do some recalibrations, consider this list to the places you might want to see, safe places to visit amidst covid-19 situation.
Safest Travel Destinations to Visit This 2022
Pandemic is not yet over so being safe and protected is still the primary responsibility of everyone. It is best that whenever you go out of your luxury homes Philippines you continue to follow the health protocols like wearing of facemasks and the social distancing. The COVID-19 may have stopped people from traveling for quite some time but this year as the travel restrictions is lowered and loosened, planning where-to-go-next in advance is very important.
Some plans to visit some museums to witness art exhibits and some plans to go out of the country. Many travel destinations in the Philippines are already open but not every place is safe for travel because some are high-risk because of the great number of COVID-19 cases, and some doesn't have health guidelines to prevent anyone from being contaminated by the virus.
Some time from now, Philippines might be one of the world's safest countries as foreign travelers are now being welcomed in the country. Listed below are places that operates with safety and precautions that you might want to consider putting in your list:
Boracay as one of the safest travel destinations
Boracay will never be out of the list of travel destinations. This location is known worldwide that even foreigners and international travelers keep coming back because of its beautiful white sand beaches and the quality of services the hotels offer. They have excellent hotels like luxury condo and transient homes like luxury home Philippines.
Amid the pandemic, Boracay has been actively cooperating in the safety protocols to ensure that their guests are protected. Because of this, people are in peace to visit this small island even with their little ones. Boracay's wide-open areas are a plus as people visit this island.
Besides being Instagram-worthy, Boracay continues to draw travelers because it offers more than simply a beautiful setting, including a variety of activities and delicious food that are all within walking (or scooting) distance. You have not completed your Travel 2022 if it is not included on the list.
Bohol as one of the safest travel destinations
Bohol is one of the holiday spots that is now open to travellers, regardless of whether they have been completely vaccinated, partially vaccinated, or not at all. There are only a few conditions that visitors to Bohol must adhere to in order to fully enjoy their stay.
The Chocolate Hills of Bohol are well-known around the world. The hundreds of enormous brown hills that dot the countryside in every direction dominate the entire area.
Travelers continue to return to the island despite this because of the jam-packed and entertaining travel packages and itineraries that include attractions such as the Loboc River Cruise, Tigbao Hanging Bridge, Bilar Man-made Forest, and the Bohol Tarsier. Alona Beach, Doljo Beach in Panglao, and Anda Beach are among the many stunning beaches in the area.
Siargao as one of the safest travel destinations
People missed the beach. People missed the idea of being under the heat of the sun. The 22 months of being in the pandemic are all about staying at home and it brought a depressing feeling to some even if you are staying in the most beautiful houses in the Philippines.
When the quarantine guidelines were lifted, the beach is one of the places people wanted to visit. This 2022 it is great news that Siargao, one of the famous travel destinations that offer beautiful beaches and refreshing nature views is one of the safest places to travel. Though the province experienced the devastating effect of Typhoon Odette, it is the hope of locals and tourists that middle of the year, it will be back to its regular programming.
Siargao, located in Mindanao, is world-famous for its enormous waves. This asset became well-known to surfers the globe over. When visiting Siargao, the surfing activity should be the highlight of your stay, even if you are a beginner. Siargao is also well-known as the site of several surfing events. Siargao is a renowned tourist destination in the Philippines and is also known as one of the safest places in the country.
More than surfing, Siargao offers so many activities that tourists enjoy. Some extend a month or two to fully capture the beauty of this island. Because siargao is surrounded by people who are friendly, they think it is a great place to stay and a safe place to stay in, too. Travelers also enjoys the paradise' interesting culture. For travelers and backpackers, Siargao is a place you shouldn't miss.
Tagaytay as one of the safest travel destinations
Tagaytay is the most convenient and closest getaway from the hustle and bustle of Manila's city life. In the past, people from all over the world have come to Tagaytay because it is only two hours away from the Metro. It has been called the "one-drive-away vacation spot".  As you leave your luxurious residences in the Philippines, Tagaytay is one of the safest tourist destinations this 2022. Tagaytay has risen to the top of the list of destinations that provide leisure to tired and distressed bodies and minds.
One of the most attractive sites to visit in Tagaytay, the Crosswinds Tagaytay development of Brittany Corporation, which consists of luxury Swiss-inspired residences. It provides a lovely perspective, as well as lively dwellings and colorful houses that you can take pleasure in. If you want to staycation with your family, Crosswinds is a good place to stay because it is in the most pleasant part of Tagaytay, which is where most people live.
Take advantage of the luxury homes Philippines for rent in Crosswinds Tagaytay, as well as the restaurants in the area, which will ensure that your stomach is satisfied. A must-visit destination for those seeking relaxation, Crosswinds Tagaytay is a must-see.
El Nido, Palawan
There are a lot of travel websites that say that El Nido in Palawan, Philippines, is the most famous and beautiful island in the world. Many people have fallen in love with it.
It is also thought to be one of the safest places to go on vacation in 2022 because of the rules and requirements it has for its tourists. Travelers can again explore the island life by just following the mandated requirements of the local government unit. Fully vaccinated individuals no longer need to present their COVID-19 test result, but those unvaccinated or partially vaccinated still need to present a COVID-19 negative test result. The island prioritizes safety over leisure and business.
If you get the opportunity to travel to this location, make sure you take advantage of the island hopping, swimming on beaches, trekking up cliffs, and even scuba diving opportunities. Palawan is one of the best tourist spots in the Philippines, make sure to visit it this 2022.
Traveling as Relational Investment
It's not wrong to enjoy travel leisure this 2022 but make sure to still be alert and cautious as you travel especially with the family. The virus is still around and health is the most important thing to take care of these days. Spend some time with the family through traveling to these destinations because traveling with your loved ones is also an investment that in time will also bear fruits that you will see in the strength of your relationships.
Other Investments You Can Try
Apart from traveling, a wise investment this 2022 is investing in real estate properties. This will give you a great and lifelong return.  If you are looking for a place to invest but aren't sure where to start, you can look at Brittany Corporation's house and lot properties for sale to get some ideas. Brittany Corporation provides the most attractive and well-priced properties in the Philippines, which are well worth the investment. Here are some of the safest place to live in this 2022:
Crosswinds Tagaytay
You can enjoy living in a private sanctuary surrounded by nature's soothing views, sounds, and scents thanks to the presence of more than 35,000 homegrown pine trees at Crosswinds Tagaytay. In addition to luxury lots, luxury house and lot properties, townhomes, and luxury condominium apartments are also available. Located at: Crosswinds Drive, Tagaytay – Calamba Road, Iruhin, Tagaytay City, Philippines
Promenade at Santa Rosa, Laguna
Bridging the gap between the bustling 300-hectares of Brittany Sta. Rosa and the tranquility of the charming English countryside, Promenade is a master-planned luxury home and lot community in the image of the quaint English countryside, with hedged cobbled paths around cozy houses.
When you go to the Clubhouse, you'll see that it looks like a big English country house. There are event halls, a basketball court, and a secret garden there. A magnificent fountain welcomes visitors to the Clubhouse, where they may enjoy many hours of leisure and entertainment. Within walking distance of the estate are two of the best golf courses in the South, the Sta. Elena Golf & Country Club and the Country Club Philippines.
Portofino Heights
Take time to appreciate each moment. Italian architectural characteristics such as cupolas, cobblestone walks, gabled roofs, and pocket gardens bring the beauty of the countryside and light into every luxury property for sale.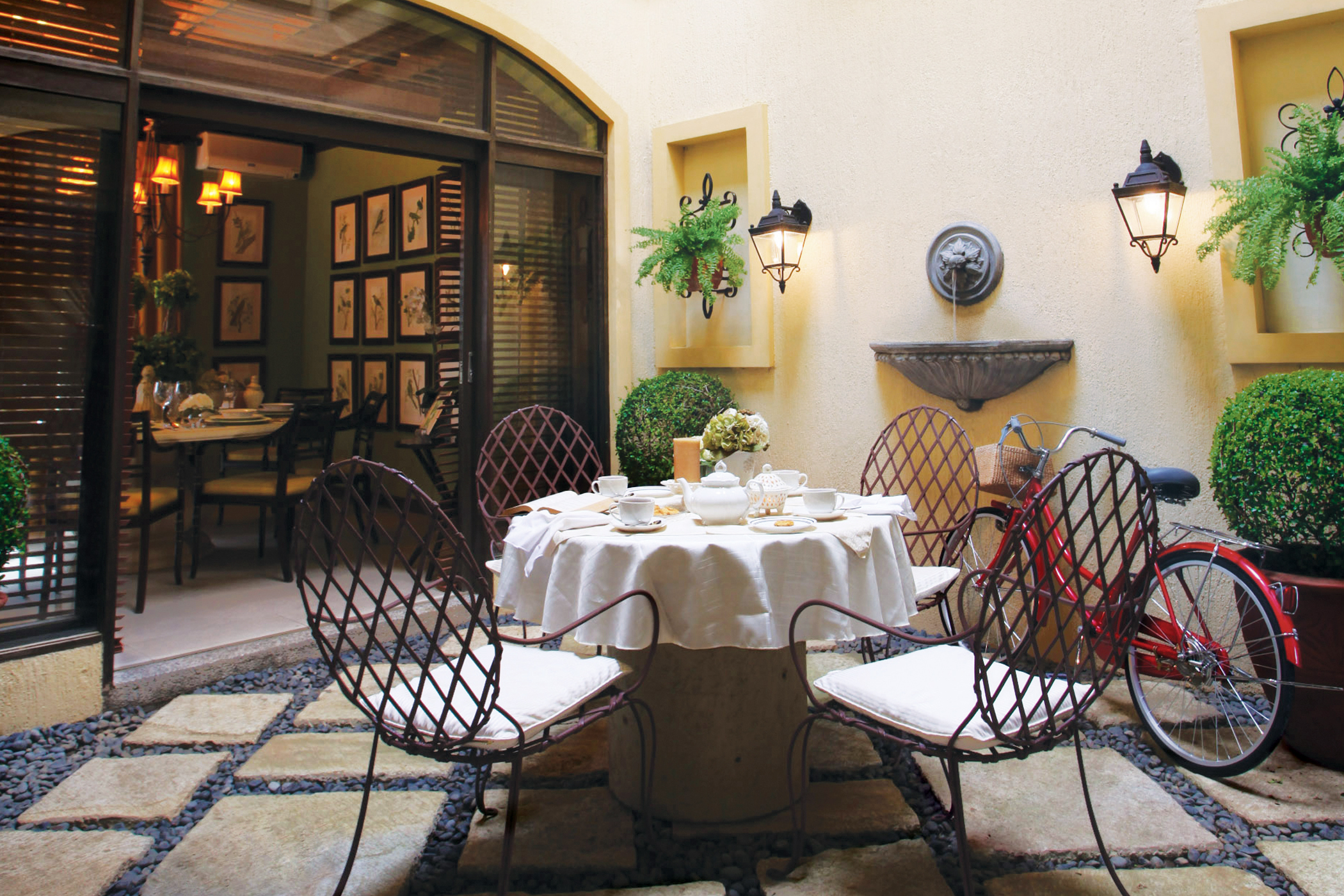 Portofino Heights is the first phase of Portofino Alabang, one of the best subdivisions in daang-hari, it offers gorgeous luxury houses and lots for you and your family to enjoy. It is a residential community located on a 75-hectare plot of land that offers luxury homes and lots ranging in size from 280 square meters to 1,000 square meters. If you go to Portofino, you'll see beautiful gardens and walkways that look like those in cosmopolitan Italy.
Invest in luxury properties. Invest in Brittany.
If you are looking for a place to invest but aren't sure where to start, you can look at Brittany Corporation's house and lot properties for sale to get some ideas. Brittany Corporation provides the most attractive and well-priced properties in the Philippines, which are well worth the investment. Contact any of our Brittany Salesforce now!
Next Read: Olive Garden to Open in the Philippines in 2022
Next Read: DUCO Travel Summit in Italy: All You Need To Know
Next Read: Randy's Donuts to open in the Philippines in 2022