BLOGS
Duvet Vs. Comforter: What's The Difference
"In dreams we enter a world that's entirely our own. Let them swim in the deepest ocean or glide over the highest cloud."
— J.K. Rowling, Harry Potter and The Prisoner of Azkaban
According to the National Heart, Lung and Blood Institute, the body is working to support healthy brain function and maintain our physical health during sleep.
Additionally, for children and teenagers, sleep helps support growth and development as well.
If you are getting inadequate sleep, there are chronic health risks that may occur.
Are you aware that sleep can affect how well you think, work, learn, react, and get along with other people?
Indeed, getting a good night sleep is very important to all of us. And a bed linen can make such a difference.
Duvet Vs. Comforter
There are some significant distinctions between a duvet and a comforter.
To begin, a comforter is designed to be utilized as it is;  it is a single, quilted piece.
On the other hand, a  duvet, is intended to be used in conjunction with a duvet cover, coverlet, or top quilt.
With this said,  a comforter is more easy and convenient to use, however the duvets are much easier to clean and maintain. In cleaning the duvets, simply remove the cover and toss it in the wash.
Opposite of the duvet covers, heavy comforters have a high possibility of throwing off the balance of your washing machine.
Let us deep diver with the difference between a comforter and a duvet cover.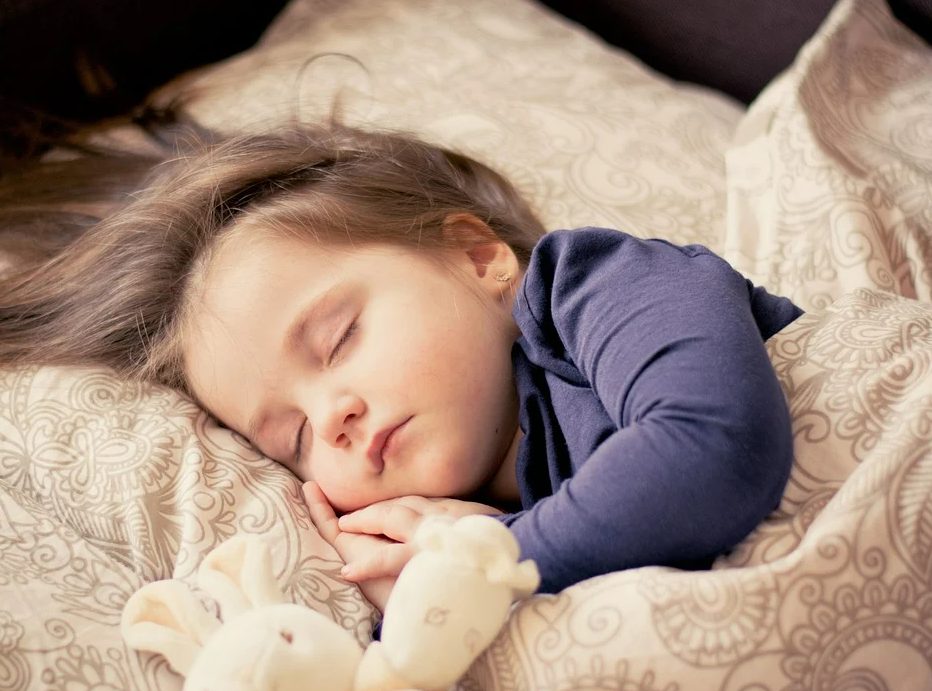 What is a comforter?
A comforter is a soft, thick, ornamental blanket that is positioned on top of your bed.
Underneath of a comforter, you can place sheets or light blankets to make it more cozy for you.
Comforters are often filled with synthetic fiber elements including polyester or cotton blends then quilted or sewn in a design to ensure that the fabric is secured and distributed equally.
Furthermore, comforters are often offered as bed-in-a-bag sets or  bedding sets, along with other complementary elements such as pillowcases and sheets, all of which are made for the same bed size.
With this said, shopping becomes easier for you and you are able to save time.
Comforters are intended to be the final element and should not be covered or combined with any further accessories.
Keep in mind that comforters can be difficult to wash because it is heavy, and people say that it can be too hot.
On the bright side, there are pros of using a comforter, such as it is ready to use right away.
Comforters also provide a layer looked on one's bed.
From simple to unique designs, comforters have them all.
Here is a sample of a simple yet cozy comforter which can be bought from AllHome.
If you are looking for colors, AllHome has them too!
You can never go wrong with pink, right?
But ofcourse, different people likes different designs, there are some who might not like the color pink. In AllHome, they also have a comforter in the shade of turqiouse!
The comforters that can be found in AllHome has a wide variation, for they also have print designs! Amazing, it is not?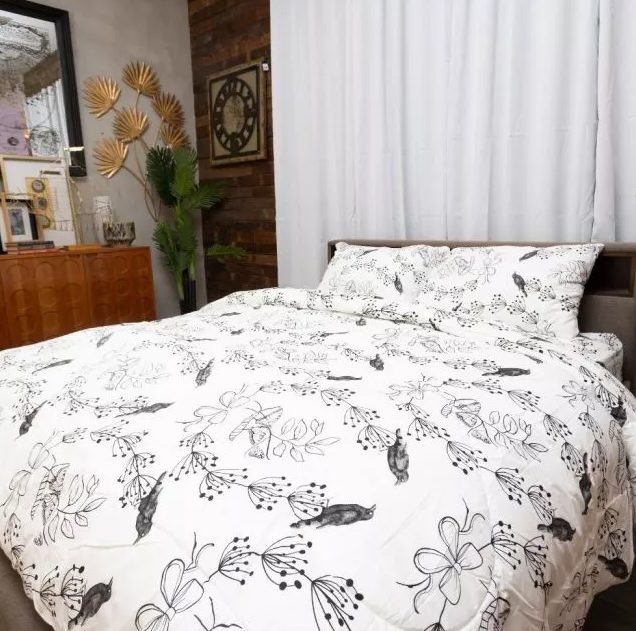 In the Philippines, comforters are kind of well-known, perhaps why some of you may be familiar with it already; but what is a duvet?
The word "duvet" comes from the French word for a soft blanket.
In the past, duvets were filled with down feathers, but now there are people who are allergic to down feathers, that is why there are now many other filling options, such as microfiber and polyester.
The duvet is a filled top layer of bedding that is typically thicker than a comforter.
Because of how thick a duvet is, there are people who feels like they do not need any extra blankets when they have a duvet.
A duvet comes with a removable, cleanable duvet cover.
The duvet cover can be pinned in different ways over the plain duvet insert.
When purchasing duvet covers, you have the option of selecting the thread count and the material that you prefer.
Cotton, linen, flannel, and percale are some of the most common options.
If you prefer to make frequent alterations to the design of your bedroom, one way to add visual variety while minimizing the amount of closet space taken up by bedding is to use a mono duvet insert with a number of interchangeable duvet covers.
Here is a sample of a Duvet, which can be purchased from AllHome.
Duvert Vs. Comforter: Similarities Between Them
One thing that the a duvet and a comforter have in common is that they both perform the function of being the primary, most significant blanket on your bed.
They both need to have an appealing appearance to you, whether or not they have a cover, because they will likely be the primary focus of attention when presented.
Duvert Vs. Comforter: Differences Between Them
The main distinction between these two types of bedding is that a comforter is designed to be utilized on its own, whereas a duvet is intended to be utilized in conjunction with a duvet cover, coverlet, or top quilt.
A duvet is designed to be used on its own, without any extra sheets or blankets, however you are free to use those items if you so choose. This means that it may help keep you warmer at night.
Duvert Vs. Comforter: Are They Both Sheets
Duvets and comforters are both sheets that help you have a good night sleep.
No matter what you choose, duvet or comforter, you will have a cozy night; it all depends on your preference.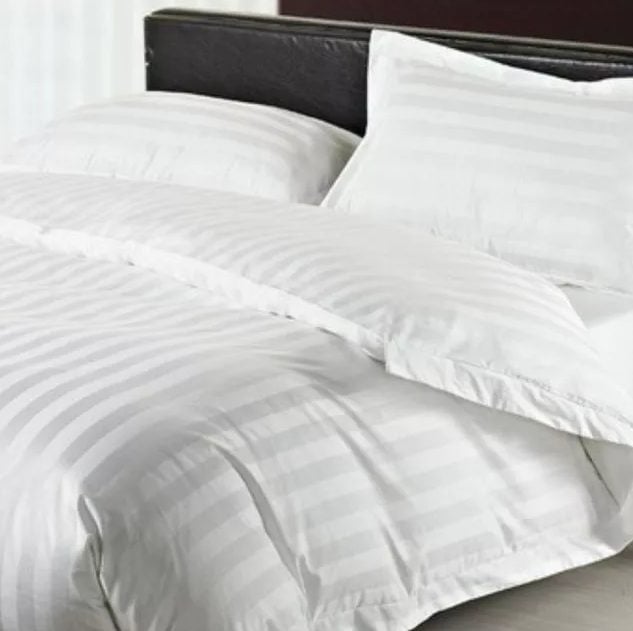 On the same hand, in selecting a house, all houses give you a roof to live under; however, it is important that you pick a house that you will be comfortable and happy with.
There are people who loves to shop for duvets and comforters because they are living in a cold environment, such as Baguio.
If you are into the cold weather, and would want a taste of luxury living, why not invest in Bern Baguio?
What awaits you in Brittany Corporation's Bern Baguio
Located in the city of Baguio, Bern Baguio is a high-end condominium development in Brittany that will consist of four towers and will come with a facade inspired by Alpine architecture.
Moreover, what distinguishes Bern is not its traditional timber exterior but rather what lies within.
The exterior of the building will feature architectural design elements inspired by traditional alpine motifs.
At the same time, the the inside of the tower will embody design elements that are more subtle, combined with a variety of traditional Cordilleran artwork and luxurious amenities that give off an air of comfort and warmth.
The condominium development in the style of a chalet is intended for exclusive use, and it will come equipped with everything you require to relax, dine, and entertain guests.
Suggested Read: RFO Vs. Pre-Selling Condo: Which Is Better For You
Suggested Read: Bern Baguio: The Pinnacle Of Luxury Living
Suggested Read: Ten Home Essentials For Your Bedroom
Suggested Read: Defining Swiss Home Interior
Suggested Read: Beauty In Every Detail