BLOGS
Best Off-Road Cycling in the Bike Trails of Laguna
Now that Covid-19 restrictions continue to ease, you realize that your active home lifestyle just isn't cutting it anymore. With outdoor activities available and your search for new thrills, going to bike trails in Laguna should be your next activity. Considering that you own a house and lot near Nuvali, a luxury house and lot in Santa Rosa, or you already live in one of the luxury homes in Laguna, getting to these bike trails is already a done deal. With probably a handful of bikes you own, the only thing left to do is ride out on these trails.
A fun and exhilarating way to stay active
There is no denying that you might feel a bit nervous when you first head out on the trails from your cycling within Brittany Corporation. Think of it as another mode of self-care by trying out new things or by having this momentary change of environment. Just like the usual cycling on the road, cycling on the trail is also a form of exercise. 
A new way to find friends
The cycling community is without a doubt a very large one with a whole lot of subgroups. Generally welcoming, mountain bikers would oftentimes guide you into trails you don't even know or teach you basic handling of your bike. After a long and tiring session in any bike trail in Laguna, you could even come along as groups to various restaurants where you can eat together. Owning a luxury house and lot in Santa Rosa can even help you in regularly seeing these new friends. 
What bike should you use?
If Road Bikes and triathlon bikes are best used for going fast on the road, then all kinds of mountain bikes are your best choice to bring in all the bike trails in Laguna. There are many types of mountain bikes all have varying pros and cons when heading into the trails but all share a similar shape from the handlebar, tires, and frame geometry. Despite their size and weight, they can fit well with your property in Brittany Santa Rosa. Here are the mountain bikes you should consider.
Hardtail
The generic mountain bike with a solid frame and one suspension found on the fork. This bike is also perfect even if you just want to ride around Brittany Santa Rosa
Cross Country
Similar in shape to the hardtail but is now full-suspension. Designed for going fast, most cross country bikes are carbon made making it a good choice for the rather long bike trails in Laguna.
Trail
Very versatile in terms of usage, these bikes are considered the middle ground between a hardtail and enduro bikes. Despite being used regularly in Trails hence the name, you can practice your bike handling within the safety of Brittany Corporation. 
Enduro
Made to go downhill fast but still comfortable enough to pedal uphill and for long rides. An amazing choice for the lengthy bike trails in Laguna, especially for the difficult-rated trails.
Downhill
Made specifically for going downhill as fast as possible. Long travel on all suspensions makes it so that you would not need to mind many obstacles.
Suggested Read: How to Start an Active Lifestyle | Brittany Corporation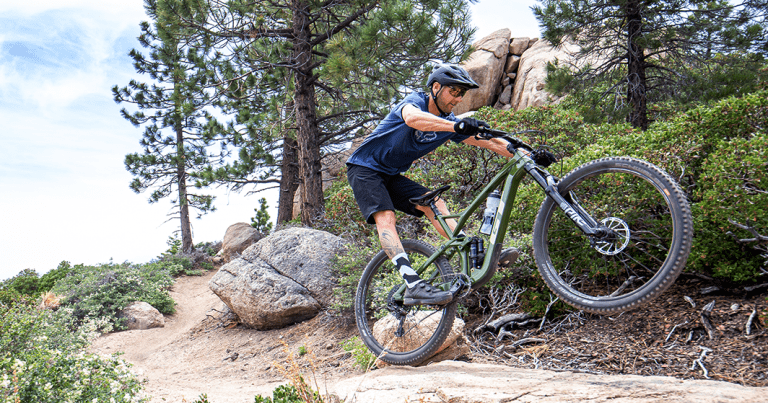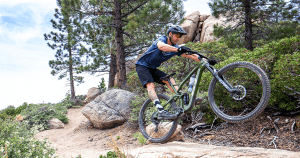 Mountain Biker with a full suspension GT Bike | Photo from GT Bicycles
Suggested Read: Daang Hari Biking Routes | Brittany Corporation
Where Can You Find These Trails?
Whether you reside with Brittany Corporation, especially in Brittany Santa Rosa, there are quite a number of outdoor trails near you. These bike trails in Laguna are perfect for everyone, from beginners like you to the more intense, speedy, and experienced enthusiasts.
Trails Near Nuvali
Residing in a house and lot nearNuvali has never been this awarding. Catering to beginners up to the more experienced trail cyclist, this should be one of your go-to destinations. There are two trails you can choose from, but both are rated as green in difficulty with their difference being the second trail(7.2 km) is longer than the first(3.4 km).
Mount Makiling 
Now that you have probably improved your skills and confidence, you look for more challenging trails. Mount Makiling is a 17.5-kilometer trail that can be found near Los Baños, Laguna is a difficult-rated trail. If you are into nature trips with a side of thrill, this trail might be the best for you. In addition to just these, you might even spot beautiful wildflowers as you admire nature while you ride your bike. With all of this in mind, residing in luxury homes in Laguna makes it easier to get to and from this trail.
Agila Base
Not to be confused with the previously mentioned trail, Agila Base is a trail good for all levels of experience. This out-and-back 10.5 km trail found near Los Baños, Laguna is an amazing nature trail making it moderately trafficked. If you reside in a house and lot near Nuvali or a luxury house and lot in Santa Rosa, this trail is fairly near to you, making it all the more worth it to be your next destination.
People's Park in The Sky via Sungay Trail
Another out and back trail rated as a difficult one, the scenery in this rather long trail(26.7 km) is worth all the climbing and nerve-wracking trails. This moderately trafficked trail found in Barandal, Laguna is open all year round for your walking and biking needs anytime. If you happen to reside in any luxury homes in Laguna, then you can go to this trail as frequent as you please.
Things to keep in mind
Just like any other way of keeping active and staying healthy, it is important that you mind your diet and take in the proper nutrients. When starting out for the first time in any trail, it is important that you still mind your safety and wellbeing by putting aside the harder trails for the meantime. However, that shouldn't stop you from trying out and enjoying the many bike trails in Laguna.