BLOGS
What You Need to Know Before Playing Golf
Golf is a popular sport and pastime among the wealthy. Also referred to as "the gentleman's sport," golf has a reputation as the favored sport of businessmen, and several business deals have indeed been conducted between rounds of golf.
Playing golf recreationally signals to others that you live a world-class lifestyle and appreciate the finer things in life. Golf courses are often located in scenic areas, surrounded by rolling hills and pristine lakes.
The game itself is based on precision and accuracy, requiring players to master a number of different shots in order to be successful. For many, the appeal of golf lies in its challenge; it is both mentally and physically demanding, yet also relaxing and enjoyable. Whether you are trying to improve your business skills or simply escape the hustle and bustle of everyday life, golf provides an enjoyable way to do so.
Suggested Read: The Perks Of Having A Golf Course In Your Backyard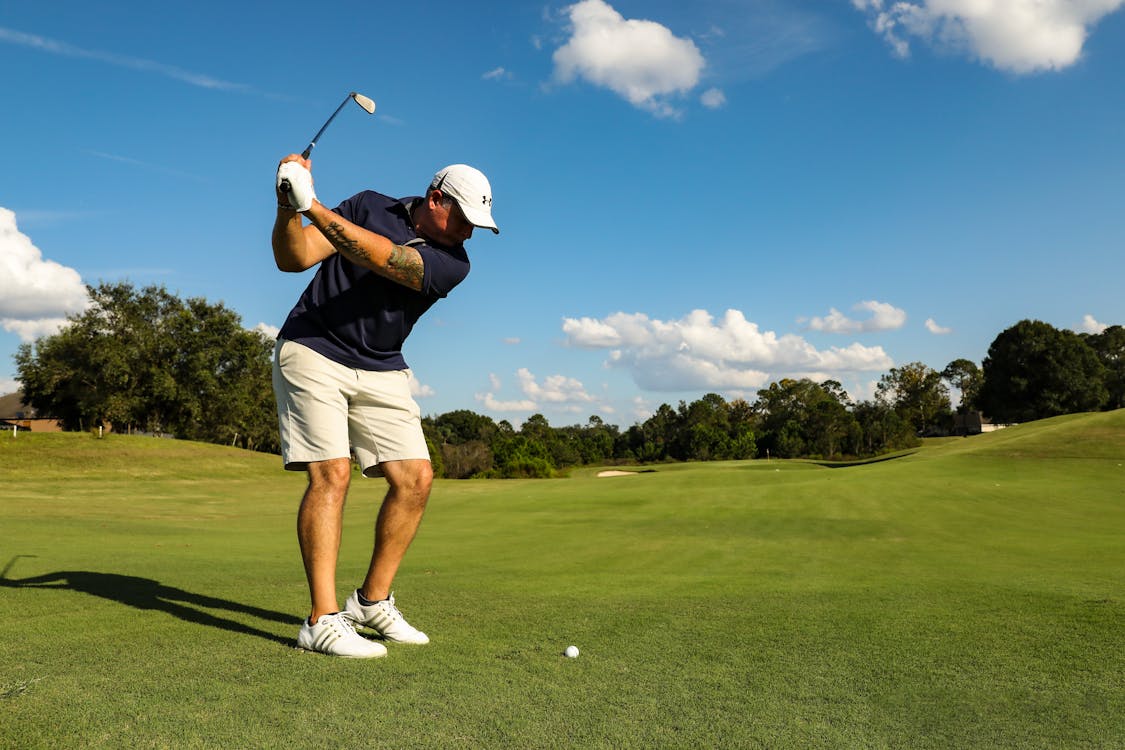 Elevate your lifestyle and invest in luxury real estate located near a golf and country club. A quick drive from your modern luxury house at Promenade by Brittany Santa Rosa will take you to the South's best golf courses. Learn the basics of golf while you experience next-level luxury Brittany living.
Before purchasing a set of golf clubs, you should have a fundamental understanding of the game. Golf is a sport that everyone of any age and skill levels can enjoy. However, if you're new to golf, there are a few things you should know before teeing off. Firstly, the standard golf course consists of 18 holes.
The objective of golf is to complete the course with the fewest number of strokes. To improve your score, you must learn how to choose the appropriate club for each shot and practice your swing. As a beginner, without any need to purchase an entire set of clubs; it is perfectly acceptable to begin with just a few.
You can become a skilled golfer if you put in a little bit of effort and have a lot of patience with the game.
Suggested Read: Reasons Why Playing Golf Is One Of The Best Activities
Get to Know the Basics of Golf
A lot of people enjoy playing golf because it's both challenging and rewarding. While learning the fundamentals can take some time, the joy of sinking a long putt or making a hole-in-one is well worth the effort. Keep in mind the following considerations prior to embarking on your golfing journey. To begin, it's critical to gain a firm grasp on the fundamentals.
The effective way to improve your game is to spend some time on the driving range or on the putting green before heading out onto the course for a round or two! It is possible to begin playing real golf courses once you have mastered your swing and putting stroke. A group of friends can also be invited to join in on the fun if you'd rather keep things low-key. For anyone that is committed to put in the effort, golfing can be a fun way to spend time in the fresh air.
Learn How To Swing
Trying to swing a club to hit the ball and move it closer to the hole is the primary action in a round of golf. Although it may appear to be undemanding and uncomplicated, a successful golf swing is actually comprised of several parts that need to be performed in the correct manner. To start, there is the hold.
Keep your grip on the golf club loose enough that you won't be squeezing it, but firm enough that you won't be able to drop it. The next step is to acquire the ability to aim accurately by orienting your clubface in the direction of your target and positioning your body so that it is perpendicular to the target.
Stand with your feet about shoulder-width apart, with your knees bent slightly. Bend at the waist, keeping your back straight. Your arms should be hanging straight down as they hold the golf club. Slowly swing the club back, then down and forward to the ball.
Getting a good swing can present a bit of a learning curve. Most people prefer to work on their swings at the practice range rather than out. By practicing your swings at the range, you get to focus on the mechanics of your swing without having to worry too much about time pressure or getting your ball to the target.
Know Your Golf Clubs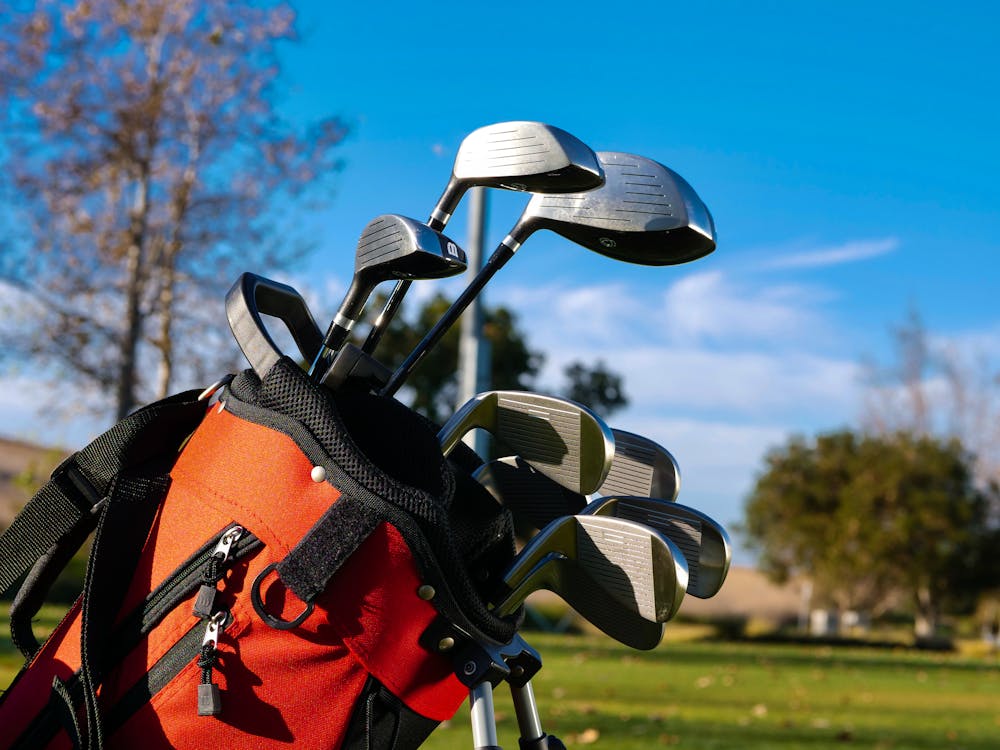 As a beginner, you might not need a full set of clubs right away.  But you do need a few to get you started with the basics of golf. Each kind of golf club serves a different purpose, and they are best for different conditions. You will need a driver or a 3-wood, either one is the best club to use for your tee shots.
A hybrid and irons are flexible clubs and will help your fairway shots. You use a wedge for shots made on the sand and short approach shots. And finally, you will need a putter for low-speed and short strokes, such as when you are close to rolling your ball into the hole.
Things to Know When Playing Golf
Playing Golf on the Course
Golf courses typically have 9 or 18 holes. Each hole on the course will have par values of either 3, 4, or 5. This par value determines the number of strokes a player needs to complete the hole. The golf course is also made of different parts, namely the tee box, fairway, green, rough, and hazards.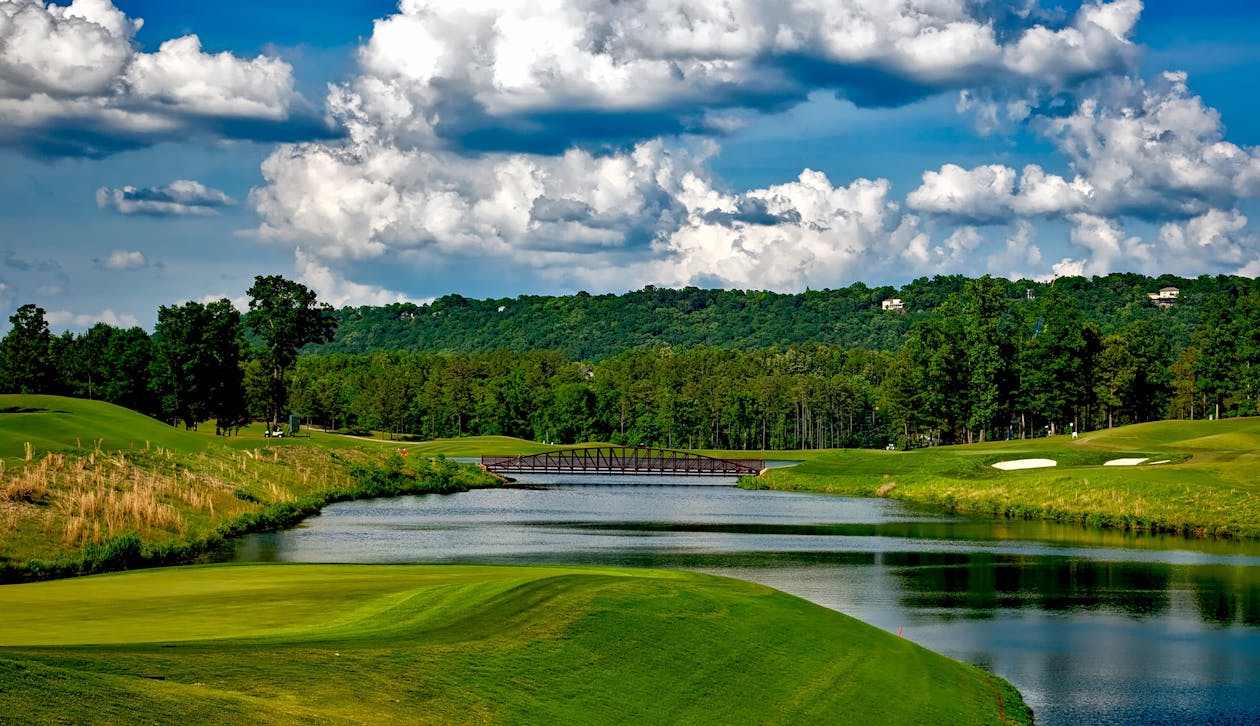 If a golfer is able to hit their tee shot into the fairway, they should have a good shot at landing on the green, which will in turn give them a much better chance of scoring. The green, which contains the hole, can be reached through the fairway in the quickest and most direct way possible. Golfers can avoid landing in hazards such as bunkers and water hazards by hitting their tee shot into the fairway at the beginning of the round.
In addition, the fairway is typically kept in good condition and is devoid of obstructions, making it much simpler to hit the ball onto the green. In the end, hitting the ball into the fairway is the most effective way to set up a shot that will be successful and get you onto the green.
The rough is an area that surrounds the fairway, where the grass is slightly longer, making it more difficult to hit the ball should it land there.
Hazards are components of the golf course that makes the game more challenging. Courses typically have water hazards such as ponds, lakes, or rivers. Sand hazards are called bunkers, which are usually located near the fairway and the green.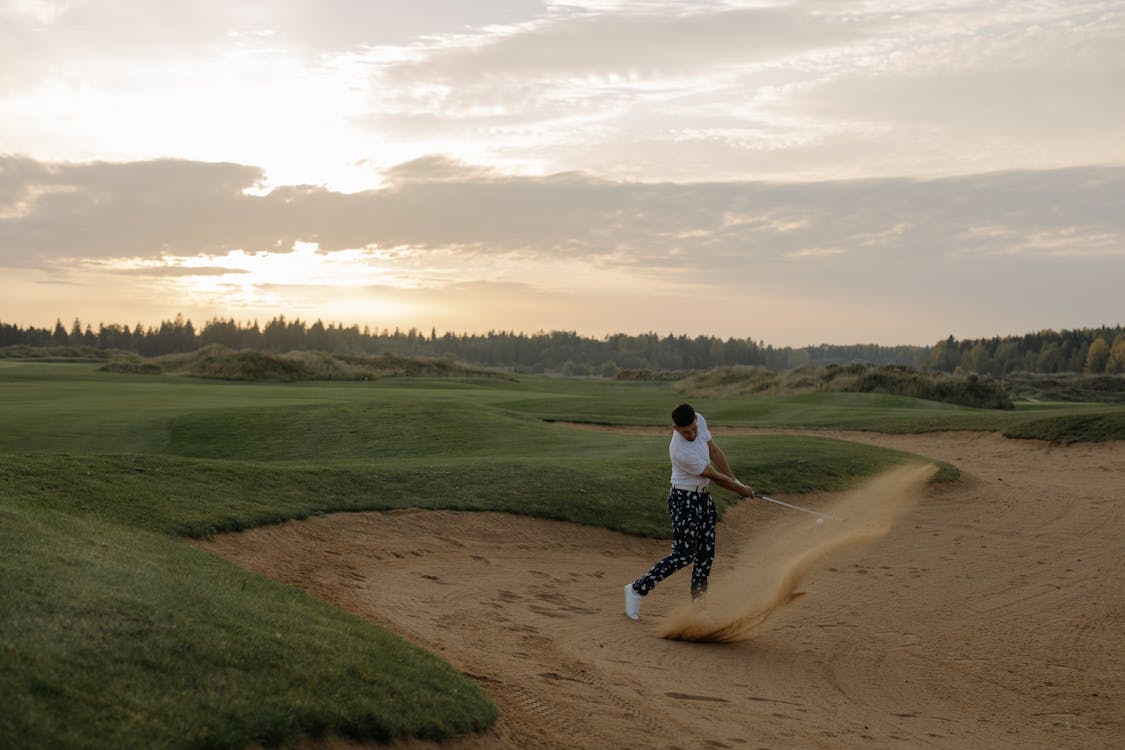 How Scoring Works in Golf
In order to improve your score in golf, it is essential to have a solid understanding of the scoring system. The number of strokes that are deemed necessary to successfully complete each hole on the course is referred to as the par for that particular hole.
Your score for any particular hole in golf is simply the number of strokes that it took you to complete that hole. When the round of golf is over, your final score is determined by adding up all of the scores you earned on each hole individually. Generally speaking, the winner of the game is determined to be the participant who finishes with the fewest points overall.
In spite of this, there are a number of different ways to keep score in golf, which is why it is vital to have a conversation about scoring with your playing partners before beginning a game. You can better position yourself for success on the course and increase your odds of coming out on top if you have a solid understanding of how the scoring system works.
The Basics of Golf Etiquette
Golf is also referred to as "the gentleman's sport" so naturally, playing golf also involves rules of etiquette that golfers should follow. Following the rules of etiquette makes playing golf enjoyable for everyone in your group and everyone else on the course.
There are many different aspects of golf etiquette, but some of the basics include being respectful of other players, keeping the noise level down, and avoiding slow play. Whenever you are on the course, you should be aware of other players around you and try not to do anything that would disrupt their game. This means no screaming, swearing, or throwing clubs.
Showing up earlier than your tee time.
Arriving at the golf course a few minutes before your tee time is good golf etiquette. It gives you time to warm up, hit a few balls on the range, and relax before your round. Rushing from your car to the tee box can make you tense and anxious, which can impact your game. Another important aspect of golf etiquette is dress code.
Most courses have a dress code that includes no jeans, collared shirts, and no tank tops. Wearing the proper attire not only shows respect for the game, but it also helps you feel more confident and comfortable while playing. Golf is a game of etiquette and following the rules is essential to ensure everyone has a pleasant experience.
Follow the cart path.
When you play golf, it's important to remember that you are sharing the course with other players. To preserve the quality of the course for everyone, it is essential to stay on the cart path. The grass on a golf course is cut to different heights in different areas. Driving off the path can damage the grass and make it difficult for the groundskeepers to maintain.
In addition, driving on wet grass can create ruts that are difficult to fix. By staying on the cart path, you will help maintain the course and ensure that everyone can enjoy a round of golf.
Don't talk when others are taking their shot.
As any golfer knows, hitting the ball takes focus and concentration. You have to line up your shot, take a deep breath, and then let the club do the work. If you're thinking about anything else, you're likely to miss the shot altogether. That's why it's important to stay silent when others are taking their shot.
Talking can be done as you are going towards the next hole, when it isn't as distracting. By staying quiet, you're helping your fellow players maintain their focus and concentration so they can hit their shots with precision. In addition, staying silent also shows respect for the game and your fellow players. So next time you're on the golf course, remember to keep quiet while others are taking their shots.
Mind where you stand.
When playing golf, it's important to be aware of your surroundings and to respect the other players. That means minding your own position on the course, and keeping out of the way of anyone who is taking a shot. It can be dangerous and distracting to stand too close to someone who is swinging, so it is best to give them plenty of space.
You should also make sure that you are not blocking anyone's view, and that your shadow is not cast across their line of sight. By following these simple guidelines, you can help to ensure that everyone has an enjoyable and safe game of golf.
Conclusion
Golf is a world-class sport that takes a lot of skill and focus. Once you learn the basics of golf, playing with friends can become a fun and relaxing pastime. If you've recently taken up golfing as a hobby, you might want to consider buying a contemporary luxury home that's located in close proximity to some of the top golf courses the country has to offer.
By doing so, you'll be able to easily walk or drive to the course whenever you feel like playing a round. In addition, many of these homes come complete with their own private putting greens and pro-grade equipment, so you can practice your swing in the comfort of your own backyard.
Whether you're looking for a weekend retreat or a place to call home full-time, purchasing a property on a golf course is an investment that will undoubtedly bring years of happiness.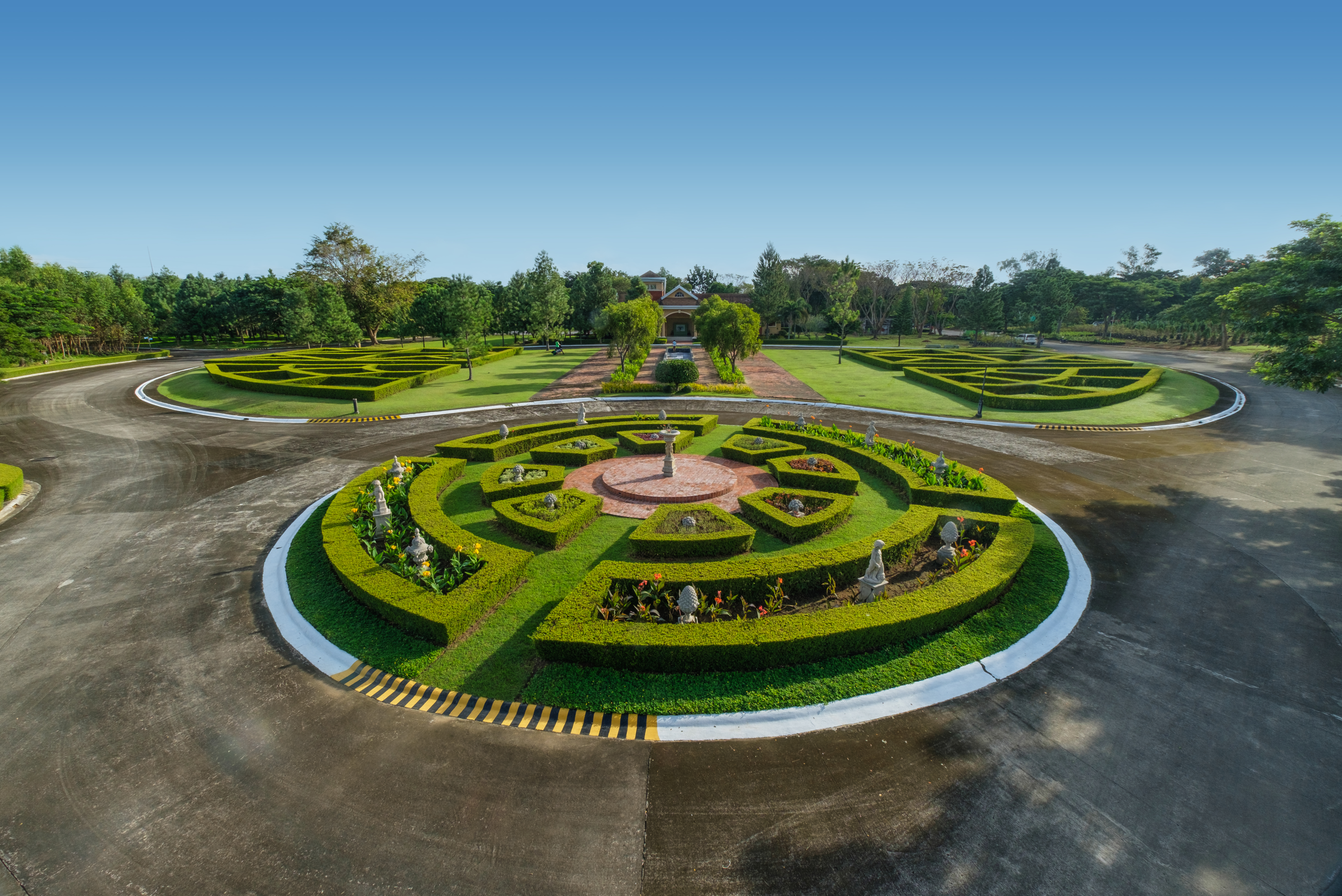 Brittany Santa Rosa developed Promenade, a luxury community inspired by the English countryside. Experience the best of Brittany living when you invest in luxury real estate at Promenade, especially when this community sits close to Sta Elena Golf and Country Club, Alabang Country Club, and Canlubang Golf and Country Club.
Brittany Santa Rosa should be your next home. Invest in luxury real estate and build your dream modern luxury house at Promenade. Experience Brittany living at its finest when you invest in a Brittany home for you and your family. Check the Brittany website for more of our world-class properties, or have a look at our  Linkedin, Facebook, Twitter, and Instagram accounts.
NEXT READ: Top Golf And Country Clubs Around The world
NEXT READ: Luxury Living in Laguna