BLOGS
What Defines Spanish Interior Design?
In countries like the Philippines, Spanish colonialism is evident through the structures. Spanish home design, also known as Spanish Revival or Spanish Colonial Revival, is characterized by its warm and inviting aesthetic influenced by the architectural styles of Spain, particularly from the regions of Andalusia and Catalonia.
What defines Spanish design is simple to determine. You just have to look into some special key elements. Keep on reading this article to can incorporate this style in your home.
What are the characteristics of a Spanish style homes?
While to some countries and regions, there are different aspects considered as what defines Spanish design depending on the historical period of influence there are still some general characteristics that you can incorporate to achieve a Spanish-inspired interior.
Thick Walls

Homes built in the Spanish architectural style frequently have thick walls composed of adobe, stone, or concrete. Due to the insulation provided by these substantial walls, the interior is kept cool and comfortable even in hot temperatures.

Hand-Painted Tiles

"Azulejos," or decorative tiles, are frequently used in different areas of Spanish-style homes. Intricate patterns and vivid colors are frequently hand-painted on these tiles, bringing a burst of visual appeal to kitchens, baths, and stairwells.

Wrought Iron Details

Another feature of homes built in the Spanish architectural style is decorative wrought ironwork. Objects like stair railings, window grilles, gates, and light fixtures are made of wrought iron. A touch of refinement and visual intrigue are added by intricate motifs and patterns.

Stucco Walls Exterior

Spanish-style homes typically have exterior walls finished with stucco, a durable and low-maintenance material. The stucco walls are often painted in earthy tones such as white, cream, beige, or terracotta, reflecting the warm Mediterranean climate.
These are just some of the key features that you may notice as what defines Spanish design. If you are looking for a home inspiration that perfectly shows what defines Spanish design, you may look into Brittany Santa Rosa to find the perfect Spanish-style homes!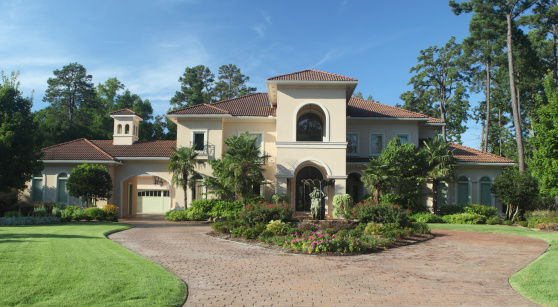 What defines Spanish design in an Interior?
Now that you have known the common exterior features of Spanish homes, the list below are features of what defines Spanish design in terms of the interior design. So if you are planning to turn your home inspired from Spanish-style homes, take note of the following:
Clay Tile Flooring

Traditional Spanish homes often have clay or terracotta tile flooring, which adds a rustic and earthy feel to the space. The tiles can be plain or decorated with colorful patterns. Clay tiles can be used in various areas of the home, including entryways, kitchens, bathrooms, and living spaces. They can also be used for outdoor patios and courtyards, blending the indoor and outdoor living areas seamlessly.

White Plastered Walls

White plastered walls contribute to the clean, bright, and timeless aesthetic of an interior design, including Spanish-style homes. They provide a blank canvas for personalization and allow other elements in the room to shine. Occasionally, textured or stucco walls with curved edges are also seen. Textured finishes can be achieved by applying the plaster in a way that creates subtle or pronounced patterns and variations. Smooth finishes involve carefully troweling the plaster to create a seamless and uniform surface.

Exposed Ceiling Beams

Wooden ceiling beams are a common feature in Spanish home design specifically in its interior design. Exposed ceiling beams draw the eye upward, adding depth and architectural interest to a room. They can visually break up a large ceiling expanse and create a sense of coziness and intimacy in a space. These beams can be left in their natural state or stained in darker shades to add warmth and contrast to the white walls.

Arches and Niches

Arches and niches are architectural details that are frequently found in Spanish interiors. Arched doorways, windows, and built-in niches add a sense of elegance and charm to the space. Arches can be found both indoors and outdoors. In Spanish-style homes, they may be used to frame entrances, separate rooms, or create architectural transitions between different areas of the house.

While niches can serve as focal points within a room, adding depth and visual interest to the space. They break up the flatness of the wall surface and create an architectural detail that draws attention. It also offers an opportunity to highlight and display decorative objects, such as artwork, vases, religious artifacts, or family heirlooms. Lighting fixtures can be incorporated into the niches to enhance the visual impact of the displayed items.

Ironwork

Wrought iron is commonly used in Spanish exterior and interior design for various purposes, such as stair railings, light fixtures, and window grilles. Intricate ironwork adds a touch of authenticity and enhances the overall aesthetic. Wrought iron is known for its decorative details, which often include scrollwork, floral motifs, twisted bars, and geometric patterns. These intricate designs contribute to the overall aesthetic appeal and create visual interest in the space.

Decorative Tiles

Another distinct interior design feature this home style are its tiles. Spanish tiles, particularly colorful ceramic or hand-painted tiles known as "azulejos," are widely used as accents in kitchens, bathrooms, and other areas. They are often featured as backsplashes, decorative borders, or on stair risers.

Fireplaces

Spanish homes interior design often include a fireplace as a focal point in the living room or gathering spaces. These fireplaces are typically made of stone or adobe and may feature decorative tile work. While traditional Spanish-style fireplaces are prevalent, modern interpretations of Spanish architecture may incorporate contemporary and streamlined fireplace designs. These designs can still embrace the essence of Spanish style while adapting to contemporary preferences.

Dark Wood Furniture

Spanish interior design favors furniture made from dark, richly stained woods, such as walnut, mahogany, or oak. Spanish-style homes often incorporate rustic wood furniture pieces that showcase natural wood grains and textures. Carved details, distressed finishes, and wrought iron accents are frequently incorporated into furniture pieces, adding character and authenticity to the space.

Textured Fabrics

To add warmth and texture, Spanish-style interior design incorporates textiles such as heavy curtains, tapestries, embroidered cushions, and rugs made from natural fibers like wool or jute. These textiles often feature vibrant colors and intricate patterns. When using textured fabrics in interior design, it's important to consider the overall style and aesthetic of the space. Mixing and layering different textures can create a visually dynamic and engaging environment, while also providing a tactile experience that enhances the comfort and coziness of the room.

Decorative Accents

Spanish homes are known for their decorative accents. Spanish-style homes interior design often display artwork and wall decoration that reflects the cultural heritage and artistic traditions. Paintings, tapestries, mirrors with ornate frames, and metal wall art featuring Spanish motifs can be used to adorn the walls and create focal points. Another is the Spanish pottery, such as Talavera. It is renowned for its vibrant colors and intricate hand-painted designs. These pottery pieces, including vases, plates, and bowls, can be used as decorative accents on shelves, mantels, or tabletops, adding a pop of color and a touch of cultural heritage.

These decorative accents contribute to the overall charm, warmth, and authenticity of Spanish-style homes. They bring together cultural influences, craftsmanship, and artistic expression, creating a unique and inviting atmosphere.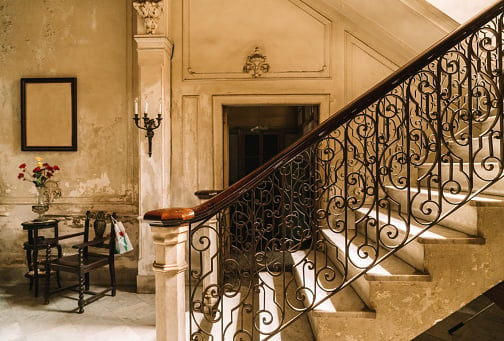 Living the Spanish Dream with Pontevedra Estate
Now that you have distinguished what defines Spanish design, you must be very interested in purchasing a property with a timeless architectural beauty. Here's where you can find one.
In the center of Santa Rosa City, Pontevedra Estate combines history, culture, and elegance with interconnected lanes and plazas and enchanting squares bustling with cafes and innovative restaurant concepts. Your new Spanish home awaits!
Suggested Read: Creating An Oasis: Designing Spanish-Inspired Outdoor Spaces
Suggested Read: Traditional Spanish Decor: Tips For Achieving A Classic Look
Suggested Read: Guide To Modern Luxury Interior Design
Suggested Read: Colors Of A Rustic Spanish Style
Suggested Read: Bringing The Colors Of Spain