BLOGS
Dining Area Ideas For Your Promenade Home
Purchasing a brand new house is no easy feat—the process might be complicated and tedious for some. But once that part is over, finally moving into a new place is usually a very exciting moment in one's life. It marks the start of a new beginning for the family and fulfills many people's lifelong dreams.
One of the things to look forward to when moving into a new house is customizing and designing the space depending on your family's needs and preferences. While the the interior designers can do this job, sitting down to discuss and plan in detail what each space should look like is a great practice to ensure that the space will really feel like home to its residents before entrusting the work to the professionals.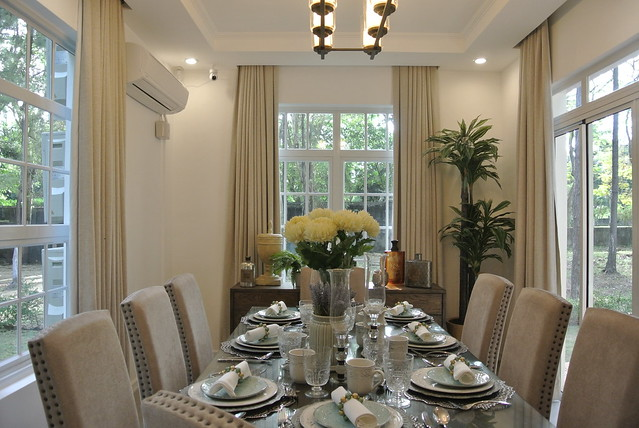 Designing Your Promenade Home
Promenade is a lovely community with a luxury house and lot properties for sale located in Brittany, Santa Rosa, Laguna. The community boasts of its charming English countryside theme, imagery where hedged cobbled paths surround cozy mansions. Aside from the beautiful luxury house and lot properties for sale, living in the Promenade community gives residents access to amazing amenities such as a clubhouse, function halls, a basketball court, and a secret garden.
The neighborhood is also full of gorgeous architecture, like the grand fountain that leads the residents to the clubhouse. With its great location, Promenade is a place that provides a wide range of opportunities for relaxation, entertainment, and tons of fun with nearby establishments such as the top two golf courses in the South—Sta. Elena Golf and Country Club and the Country Club Philippines surround the surround surrounding.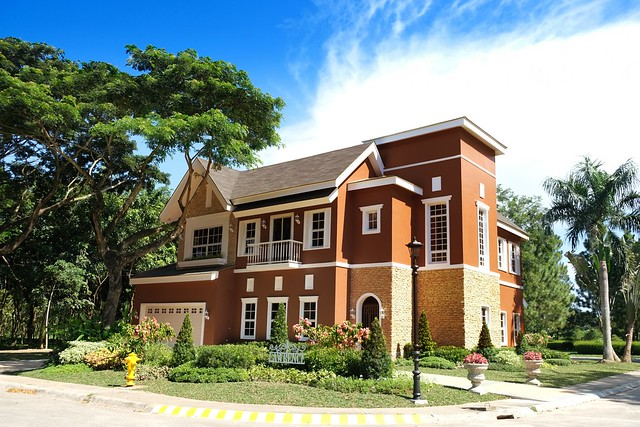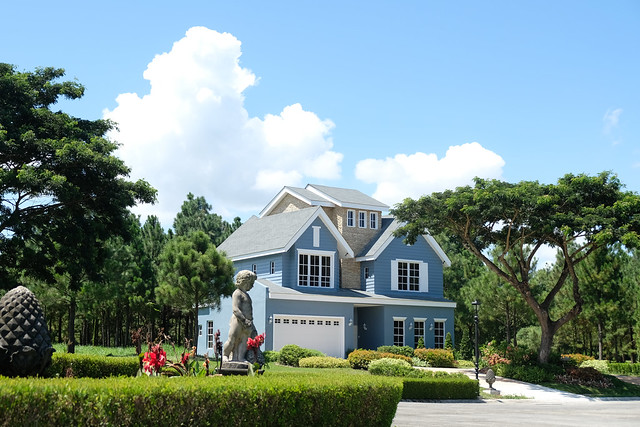 Promenade Homes have a great lineup of house and lot properties for sale,, such as the Eliot Luxury House, a spacious and elegant property that is equipped with Smart technology, the Lawrence Luxury House which has a massive space that is perfect for the family and located right across a man-made lake and the grand obelisk near the community's main gate, and Milton Luxury House which is the most expansive home in the Promenade community perfect for large families.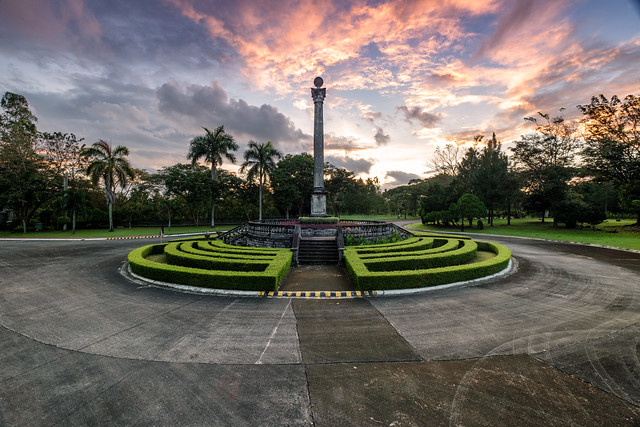 Inside these beautiful houses is a massive space full of possibilities when it comes to customizing and designing. The space that is sure to be exciting to work on as you start to design a Promenade Home is none other than the dining area.
The Importance of a Dining Area
Before getting into the actual process of designing the dining area, here are some points that are good to know about it. Aside from being a place where the family can dine in, having a well-designed dining area has plenty of other advantages to the house itself and the family members residing inside it.
Separating Different Areas of the House
Including a dining area in the floor plan creates a clear distinction of the different functional areas inside the house. To design a place meant solely for dining and entertaining the guests is good to establish the purpose of each area which will eventually translate to healthy habits.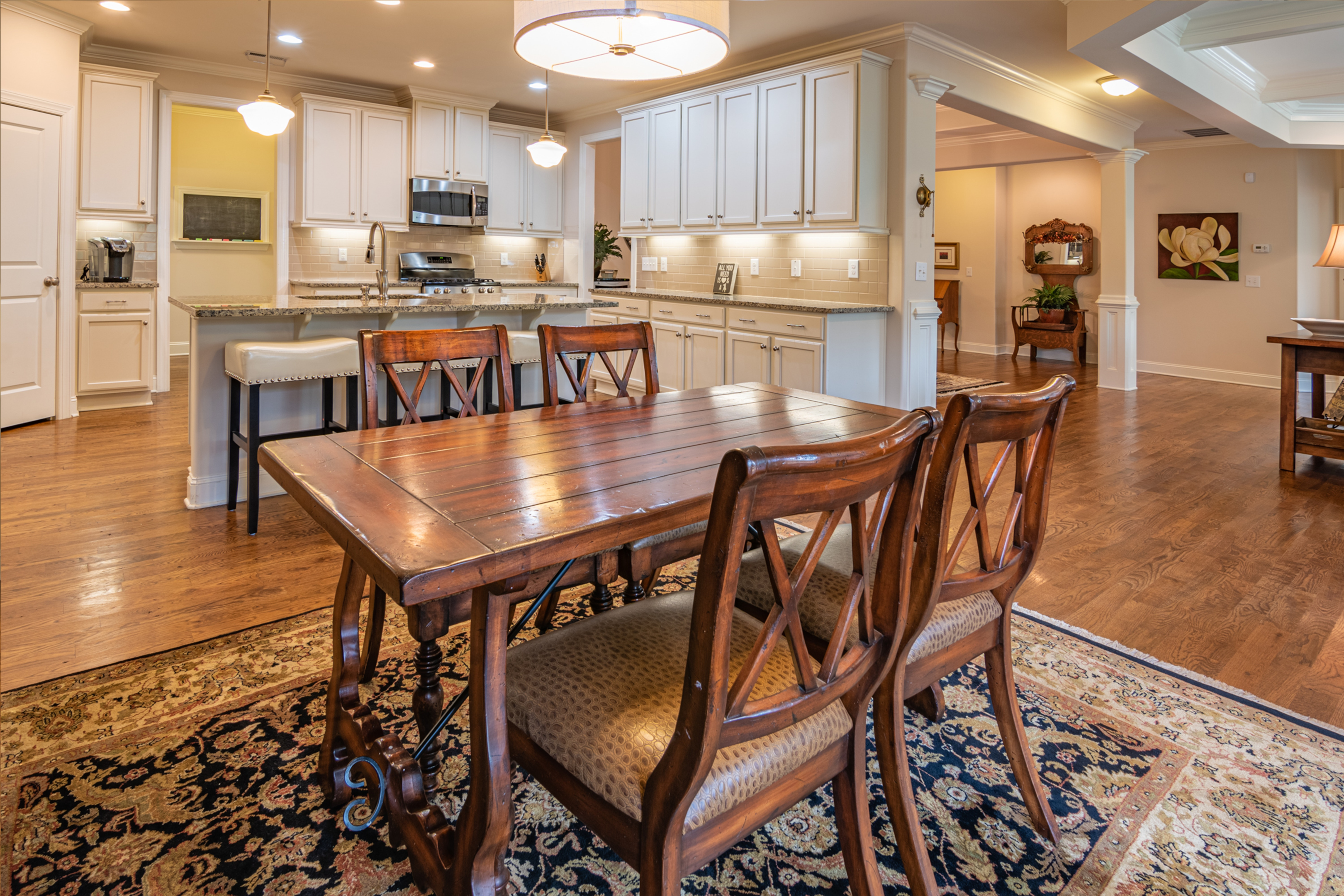 Promoting Healthy Habits
Several studies have demonstrated the beneficial effects of eating while remaining focused and not distracted. Homeowners recognize the significance of a dining area, which is then transformed into a dry to mean and diving room with this function. People will, however, develop unhealthy eating habits as a result of being constantly interrupted while they are eating as a result of this.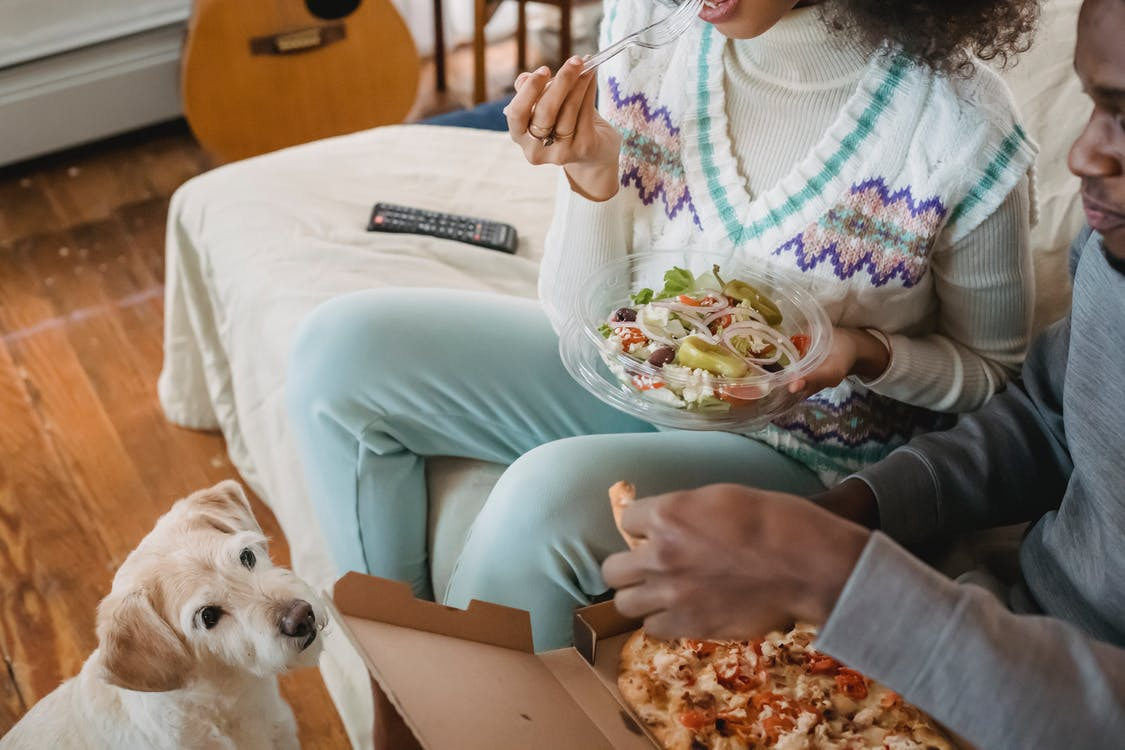 Beyond eating, many healthy habits can be taught to children in the dining room that they can carry with them throughout their lives. It is an effective method of teaching dining etiquette, such as the prohibition on using electronic devices while eating on the dining room.
These small gestures can help family members develop good habits that will last a lifetime, such as connecting with one another while eating dinner rather than spending the majority of their time in front of a television or a mobile phone screen.
Provides a Space for Quality Time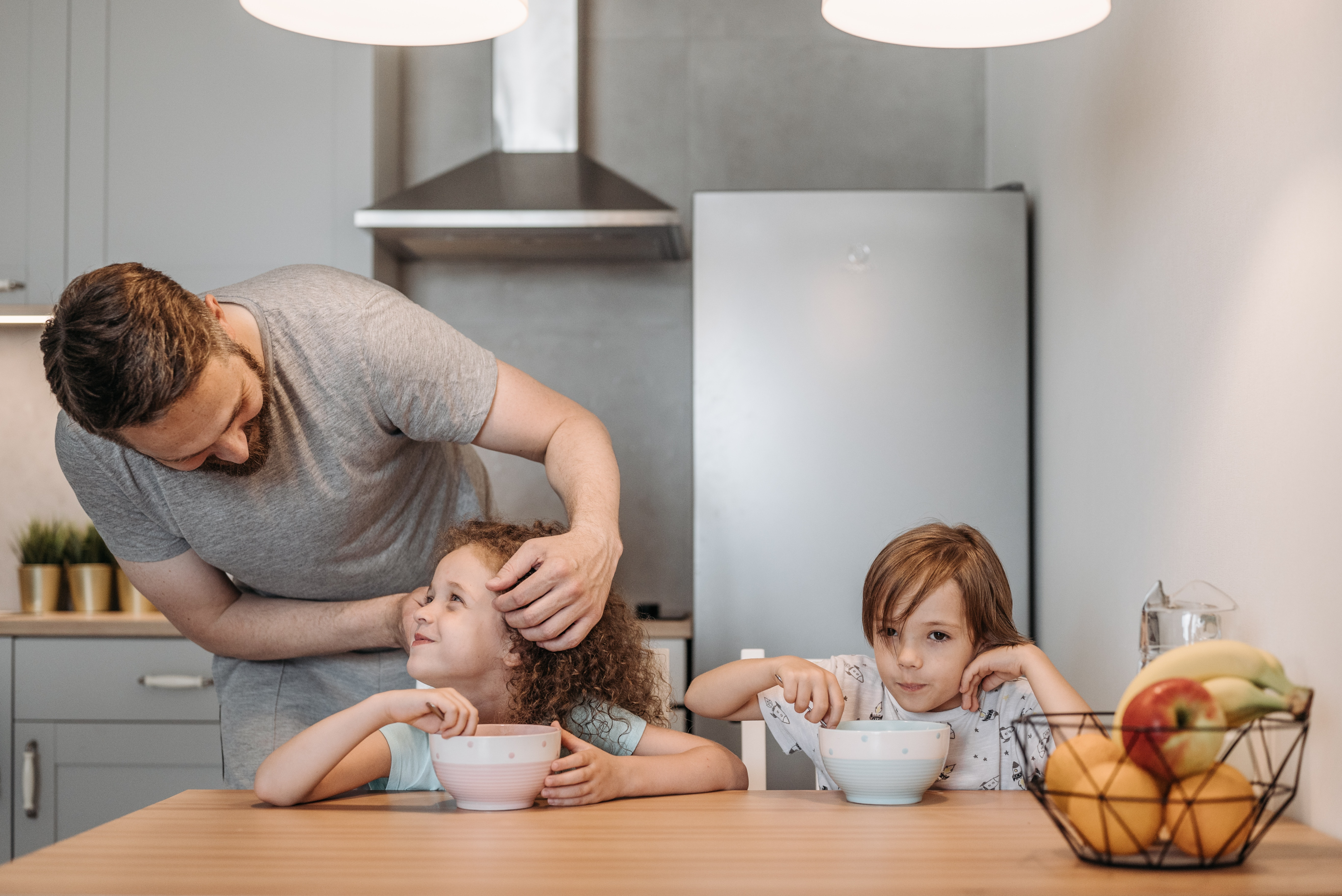 The culture of regularly dining together with the family is a good practice to start inside the home. It allows the creation of healthy habits, but it is also a good bonding experience that is really low maintenance. The dining table has always provided positive energy and healthy connections among the family members.
Having a well-designed dining room also comes in handy during the celebration of the family's special occasions and milestones. During the COVID-19 pandemic, when people could hardly go outside and dine out, the dining room witnessed the special days celebrated intimately at home.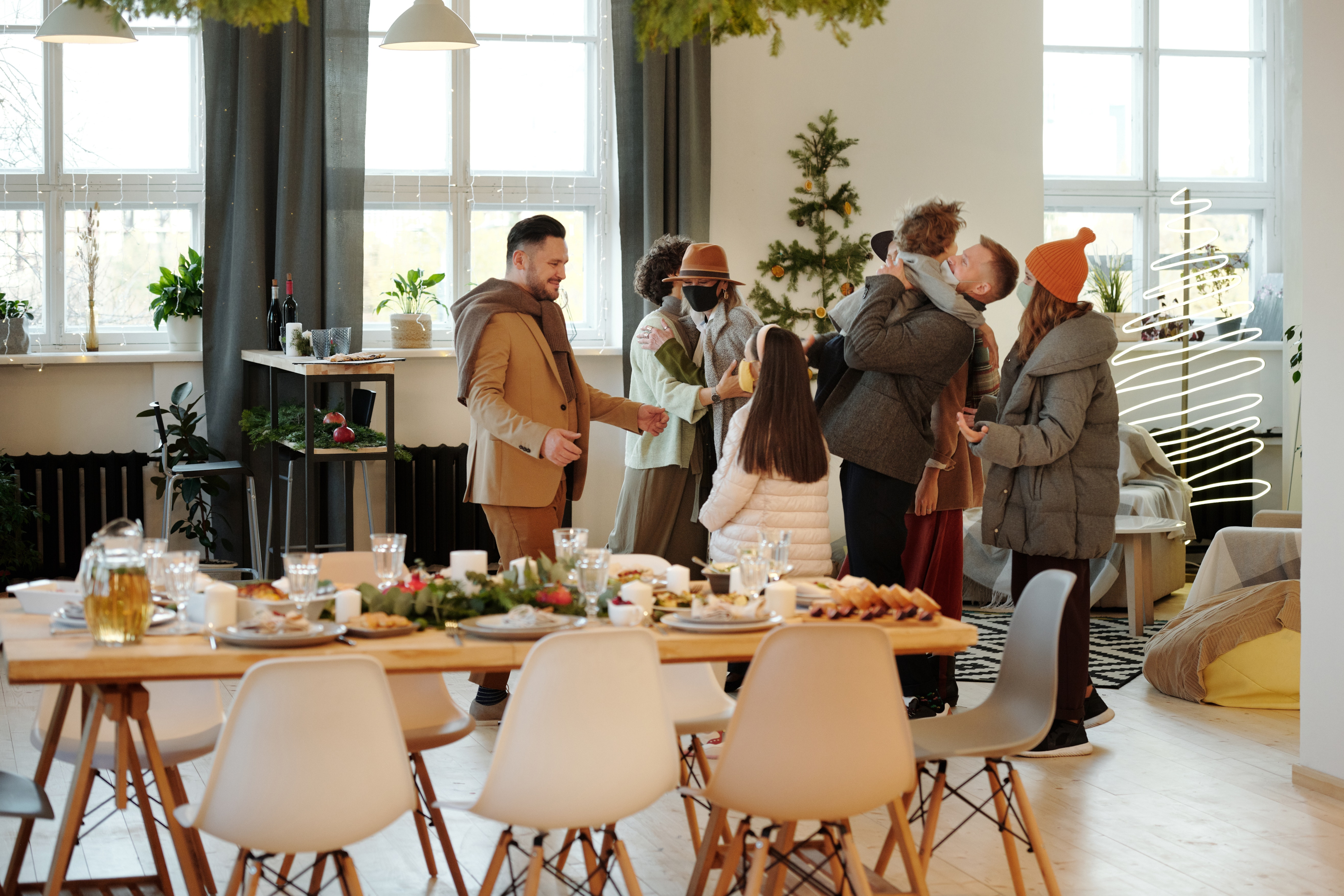 Each area of the house is important, each has its own function and purpose. For the dining room floor, it is clearly not just a place to eat but also for bonding and sharing daily experiences, which are habits that are crucial for the family to practice.
Designing Your Dining Area Floor Plan
When thinking of designing the dining area, who would not want one that looks like a restaurant floor plan? Deciding on the use of space is important to make sure that the dining area will be a functional and comfortable place for the family's common use. To jumpstart the design process, below are some questions to ask before proceeding to the specifics of the dining area ideas.
Things to Consider
Purpose: Before purchasing the materials needed, such as furnitures, decorations, lighting fixtures, and other dining area essentials, figure out the purpose of the dining area first. Is it only meant for everyday family use, or is it meant to entertain guests in the same area? With the massive space inside Brittany Corporation's Promenade homes, it is possible to create a space with different and specific functions. Establishing the purpose of the dining area at the onset will be key in leading the next steps of the design process.
Number of People: If the dining area is meant for everyday family use, it is easy to know how much space is needed, the size and number of furniture to accommodate the people who will use it, and the durability of the materials needed. If it is meant to entertain guests, there should be a balance between practicality and luxury in the design to be a place for both everyday uses and special occasions.
Personality: When designing your floor plan, it is important to consider the personality of the people who will use it. This one varies from one family to another, depending on your habits and preferences. Ensure this part will not be overlooked so the design will be suitable and efficient, not cause hassle, to the people who will be using it moving the things listed above have been considered and laid out, it is time to design the dining area floor plan. This part is usually entrusted to interior design professionals. Still, before handing them out the ideas, it is good to have a detailed vision of what the dining area won't look like.
To help on this, here are some dining area floor plan ideas to draw inspiration from.
Dining Area Ideas For Your Promenade Home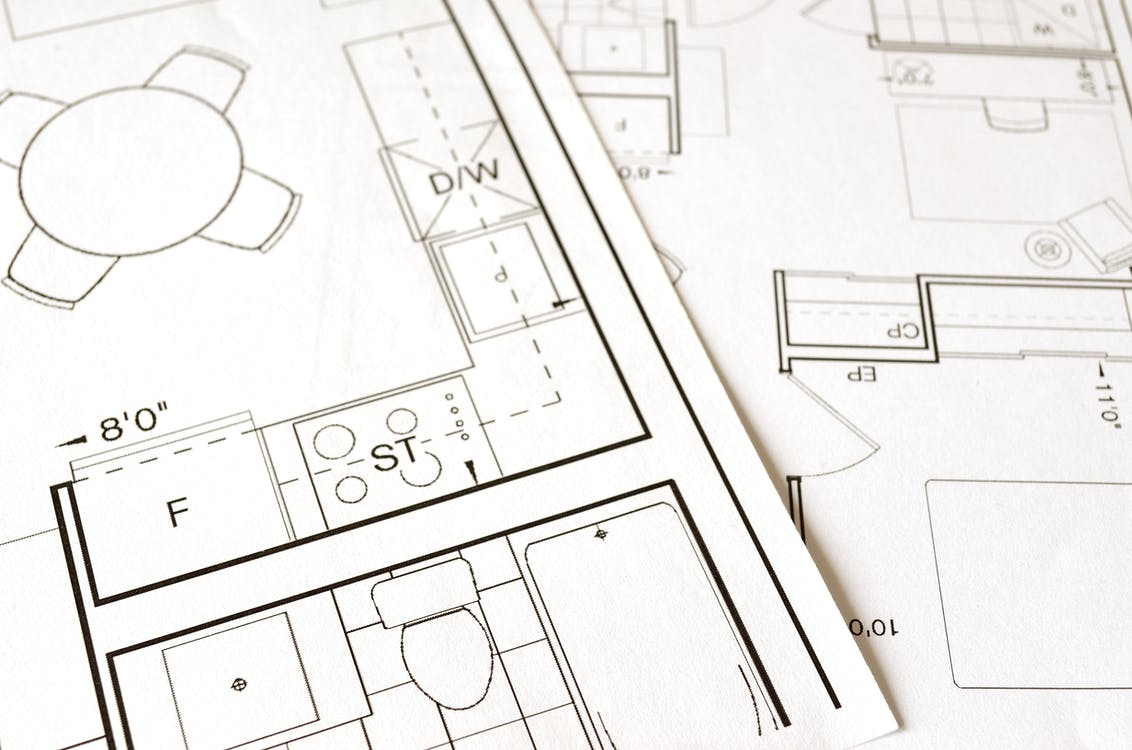 The Mix of Traditional Family and Formal Layout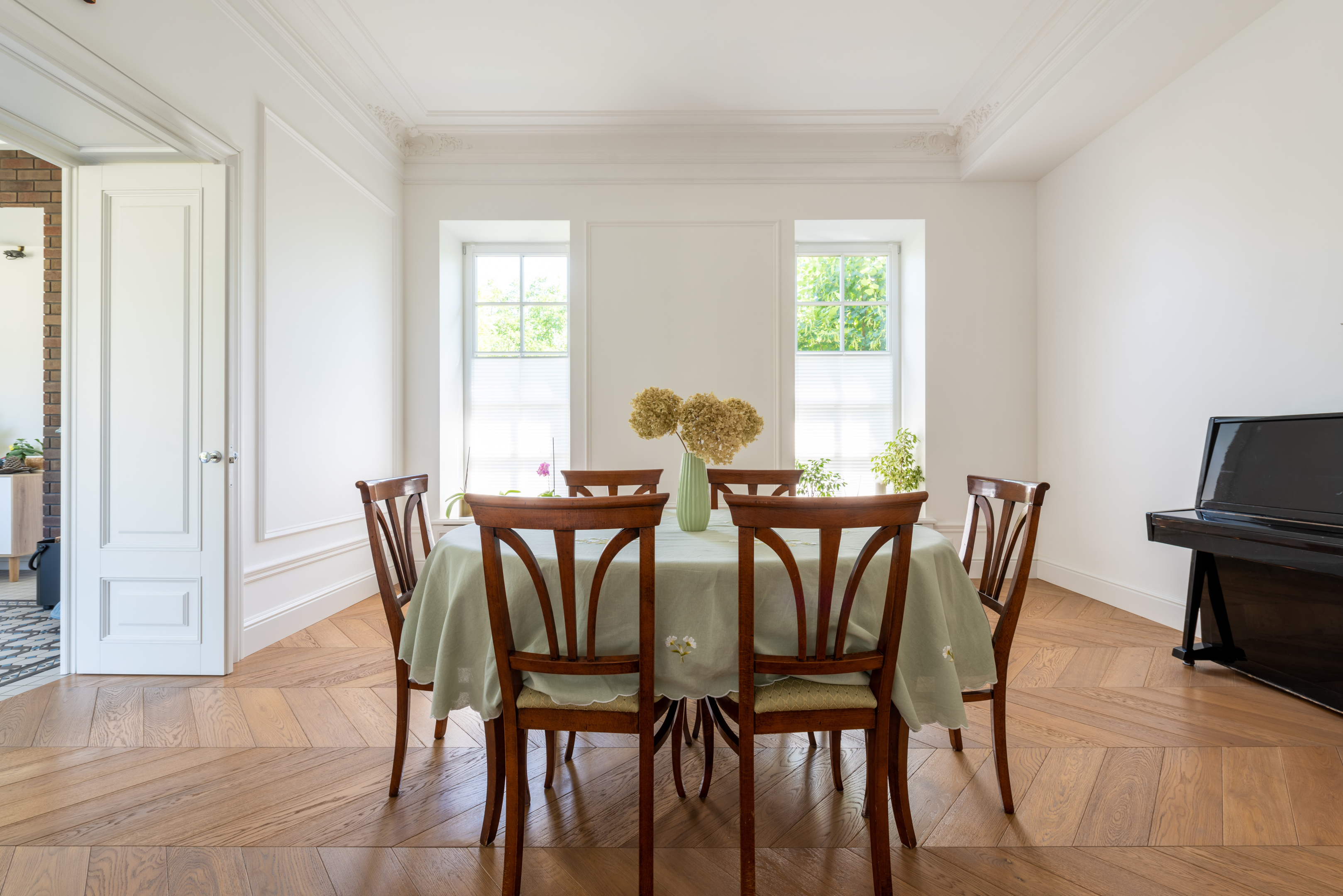 If the dining area is intended to be used for both everyday family use and entertaining guests, a mix of traditional family and formal style can be adapted. The traditional family style focused on providing a comfortable and inviting atmosphere but combining formal dining style elements often seen in restaurant floor plans is a great, easy way to create a dining area conducive to formal or usual family dining.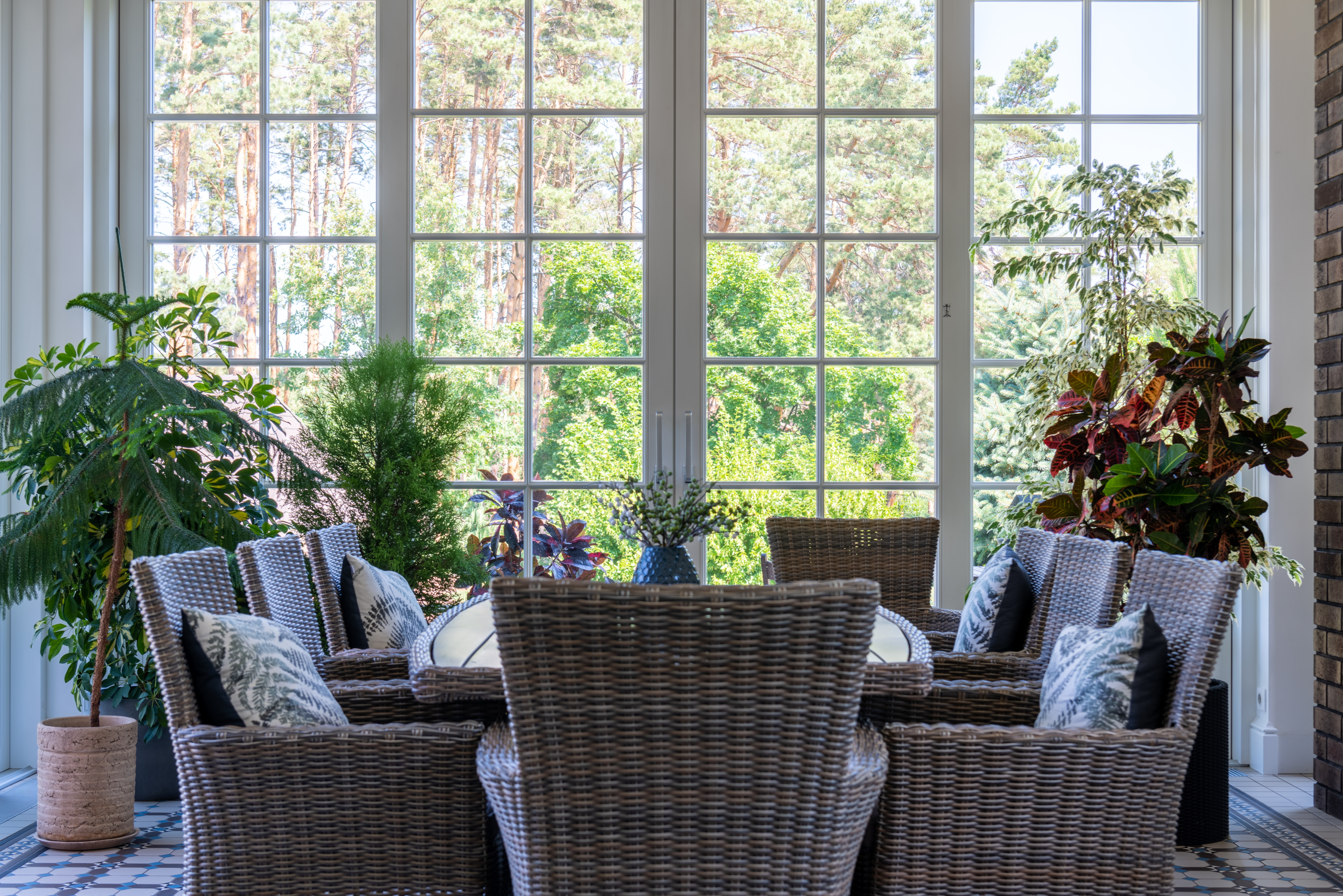 One of the features of Brittany Corporations' Promenade Homes like Eliot and Lawrence is its huge windows that allow natural light to come in and provide a great view of the community's greenery. Placing a semi-large table, with provision for the entire family and some guests, close to the windows will complete a homey ambiance to the dining area.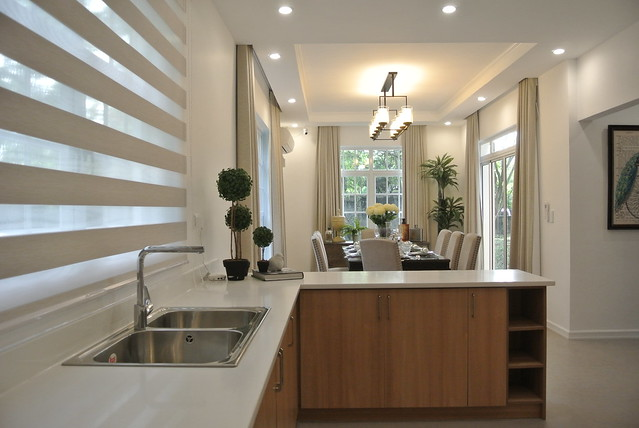 Modern or Contemporary Style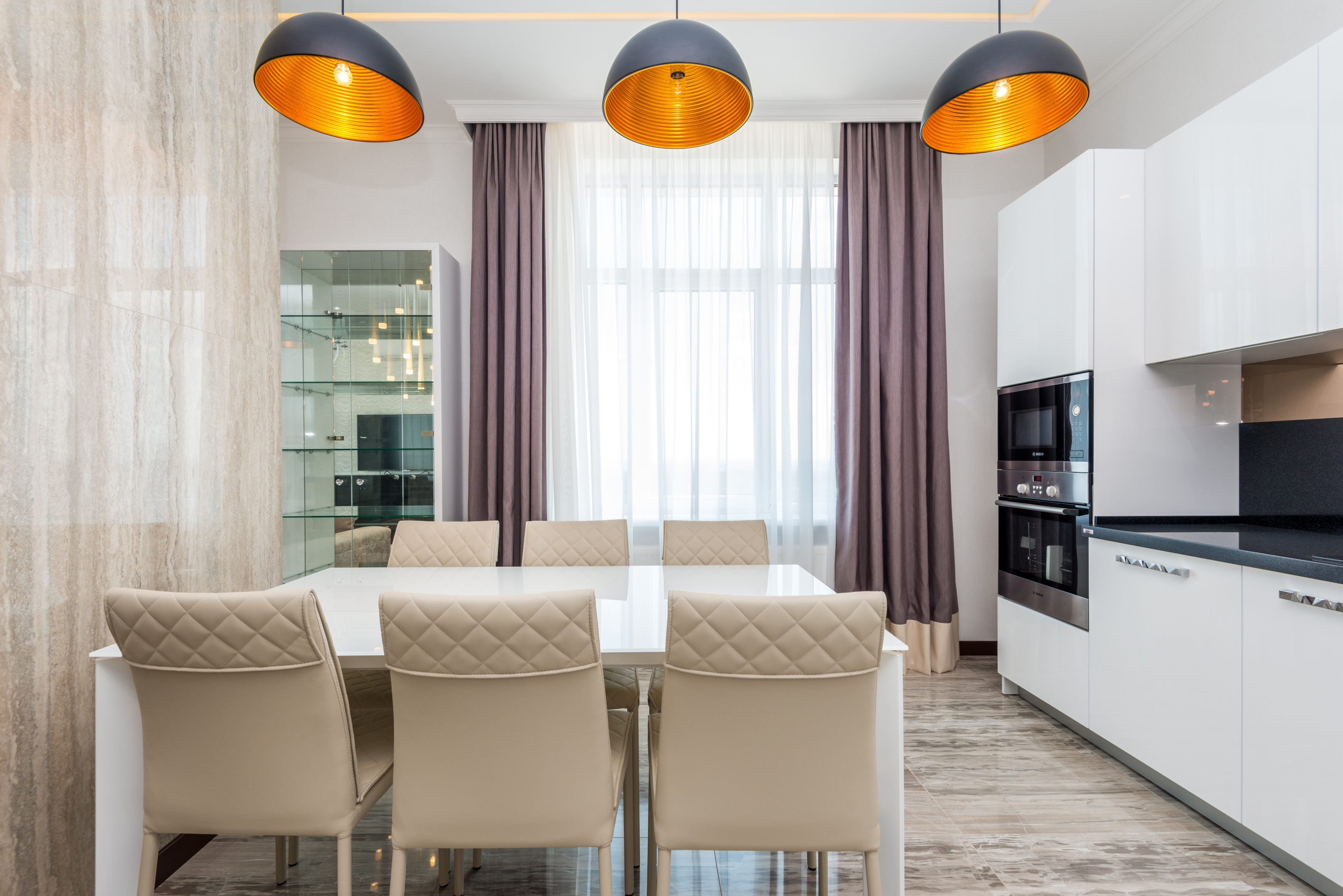 Like fashion, there are trends in the interior design industry. In recent years, having a minimalist design has been the trend and there are many stores selling home furniture and other essentials that incorporate this kind of design in their items. Many people like a clean and simple look on their houses nowadays, not just in their dining area floor plan but also in the kitchen, living room, bedroom, etc.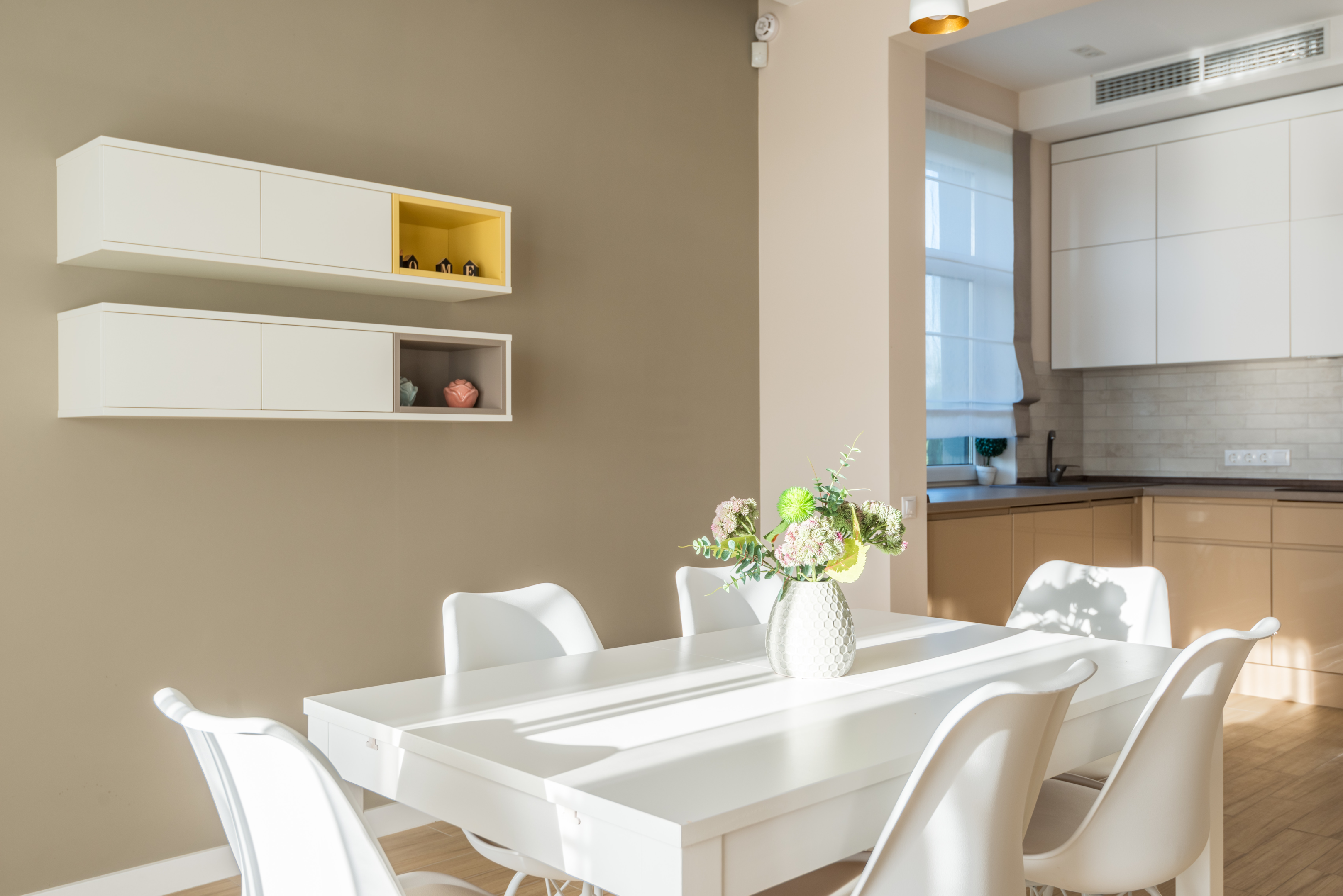 Having this kind of layout and style in the dining area can also be refreshing as it is easy on the eyes and not prone to clutter. This is also a good way to create a space for other activities that can be done near your dining room, like a bigger kitchen space or a waiting area for guests.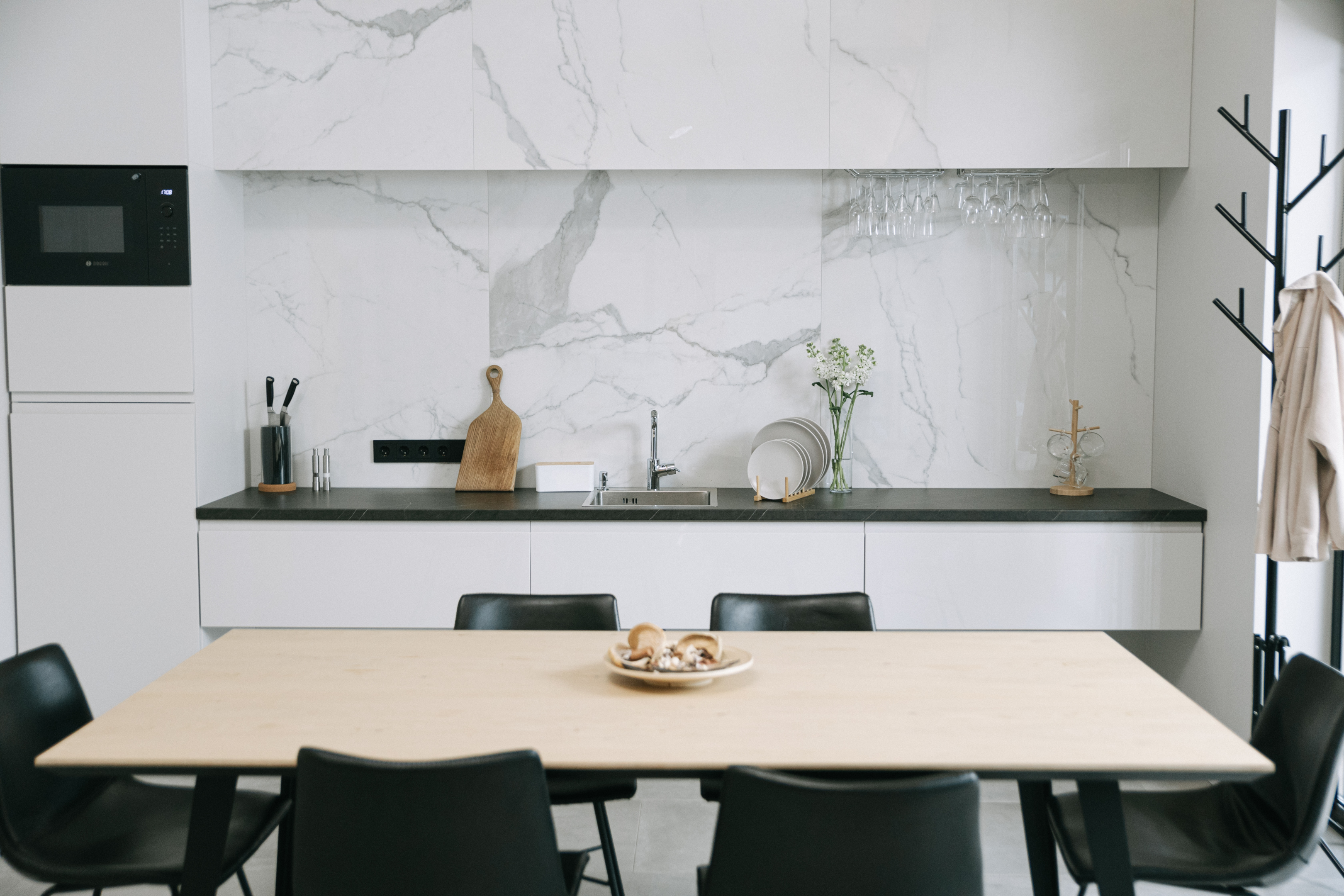 Multi-Function Dining Room Set-Up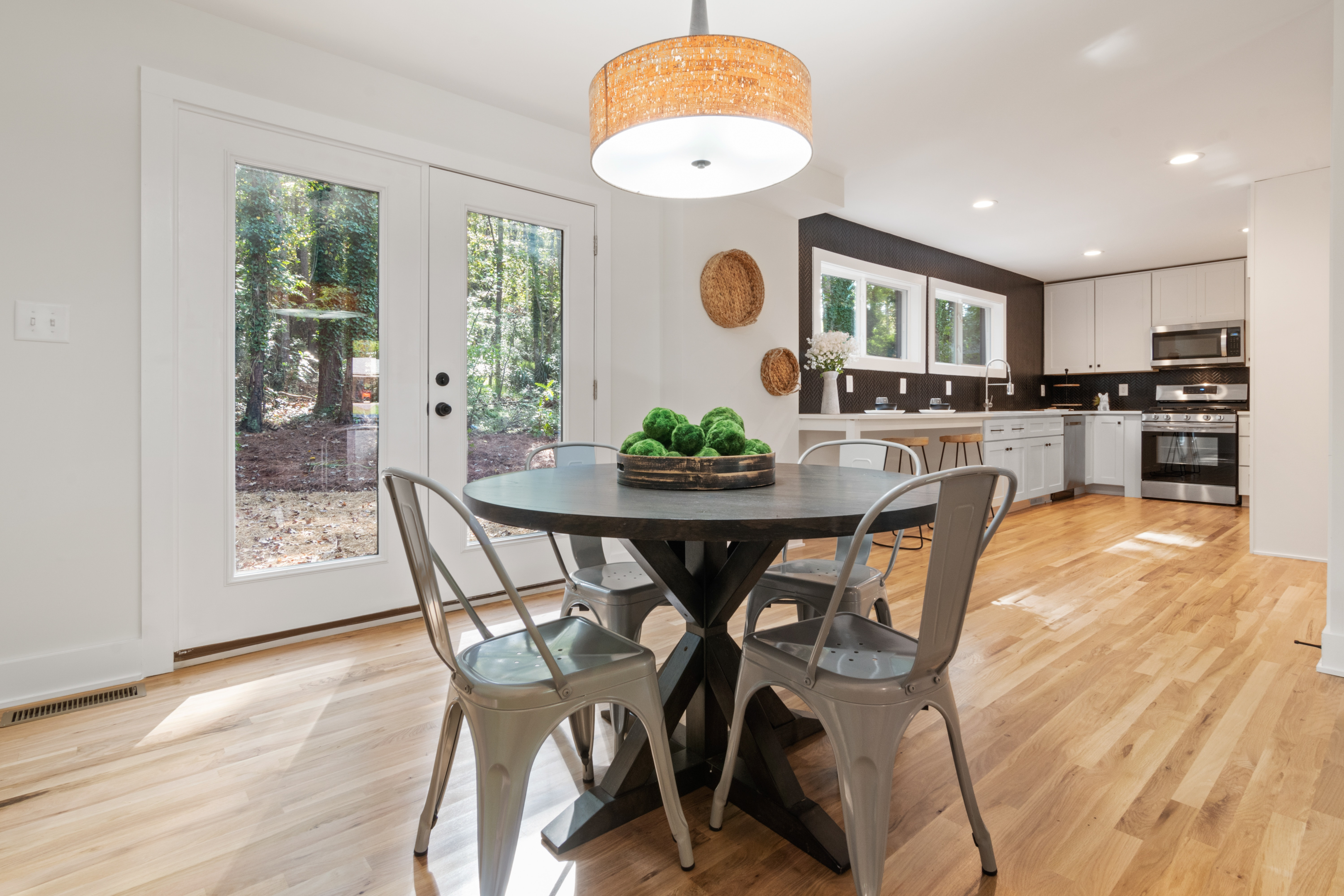 If the family is relatively small or there is a challenge with the space available for the dining area floor plan, a small dining room set-up might be the way to go. The use of furniture that will not eat up a lot of floor area, like a round table and portable chairs, will be a good use of the space without compromising the efficiency and comfort of those who will use it.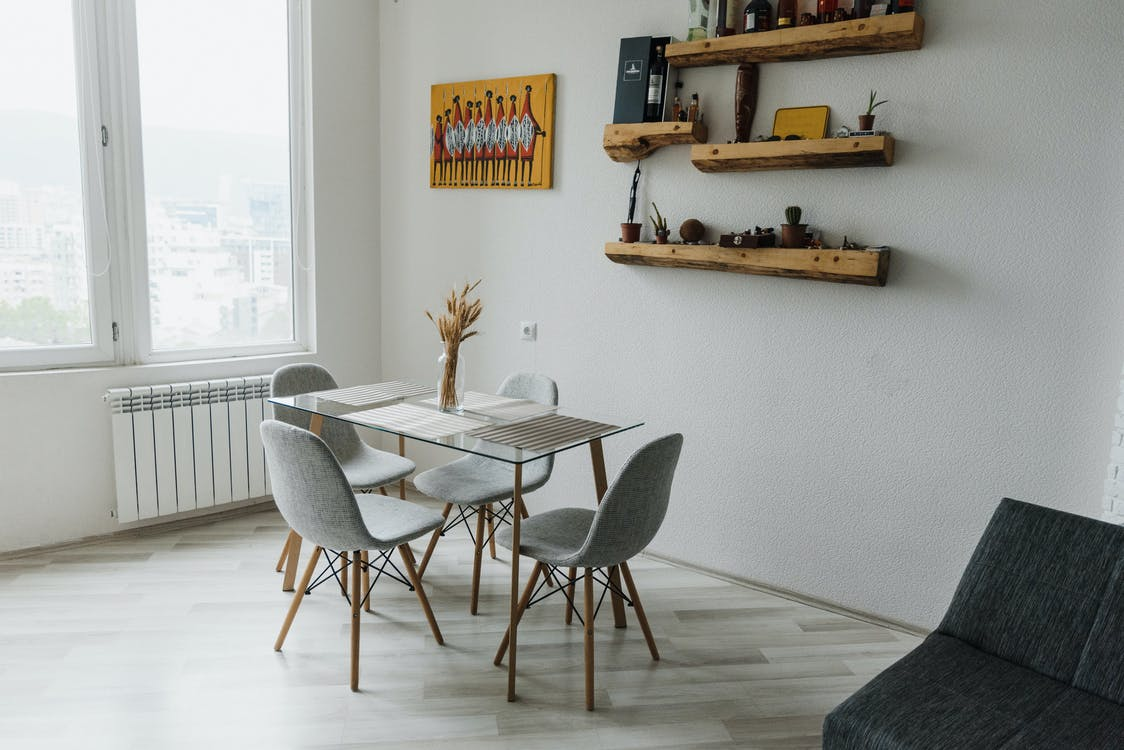 Purchasing furniture pieces that can also serve other purposes, like a dining table being used as a work desk. When there is a challenge with the dining area floor plan because of the limited space, creating a multi-purpose dining room can be the best way.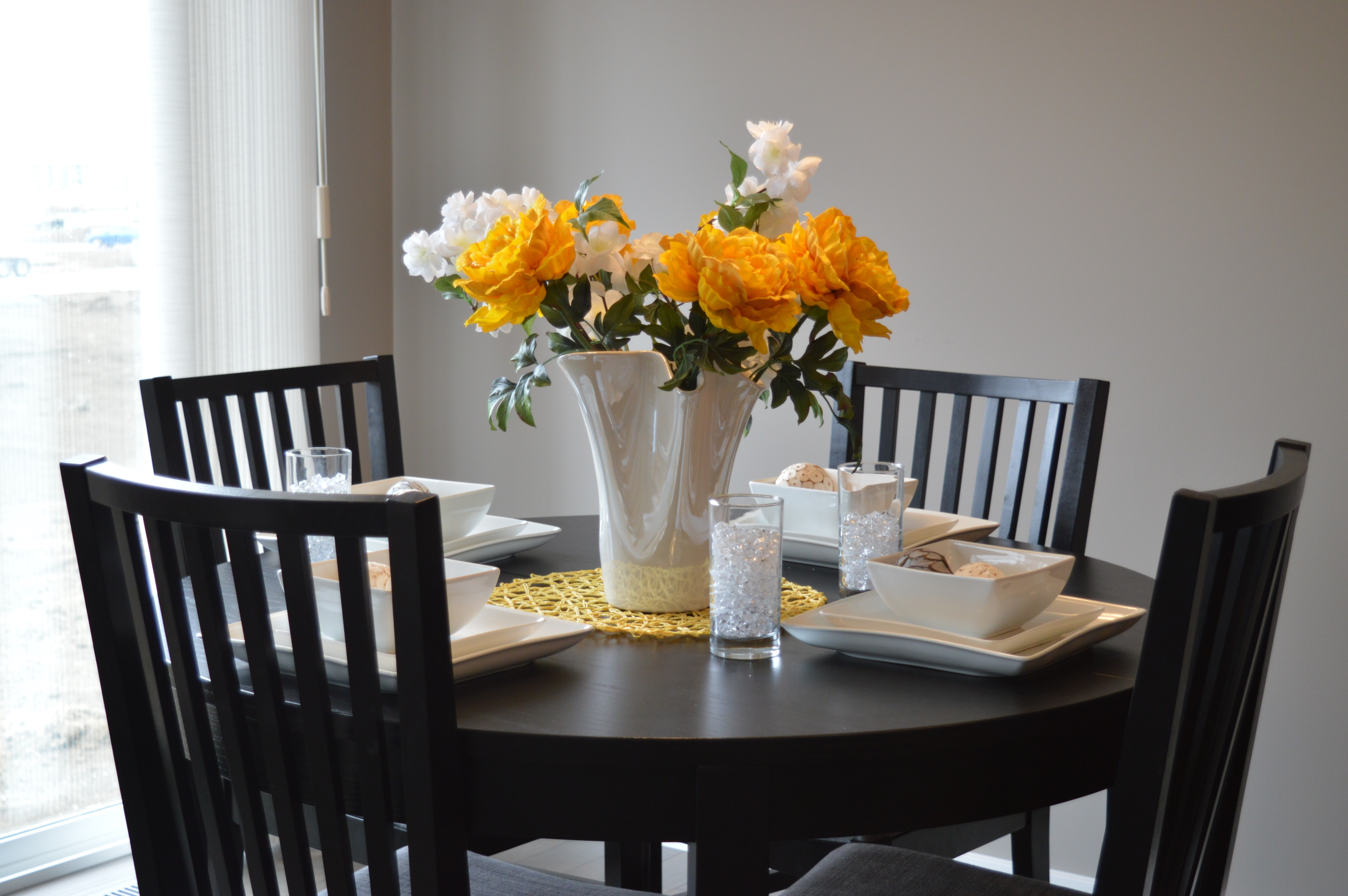 Own a Promenade Home by Brittany Santa Rosa!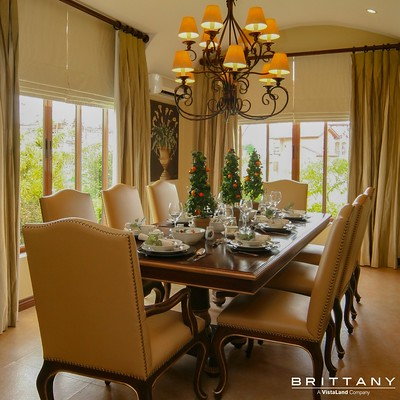 Getting the chance to think of dining area floor plan ideas can be considered a luxury that not every person will have the opportunity to have. However, giving the family the best everyday living experience possible is something we all aspire to achieve.
May it be a dining area floor plan, the kitchen, the bedroom, or even the outdoor space, having a place to call home and a community where the family can experience luxury living at the same time is a dream that we want to see happen in this lifetime.
The top and most trusted luxury real estate developer in the country, Brittany Corporation, offers the fulfillment of this dream. Brittany Home's luxury houses in the Philippines are located in several stunning locations built with themed communities to provide luxury living for the entire family. These luxury houses in the Philippines are known for their spectacular designs inspired by world-class travel destinations around the world.
One of Brittany Homes' themed communities is Promenade, located in Santa Rosa Laguna. With their English countryside theme, these luxury houses in the Philippines are beautifully-designed and are nestled in a community that offers top-notch features and amenities to its residents.
Promenade Homes currently has three different models of house and lot properties for sale: Eliot Luxury House, the Lawrence Luxury House, and Milton Luxury House. The latter two models are available for pre-selling, while the Eliot Luxury House, also known as the Eliot Smart Home, has a ready home available for purchase.
Buying a brand new house, a luxury house is a challenging journey for many, but with the right partner to help you through it, the process will be a lot easier. It is a commitment that will last a lifetime andlast a lifetime and the future generations after you.
So, make a commitment that will count. Make the right choice today and start your journey in owning a Promenade Home by Brittany Santa Rosa! To inquire, send a message to this link or follow their social media pages: LinkedIn,  Facebook,  Twitter, and Instagram, to get to know the latest Brittany Corporation's luxury real estate developments in the Philippines.