BLOGS
Creating Your Own Wine Cellar at Home
Wine is one of those little things that add a touch of luxury to your life. Often, a glass of wine in the evening signals the end of your day and the beginning of a more relaxed time at home. If you drink wine regularly or only on special occasions, it can also be your beverage of choice at dinner.
Wine collecting is one hobby that has been popular among the affluent for many years. People often source specific bottles from certain years, made with grapes grown in a particular climate or location. And indeed, bringing out a special vintage can make a celebration feel more magical.
Wine collectors who want to preserve the quality of their wines often invest in proper wine storage. To store wine, you can choose from a variety of methods, as the best storage solution depends on the number of bottles you have, the amount of time you intend to keep a bottle in storage, and the space you are working with.
Where Can You Store Your Wine?
Wine Cellar
Everyone is familiar with a wine cellar. A wine cellar is an area of your home that is the designated storage room for wine, whether it is kept in barrels or in bottles. A wine cellar is traditionally built underground, where wines can be kept at cool temperatures.
Wine Room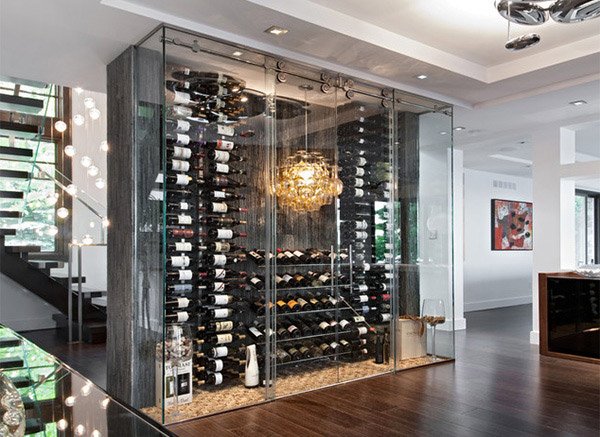 Aside from traditional wine racks, a wine room can also include a table and chairs where you can enjoy a glass of wine while surrounded by all of your bottles. Wine cellars are the perfect way to store your wine collection, and they can even be created within existing rooms in your house.
As long as the room is cool and gets little to no sunshine, it can be turned into a wine cellar. A wine cellar is often referred to as a wine room when it is created in an above-ground space. Aside from traditional wine racks, a wine room can also include a table and chairs where you can enjoy a glass of wine while surrounded by all of your bottles.
Creating a wine cellar is a great way to ensure that your wine collection is properly stored and maintained, and it also provides you with a lovely space to relax and enjoy a glass of wine.
Wine Closet
If you're an aspiring wine connoisseur with a growing collection, you may be wondering how to store your wine so that it ages well. While a wine cellar is the ideal storage solution for a large collection, it's not always feasible for everyone.
If you don't have the space for a wine cellar, or if your collection is less than 500 bottles, then a wine closet is the next best thing. A wine closet can still house an impressive collection if you curate the bottles well. Make sure to store your wine in a cool, dark place where the temperature is consistent.
You should also avoid storing wine near any source of vibration, as this can cause the sediments in the wine to settle. With proper care, your wine closet will be the perfect storage solution for your precious collection.
Why Should You Invest in Proper Wine Storage?
Although wine ages well, it is still a perishable beverage that can be affected by sunlight, temperature, and humidity. When exposed to harsh conditions, wine can spoil, which can put your precious collection to waste.
Wine consumed soon upon purchase may not need special storage conditions. But fine wines, often kept in storage for years before it is opened and consumed, need to be kept in controlled environments such as a wine cellar. Nothing puts a downer to a celebration when you open a fine bottle of wine and see that it has gone bad.
Optimal Storage Conditions for Your Wine Collection
If you're serious about your wine collection, you need to store your bottles under the right conditions. Light, temperature, humidity, and bottle orientation are all important factors to consider. Exposure to light can cause a chemical reaction that alters the flavor of your wine. Extremes in temperature can also lead to premature aging. Too much humidity can cause the labels on your bottles to deteriorate, while too little humidity can cause the corks to dry out and shrink, allowing oxygen to enter the bottle and spoil the wine. To avoid these issues, keep your wine in a dark, temperature-controlled room with moderate humidity.
Light
Incandescent lighting and direct sunlight can change the aroma or flavor of the wine. Light reacts with the compounds in wine, changing them and thus changing how it tastes. This is why wines are usually kept in dark and tinted bottles to protect them from exposure to light. A wine cellar or wine room is also typically windowless to protect the bottles.
Temperature
Wine is best stored anywhere from 7-18 °C or 45-64 °F. Extreme changes in temperature can affect the condition of the cork or the bottle. When wine is exposed to oxygen, it can affect the aging process, altering the flavor of the wine. When temperatures are too low, wine may freeze and expand, cracking the bottle in the process.
Humidity
Humidity primarily affects the cork that seals a lot of wine bottles. It is essential that wines are kept at 55-75% humidity so corks do not dry out and break the seal.
Bottle Orientation in Storage
Wine bottles are best stored at a slight angle, rather than horizontal or upright. When stored at an angle, the cork maintains contact with the wine, which keeps it moist and in optimal condition to maintain the seal on the bottle. Storing bottles at an angle also keeps the air bubble near the top of the bottle. The pressure provided by the air bubble fluctuates with temperature and keeping the bubble near the top of the bottle aids in a more gradual maturation process.
How to Create Your Own Wine Cellar at Home
If you have a growing collection of wines or you are interested in starting a collection, then it is a good investment to create a wine cellar at home. Luxury houses in the Philippines are beautifully designed, and you can always carve out space for a wine cellar at home to add to the stellar amenities of your luxury real estate investment.
If you decide to sell your house and land in the future, a wine cellar will increase the value of your home. This is why adding a wine cellar at home is a common feature in luxury house design.
Find the Right Space
Fine wine has to be kept in certain conditions, so you need to find the right space for a wine cellar in your billionaire modern luxury house. If your luxury home has a basement space, that can be the optimal place for a wine cellar at home. Or, you can walk around your home and find a room that is cool and receives little sunlight and build your wine room there.
Insulate the Room
A wine cellar at home needs to be insulated to maintain optimal humidity. In more humid countries, insulating a wine cellar prevents the entry of warm, moist air that can cause mold. In dry climates, insulation prevents fluctuations in humidity.
Installing a cooling system
A wine cooling system is required because wines must be maintained at precise temperatures. If you want to store wines in the main area of your house, there are numerous wine coolers to select from. A temperature-controlled area is essential for wine storage. It is also advisable to install a temperature monitor.
Add wine racks and custom shelves
Flaunt your collection with floor-to-ceiling racks and custom-designed shelves. Make sure that your racks and shelving units allow you to easily read the label on the bottle. Doing so will make finding and choosing your wine a much easier process.
Personalize the Design Elements
A wine cellar at home is a special haven for wine collectors. Make this space a beautiful and relaxing room so you can appreciate your collection even more. If you opt for a wine room in your home, make sure it goes with the rest of your home's aesthetics.
Grow Your Wine Collection in a Luxury Home by Brittany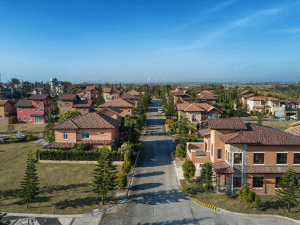 An expensive wine collection should be housed in a luxury home by Brittany. Brittany Corporation is the developer behind the country's top luxury enclaves in Alabang, Santa Rosa, and Tagaytay.
Italy is known for its fine wines, so why not build a wine cellar in an Italian-inspired home at Vista Alabang? The luxury enclaves of Vista Alabang take inspiration from Italian architecture and design. Each home in Portofino Heights, Portofino South, and Amore by Portofino can become your family's dream Italian-style villa.
If you prefer the architecture of the American South, a home in Brittany Santa Rosa may be for you. Take your pick between Georgia Club or Augusta, two of Brittany Corporation's master-planned luxury communities. Homes here are spacious, and there is enough room to create your own wine cellar or wine room.
A glass of wine while watching a movie in your luxury condo can be a great way to relax. Buy your dream condo in Tagaytay at The Grand Quartier or Alpine Villas. Located in the pine tree-filled estate of Crosswinds Tagaytay, The Grand Quartier and Alpine Villas give you a Swiss-inspired home in one of the most popular vacation destinations in the country. Warm up the cool Tagaytay nights with a glass of wine and enjoy your own luxury condominium.
Find Your Dream Luxury Home With Brittany
Brittany Corporation is the go-to developer for the best luxury homes and themed communities in the South of the Metro. You can also find a condo for sale in Brittany's luxury developments as well.
Read Next: How to Care for Luxury Items at Home
Read Next: Smart Ways to Organize Your Wardrobe
Read Next: Expensive Wine for the Affluent
Read Next: Explore Paso Robles with The Paso Wine Fest