BLOGS
7 Perks of Everyday Exclusive Condo Living in Tagaytay
Weekdays are getting more hectic than they were before with nonstop virtual meetings, business engagements, relentless deadlines, and workloads that increased beyond comparison since work-from-home setups were implemented. Once in a while, you need to get away from work-related stress brought about by your tedious daily grind and overwork, and enjoy your condo living. A lot of times you feel that there is nothing more beautiful than waiting for that perfect weekend.
It's common to want for time off on weekends to relax after a hard and stressful week. While you may want for long vacations in exotic locations, most of the time you simply need to make the most of your time and spend your weekends wisely. Some may believe that Tagaytay is only good for fast weekend getaways, yet this dynamic city, like the Metro, offers many of chances and pleasures.
There is no better spot to hunt for an investment property or a private house away from home than Tagaytay.
If you are wondering what are the advantages of investing and living in a luxury condo in Tagaytay, then you are in luck! Brittany rounded up some perks of everyday exclusive condo living in Tagaytay to guide you. Here are seven on the list.
The Perks of Condo Living in Tagaytay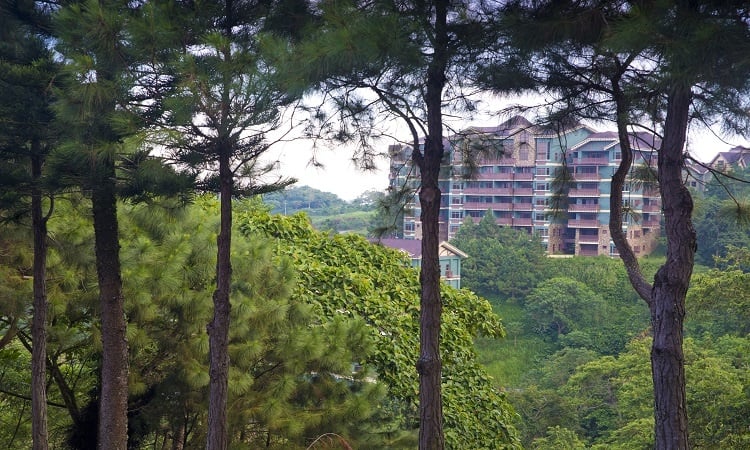 Cool and breezy weather
One of the advantages of being in one of the highest points in Tagaytay City is the cool and breezy weather all year long. As the city sits atop the mountain ranges, Tagaytay experiences year-round cold and breezy weather.
The cooler climate is one of the most compelling reasons why prospective home buyers start considering and searching for homes in Tagaytay.
Moreover, the cooler climate does not only make you feel a lot more relaxed, but it also contributes to your overall well-being.
Have you imagined yourself enjoying a brand new morning with your cup of coffee in your home or condo balcony, or having a glass of wine as you feel the cool nighttime breeze while winding down from your busy day? You will surely love the cold evenings and early mornings in your condo in Tagaytay City.
Picturesque landscape
Tagaytay is a beautiful city that offers a soothing and inspiring living experience characterized by wide and scenic landscapes, wide-open spaces, and a lush environment with towering trees and verdant flora.
Living a lifestyle of luxury in an exclusive and tranquil setting is a treat. Waking up to the majestic view of the metro skyline and Laguna Bay is even more exhilarating. Owning a condo in Tagaytay lets you enjoy this one-of-a-kind view daily.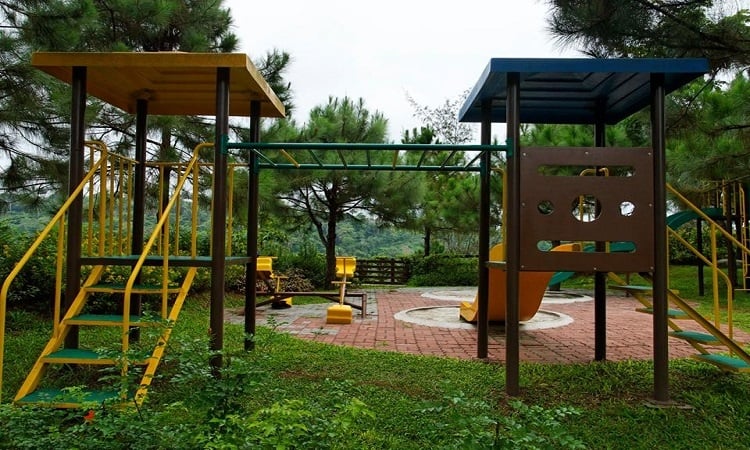 Fresh and clean air
Fresh air is one of the things most Manileños miss most in Metro Manila. With the metropolitan city so engulfed by pollution, finding a safe and relaxing place where you can breathe fresh air is practically impossible.
One of the main reasons why people consider buying and investing in a Tagaytay property is for the fresh and clean air.
Tagaytay is one of the few places near Metro Manila where you can enjoy fresh air because of the numerous trees and the absence of pollutants in the city. It is in Tagaytay that you can wake up to a morning greeted not by thick smog but fresh and clean air that will surely perk you up for the day ahead. Any Tagaytay condo property for sale easily becomes a refreshing and re-energizing getaway because of this. Meanwhile, should you decide to rent out your condo property, you will surely find countless tenants who are also looking for an invigorating retreat in the city.
Location and proximity
Tagaytay's prime location and proximity to Metro Manila make it one of the favorite destinations of the urban elite. Now with multiple access roads, Tagaytay has become incredibly accessible. There is absolutely no doubt why Tagaytay remains one of the most favorite weekend getaway spots.
Whether you prefer to stay in your condo in Tagaytay for a quick weekend getaway or decide to live there for good, it will never be difficult for you to go in and out of the city because of various access points.
Going to Crosswinds by Brittany in Tagaytay City is a breeze as the luxury property development is served by major highways and alternative access roads which include the South Luzon Expressway (SLEX) – Eton and Silangan Exits that lead to the Sta. Rosa-Tagaytay Road as well as Aguinaldo Highway.
Crosswinds by Brittany is only less than 5 minutes away from the popular landmark, Tagaytay Picnic Grove, and is about 7 minutes away west of the Tagaytay Rotunda where close proximity to the most popular restaurants, activity areas, hotels, and casino make it a prime investment.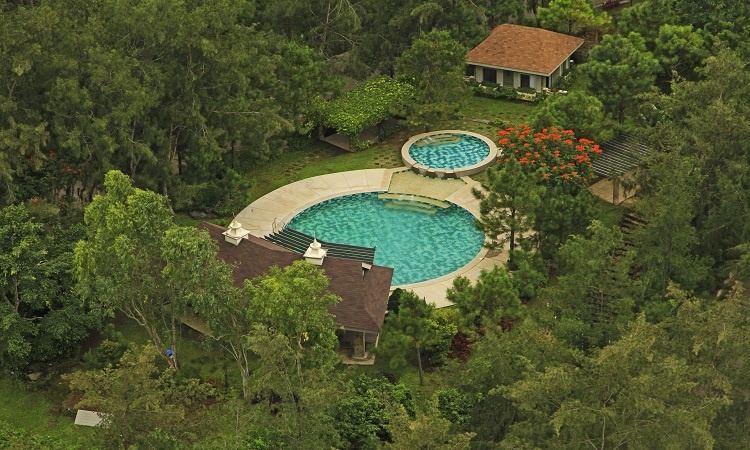 Relaxing and stress-free ambiance
One of the advantages of living in a condo property in Tagaytay is its relaxing and stress-free ambiance where you need not worry about losing and wasting time on the heavy traffic in the busy and buzzing metro.
Tagaytay also allows you to enjoy a refreshing retreat away from the city, where you can be able to do more of what you love, without stressing yourself too much.
So why consider Tagaytay as a weekend retreat when it can be your daily sanctuary? Investing and living in a condo in Tagaytay affords you only the best of both worlds where you can enjoy the conveniences of a modern city with the presence of malls, restaurants, banks, hospitals, and other establishments that are just a few minutes away from your property while living in a picture-perfect city.
Luxurious community
Exclusivity has always been associated with luxury. Investing in a condominium property in Tagaytay like the Alpine Villas at Crosswinds Tagaytay gives you the luxury of everyday exclusive living with special access to premium amenities, high-level security, and a Swiss-inspired community that is beyond compare.
Crosswinds is a 100-hectare luxury Swiss-inspired community by Brittany Corporation where prime condo development, Alpine Villas, is located.
Future developments in Alpine Villas at Crosswinds will surely make it the best vacation spot in Tagaytay City. Residents and guests can enjoy various amenities in the vicinity which includes a spa, and outdoor activities like zipline and rock climbing. In addition to this, Alpine Villas at Crosswinds will also soon be further developed to include a country club and a hotel with a casino within its vicinity.
Luxury Investment
The cool, safe, and serene city of Tagaytay undeniably make it a property hotspot; a favorite destination of investors looking for their next vacation home or income property.
Investors are more than enthusiastic to invest in a luxury property development like Crosswinds by Brittany because of its unparalleled grandeur and bright prospects for property value appreciation. As a standout luxury property development in the South, Crosswinds by Brittany continues to attract more investors as businesses continue to grow and expand in the South of Metro Manila.
Property seekers investing in Tagaytay real estate like Crosswinds by Brittany are sure to get their money's worth. Crosswinds by Brittany suits the varying needs of an investor or a homeowner as it features themed residences with world-class amenities situated on expansive lot cuts as well as spacious units in mid-rise condominiums like those in Alpine Villas – making each property a dream home one can design for their retirement years, and for the next generations to enjoy.
The Crosswinds Life
Make your dream weekend getaway possible or better yet enjoy everyday exclusive condo living in Tagaytay with Crosswinds by Brittany – a Swiss-inspired resort development surrounded by 35,000 evergreen pine trees in one of the highest points of Tagaytay City, which is less than two hours away from Makati Central Business District.
What better way to enjoy a peaceful getaway than to take your vacation at home and invest in your own sanctuary. With the majestic view of the metro skyline and Laguna Bay, a lifestyle of luxury, and an exclusive and tranquil setting, Crosswinds by Brittany takes luxury living to new heights with Alpine Villas – a collection of six to eight-story mid-rise condominiums in the style of Swiss chalets tucked exclusively within Crosswinds.
Crosswinds by Brittany is set to turnover Alpine Villas' first building of pre-selling condominium units, Bernese, in the fourth quarter of this year. Its second building, Blanc, is set to be turned over in the second quarter of 2022. You can have the option to choose either a studio unit or a one-bedroom unit in Alpine Villas at Crosswinds. One of the best things to savor in owning a condo inside Crosswinds is that all units of Alpine Villas have balconies where you can lounge with a cup of coffee while enjoying the breathtaking view of nature.
Named after ranges of the Swiss Alps, Bernese and Blanc are masterfully planned considering the land development in the area. Designed to make everything within reach, the luxury condominium development is set to have its exclusive amenity pavilion inside Crosswinds Tagaytay. Moreover, additional upscale commercial and retail establishments are expected to open in the future to complement the posh residential development of Alpine Villas at Crosswinds.
At Alpine Villas, you can enjoy everyday exclusive condo living as everything you need is within arm's reach without even compromising security, privacy, and exclusivity. It's time to reward yourself with a lifetime investment of living beyond comfortable.