BLOGS
Filipino Humanitarians You Should Know About
The COVID-19 pandemic has brought unprecedented challenges to society, industries, and nations across the world. Now more than ever are we faced with underlying social issues and deep-rooted problems with the current systems in place. In many ways, it has forced us to reveal major human rights issues associated with healthcare and tackle them as humanitarians and as a community.
This list goes beyond the global humanitarian overview 2020. People aren't limited to agencies when doing humanitarian work. The Filipinos on this list as strong in solidarity in protecting human welfare and aid. Global humanitarian action has got world leaders in a race to a fast emergency response to aid workers in the field.
With this is the rising empathy for the world and its people, as well as the environment and wildlife. New NGOs have emerged to bridge the gap between those who can give and those who are in need. Youth-led organizations have been formed to raise awareness on various issues as well, calling society to act with urgency. This drive for positive impact and community service might be the silver lining to the pandemic — one that we can sustain post-COVID.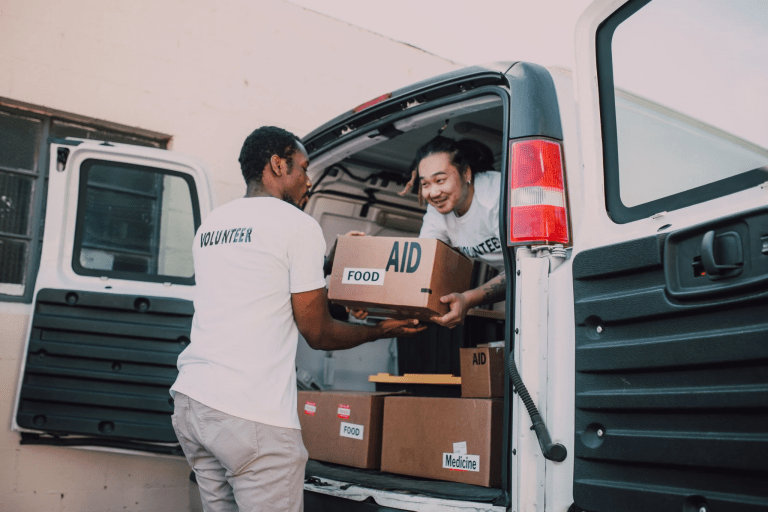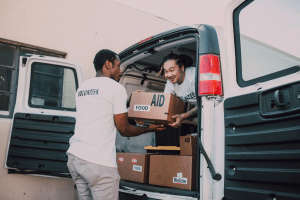 Volunteer work and donations count as humanitarian work. Image by RODNAE productions.
Although it can be quite difficult to physically show up for humanitarian work in the time of lockdowns and airborne viruses, there are several ways to help those in need. But we'll get to that in a bit!
First, let's define humanitarianism and why it should be the next big thing in today's society. By definition, humanitarianism is the active belief in the value of human life. It is the practice of benevolent treatment and assistance to other humans to reduce suffering and improve the conditions of humanity for moral, altruistic, and logical reasons.
Practitioners of this noble principle are called humanitarians. They are the people who have the passion to serve those in need. Usually, recipients are refugees, members of minorities, people with disabilities, orphans, victims of violence, and people suffering from famine and poverty.
There's a misconception that you have to be a wealthy philanthropist to change the world, but that simply isn't true. There are so many ways you can help, without that or super powers. In short, humanitarians are the real world heroes that we need to have and need to be.
Filipino Humanitarians Who Help Create A Better World
It's no surprise that Filipino humanitarians are receiving unsolicited recognition around the world. We Filipinos are known for our good heart and hospitality after all. Let us get to know them in hopes that we may follow in their footsteps.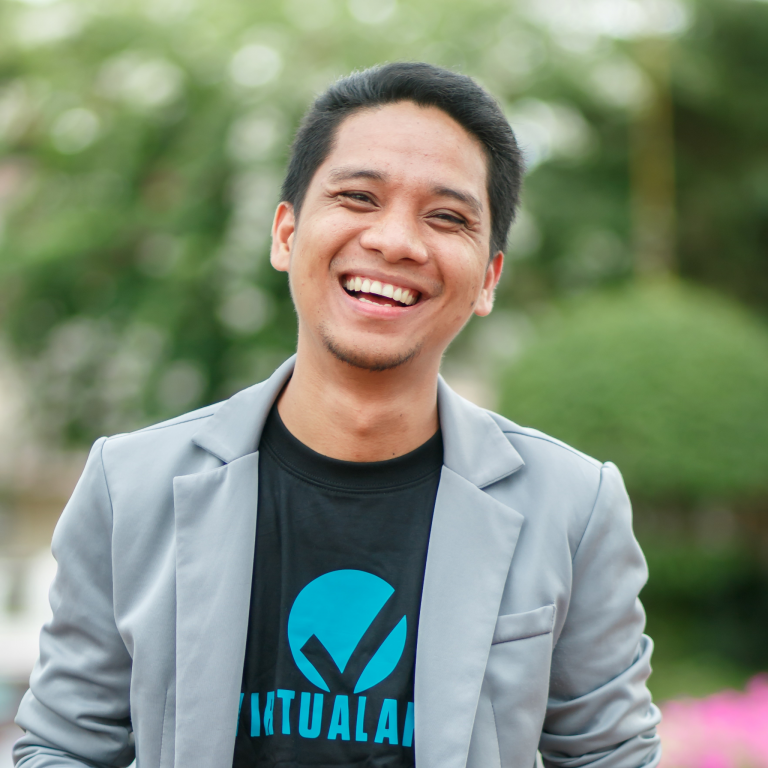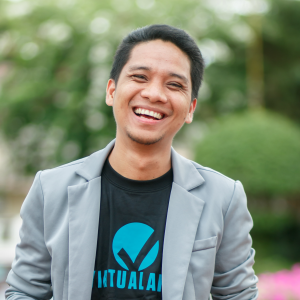 Ryan Gerseva, Founder of Virtualahan. Image by Good News Philippines.
1. Ryan Gerseva
Some humanitarians decide to fulfill a noble cause because of their experiences in life. Such is the case for Ryan Gerseva, who experienced employment discrimination for being diagnosed with Hepatitis B. From then on, he made it his life's mission to make sure that others wouldn't have to face the same discrimination he did.
In 2015, he launched Virtualahan. The goal of the company is to break down employment barriers for stigmatized people, including those with disabilities and recovering drug addicts. It does so by providing digital-focused job-skills training for roles that can be done remotely such as digital creative work and social media marketing. As of the present, he has helped over 600 Filipinos find work and a consistent source of income.
In 2019, Gerseva won the Inspired Leadership Award at The Performance Theatre (TPT) conference held in Seattle, the first Filipino to receive such a distinction. Previous winners of the said award include business magnate and Virgin Group founder Sir Richard Branson as well as American philanthropist Melinda Gates of Microsoft and the Bill and Melinda Gates Foundation. He was also a Cisco Youth Leadership Award 2020 finalist, which recognizes the world's most inspiring youth leaders. This year 2021, he was one of the few Filipinos who made it to the Forbes 30 Under 30 list.
2. Brenda Escalante
Brenda Escalante is one of the many Filipino humanitarians working for the UNCHR – United Nations High Commissioner for Refugees. Currently based in the middle east, she goes wherever and whenever she is called upon to help refugees. From Serbia to Bangladesh to South Sudan, Brenda is a veteran in providing critical assistance to one of the worst humanitarian crises of our time.
Her advocacy as a United Nations Refugee Agency's Protection Officer is for the refugee cause — to provide a dignified life for refugee families. She states in an interview with the United Nations that her inspiration comes from the refugees themselves, who possess unwavering resilience, courage, and determination to prevail over extreme hardships.
In 2015, Brenda was deployed to Serbia to help in the Mediterranean humanitarian crisis. The Mediterranean humanitarian crisis is a decades long world problem that remains to be critical. It pertains to the deadly Mediterranean voyages by migrants and asylum seekers who are willing to risk their lives to escape their violent, repressive, and warn torn countries such as Syria, Somalia, Nigeria, and Afghanistan. Their goal is to reach countries of the European Union in pursuit of better opportunities and generally a more humane way of life. However, these voyages are also the cause of thousands of deaths due to human rights violations, piracy, and the dangerous route itself, among others.
Brenda braved the harsh winter in Serbia that year, to ease the passage of refugees seeking asylum in a safer haven. It is her life's duty to protect refugees from further abuse and provide them with a life they rightly deserve. She has been doing so for 10 years now.
3. Joy Amer
The Marawi siege was a five-month-long armed conflict in 2017 between government forces and militant groups that forced more than 350,000 residents of Marawi and neighboring towns to flee and seek refuge in evacuation centers. The displaced families were then at a disadvantage, without access to basic rights such as health care and education. Like similar parts of the world, medical response and health awareness are often not prioritized in regions affected by disasters, conflict, and other humanitarian challenges.
Jhallelah Joy Amer is one of the dedicated humanitarians who work for CARE Philippines to address these critical humanitarian issues. She is the Project Officer of "Addressing Noncommunicable Diseases (NCDs) in Humanitarian Settings," a joint partnership health program between CARE Philippines, Abbott, and The Abbott Fund. The said partnership is a 3 year medical mission benefiting the people of Marawi City and Lanao del Sur, critical areas in the Philippines marked by conflict.
Joy closely works with project participants and stakeholders from the Department of Health-Integrated Public Health Office of Lanao del Sur, City Health Office of Marawi, Department of Education, and other civil society organizations in Bangsamoro. Aside from providing medical care and assistance, she conducts information dissemination campaigns as well for a more sustainable approach.
Aside from this project, she was also the Nurse Community Mobilizer for CARE's Sexual Reproductive Health and Rights program implemented in Marawi and Lanao del Sur. Prior to joining CARE Philippines, she worked as a Health Mobilizer for the World Health Organization (WHO) and the Department of Health-Northern Mindanao.
4. Qjiel Mariano
Qjiel Mariano and his cofounders were only 15 year old Junior High School students at the University of Santo Tomas when they initiated Streets To Schools. This project was their submission to the Young Bridging Leaders program. This program aims to empower young leaders to create projects that help fulfill the Sustainable Development Goals (SDGs) set by the United Nations. On account of the estimated 39.2 million out of school youths in 2017, Qjiel decided to continue the initiative for years to come and has even established chapters outside his university.
Pre pandemic, Streets To Schools volunteers would teach street children in Manila North Cemetery and those along the PNR railways. They also organized benefit concerts and other activities to help raise funds for the benefit of the children they taught. Because of their good work, the organization won People Defender of the Year from the Global Institute for Youth Development NYLC and was the winner of the Jesse M. Robredo Foundation Be Like Jesse Youth Grant Competition.
This year, Qjiel was recognized by US based organization Youth Service America's Everyday Young Heroes for leading the literacy program Ladders to Literacy for Streets to Schools.
How We Can Be Humanitarians for United Nations
From founding companies that benefit the marginalized sectors, to risking their lives to help the oppressed and providing free health care to those without access to such, to establishing NGOs to help alleviate poverty and illiteracy — Filipinos all over the world have exemplified what humanitarianism truly is. Notice that the list includes people of different gender and age from different parts of the Philippines, with some extending their efforts outside the country.
Established humanitarians help us understand that anyone can leave a positive impact in the world, and we can start by helping our local communities.
Here are simple tips to start becoming a humanitarian:
1. Discover your advocacy
Internalize what cause you are most moved by. Some examples of advocacies to choose from are forest and wetlands protection, wildlife conservation, sustainability, women empowerment, financial literacy, the LGBTQ movement, freedom of speech, and indigenous groups, among others. It's normal to want to help in every cause but focus on one first. You'll be able to help more this way.
2. Apply to an NGO or organization based on your advocacy
Being part of something bigger for the greater good is a lifetime achievement. There are various organizations available online to choose from, such as Streets To Schools, Save The Seas, and Pasay Pups. Make sure that you match the organization to your advocacy. There are also some NGOs such as The Initiative PH that have departments specific to an SDG (Sustainable Development Goal). They will usually have an application process that would require you to answer a few questions such as what tasks you can help with.
3. Be informed and actively participate in discussions
Once you join an organization, it will be much easier for you to find resources to learn more about your advocacy and its current situation. The group administrators will also inform you on activities you can participate in and assign you tasks that you choose to be a part of.
You can explore further by reading fact checked articles and even enrolling in short courses on issues you are interested in. Ivy league universities such as Harvard offer short courses on International Human Rights in the context of humanitarianism for example, but there are local institutions that offer these as wel like the Kaya Humanitarian Leadership Academy which only takes a couple of hours to finish.
4. Donate/volunteer/campaign for the greater cause
Donation drives are everywhere due to the pandemic. However, some institutions are always open for donation as well, such as the World Wildlife Fund (WWF). When it's much safer to go outside and participate in on ground activities, you'd make such a difference as a volunteer teacher or cleaner for an ocean cleanup drive. You are also obliged to spread the word so that others can learn the good news and do the good deed. It always starts small, but the positive impact is a ripple effect that the world would thank you for.
If you want to read more articles from Brittany Corporation, we tackle several genres from lifestyle to investment and current events. Brittany Corporation is a luxury real estate brand that provides safe real estate investment opportunities to the affluent market. We specialize in themed developments that have the most beautiful houses in the Philippines. You can choose from luxury condominium developments to house and lot, lots for sale, and even mansions in the Philippines — all of which would decorate and diversify your investment portfolio.
There is nothing wrong with investing in yourself, so that you may invest in others. At Brittany, we promote a comfortable amount of luxury with a heart for the community. Check our properties today!
Visit Brittany's official property page to know more about Brittany's beautiful thematic offerings or follow us on our Linkedin, Facebook, Twitter, and Instagram accounts!
UP NEXT: Ghost Month: What You Need to Know
UP NEXT: Breeds of the Most Expensive Cats in the Philippines