BLOGS
Best Ways To Keep Your Glass House Clean
Keeping your home's windows and mirrors streak-free might be difficult. Have you ever wondered if, even after spending hours spraying and scrubbing, the windows still look almost as filthy as when we started? But with the right tools and methods, you can make this hard job easier, get your glass surfaces spotless, and save a ton of money.
Keep Your Glass House Clean: Use The Righ Tools When Cleaning Glass
The right cleaning tool selection is the first step in your project—"glass cleaned."
Before you begin cleaning, we advise gathering all the necessary supplies because, once your hands are wet, rifling through cabinets can make them much dirtier.
Bucket

You'll need water on hand for washing glass surfaces like tables or windows.

You won't have to keep rushing back and forth between the sink and your glass surface if you have a tiny bucket.

For most tasks, a five-gallon bucket works well.

In an emergency, a beach bucket or a big pot will do.

Micro-Fiber Cloth

Use a microfiber towel or an old t-shirt to wipe your glass surface if you want it to be streak- and residue-free. Ensure you're not using cotton or paper towels because they leave behind fibers and streaks. Ideally, the material should be as soft as possible. A cotton swab can be used to reach hard-to-reach areas of your glass surface.

Squeegee

Qualified window washers use squeegees to achieve flawless cleaning, and you ought to utilize them too! On your first attempt, they could seem intimidating to use, but with enough practice, you'll be an expert in no time.

The secret to utilizing a squeegee is to only have the blade's tip in contact with the glass.

Apply even pressure as you wipe the window in horizontal stripes, wiping the blade with a clean cloth after each pass.

Squeegees send liquids flowing down the glass because they don't soak up any water. To collect any drips, place a towel beneath your glass exterior.

Having a squeegee in your shower and using it after each user is the best way to use one.

Ladder Or Step-Stool

Use a tiny ladder or stool to access those towering windows and difficult-to-reach skylights. Have someone hold the ladder and keep an eye on you when you're up high to ensure you are using a ladder safely.
Aside from that satisfaction we get from looking at a sparkling cleaned glass, you bet what other things make our eyes sparkle? Of course, the luxurious house and lot in Daang Hari at Vista Alabang. The 1,500-hectare Italian-inspired community was designed with more than just wellness, pleasure, and luxury. Vista Alabang's primary goal is to bring your family closer while allowing you to engage in the Italian way of life from the comfort of your brand-new, luxurious home.
Suggested Read: 8 Tips for Keeping Your Glass Sparkling Clean
Keep Your Glass House Clean: Best Products To Clean Glass
After you've put your instruments together, you should pick a glass cleaner. Any of the below remedies will function on all common domestic surfaces. Hence there is no right or wrong response to this question. Everything comes down to personal taste.
Commercial Glass Cleaner

Cleaning products from the store are effective in removing dirt and grime. The following goods are ones you might want to try:

Ammonia – is a typical household cleanser, and is a component of Windex, the recognizable blue solution. If you'd prefer, there are variants without ammonia as well.

Zep – also uses ammonia as a base. The drying process is accelerated by ammonia, which lessens streaking.

Sprayway Glass Cleaners – the foaming, ammonia-free product is sold in aerosol cans and is appropriate for all glass surfaces.

Dish Soap

Dish soap is probably already a potent glass cleaner in your house. Oil and fingerprints will easily come off in a pail of water with a few drops of dish soap added. You should wash with soapy water before finishing with a glass cleaning solution for optimal results.
Keep Your Glass House Clean: Best Homemade Cleaning Solutions You Can Use
You probably already have many ingredients in your home that you can use to produce a fantastic homemade glass cleaner. These might be anything from soapy water to vinegar.
While a single component to clean your glass windows works well, they frequently perform best when paired with other all-natural, non-toxic products. Here are some of the best homemade window cleaner recipes you can prepare using basic components from around your house as a follow-up to our earlier piece on homemade window cleaner.
Alcohol And Vinegar

You can use white vinegar and alcohol as wonderful alternatives to the chemical-filled cleaners in your neighborhood grocery store. These substances also have the advantages of being cheap and devoid of harmful gases or chemicals. These components are comparable to those in our DIY eyeglass cleaner and many professional cleaners, and they evaporate rapidly, so there won't be any unattractive stains left behind.

1 cup rubbing alcohol
1 cup of tap water
1 tablespoon vinegar

Combine the components to produce the window cleaner spray, then transfer the mixture to a spray bottle. Mix well.

Cornstarch

The surfaces of windows and glass are not completely smooth. They feature microscopic surface pits that collect water, resulting in streaks and spots. This DIY window cleaner creates the shiniest, spot-free, streak-free finish you've seen by breaking down the water bonds with cornstarch. Additionally, it effectively removes water stains from glass.

¼ cup rubbing alcohol
¼ cup white vinegar
1 tablespoon cornstarch
2 cups of warm water

DIY Streak-Free Window Cleaner

All the inexpensive components from the previous recipes are combined in this window cleaner recipe to give your windows and glass surfaces an incredibly streak-free shine.

When wiping the solution off, use newspaper for an even more incredible clean. Unlike paper towels and some microfiber cloths, newspapers won't leave lint on your windows.

¼ cup white distilled vinegar or apple cider vinegar
¼ cup rubbing alcohol
1 tablespoon cornstarch
2 cups of hard water
10 drops of essential oil of your choice
Keep Your Glass House Clean: Tips & Tricks
You are prepared to take on any task since your cleaning supplies are available. Follow these guidelines for the best ways to clean windows made of glass.
Wipe It Down First

Clean the glass with a towel and soapy water if you haven't cleaned your windows in a while. Instead of spreading dust or grime all over the glass, a fast wipe-down removes it.

Clean On A Cloudy Day

On hot, sunny days, try to avoid cleaning windows. Liquids dry off faster in the sun than you can wipe away, producing streaks. Wait for a cloudy day cool day before cleaning at your leisure.

Clean From Top To Bottom

Your best first move is to start at the top and work your way down to get the best streak-free glass. Your best friend will be gravity; mist your glass cleaner from the top to approximately a fourth of the way down, and then let gravity work its magic. Even spraying while you move can be beneficial. The most effective technique is also to move from side to side. Start on one side of a flat glass surface, such as a glass desktop, and work your way across. Work side to side in the direction of the smallest length. You should thoroughly saturate the glass surface when cleaning a glass shower door by soaking it in soapy water and then dousing it in glass cleaner.

Catch The Drips

Keep any wood around your glassed area dry if you have any; otherwise, it will decay and need to be replaced sooner. Check again for damage to your areas, such as cracks, leaks, or old, worn-out caulking. This will harm your glass and prevent the area from properly ventilating.

When you are finished cleaning, inspect your work again, and if you notice any streaks or fingerprints, wipe them away with your microfiber towel or an old t-shirt.
Keep Your Glass House Clean: Cleaning Stains
On external windows, shower doors, and bathroom windows, you may occasionally find difficult-to-remove water stains in addition to debris and fingerprints. All it needs is a little patience to remove stains at home.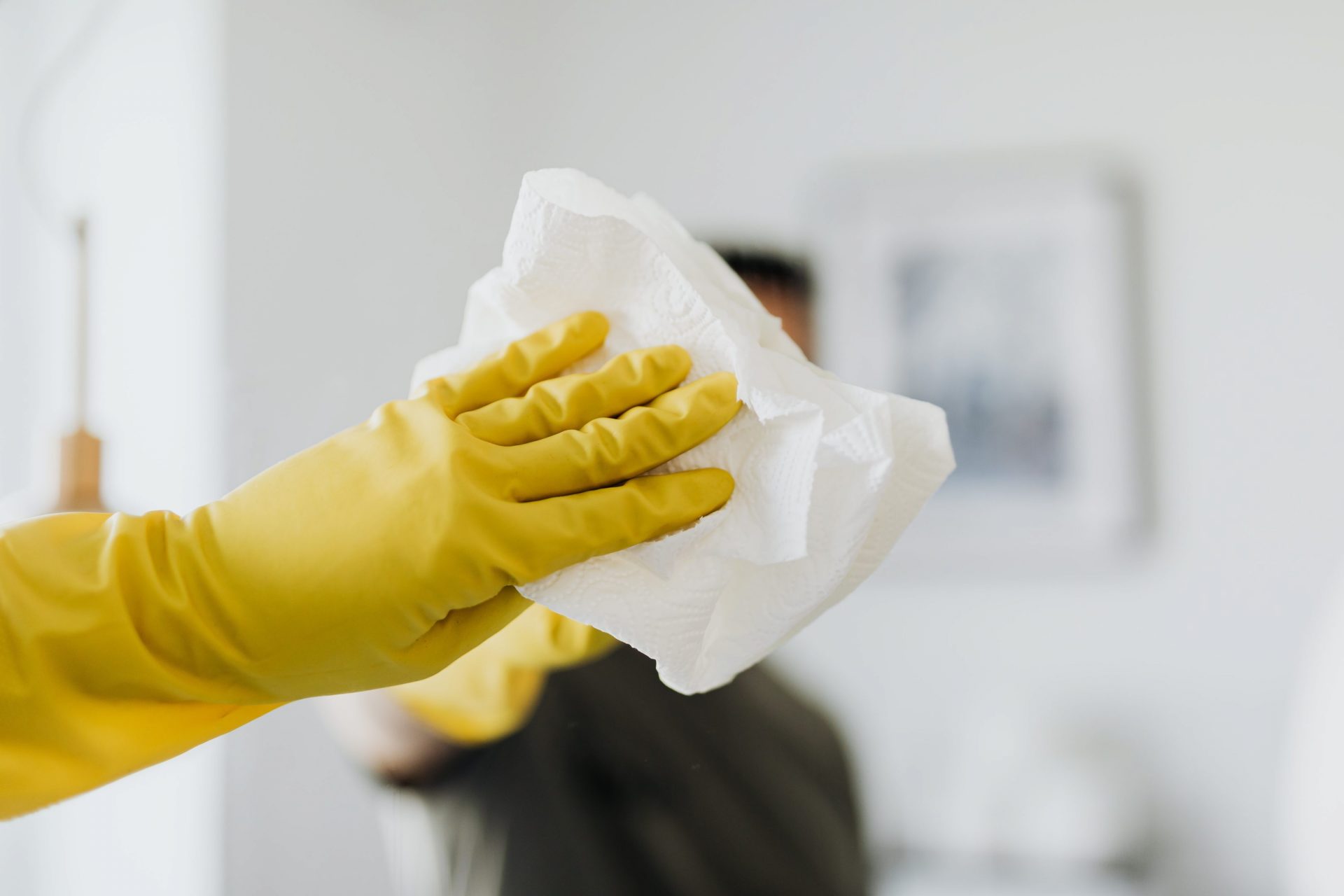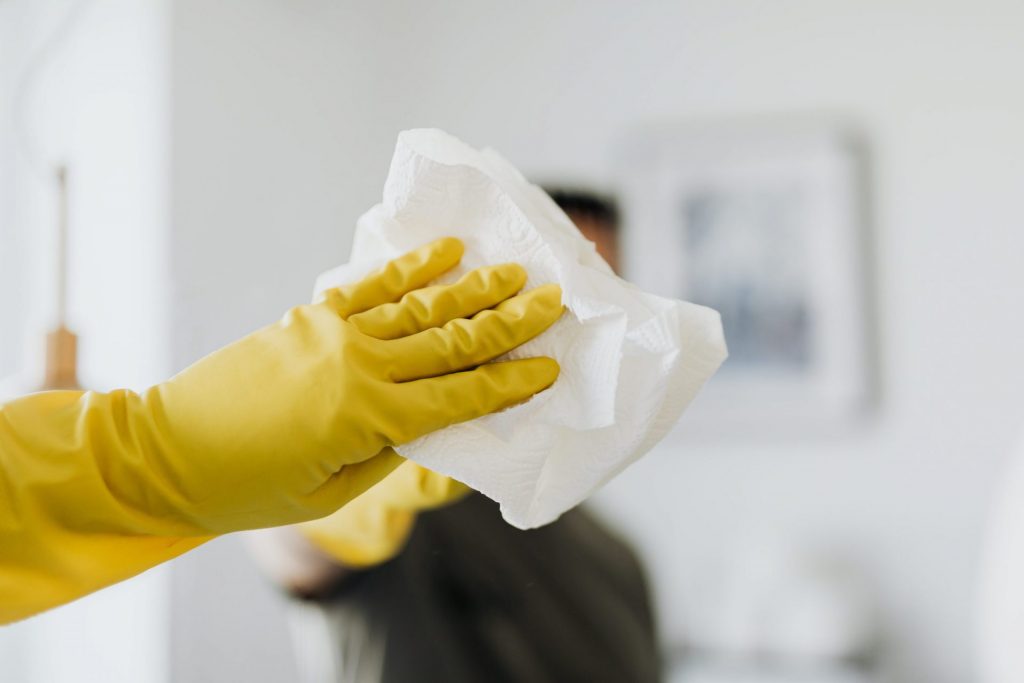 HOW TO REMOVE STAINSThe glass should soak for at least 15 minutes after being sprayed with a commercial cleaning solution or your water-vinegar solution before being scrubbed with a cloth.As an alternative, you may soak a towel in the water-vinegar mixture and place it up against the glass for a while. By using this method, you can prevent the cleaning solution from evaporating too quickly.
HOW TO PREVENT STAINSIn the bathroom mirror and the backyard, water stains are inevitable. Still, you can try to minimize them by minimizing the quantity of water that comes into contact with the glass. Exterior glass can be weather-resistant with the help of awnings and umbrellas.Look for a surface protector or rain-repellant spray for interior and exterior glass. Water stains might result from lingering drips of water because these items cause droplets to bead off the glass.
Suggested Read Tips For A Streak-Free Shine On Your Glass Windows
Suggested Read Glass and Window Care Tips For Spotless Sparkle
Why Glass Cleaning Is More Important, Think You Think?
Don't undervalue the importance of maintaining clean windows. Although the majority of people believe it's all about the dazzle, there are several very solid reasons why washing windows and cleaning glass is more crucial than you might realize.
The majority of individuals enjoy having clean glass windows but dislike cleaning them themselves or having them cleaned. It's possible that this unpopular activity is neglected because individuals are unaware of its significance and the reasons it shouldn't rank low on their list of priorities.
Here's Why You Should Keep Your Windows Clean:
Everyone in the modern world is concerned with being energy efficient, and your windows can have an impact. Even the smallest amount of filth on your windows can reduce their heating efficiency, contrary to what you might believe if you have energy-efficient windows. The amount of UV light from the sun that can enter your home and add warmth is reduced as dirt particles start to accumulate on the surface and in the pores of your windows.
Due to the impact of dirt on your windows, the integrity of the glass may weaken and become more easily broken, and the transparency may get clouded. Not everyone is aware that glass is porous, which can enable dirt and bacteria to accumulate inside the pores and weaken your windows. In addition to dirt, the following items should also be cleaned off your windows:
acid rain
a buildup of minerals that hard water has left behind
window screen oxidation and/or metal window frame oxidation
accidentally over-sprayed paint, plaster, chalk, drywall texture, or other materials used in construction
With the tips that we give you, do you now know why and how to clean glass and mirror surfaces? Regular window cleaning and maintenance will not only help keep them looking wonderful for many years to come, but keeping them clean will also help you avoid window damage, maintain the quality of the air inside your home, and sustain your home's energy efficiency. The lifespan of the windows can be extended and extended with daily washing. For optimum effectiveness, we advise cleaning windows every one to two months.
Suggested Read Luxury House and Lot in Sta Rosa Laguna
Suggested Read: Why Natural Light Makes A Home Happier
Suggested Read: How To Take Care Of Your Designer Bags
Suggested Read: How To Maintain Antique Furniture