BLOGS
Savoring Summer: Exploring the Best of Santa Rosa's Culinary Scene
The province of Laguna is filled with a lot of memories and has frequently connected to early recollections of family holidays and summer weekend trips.
It goes without saying that the province is well-known and adored for its numerous resorts and Laguna delicacies such as buko pie (young cocnut) and more. Yet, the potential for Laguna's food scene has grown in recent years. This, combined with the province's simpler accessibility from Metro Manila, means that city folks can visit Laguna for the entirety of the day without having to worry about spending the night. As a result, foodies and food bloggers are growing more and more devoted to the province.
There are several cafes, restaurants, and eateries to go in Laguna nowadays that are well worth the journey. For all, visiting this province is never complete unless you have a full stomach. This article has a masterfully compiled a list of the greatest dining establishments across the province that are without a doubt worth the trip and the visit for families and friends, ranging from dining with a view and gallery cafés to heritage eateries.
Best Places to Eat at Santa Rosa, Laguna
Santa Rosa's Delicacies #1: The Morning After
The Morning After is a Filipino, American, and European restaurant located in Santa Rosa, Laguna, and it's a good place to start your Laguna cuisine tour if you're looking for somewhere with a breakfast menu. Breakfast is a fantastic way to start your gastronomic journey. Even though they serve fantastic breakfasts, they also offers pizza, pasta, and a wide variety of entrées.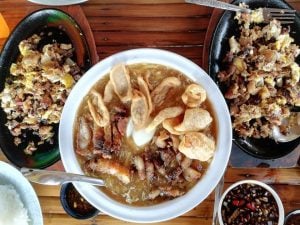 Santa Rosa's Delicacies #2: Del Mano's
It's common for people traveling to Laguna to stop in Brittany Santa Rosa. They frequently stop there when looking for a food or restaurants. This implies that other locations, like Santa Rosa, are largely disregarded.
Check visit Del Mano's if you want to learn more about your possibilities and broaden your horizons. Del Mano's, a locally owned eatery famous to its chicken wings, steaks, and other grilled specialties, is tucked away in a quiet neighborhood close to Enchanted Kingdom.
Santa Rosa's Delicacies #3: Kanin Club
Because of its ambiance, serving, and meal quality, Kanin Club is a deserving addition to your Laguna dining trip. They provide Filipino cuisine, and the variety of their menu and the quality of their meal may entice you to return for more. The service provided by the employees at Kanin Club makes dining there significantly better, giving you every incentive to return. Also, this restaurant will give you another reason to live in Santa Rosa or in any Luxury Property in Laguna.
Santa Rosa's Delicacies #4: Ryuma
You can get inexpensive Japanese food from the best jap resto -Ryuma, that is worth every penny. You may already obtain a complete lunch and satiate your appetites for as little as PHP 200. Ryuma is located at Paseo de Santa Rosa.
Santa Rosa's Delicacies #5: The PigPen
The PigPen is a chic all-day dining establishment with a delectable menu of European and Asian cuisines. You can count on eating delicious food that has been thoughtfully prepared with only the freshest ingredients while relaxing in a comfortable setting of Brittany Santa Rosa.
Santa Rosa's Delicacies #6: Nonna's
Nonna's is also located at Brittany Santa Rosa and some of the best places to dine at Brittany Santa Rosa. And the same people who run Mama Lou's Restaurant also owns Nonna's. This is a modern Italian eatery where the pasta is freshly made! You must taste their hot honey syrup-topped pizza!
Santa Rosa's Delicacies #7: Bistro Charlemagne
Bistro Charlemagne, owned by chef Charlemagne Lim, provides diners with a Eurasian (combination of European and Asian flavors) eating experience. Must-tries are the Blueberry Napoleones for dessert, and for filipino food, Crispy Dinuguan Fried Rice, Sisig Fries, and Beef Tenderloin Rolls with Cheese.
Santa Rosa's Delicacies #8: Mestiza
Tapas and paella are among the classic Spanish meals served at the recently established restaurant at Brittany Santa Rosa.
Santa Rosa's Delicacies #9: Thai Herbs and Spices
Thai Herbs and Spices is located at Vista Mall and is a small, casual Thai restaurant that offers traditional Thai food in a cool, contemporary setting. Their Pad Thai is a must try.
Santa Rosa's Delicacies #10: You've Got Baked
A cute cafe that specializes on cupcakes and delicious desserts is called You've Got Baked. In reality, they have two locations—one in Bel-Air and the other in Brittany Santa Rosa.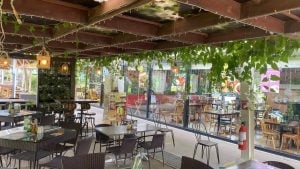 Other Must Try Food Spots in Laguna
Arabela
Arabela is yet another adored eatery in Liliw, Laguna. The cafe is well-liked by the locals that when it comes to food and drinks as well. You must go to the historic district's center to find the eatery. You will be given plates there that are stuffed full of traditional Italian foods that are ideal for your social media posts. In fact, this charming and upscale Italian restaurant is the perfect for cozy date nights and family dinners.
Ted's Kitchen
Visit Ted's Kitchen if you're looking for something a little more laid-back. They are well-known for serving delicious American fare like steaks, burgers, and their signature buffalo wings. It is praised as the ideal hangout place for Western cuisine as a result. The simple eatery is decorated in the manner of an American diner but is cozier and more welcoming. Thus, swing by Ted's cooking if you're looking for an American lunch, and don't forget to sample their delectable pastries and desserts as well. You can also try and grab the most famous kesong puti at Santa Cruz while you're on the way.
Sulyap Gallery Cafe
One of the best places to eat is at Sulyap Gallery Cafe in San Pablo City, it is a different historic eatery that is unquestionably worthwhile a visit. Sulyap Gallery should unquestionably be on your schedule if you have a passion for the arts. Two historic residences and it has antiques and works of art from previous centuries share a compound with the beautiful cafe and restaurant. The menu has a traditional Filipino foods to enhance the local environment. If you'd rather try something else, there are a few options for western cuisine. The Gambas Alajillo, Beef Sirloin in Red Sauce, and Tulingan Pasta are three dishes on the menu that you should unquestionably taste.
Owl Fab Cafe
The Owl Café is here for you whether you want breakfast, lunch, or dinner. An Alaminos restaurant that serves Italian, Mexican, and Filipino cuisine and it has received the NUMBER ONE ranking out of 39 eateries in the entire town. The Caffe's knowledgeable personnel, who would be exhibiting their service and keeping it at the top, also makes the deal.
Aurora Filipino Cuisine
Eat at Aurora Filipino Cuisine to elevate your Filipino eating experience. The restaurant, which is housed in a century-old building, features both regional specialties specific to Santa Cruz and well-known Pinoy dishes that we have come to adore. In this approach, diners are given professionally prepared Filipino culinary products as well as a taste of the city's cultural heritage through the restaurant's varied dishes. You should definitely try dishes like Inalamangang Baboy (crisp pork belly with shrimp paste) and Ensaladang Santa Cruz (fern salad).
Savor All meals, All Day, All night
The wide province of Laguna in the Philippines is home to a huge selection of eateries, cafes, and everything in between. Because of this, the destinations listed above may not be sufficient, and there are plenty more throughout the province. It is wise to look for those hidden jewels, just like any gourmand would. Better still, if you live in Brittany Corporation, you can make new meal trips like this one on a daily basis. Remember to savor each flavor and location you experience on this provincial food tour along with all the food you consume.
Suggested Read: Top Rated Restaurants In Laguna That You Should Try
Suggested Read: Top Restaurants Near Crosswinds Tagaytay
Suggested Read:  Santa Rosa Real Estate Investment 2022
Suggested Read: The Best Restaurants In The Metro