Property
Lorenzo Luxury House | RFO
Start at 30,000,000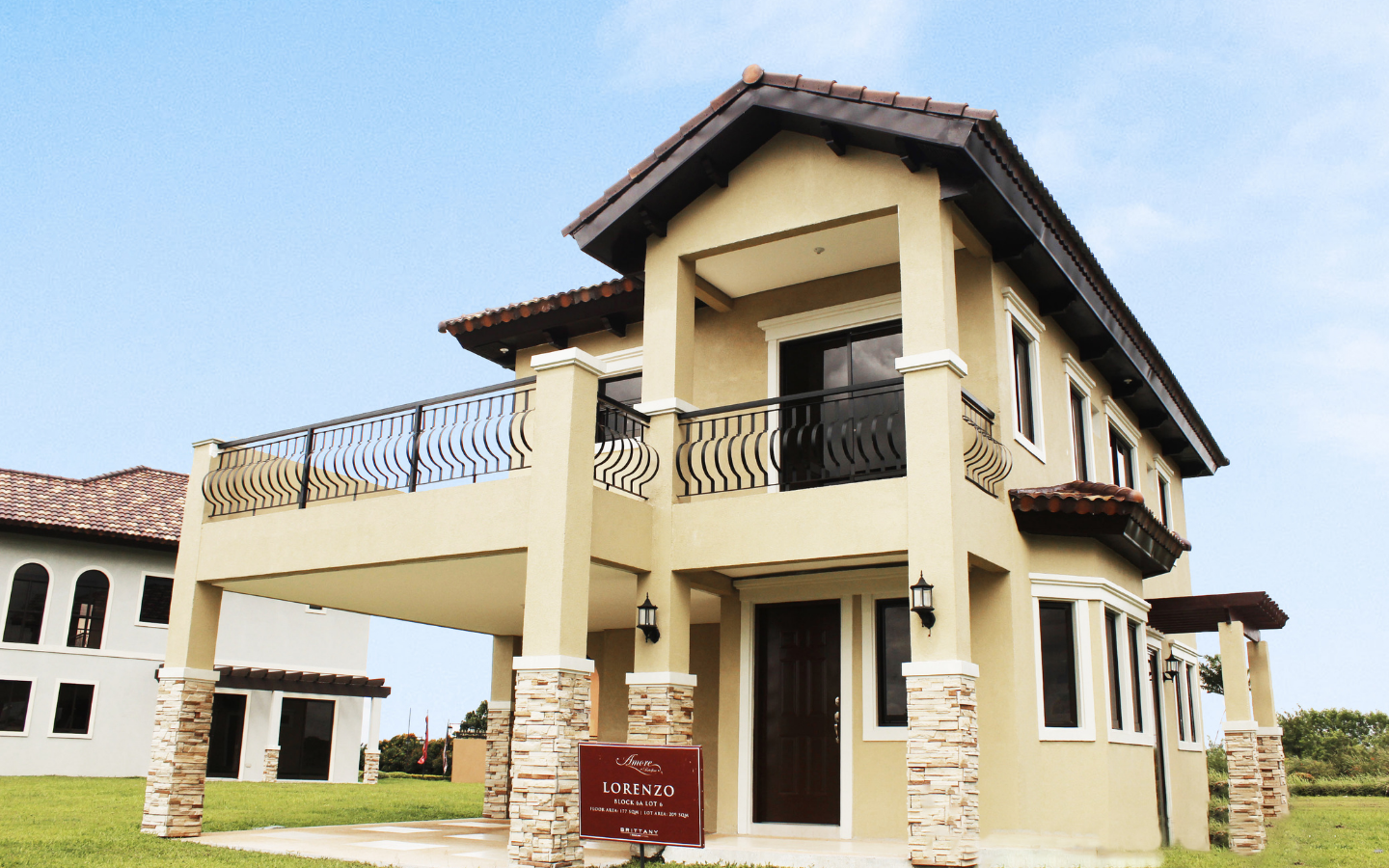 The luxury home ready for occupancy models of Amore at Portofino shout elegance and sophistication. One of these models is the Lorenzo luxury home, which has a total of 177 square meters of floor area and a minimum lot area of 180 square meters, which is an excellent option for young couples looking for a house to call their own.
Amore at Portofino is a prestigious neighborhood located in the heart of Vista Alabang master plan. In addition to its three bedrooms, Lorenzo luxury home also features a balcony, a family hall, two carports, and a maid's room equipped with both a toilet and a bathtub. A family room and a family hall are also included among the other amenities.
The Lorenzo luxury house by Amore at Portofino Alabang is a premium home that has been designed with three bedrooms and bears the name of the model itself. Your breathtaking home, which takes its design elements from Italy, is the perfect backdrop for a range of functions, including informal get-togethers with friends and family and more formal feasts.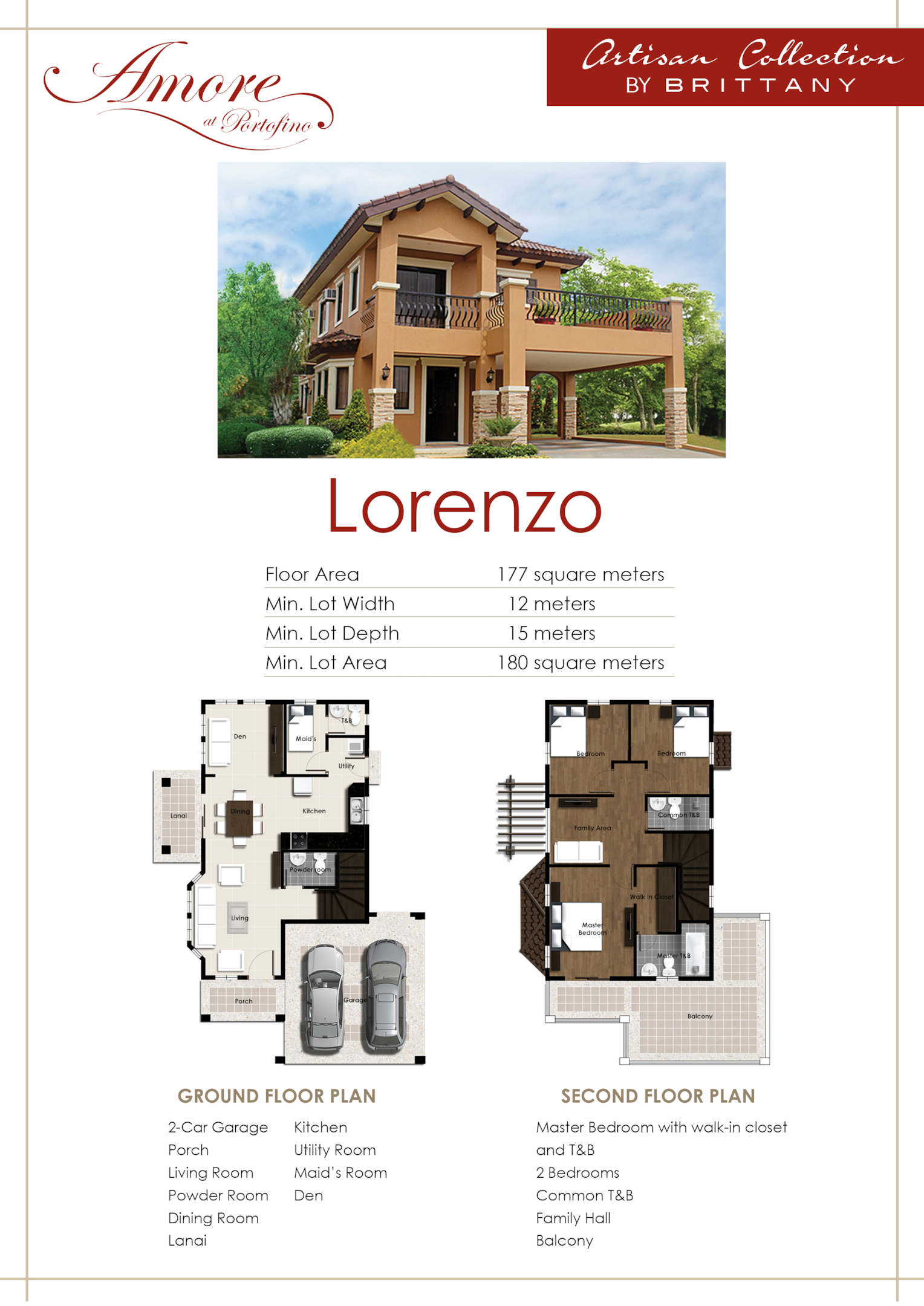 On the first level of the Lorenzo luxury house is where you'll find the living room, a porch, and a garage large enough to fit two cars. On the second level, in addition to the master bedroom, you'll discover the extra bedrooms, which feature a balcony.
This ready-for-occupancy home within Amore at Portofino is just one of the many real estate properties you can invest in with Brittany Corporation.
Amore at Portofino – A Community Brimming with Luxury Properties
The 35-hectare luxury development known as Amore at Portofino, located within Portofino's newest enclave, was awarded the titles of "Best Housing Development in Manila" and "Best Housing Development in the Philippines" by industry experts.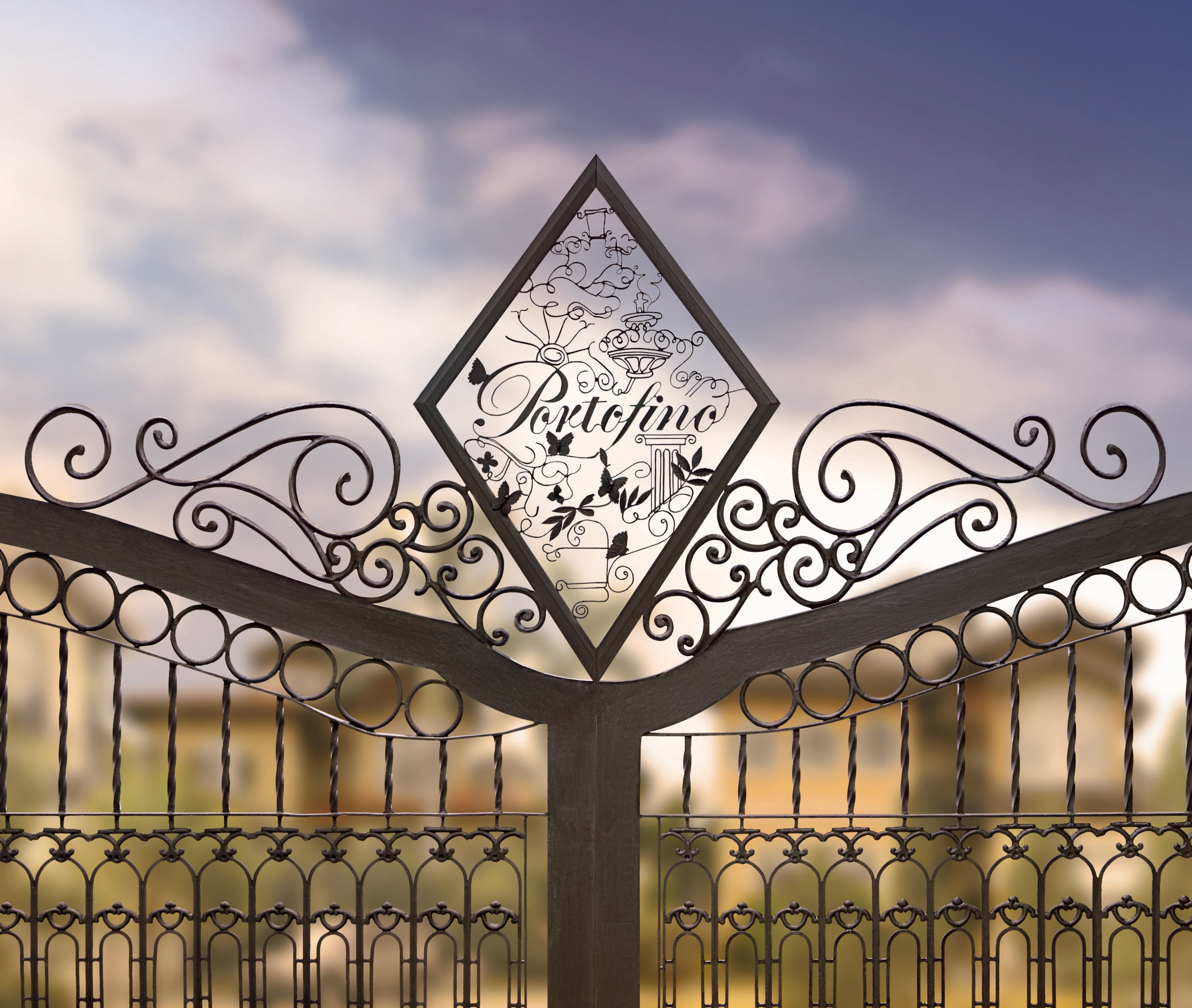 The purchase of a luxury home and lot for sale is recommended as a prudent investment, as stated by these awards. It is possible to live in one of the world's most sought-after locales without ever having to leave your backyard, thanks to the world-class and luxurious enclaves that can be found in Portofino Alabang.
These enclaves have a bustling but subdued vibe about them. The affluent community of Portofino is characterized by a light wind, and the roads that connect to the city's expansive residential areas are adorned with sun and paved with cobblestones; both features contribute to an atmosphere and environment that is ideal for luxurious living.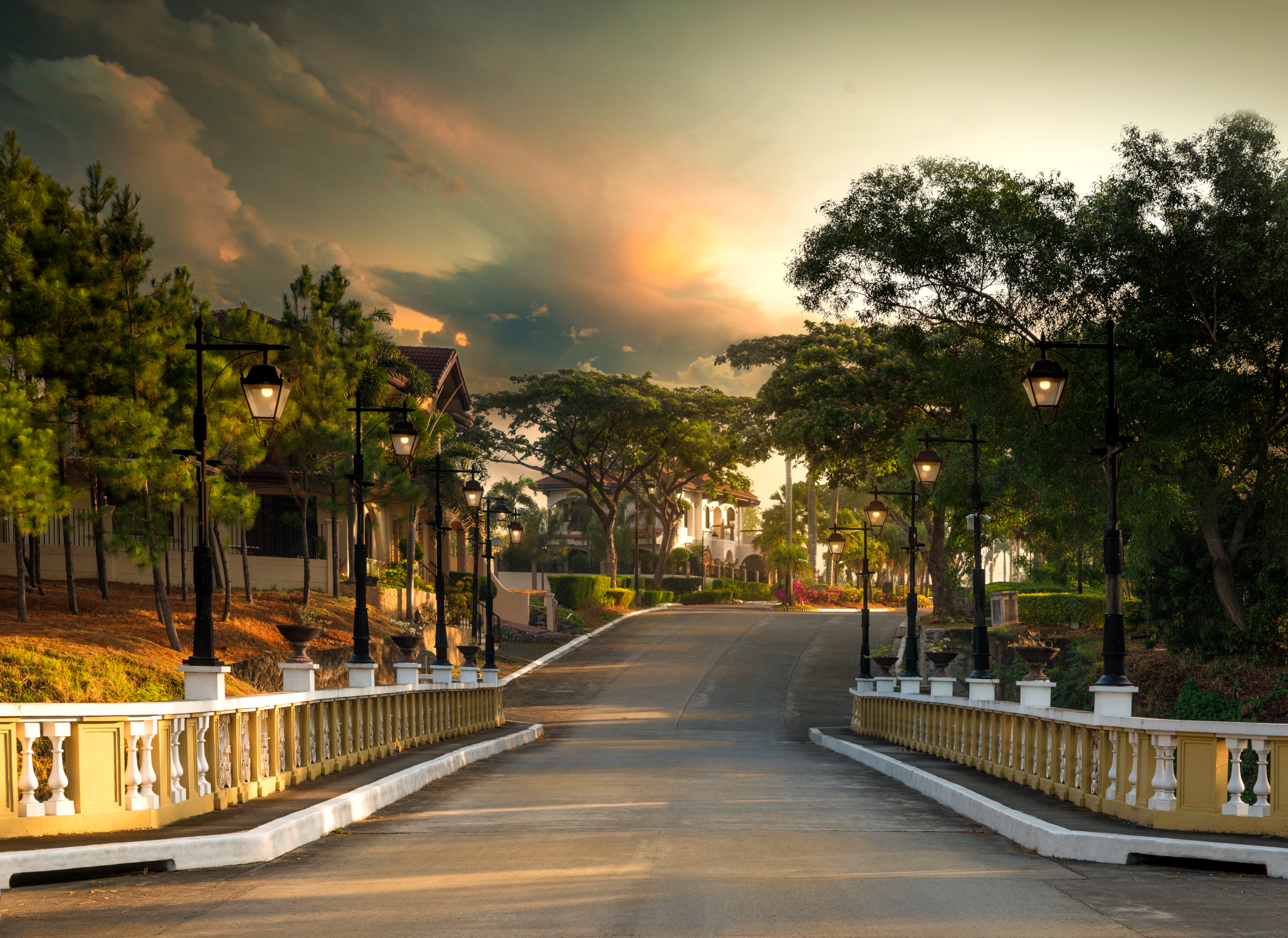 The world-class thematic master plan that has developed the community, including its luxury mansion, house and lot, and real estate offerings, has led to Amore at Portofino being widely recognized as one of the crown jewels among the communities that make up Alabang. This could even cater to the international market who wants to own an Italian-inspired property within reach of the Asian lifestyle. The success of Amore at Portofino is all because it is developed by the visions of Vistaland's master builder, Manny Villar.
Invest in Luxury Houses for Sale in a Premium Location
The beholder is never unable to fail to be fascinated by Portofino Alabang's particular appeal, its charming environment, and its blend of refined and rustic allure, which never fails to delight everyone who sees and experiences the beauty of the location.
You, your loved ones, your family, and your friends will be able to experience that sensation on a daily basis in a home that was created with the spirit of the Italian Renaissance infused into every aspect of the architecture and interior design. The luxury home that this world-class community offers will undoubtedly be perfect for you.
Any visitor or homeowner who enters one of its upscale gated communities has the impression that they have been transported to the countryside of Italy, where the air quality is noticeably better than that of the major city located nearby.
The region, collectively referred to as Portofino Alabang, encompasses several significant cities and can be found in close proximity to a wide variety of commercial areas located all across the Metro.
One of the most impressive aspects of the master-planned community is the Evia lifestyle center, which features uniquely themed architecture and an upscale interior. The fact that the boutiques, shops, and restaurants contained within it appeal to wealthy people is what makes it the most successful lifestyle hub in the area surrounding Portofino Alabang
Amore at Portofino Brings Italy to the Philippines
Luxury homes with lofty ceilings, pristine gardens, and vibrant atmospheres may be found within the Italian gates of Amore at Portofino. It is located in a part of the world that is well-known for the high level of sophistication and grandeur that it possesses.
The area is well-known for its wealth and its ability to provide its residents with a luxurious standard of living. It has been said that the area is a wonderful illustration of the luxury lifestyle that the well-off and the culturally educated take pleasure in enjoying.
Amore at Portofino is an Italian-themed gated community that gives investors and home owners a luxurious and sophisticated way of life. This community takes its design cues from Italy with the help of our very own Filipino designers, horticulturist, and landscape architects to complete the Italian experience inside the community.
This neighborhood is known as the "Italian gates of Amore" by its residents. It is well-known for its richness and its ability to provide a luxury way of life for its neighborhood, and this ability has earned it a good reputation to the affluents. It has been said that the area is an outstanding example of the opulent way of life that the wealthy enjoy.
Own a Lorenzo Luxury House and Experience Its World-Class Amenities
The opulent neighborhood of Amore in Portofino is home to a variety of world-class facilities and services for its residents. The residential neighborhood provides its residents with a swimming pool, an outdoor lounge space, a meditation garden, and running trails that wind through the natural environment that is all around them.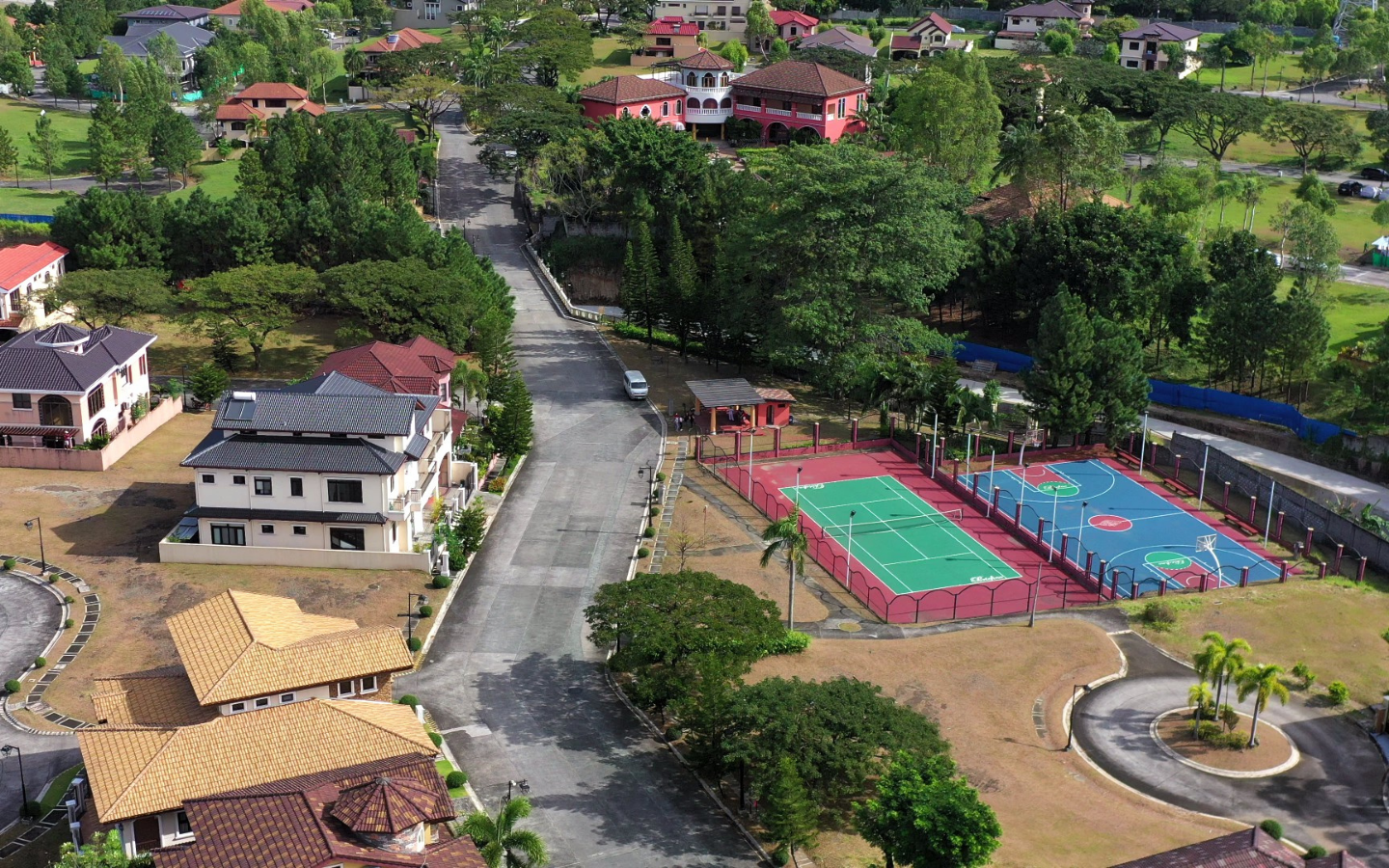 All of these amenities are available to Amore at Portofino residents, so they can lead a healthy lifestyle and take advantage of its benefits.
Everyone can find something to their liking among the community's attractions, whether they want to take it easy or get their blood pumping. Because it has so much to provide for its residents, Amore at Portofino has quickly become one of the most desirable communities in the surrounding region.
Get In Touch With Vista Alabang
Amore at Portofino is truly a location where you would want to invest or even a place where you can settle down or reside due to its accessibility to everything.
If you are interested in building your future or expanding your in vestment portfolio with Brittany Corporation, you can get in touch with Portofino Sales office through this number: 0999 887 3142 so we can assist you further and discuss about the opportunities you can get if you decided to invest in Amore at Portofino, Portofino heights, and Portofino South.