Blogs
Must-Try Dishes at NAPA
The next best thing that can beat going out with family and friends on a Tagaytay City road trip is going out with family and friends on a quick road trip to Crosswinds Tagaytay and experiencing the best dishes in NAPA.
The restaurant itself is a feast for the eyes with its organic feel by being built with wooden boards and offering al fresco dining areas. Whether visitors are at Crosswinds for a one-day trip, romantic dinner, corporate events, or a staycation, this restaurant and its relaxing ambiance has something to offer that is worth remembering for the next visit
NAPA is set within Crosswinds Tagaytay just along the road surrounding Taal lake and perfectly fits in the neighborhood of the best luxury homes in Tagaytay City that the Brittany Corporation can offer. They are open daily and offer reservations for any special event.
NAPA is inspired by Napa Valley located in California famous for their historic vineyards and wineries. It captures the same ambiance of luxury dining in nature. Here are some suggestions on the must-try dishes in NAPA.
Breakfast Choices
What better way to start a day at a luxury home in Tagaytay City than with a full serving of a hearty breakfast waffles with sausage, bacon, and egg as a staple on NAPA's menu.
As the name suggests, the Long Drive Breakfast is the best way to greet the morning after being buckled down for a long time. Customers can request the waffles to be toasted or fluffy based on their personal preference.
The Long Drive Breakfast and Pancetta & Eggs
If you're looking for a lighter breakfast alternative, enjoy a serving of Pancetta & Eggs, with a lower amount of carbs but just as fulfilling for your morning. The crisp meat topped with herbs and spices, and joined with potato slices makes it a less guilty option.
Cafe Borgia
Need a drink to jumpstart your energy? Look no further than a serving of Cafe Borgia which can be served hot or cold according to your personal preference. Topped with grated orange, that hint of zest makes the experience much better than a regular cup of coffee. That pump of the chocolate syrup also provides the extra energy for a long leisurely walk or for a day of touring a condo for sale.
These meals are served under the restaurant's all day breakfast menu
Sunrise Drink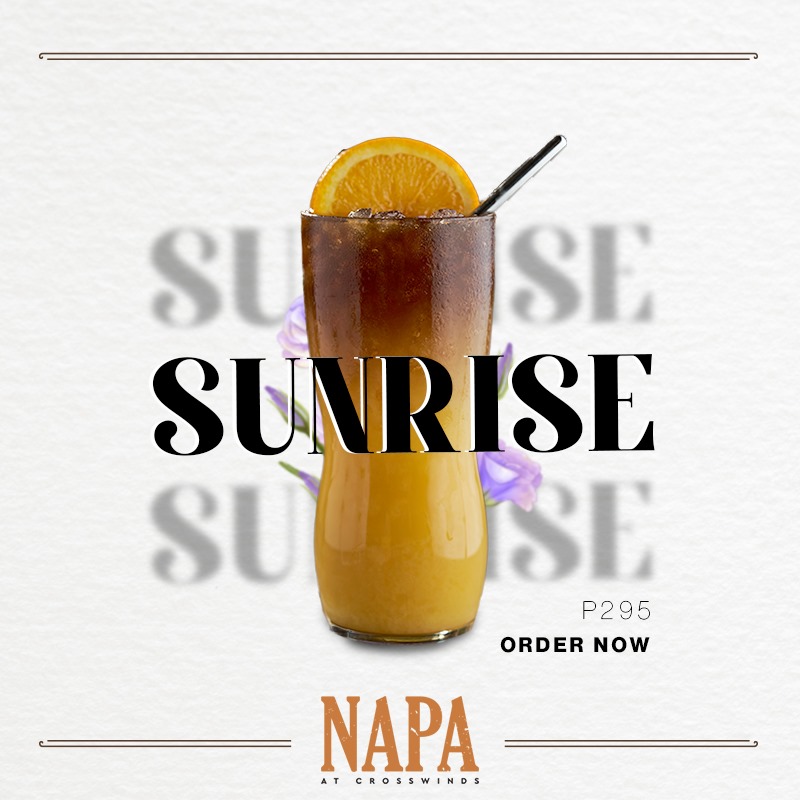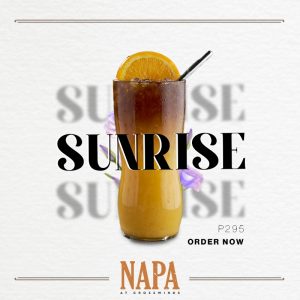 NAPA's Sunrise Drink for a fresh morning start.
Dare to try something new by ordering the Sunrise drink, a unique combination of espresso and orange juice for the same energy of caffeine with a punch of vitamin C. The drink itself represents the hopeful morning with a bright day ahead in the vicinity of luxury lots.
Feeling hungry yet? Check out here what other activities you can do after your first meal of the day.
Midday Meals and Snacks
Chilli Burger
After a stroll amongst the luxury house and lot in Tagaytay City, nothing beats a quick bite with a burger and fries for lunch. Order a serving of NAPA's Chilli Burger with fries for that heat that helps with the cool climate. The Chilli Burger is one of the most recommended dishes in NAPA according to customers.
Beef & Onion Pizza
Care to share good food with friends and family? A variety of pizzas can be tried from NAPA's menu. Take Beef & Onion for that savory feel similar to a the Italian cuisine pastrami sandwich, or a Margherita pizza for a lighter choice topped with herbs.
The Black Smoked Pasta
For pasta lovers, NAPA has an assortment of plates to choose from. More on the savory and filling side, take a plate of Chicken Alfredo where the meat is tender and well-seasoned. The crispiness of the breaded chicken gives life to the smooth silky texture of the pasta.
Seafood lovers can try the Black Smoked Pasta with a generous topping of freshly cooked shrimp. Both meals are served warm to suit the cold climate at Crosswinds NAPA.
Picnic by NAPA
Picnic packages
For those inclined to something beyond al fresco dining, they offers Picnic baskets for taking full advantage of the picturesque nature surrounding the restaurant. Better than a post-meal stroll is having a meal worth strolling down memory lane with your treasured companions.
Dinner Delights
Flounder and chips
After a long day of strolling and having fun with family and friends, a plate of Flounder and Chips provides just the right amount of fulfillment for the long drive back home. The perfectly fried coated flounder is juicy on the inside and goes well with the house sauce. Squeeze that lemon for that hint of zest that makes you want more.
Chilli Chicken Wings
If the designated return-trip driver needs a pick-me-up to fend off the sleepiness, try out the Chilli Chicken Wings. With sliced chilli and signature sauce, prepare to huff and puff on your way back home with one of the best dishes in NAPA.
Sunset drink
After the sentimental experience of enjoying the best dishes in NAPA, and touring one of the best neighborhoods in Crosswinds Tagaytay, what better to end the day with a glass of the Sunset drink and toast with your companions for a great day. Find the perfect spot in the al fresco or dine in area, and enjoy the delicious drink and the picturesque view.
Don't forget to grab a takeout and sweet desserts for the road home.
There and Back Again
For whatever reason that you may find yourself at Crosswinds Tagaytay, either to unwind, to invest in a luxury house and lot in Tagaytay, dine in one of the best restaurants, or even just to be out-and-about in a leisurely escape from the metro, the Brittany Corporation has something to offer for your needs.
Hoping to return in the future after a delightful stroll in the neighborhood of luxury lots, the visit will never be a dull experience since there is always something new cooking up at one of the best restaurants.
---
Visit Brittany's official property page to know more about Brittany's beautiful thematic offerings or follow us on our Linkedin, Facebook, Twitter, and Instagram accounts!
If you want us to feature your article or product, inquire about digital partnerships, or propose backlink opportunities, send us an email at [email protected].
UP NEXT: Culinary Pilgrimage in Laguna | Luxury Homes by Brittany Corporation