Property
Allison Luxury House | Pre-Selling
Start at 19,700,000
This beautiful luxury home for sale spans 211 square meters and is situated on a lot measuring 180 square meters. On the first floor of the Allison, you'll find a maid's room complete with a toilet and a bath, in addition to a two-car garage, a porch, a living and dining area, a den and lanai, the kitchen, a utility area, and a kitchenette.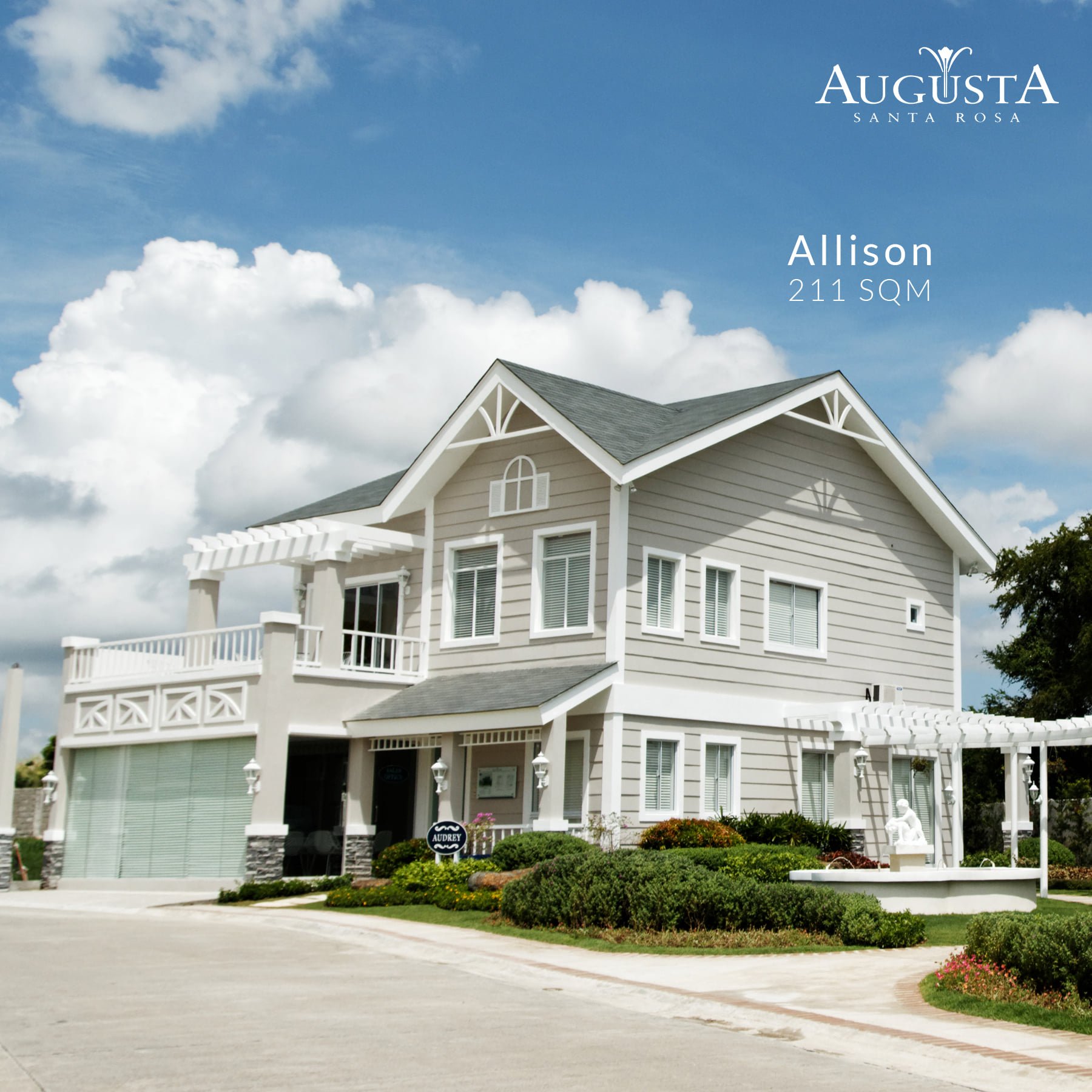 The second level features a master bedroom with its own toilet, two full bedrooms that share a bathroom and toilet, a family parlor, a balcony, and two full bedrooms that each have their own walk-in closets. The master bedroom also has its own private bathroom and toilet.
This luxury property, which is currently available for pre-sale, is ideal for your expanding family because it will allow you to spend more quality time with them.
World-class communities of Augusta and Georgia Club in Sta Rosa Laguna
The Augusta community, which was meticulously planned, provides residents with a variety of luxurious homes and vast building lots from which to choose.
Brittany Santa Rosa is a thriving community that spans 300 hectares and has an ambiance reminiscent of the lovely and alluring countryside of Southern America. The Brittany Corporation was responsible for the new neighborhood's design.
Brittany Santa Rosa's preoccupation with luxury and elegance served as the impetus for the construction of this ambiance.
The Promenade serves as a model for the luxury lifestyle because it is located in an area that contains some of the most prestigious golf clubs in the Philippines, including Sta. Elena Country Club and Canlubang Country Club, and because it offers a view of some of the most innovative architectural designs.
The luxury property known as the Audrey luxury house is one example of how Georgia Club and Augusta truly feature stunning architecture while retaining a Southern American-style community.
Santa Rosa Laguna-A progressive location perfect for luxury houses
Due to its favorable location and easy access to commercial and residential zones, Santa Rosa will witness inevitable growth in the near future. The city has been the fundamental impetus for all our accomplishments.
This city is symbolized by a lion, hence the fact that it has been functioning similarly to a lion is quite logical. A significant metropolitan center that serves as the hub of one of the region's economies is expanding at one of the fastest rates.
This expansion is made feasible by the region's exceptional topography, a steady supply of capital from big corporations, and efficient municipal government.
In addition to its proximity to continuing road infrastructure construction and expressways, the region is also close to Metro Manila.
Due to the area's plethora of schools and universities, it is also an excellent place for individuals who are considering establishing a family or retiring.
Georgia Club and Augusta-A Southern American themed community in Brittany by Vista Land
Brittany's unique themed community has proven advantageous in terms of recruiting new business customers and consumers.
This has been Brittany Corporation's competitive advantage in the market, in addition to being an excellent investment opportunity to acquire a property within the Augusta project and other project developments.
The gorgeous architecture of the southern United States inspired the architectural design of the Augusta luxury villas, which were designed to evoke mental images of these architectural styles. In addition, it has a large lot and is built using materials that have a long history of usage and a reputation for durability.
The sophisticated appearance of a building's exterior may imply that its inhabitants lead an exquisite and polished lifestyle.
Clubhouse, Function hall, Sta. Elena golf club and more world class amenities within Brittany Sta. Rosa
The Georgia Club and Augusta include, among other world-class amenities, a clubhouse with event halls, a basketball court, a spectacular view of a secret garden, a daisy park, an elegant grand fountain, and a swimming pool.
Sta. Elena Golf and Country Club and Country Club Philippines are regarded as two of the best golf courses in the country.
Both of these courses are reasonably accessible on foot from the Augusta town center. The region surrounding the Georgia Club in Augusta, which is frequented by wealthy individuals and business people, is suitable for golf. They appreciate golf as one of their recreational activities.
And if you are arranging a family reunion or other event that requires a large amount of space, a community hall that can also be used as a function hall would be the appropriate venue.
Invest in Georgia Club and Augusta | Contact Information
The spacious Lawrence luxury property for sale by Brittany Corporation, managed by Vista Land, is located in the Old English-themed neighborhood of Promenade. You should not be scared to invest in a real estate developer with a proven track record of success.
If you are interested in knowing more about the benefits, advantages, perks, and privileges associated with ownership of a Promenade property, you are invited to schedule a meeting with Brittany Brokers, Direct Marketing, or Brittany property investment consultants and professionals.